Are you passionate about picture editing? Wish to learn more about expert photo manipulation techniques? Do you need advice on how to ease your post-processing workflow? Or, are you a beginner eager to sharpen your skills in this fascinating area?
Whether you are a newbie to photo editing or a more experienced user of imaging and design software, this material will help you expand your knowledge and provide guidelines on how to master new editing techniques.
Our guide will provide you with informative and inspirational content on how to:
Let's start with a few lines about picture editing meaning, importance, and (needless to say) usability in our digital era.
Picture Editing: a Short Intro
Wonder what are the beginnings of picture editing? Some say post-processing techniques are as old as photography itself, others claim that image editing has accompanied more recent technological advancements.
Surprisingly, the history of image improvement and manipulation goes back to ancient times, centuries before the invention of the Camera. Before pictures were processed in the so-called Camera Obscura starting with the 14th century, images had been "edited" using paint or ink.
As technology evolved, in 1825 Joseph Niepce took the first photograph. However, only after many years of technical innovations and improvements, photography became a refined medium of representation.
Today one may find it difficult to imagine how photographers used to develop photos in their darkrooms and then edit and process them by scratching Polaroids or combining negatives. It undoubtedly took a lot of time and dedication.
Maybe that is because nowadays we cannot consider professional image post-production in the absence of more or less sophisticated digital cameras and software packages. Darkrooms have been replaced by studios, analog cameras with high-end digital equipment and so on.
What is important to mention is that today photography is perceived more as a profession or a hobby than as a form of art. However, picture editing takes not only skill and hours of practice but also imagination. Editing photos means more than improving the quality and look of photographs. Just take a look at some stunning examples of photo manipulation artwork.
Naturally, the difference between old and new photographic practices consists in the diversity of editing tools and materials made available and affordable at the same time. Let's see how any photography aficionado can try his or her hand at editing images and have some fun.
Picture Editing Software Options
Needless to say that professional photo editing such as picture retouching and photo manipulation require the use of a quality digital image software. The question is: should you opt for a free picture editing software or a cost-effective one?
The answer to this question is quite complex. Choosing the best digital image software is all about the needs it serves. Do you wish to create highly imaginative artworks, correct personal photos, or retouch photographs for commercial purposes?
So, choosing the package that best serves your needs is key here. Let's take a closer look to your options moneywise.
Depending on your photographic requirements, you should consider that picture editing software packages vary in prices as they vary in setting and fixes. If you are satisfied with basic editing options, Picasa could do the work for you. It can be downloaded for free.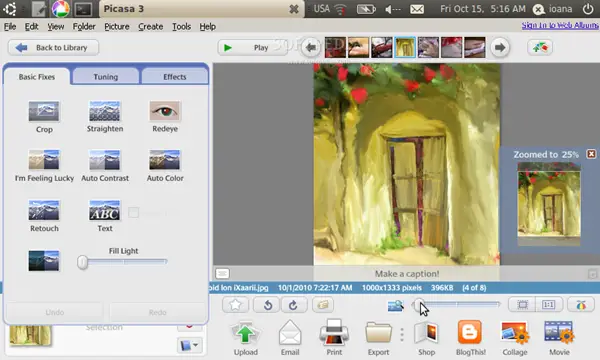 This software provides users with features that allow a quick and simple editing process. To name just a few, you can crop and tone pictures to your liking, remove red eye, adjust contrast and make color changes. More importantly, it offers the possibility to work with shadows and highlights, which is pretty amazing for a free image editing software.
On the other hand, there are the two digital photo processing software packages everybody mentions when it comes to more advanced image improvement: Photoshop and Lightroom. These are, of course, pricey, but at the same time more efficient.
Photoshop is possibly the most famous and commonly used imaging and design toolset on the market. If you are an entry-level photographer or a design hobbyist, you'll find Adobe Photoshop Elements a convenient option as it is cheaper than other Adobe products.
Lightroom is an excellent alternative to Photoshop. This software is favored by many professional photographers worldwide. As long as it can help you transform images into amazing visual content, it is worth trying out. Unfortunately, it does not support graphic design features as compared to Photoshop.
Unsure which one to use? You can download Adobe packages as 30-day free trial versions, so why not try your hand at working with both software?
Learn how to Edit Pictures on Your Smartphone
Who said smartphone photography cannot be turned into something spectacular? Of course, one cannot make a living by taking and editing pics on his or her phone. Photo editing apps for iPhone and Android are meant to be fun and, why not, make users familiar with basic image-processing features.
With the development of smartphone cameras and apps in recent years, one can perform photo editing in most affordable, quick and easy ways. In our post on best photo editing apps for iPhone in 2015 (link provided in the introductive part of this article), you'll find plenty of options compatible with Android as well.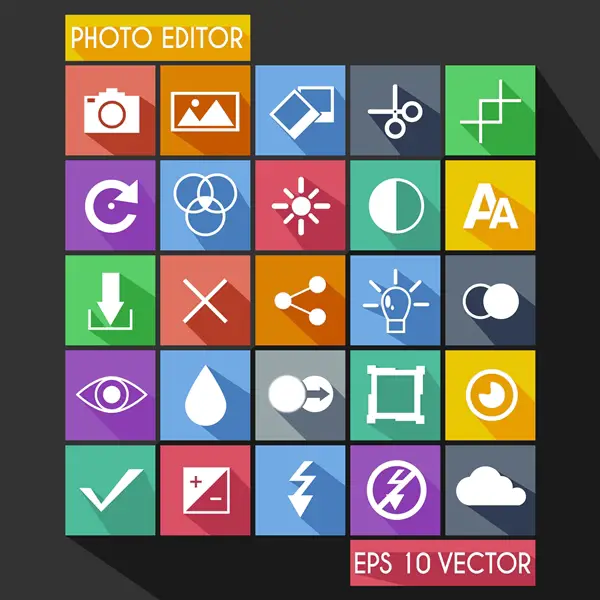 The Joy of Free Picture Editing Online
Professional image editing software users and design aficionados might find online photo effects a blasphemy. Let's not be purists and give them some credit. Not all photographs are notable pieces of art or quality products to sell. Alongside photography as art and photography as a business, there is photography as a leisure activity.
Online photo editors like BeFunky and Fotor provide inexperienced users with the opportunity to get familiar with a bunch of image processing features and basic functions while playing with creative, funky photo effects.
How to edit pictures online? All you need to do is upload a photo, and try out as many settings as you like. Alongside basic options like Sharpen, Blur, Crop etc., these online photo editors allow you to add graphics, various textures, and frames.
Photo Manipulation: Everything a Newbie Should Know
Isn't picture editing all about turning usual pics into extraordinary images? When it comes to the pick of processing visual content, photo manipulation techniques come first.
What is Photo Manipulation? 
Manipulating photos goes beyond image improvement techniques and effects. Photo manipulation is a popular area nowadays especially among digital artists, which places it between photography and digital art.
The web provides beginners with numberless step-by-step tutorials and materials on the topic. Some Photoshop tutorials target advanced users, but most of them require an intermediate knowledge of the tool. It is advisable to work on recent versions of the software so to get expert results.
Watching Photoshop tutorials is an excellent exercise if you want to sharpen your skills in this area. Don't be afraid to experiment and be creative about it. They are meant to help you learn techniques that you can manipulate to your liking for new exciting pieces.
Here are a few of the common actions shown and explained by Photoshop masters:
Combine stock images – many tutorials begin with recommended visual resources and their source online.
Work with features like Layers, Curves, Channels and Masks.
Resize images.
Choose Color Modes.
Make creative collages and illustrations.
Use brushes.
Add gradients.
Work with Smart Objects.
Change or remove background.
Work with photographic techniques such as double exposure.
Adjust light and color balance to enhance images.
Retouch and restore pictures.
Apply filters.
Work with Toning Tools.
Recommended Resources to Sharpen Your Photoshop Skills
Online Resources – Best Photo Manipulation and Photo Retouching Tutorial Websites 
Photoshoptutorials.ws offers a great range of tutorials for beginner to expert users of the software. The website also covers not only picture editing tricks and ideas, but also design resources. Want to learn more about digital painting techniques? Make sure you check their Reviews section for further recommendations.
What we also like about this site is that you can download free Lightroom Presets and Photoshop Actions. This section will help you create astounding images at half time.
As concerns the fuse between photo editing and digital arts, their Inspirations section showcases amazing artworks and interviews with design artists, retouchers and matte painters from around the globe.
Design.tutsplus.com is another top resource when it comes to photo manipulation tutorials. Apart from Free Tutorials, you can access video courses as well as a library of e-books. They surely teach creative and technical skills to numberless visitors worldwide.
Photoshoproadmap.com will be to the liking of many newbies as it offers many step-by-step video tutorials. Some will help you fix or modify your photos in no time, other address more advanced techniques. Check out their unique photo effects ideas and retouching tricks, as well as their Photoshop tools and tips.
Free Ebooks on Picture Editing and Photoshop Mastering  
It is not easy to acquire technical skills and knowledge when in comes to photo editing and photo manipulation. Fortunately, there are so many cost-free materials online so that all you need to do is open them and start practicing.
We all know that working with Photoshop can be a daunting experience if not benefiting of proper guidance.
Here are a few e-books written by expert photographers for you to enjoy and progress into a creative Photoshop user.
This is the e-book that we recommend especially to beginners. It is a good foundation in learning to use this groundbreaking software from scratch. If you are in doubt, here is a Content preview:
An Introduction to Adobe Photoshop
Photoshop Panels and Tools
Basic Operations
Navigating and Zooming
Simple Global Adjustments
Layers
Simple Selections
Choosing Colours
Guides and Rulers
History
Cropping
Basic Printing
If you are not entirely new to Photoshop,  take your practice to the next level with this free guide on Photoshop features and techniques written by the same author as the previous one. Now that you are familiar with the basics becoming an active user is easier than ever. Still, there are editing methods and tools that require patience and many hours of study.
Let's take a look at the content of the book:
About the Author
Introduction
Adobe Bridge and Mini Bridge
Camera Raw
Transformations
Smart Objects
Layer Styles
Vector Tools and the Paths Panel
The Brush Tool & Brush Panel
Layer Masks and Clipping Masks
The Cloning and Healing Tools
Selections
Image & Canvas Resizing
The Filter Gallery
More on Layers
Of course, there are many other resources on Photoshop fundamentals. One of our favorite books is Photoshop CS5 All-in-One for Dummies by Barbara Obermeier. This is a full-color, practical guide packed with information on the new features and enhanced tools in Photoshop CS5.
It includes not only the basics but also very useful guidelines on how to prepare images and graphics for the Web, or for print, as well as on how to create picture packages and contact sheets. You can get the pdf version of this awesome and comprehensive guide here.
I hope all image improvement and manipulation aficionados will benefit from our recommendations. If you have tried some of the photo editors we've discussed, achieved exciting results, or, have further questions, please drop us a line.
Share your knowledge and experience with us! Thanks!