If you are interested in learning more about digital art or simply wish to take your recreational editing skills to another level, we are here to provide you with a broad overview of digital painting fundamental aspects.
What is Digital Painting?
Simply put, digital painting defines the method of creating artworks digitally. It also refers to the technique of making digital art by using a computer, digitizing tablet and a software.
So, digital painting is both a method and a technique. What is the difference between them?  If you turn to Wikipedia for help, you will be told that digital painting as a method of creating art adapts traditional painting mediums (they mention paint, oil, watercolor) and applies the pigment to a canvas by means of a computer.
What we are going to describe in this guide is digital painting as a technique of creating virtual (and not actual) art. In the second part of this material, we will send you to references that will demonstrate how these techniques can be applied.
In practice, digital drawing and digital painting often meet and blend with photo manipulation techniques. In either case, the artist uses a virtual toolbox which includes digital painting brushes and erasers, color blending tools, and layers.
Let's see what distinguishes digital painting from photo manipulation and where they meet in terms of techniques.
Digital Painting Techniques
Many artists use a tablet or a sketchpad to create digital paintings instead of web-based or downloadable programs. But even when they do use an image manipulation software such as Adobe Photoshop they add something more to their editing work like vector drawings.
In the production of digital paintings, they thus use Adobe Illustrator, a program that allows them to be more detailed and to actually add the elements that set digital painting apart from photo manipulation – painting and illustration techniques.
If for a photo manipulation the artists can use Photoshop only to blend images, a digital matte painting or a digital oil painting implies the use of Illustrator, on one hand, and the use of a graphics tablet, on the other.  They can draw basic lines by using a mouse, but graphic tablets provide them with more flexibility and control.
Digital Paining Software
Is there such a thing as the best digital painting software? While producing digital paintings in Photoshop is widely popular, there are other digital painting programs you should know about.
Off the record, this especially applies to beginners who may find Photoshop unintuitive, not to say terrifying. So, digging deeper after other digital painting programs you may want to start using, we've stumbled across ArtRage and Corel.
ArtRage is an introductory digital painting program. If you are also looking for a free digital painting software, the good news is that you can use a demonstration version for free. It works perfectly fine both on PC or Mac but it has a few limitations as compared to the full version which cost $50.
The program aims to mimic real world art canvas as far as textures, colors, and paint thickness are concerned. ArtRage is packed not only with painting tools, but also with sketching and drawing tools, spencils and rulers, stickers & spray, stylus support and special effects features.
While it addresses both beginners and more experienced professionals, it cannot compete with Photoshop in terms of complexity and range of features. It is ideal, however, for those who want to make the transition from traditional to digital painting as a pastime.
CorelDraw Graphics, on the other hand, is the second most popular digital painting program out there. The software allows you to create everything from logos and web graphics to billboards and car wraps. Corel Photo-Painter is the application you can use for image editing. The developer has now released Painter 2016, a new tool to help you create photo art.
With powerful painting tools, you can transform your photos into digital artworks. How to use Painter? There is a learning page with tons of written and video tutorials you can check out. Have fun exploring digital painting as a new way to enhance your photographic art!
Photoshop Digital Painting Tutorials
To sharpen your digital painting Photoshop skills, we've gathered a few examples of how digital art it's done.
The easiest way to learn how to create digital paintings and integrate them in your image editing work is to watch step-by-step tutorials. Learn how to use digital painting brushes and all sorts of tricks in the following materials. We've chosen tutorials that vary in difficulty, displaying techniques for both beginners and experts.
What You'll Need: computer, digital painting software (Photoshop, Corel), and, as always, enthusiasm :).
#1: Digital Painting Tutorial: How to Create a Matte Portrait in Photoshop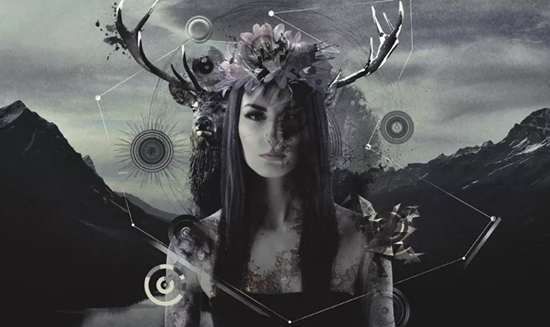 This is not a digital painting tutorial for beginners but as long as you follow the instruction, you will be able to create a similar artwork.
#2: Digital Painting Tutorial: How to Sketch a Female Face in Corel Painter

#3 Learn Digital Landscape Painting with Ctrl+Paint Free Video Library 
Learn how to paint a vibrant, cartoon-like forest in this video tutorial.
Ctrl+Paint is a free learning resource created for those who are new to digital painting and want to learn the basics. The video library will introduce you to fundamental subjects and design principles. We invite you to take a look at their tutorials and see where your skill needs improvement. There are so many materials waiting for you to discover.
Also, you can see the difference between digital painting as a method that you can apply on models and digital painting as a technique that you can employ in photo manipulations, in this video on how to paint digital camo patterns.
For more digital painting tips, you can access further materials on design.tutsplus.com. If you think you've got the skill, you can learn how to use a digital painting tablet.
Explore. Experiment. Enjoy.
Image Source: featured image.