Do you want to edit smartphone photos like a pro or add a more refined touch to your self-portraits? With these best photo editing apps, you will get impeccable results you could either achieve if editing pictures on your PC/ Mac.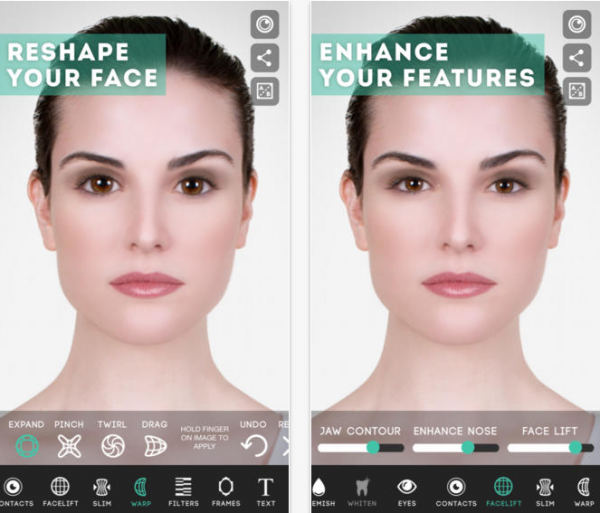 What Is the Best Free Photo Editing App for Facial Retouching?
While there are tons of top photo editing apps, not all of them are designed to help you fix imperfections like pimples, dry skin, a bad hair day, and so on. Here are our suggestions for a flawless complexion, quick and easy retouching, and clickable images.
Perfect 365 – One-Tap Makeover App
Perfect 365 will help you achieve a natural or a more stylish, refined look in a matter of seconds. This app detects facial points automatically and provides over 20 pre-designed make-up style you can easily apply. The face detection feature allows you to remove blemishes, dark circles and spots, end even to apply the desired look while taking photos or videos.
Perfect 365 can be also downloaded for Windows and Mac for the price of $49.99.
Pixtr – Free & Fun Photo Editor
Pixtr is maybe the best photo editing app for Android for its simple and efficient tools. The feature that will help you most in facial retouching is "Auto-Fix". This option will automatically detect what imperfections need to be fixed from balancing colors to adjusting low lighting. Of course, the app has quick and easy tool for red-eye removal and teeth whitening.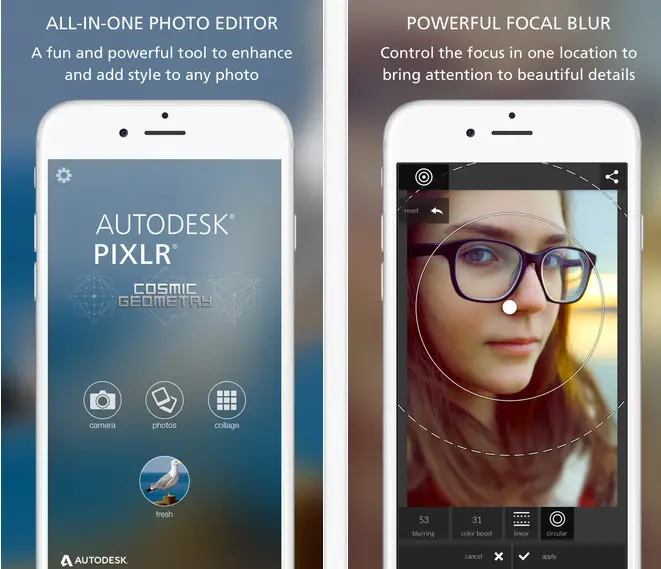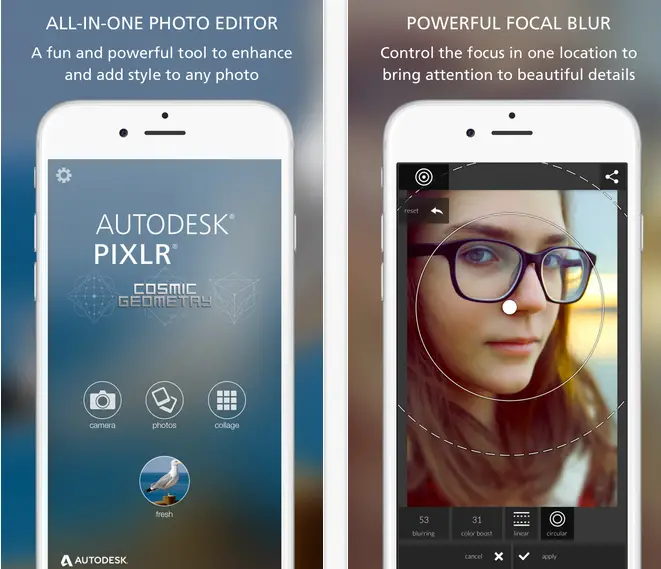 ModiFace Photo Editor – Your Third Best Free Photo Editing App
ModiFace is one of the cool photo editing apps you can download for free. The beauty app has all the picture editing essentials you need for facial enhancements from blemish removal and cosmetic try-ons to teeth whitening and smoothen skin tools.
What is really cool about it, is that it comes with more advanced retouching options such as face slimming visualization. You can also change the color of your eyes, enlarge or brighten them. The face detection option is also worth mentioning for the ease of applying facial effects.
As a top tip, make sure your smartphone is connected to the internet when retouching and modifying your pics. Some options might be disabled otherwise.
Visage Lab – Easy and Effective Face Retouch
Visage Lab is another app that perfectly fits into our best free photo editing apps category. Here is what it this fully automatic face retouch tool can do for you:
it removes facial imperfections like pimples and dark spots;
it smooths wrinkles;
it whitens the teeth in a matter of seconds;
it removes face shine;
it applies glamor effects;
it adjusts and enhances colors and skin tones;
it outlines the eyes.
What Is the Best Cost-Effective Photo Editing App for Portrait Enhancement?
It is hard to define the best photo editing app overall as there are so many features involved. Some do an excellent job when it comes to photo import, other work well for photo sharing.
Facetune – Your Best Portrait Photo Editor!
This photo editing app is specialized in portrait retouching. The options you've got to perfect your visage range from wrinkle and blemish remover to teeth whitening, red-eye and dark circles removal, all the way to various makeup options. The face reshaping tool is also worth mentioning.
This app is ideal for retouching selfies, as well as for adding an artistic touch to portraits. However, it won't help you much when it comes to nature photography or other photographic endeavors.
Price: $4,49.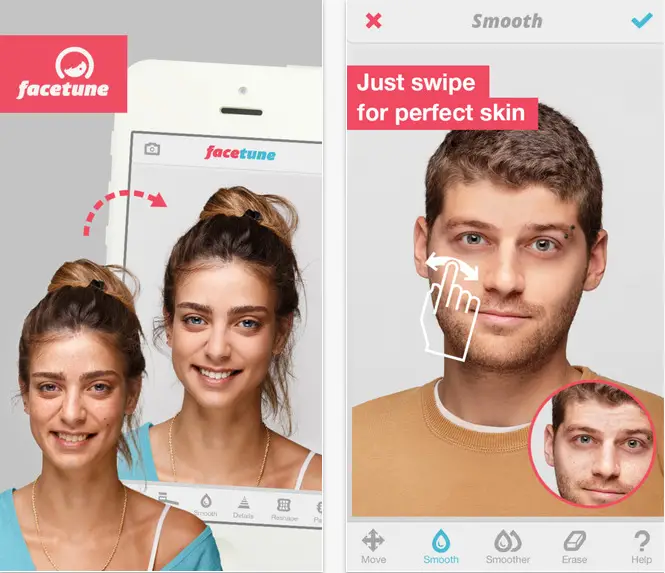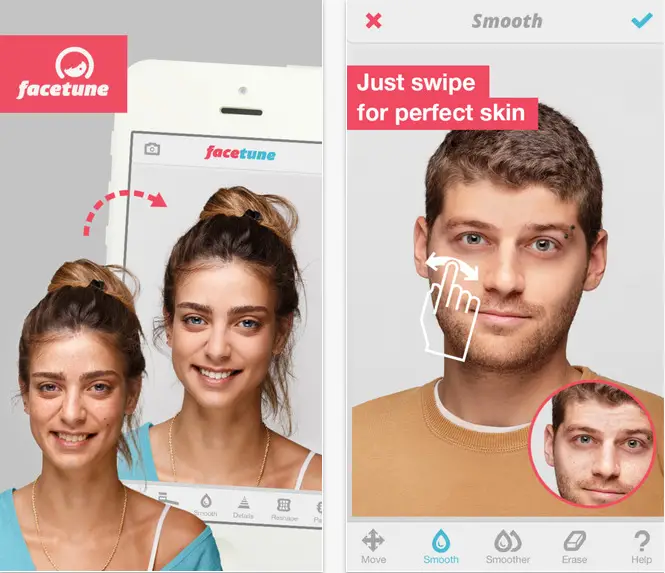 Beauty Booth Pro – Your Quick Face Retoucher
Another great photo edit app, Beauty Booth Pro can do all the hard retouching work in just a few moves. Due to its face detection tool it allows you to perform rapidly skin corrections such as dark circles and shiny look removal, or skin tone and color enhancement.
Plus, the apps provides users with a significant number of special features. For instance, you can apply 24 eyes effects as well as 32 beauty-filter effects. Highlighting the eyes is one of the essential elements in facial retouching.
Also, it comes with a real-time count control, speech bubbles, and photo borders. Sounds like fun. Sadly, it is just an iPhone photo editing app.
Price: $1.99
Photo Makeover – Manual & Automatic Face Adjustments
Photo Makeover competes with Facetune for the best app for photo editing. The good part is that it is a lot cheaper. The disadvantage, however, is that Photo Makeover is designed for iOS users only.
The app allows you to manually adjust your portraits, which is really handy. You can enlarge eyes, rotate your mouth, or even drag your face shape. If you are looking for a super-model look or fancier effects, there are many fun face templates you can apply such as Beauty Faces, Animal Faces, or Naughty Faces.
Price: $0.99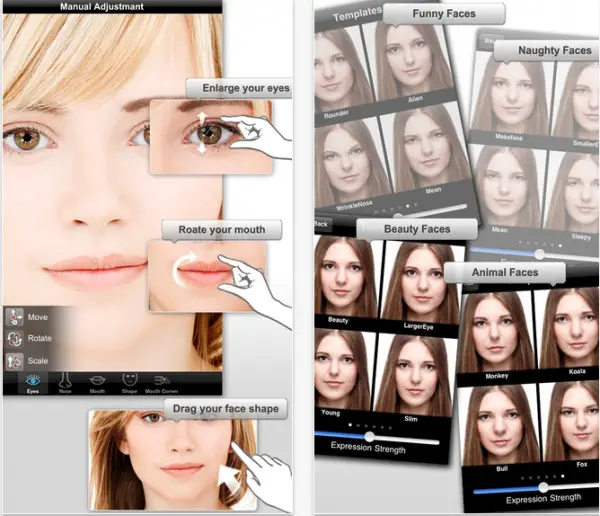 Adobe Photoshop Express – Your Smartphone Photoshop App
Looking for an app that has Photoshop-like features? This is a bonus review. The app comes with a broad range of automatic one-touch fixes. You can remove spots or any unwanted details in one touch with the blemish removal tool. You can also add filters or adjusts colors, exposure and contrast to your liking.
This is not the very best app of the bunch, but it is worth downloading. We recommend getting the Advanced Pack or at least an effect pack for enhanced results.
Price of Advanced Pack: $4.99
Discover more fun and powerful photo editing apps for iPhone in our post, ranging from the well-known Instagram to  Snapseed and VSCO Cam. See for yourself what the best photo editing app for iPhone (iOS) is and let us know your choice. They work perfectly on all devices developed by Apple, such as Ipad and iPod, as well as on Android and Windows phones. So, they can also be candidates for the title of best photo editing apps for Android.
If you are looking for apps and software that you can install on your MacBook or personal computer, check out our guide to picture editing tips and techniques to see what photo editer suits your needs best.