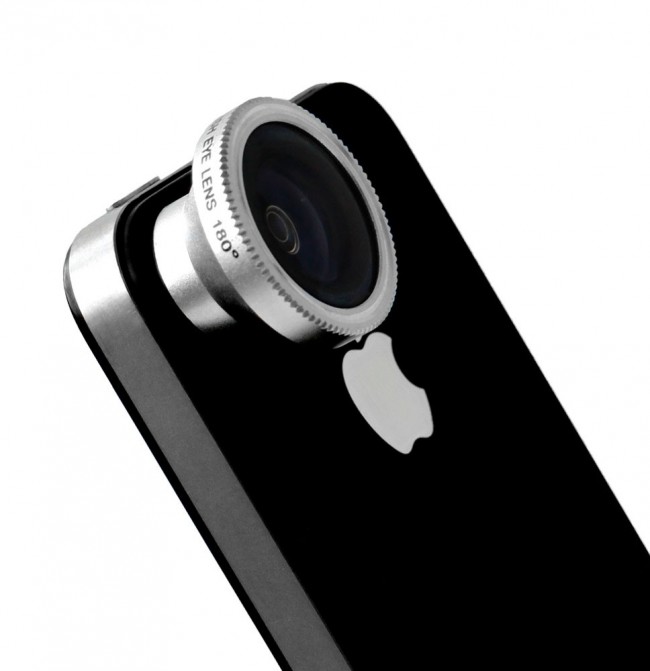 Are you looking to get creative this summer and make your photography rock with little money and effort? A fisheye lens for your iPhone can do the trick! If you have little or no idea about what fisheye lenses are and what you can achieve by using one in terms of photographic effects, you can check out our comprehensive guide to this fun photo equipment.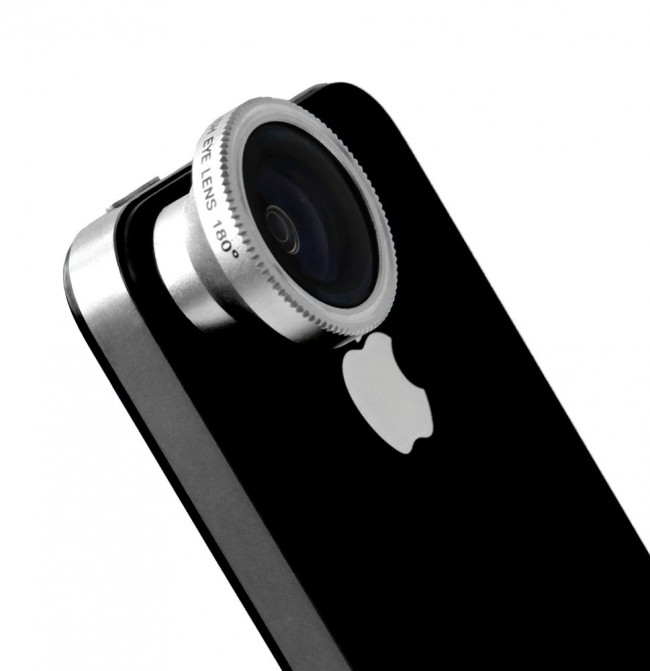 An iPhone fisheye lens acts like a typical camera fisheye as far as the wide angular view is concerned and that circular look added to images. However, as regards quality, the enhanced technology and user experience of a DLSR camera fisheye are worth the money. In other words, a fisheye lens for iPhone is fun to play with, but do not expect the same quality and sharpness of images as in the case of specialized lenses.
What Is the Best Fisheye Lens for iPhone?
When it comes to listing a top selection of camera gear and accessories it is often difficult to state what the best buy or best item is. Getting spectacular pics by using your smartphone camera along with this unique type of lens implies skill and enthusiasm as well, not just following dull recommendations. Anyway, the iPhone fisheyes found on the market are so affordable that you won't regret trying out at least one. As you are going to see below, the prices normally range from $2 to $20 dollars.
Let's cut it short and bring forward a selection of iPhone fisheye lens for all tastes, photo needs and pockets.
Leegoal Silver Mobile Fisheye Lens for iPhone 4s
Price: $2.59.
Features:
180 degree-angle of view which allows for wide scenes to be captured.
Fisheye image effect – it provides that hemispherical look to your pics.
High clarity due to high quality glass.
Portable & detachable: it has a magnetic ring which helps the lens to attach to your phone camera.
Strengths:
Great quality-price deal.
Compatible with other mobile phones.
It goes well on small digital cameras as well.
Can be attached to the front camera of your iPhone for selfies.
Weakness: a little distortion can be noticed.
KingMas Universal Clip-on 3 in 1 Fisheye + Wide Angle + Macro Camera Lens for iPhone 5
Price: $2.80.
Features:
Photo set including a fisheye lens, a wide angle lens and a macro lens.
Portable & detachable.
Remote shutter controller compatible both with Android and iOS.
Strengths:
Very affordable.
Good picture quality.
Compatible not only with smartphones, but also with digital cameras, iPads, tablets, laptops, and GoPros due to its universal clip.
Weakness:  Dark ring around images when using the fisheye for rounded pictures.
Mpow 3 in 1 Clip-On Supreme Fisheye + Wide Angle + Macro Lens For iPhone 6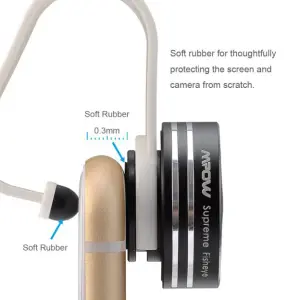 Price: $14.99.
Features:
3 in 1 phone camera lens kit comprised by a fisheye lens, a wide angle lens (0.67X) and a macro lens (10X).
Compatible with iPhone 5, 5S, 4, 4S, HTC, Samsung, tablets, laptops.
Works on all phone cameras with lenses diameter no bigger than 13 mm.
Strengths:
The wide angle of 180 degrees is perfect for capturing a wider range of scenery.
The macro lens can take pretty sharp photos of small objects.
It attaches to your phone camera through a clamp. There's a soft rubber designed to protect the screen from scratching.
It comes with 18 months warranty and 45 days money back option.
Fun Fisheye Lens for iPhone: Best Buy
One of the best option you have when looking to purchase an iPhone fisheye lens is a kit including 4 phone camera lenses and various accessories: a fisheye lens, a wide angle lens, a macro lens, a telephoto lens, along with a selfie stick, phone holder, mini tripod and the list can go on. Many of such kits you can find on Amazon or eBay are universal. This means they include lenses compatible with other phone models such as Samsung, Sony, HTC, BlackBerry and so on. They work perfectly on iPhone 4s, 5c, and 5s.
Super Fisheye Lens for iPhone (6, 6Plus, 5S, 5, 4S, 4):
All iPhone fisheye lenses normally take in 180 degrees. However, you have the Super Fisheye Lens option for wider perspectives. Here are two of your possible choices worth giving a try:
Apexel 235 Degree Super Fisheye Selfie Lens Universal Clip
Price: $13.98.
Compatible with Samsung Galaxy S3, S4, S5 and Note 3 and 4, LG, HTC LG Phones, and Tablets.
Strength: a wide angle of view of 235 degrees.
Photojojo Super Fisheye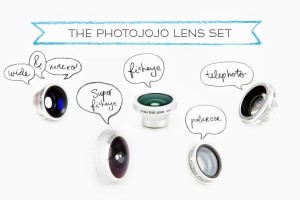 Price: $20.
Works great with iPhone 6 and 6 Plus, but it is also compatible with any lensed device: Android phones, iPod Touch, iPad, MacBook.
Material: made of solid aluminium and top quality glass.
Detachable – it attaches magnetically to any phone camera.
Fisheye Accessories for iPhone – Slim Protective Cases and Lens Covers
Looking for the perfect fisheye accessory for your phone?  Then you might want to look at the fisheye lens packages that come with a plastic lens cover and a slim protective case for a few extra bucks. What is more, Photojojo has created an iPhone case that allows you to add three lenses to your photo arsenal: a wide angle, telephoto and fisheye lens.
Best Fisheye Lens App for iPhone
Fisheye lens apps for iPhone can bring a whole new perspective to your smartphone photography without investing in a lens kit. Here's our top three choices based on user reviews.
Fisheye – Fisheye Camera with Old Film, Cool Lens and Color Ringflash
Not only that this app is ranked no.1 by many iPhone fans, but you can also download it for free.
Features:
This app simulates a 170 degree fisheye lens.
Moreover, it simulates the process, look and feel of an analogue camera.
You can load 5 color ring flashes which can add a unique look to your pics.
You can take multiple exposure photos by switching to the MX mode.
It allows instant sharing on Facebook, Twitter and Flickr.
Real time fisheye video.
Fisheye Pro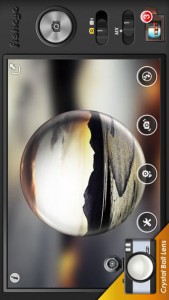 The Fisheye Pro is a worldwide popular LOMO fisheye camera app allowing for spectacular fisheye pics and videos.
Features:
It simulates 4 ultra wide angle lenses and 9 analogue film effects.
It has the MX mode for multiple exposure photos.
It has 5 color ringflashes.
Impressive range of special effects.
As a downside, you cannot export photos to Instagram, but you can share via Facebook, Flickr, Twitter and email.
Price: $0.99.
InstaFisheye – LOMO Fisheye Lens for Instagram
Instagram lovers, this iPhone app has been created especially for you. It simulates four fisheye lenses and one normal lens and can add amazing film effects to your shots.
Features:
Built-in fisheye lenses: Nikkor 10.5 mm, Lomo Fisheye lenses 1 & 2, Crystal ball.
82 coloring effects.
9 analogue film effects.
It allows switching between Rear Camera and Front Camera.
Flashlight different options: ON/ OFF/ Torch/ Auto.
You can also edit photos after shooting.
Real time fisheye video recording.
You can choose for extra effect packs including: Tones, B&W, Vintage, Splash, X-Pro.
Great maximum resolution: 2048 x 2048 pixels.
Sharing resolution: 612 pixels x 612 pixels.
Decent video resolution: 640 pixels x 640 pixels.
As compared to no. 2 and 3 above, this app permits instant sharing to Instagram, not only to Facebook, email, Flickr and Twitter.
Price: $0.99 – $4.99.
Hope our post on best iPhone fisheye lens, accessories and apps proves useful for both photography and iPhone fans. For any ideas, suggestions and thoughts you may have about the topic, please drop us a line in the comment section below.
As a final tip, be bold, creative and selective! What goes well for some users, might not work for others. As a fisheye lens for iPhone is very affordable as compared to a SLR camera fisheye lens, experiment as much as you can in order to get the results you want. Cheers!