Sony has established itself throughout the years as a giant in electronics manufacturing, next year celebrating its seventieth anniversary. Despite operating in several areas, the Japanese giant has offered special attention to the field of digital cameras, with their products being praised by reviewers in general for their quality.
Sony cameras are divided into two main lines: the normal point and click cameras are under the Cyber-shot name, while the digital single-lens reflex (DSLR) offerings are marketed under the name Alpha, being the off-shoot of the Konica Minolta camera division that Sony purchased in 2006. Here is the best of the Sony digital camera reviews in our view.
Sony Cyber-shot DSC RX100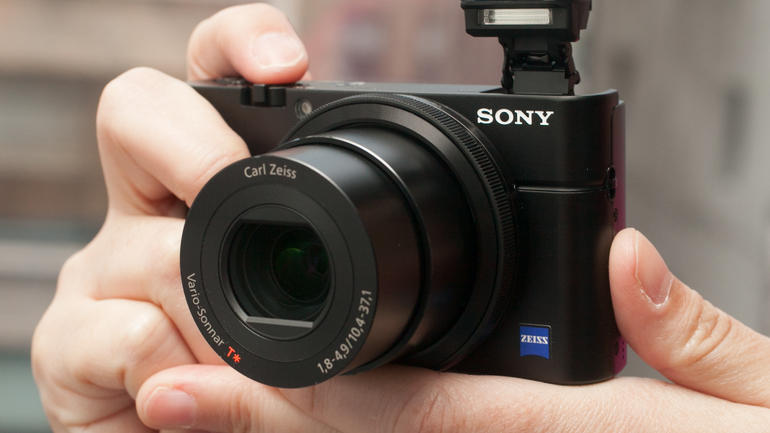 The DSC RX100 is probably Sony's most appreciated compact camera, garnering widespread positive reviews from tech sites and generally being considered one of the best pocket cameras on the market.
This version has a simple control layout, not unlike the Canon PowerShot series. However, it does gain significant ground on its competitors both in the larger-than-usual 20.2 megapixel sensor and in the 3.6x Carl Zeiss Vario-Sonnar T zoom lens; offering some of the best image quality you'll get from compact cameras, close even to that of DSLR.
It also incorporates a number of more advanced features that are starting to become more common in compact cameras such as face detection and sweep panorama options. According to professional reviewers, its auto-focus is quick and satisfactory, while shutter lag is non-existent. Of course, all of these make it a bit more expensive than normal pocket cameras, but if you really want an easily portable device with near DSLR-like image quality, then you can probably spare $400 for the DSC RX100.
Sony Cyber-shot QX30
With this one we're entering quite weird territory for cameras. The DSC-QX series has a strange design, which makes the whole camera appear to be a single, circular lens. The quirky design doesn't just stop at the aspect; the camera itself has no screen or grip, and its best use is in conjecture with a smartphone, which will act as a screen when the camera is attached to it. This isn't a necessity; you can use the camera as it is, but you'll basically be taking the photo blindly.
This already seems very complicated for a simple camera; you will need an app downloaded on your phone to connect the camera, and even then syncing takes time. However, what are you rewarded with for your patience of doing all this instead of just using your smartphone camera? Well, a dedicated 20.4 megapixel sensor and its 30x optical zoom which offer both great image quality and extreme range might be the answer.
However, your interest in the QX30 will probably be decided by your willingness to use your smartphone in conjunction with a camera. It does seem like an odd concept and it will take some getting used to it, but ultimately smartphone screens will always be bigger than those of cameras, so it might prove an advantage when focusing the photo. The QX30 is available for prices around $300.
Sony Alpha 6000
Going on to the next level (and our favorite part of the Sony digital camera reviews series), the Alpha 6000 (or A6000 as it is mostly abbreviated) is one of the best price-to-performance cameras according to reviewers. It is a compact system camera – or "mirrorless", as these kinds of devices are known – which brings a DSLR-type experience in a compact, easy to transport body. The cost of this is the removal of the traditional mirror reflex optical viewfinder, replaced in this case by an electronic viewfinder – where the image that the camera is going to capture is electronically projected onto the digital screen.
This usually causes problems in the digital focus, which isn't as sharp as in classic mirror cameras. Not for the A6000 though; it can effortlessly track moving objects and focus them so that they won't blur out the photo. It also has a burst rate of 11 frames per second (fps), meaning that it's one of the few mirrorless cameras that can successfully capture moving objects.
Add to this the 24.3 megapixel sensor that provides DSLR-like image quality, and a vast amount of effects and customization options, and you can see why the A6000 is a reviewer favorite. The $600 price tag might seem a bit prohibitive in comparison to most compact cameras, but the A6000 is no simple compact camera; and a portable DSLR-like experience at this price seems nothing more than fair.
Sony A7
The A7 is a mirrorless compact system camera too, but it has one perk: it's one of the rare full frame types of this category. This means that it hosts a sensor equivalent to 35 mm film, larger even than those of most DSLR cameras on the market. This, in turn, combines with the 24.3 megapixel resolution to offer obnoxiously high image quality, while also keeping the versatility that interchangeable lenses offer.
The A7 is one of the cheaper full frame cameras available on the market, but it still has a number of downsides according to professional reviewers; such as slow autofocusing, a need for often battery recharging and a loud shutter release. However, it also does away with shutter lag and works well within high ISO (light sensitivity) settings. If the A6000 is a portable DSLR-like experience, the A7 offers more of a DSLR experience period, while still being easy to use and transport; its price tag revolves around $1500.
Sony Nex-7
Another one of Sony's mirrorless compact system camera suite, the Nex-7 is one of the most customizable cameras of this type. It fully sends mirorless cameras deep in to the realm of classical DSLRs in terms of options available and, no surprise here, image quality is excellent as always. It shares the same 24.3 megapixel APS-C sensor that full-fledged DSLRs such as the A65 or A77.
Akin to the A7 though, the autofocus is quite sluggish by modern standards, but beyond that, noise and chromatic aberration are severely reduced even in poor conditions. It also hosts a lot of effects and processing settings, including creative styles and even a sweep panorama mode. It is also fairly user-friendly, and the $1000 price tag is not really that high when compared with its competition.
These are just a couple of the Sony offerings in the digital camera department. As you can see, most Sony products are concentrating on offering better than average image quality, and mostly being portable or memorable in some way. The emphasis on the mirrorless cameras in this comes because Sony tries to focus onto narrowing the gap between them and DSLRs even more. Truth be told, they might be onto something; as technology evolves, the disadvantages of not sporting a classical mirror-based viewfinder are slowly being cancelled out. This leaves the user with a DSLR that is fairly portable and very customizable still by interchangeable lenses. And you have to ask yourselves: if the future isn't directed towards better performance in smaller frames, then where could it actually be headed?