It's been more than a decade since digital single-lens reflex (DSLR) cameras have entered in prominence, and to date they are still the most sought after interchangeable lens cameras on the market.
Before delving into why DSLRs are better than your normal compact camera, you should know that they are mostly catered towards people that already have some degree of experience with digital cameras. The most important feature of DSLRs is the fact that you can change the camera's lens – and so make it infinitely more customizable than cameras with fixed lenses, whatever their zoom and angle width are.
Of course, this means that you should be prepared to spend more money on custom lenses – so you might want to first consider how much you are willing to let photography eat out of your budget before you go buy yourself a DSLR. If it's just hobby, you will have more options of practicing it available; and if you can spare the money. If you're planning however to get into professional photography, then buying a DSLR is a must; despite mirrorless and bridge cameras becoming better by the year, high end DSLRs will still outscore them in many respects. Our series of digital SRL camera reviews will guide you every step of the way.
Virtually all of the major smartphone manufacturers also have DSLR cameras for sale. It's also important to know that they are also classified themselves according to how user-friendly they are and how many options they have open for customization. Entry-level digital SLRs are the easiest to use and transition into by compact and bridge camera users; intermediate-level are for those already accustomed to DSLRs, while high-end professional cameras are the most complex and offer the best customization options.
The following article will summarily review the pros and cons of four different models from the two major manufacturers Nikon and Canon. There will be a lot of information displayed and comparison with other models, so you can see what you can expect from certain DSLR models.
Nikon D5100
The D5100 is a 2011 model, but its value stands in bridging the gap between the user-friendly Nikon D3100 and the more complicated D7100. Technically, it's mostly regarded as an intermediate-level DSR, offering more customization than entry-levels but less than professional ones. The 16.9 megapixel CMOS sensor may appear to be obsolete when compared with other DSLR sensors, but in effect it does provide satisfactory high image quality. The D5100 also has a great selection in picture modes, offering a good range of both manual and automatic settings, and for a camera that's worth now around $400, it earns its money well.
It can shoot videos in 1080p HD – another good feature for this price tag – and also sports a very handy retractable and tilting LCD screen. One of the problems is that D5100 still doesn't have a dedicated ISO button, a feature ignored by Nikon, but which has long been requested by users, and at the same time incorporated by the competition. The model doesn't fall back behind others just because of this little quirk, but it will make you ponder whether the Japanese company's competition has an advantage in this regard.
Canon EOS 600D/Digital Rebel T3i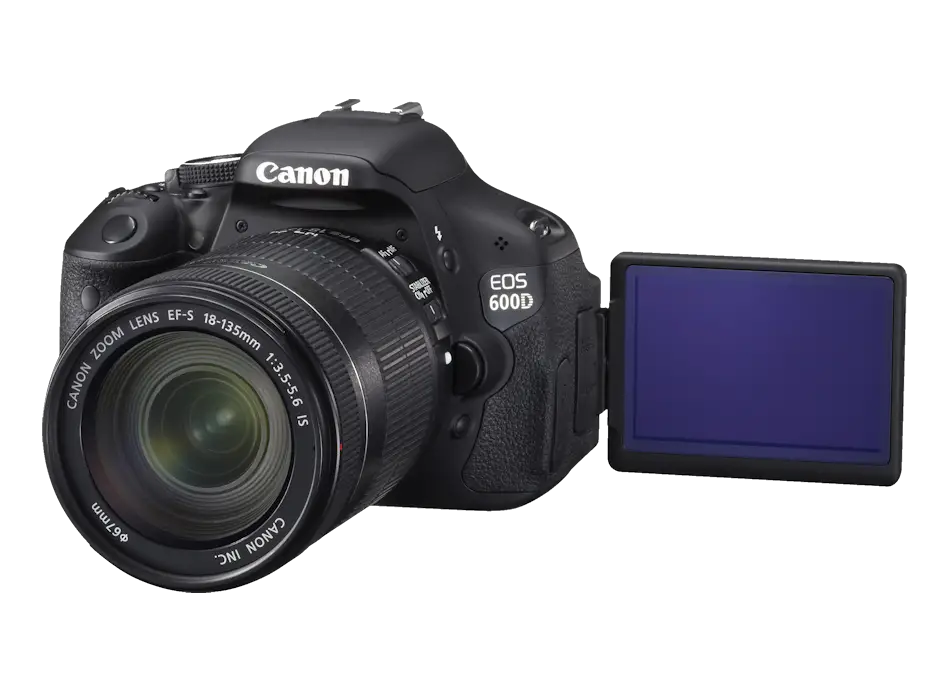 Canon marketed this model under the special "Rebel T3i" name in North America and under the EOS 600D in the rest of the world. But it's still a part of the EOS series – which basically Canon's DSLR line.
The Rebel T3i is presented as a middle-range DSLR, while still being considered "entry-level" for Canon's interchangeable lens line. It features an 18 mp CMOS sensor, which also includes an integrated cleaning system – a quite useful feature since DSLR sensors are susceptible to accumulation of dirt.
This model has a tilting LCD screen, which can be rotated as the photo circumstances dictate. It also has a vast array of filters and scene modes you can use to customize the way you take photos or record videos. Speaking of recording, the Rebel T3i can record video either in 1080p at 25 frames per second or at 720p in 50 fps.
Initially launched in 2011, the EOS 600D/Rebel T3i can be bought from Amazon at below $500. This is quite a low price even for entry level DSLRs,
Nikon D3200
Going back to Nikon, this is one of the Japanese manufacturer's entry level cameras. It has a worthwhile 24.2 megapixel APC sensor, representing a significant upgrade of about 10 megapixels over the previous D3100 version. The D3200 provides excellent image quality even in high ISO settings, while also having an 11-point autofocus as a helping hand. As far as recording goes, it features a special movie mode that makes the 1080 HP recordings look smoother. The model has a wide offering of retouch options, ranging from red-eye correction and image overlay to distortion and perspective control. It also has an extensive guide mode that is helpful to those that are u
All of this considered, the D3200's price is fairly low right now, ranging at about $500. This is probably because it will become 3 years old this summer and newer models are making it appear outdated, but keep this in mind: should you also combine it with an ideal set of lenses, the D3200 might be the perfect occasion into DSLR photography.
Canon EOS-1D X
The EOS-1D X is powered by two DIGIC 5+ image processors which are capable of outstanding 12 FPS continuous shooting. This essentially transforms it into a recommendation for anyone that is high on taking action shots. It also performs well in terms of image quality in a high range of ISO settings.
The 18.1 megapixel sensor doesn't seem that impressive in comparison with other DSLRs. The magnesium alloy shell with weather seals it is coated in also makes it suitable to take in the most extreme weather conditions. The problem is that all of these features come at some expense: the price of the 1DX revolves around $6.000. If you're searching for something more akin to a hobby in photography, the 1DX might prove an expensive one at that; however, it is fully recommended for those that consider starting a career in it.
Of course, these are just some examples of Digital SLR cameras from two big manufacturers; the offering is way more varied, even from Canon and Nikon. The DSLR market is best described by two words: vast and varied. This, in turn, shows the various levels on which photography is regarded today: art, hobby, passion or even necessity.
You still might want to start off with a lesser camera – the popular portable point and shoots or the weird "bridge camera" compromises between them and DSLRs, just so you get the grasp of it all; getting a feel for a digital camera how it works. There's nothing stopping you from starting with DSLRs, of course, but you should be advised that despite how user friendly they have started to become, more advanced features still necessitate quite of a learning curve. These were our top picks in the series of digital SLR camera reviews, in our opinion the models described here are the best of the best. We hope we helped you find something you like and that you'll drop a line and tell us how that worked out for you.