Finding the right camera for yourself these days is as much a chore as it is akin to soul-searching. There are so many different versions, with a plethora of specs, strengths and weaknesses to consider, that you might find yourself lost within them and just cave in to the best-looking model.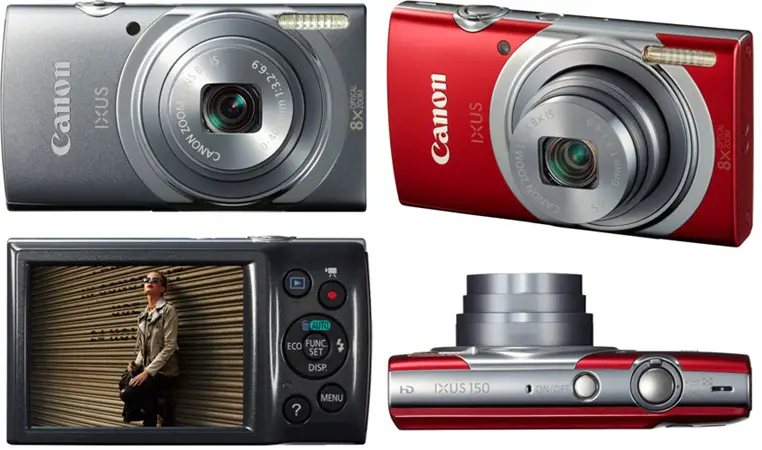 In truth, different camera types are made for different uses, and it's only up to you in what you're searching for. Some people might want a compact, easy-to-transport camera, while others might be searching for insane resolution and optical stabilization. You might also be interested in the post-processing effects that device offers you, or maybe you just want it to be as flashy as possible. This article will try to guide you through the numerous possibilities and find the ideal camcorder to either take on vacation or record your stage demo for auditions.
Compact digital video cameras
Compact video cameras are the smallest of the lot, and are ideal if you want a portable device ready to record any epic moment that might appear, either in a family holiday or while strolling in the park with friends. However, you shouldn't expect the best picture quality (though most of them are advand enough to offer decent quality), or anything resembling professional cameras, and especially for recording purposes storage space is mostly lacking.
Panasonic LX100
The LX100 is quite of a beast for its category, especially where image quality is concerned: a Multi Aspect Ratio system guarantees the fact the 12.5 million pixels will be attained regardless of aspect ratio. This also works as a limiting factor though, as the camera lens shoots through a native 16 MP. The camera records video at an outstanding 4K resolution in 30 FPS but, according to a TechRadar review, its lens is quite prone to being affected by sun flares. It sports a price tag of $899.
Canon IXUS 150
If you find the price of the LX100 quite prohibitive and aren't bothered in sacrificing quality, Canon might have the solution with its IXU 150. It costs around $130 – though you can find it cheaper on Amazon – and you're getting a fine selection for that price; namely a 16 megapixel CCD sensor, an 8x optical zoom lens and numerous art filters that can be viewed in real time. This camera can record in 720p HD at 30 fps, and its small dimensions make it very manageable. The camera looks pretty good too: it's featured in the photo above, so check it out.
Sony Cybershot HX60V
The Cybershot HX60V is probably the best quality you are ever going to get out of a compact camera, if its lens with 30x optical zoom is anything to go by. It is marketed and known as a "travel camera", being the easy compromise between a professional high-power DSLR and the portability of its compact counterparts. It sports a 20.4 megapixel CMOS sensor and can record in 1080p HD at 60 fps, but it doesn't incorporate raw format shooting. You can find it for a price tag of around $300.
Bridge cameras
Bridge cameras, on the other side, are way less maneuverable, having bodies similar to the DSLRs. At the same time, they are somewhat the jack-of-all-trades when it comes to cameras. They fill the niche between compact cameras and DSLRs, offering huge zoom ranges at the cost of smaller sensors. This also means that they could fare worse at high sensitivity settings than even some high-end compact cameras.
You might be looking for a bridge camera if you want more versatility in picture options while spending less than for a DSLR. They might be a good replacement for a professional camera in certain conditions; but their greatest strength is the extreme long range they can reach.
Panasonic Lumix DMC FZ-1000
The FZ1000 features a 20.1 megapixel MOS sensor, with a 16x lens zoom equivalent to 25-400mm. That is quite a short zoom for bridge cameras, and especially for the FZ series (with some models sporting a 60X zoom), but the sensor compensates for this by offering wider dynamic range and resolution to other cameras of its type. As far as video goes, it supports record modes for either 1080p HD with fps up to 120, or 4K UHD at 25-35 fps. The price is fairly accessible for what it offers, being situated at around $800.
Sony Cyber-shot RX10
Another one of the Cyber-shot family, the RX10 has the same argument in favor of it as the FZ1000 – a powerful 20.2 megapixel sensor, larger than most bridge and compact cameras. The 8x 24mm to 200mm equivalent superzoom lens it possesses is good enough for its purpose, and it has all the image setting and options you might want from a DSLR. It costs just over $1000 and is described by many reviewers as the ultimate compromise between compact cameras and DSLRs. If you're looking for the best video camera just around that price tag, this is it.
DSLR: The Pro's Tools
The digital single-lens reflex cameras are the top of top when it comes to image quality and settings availability; this is also reflected in their hefty price tag. These are the ones you're going for if you're interested in pursuing photography and video recording as an art or even job; their removable and interchangeable lenses provided them a large amount of versatility. Sure, you might keep them around as an expensive hobby, but you should be careful to keep the lens covered at all times; most DSLRs have sensors extremely susceptible to dust.
Nikon D3300
The D3300 is one of the smallest DSLRs around and is generally considered an excellent entry-level camera for this category. It takes pictures at 24.3 megapixels and can record video at 1080p with 60 fps. It does have limited shooting controls when compared to other DSLRs, and videos/photos shot in low light conditions might display more graininess. However, at under $500, it is most probably the cheapest pro-camera on the market.
Read our full Nikon D3300 review here.
Canon EOS Rebel T5i
The Rebel T5i might stand out only through the 100 plus different lens choices you can make. But it doesn't; its 18 megapixel camera doesn't stand up to most DSLRs in this respect, but the standout is the wide range of light sensitivity it has, making it perfect to use in a variety of differently-lit settings. It also has a great feature for its 1080p/30 fps video recording capabilities; a "silent stepping motor" feature that quiets the noise that the lens makes when moving while recording videos.
Nikon D810
The D810 has a comfortable sport design, but underneath it lays a beast adept at taking high quality shots in almost any circumstances. With a 64 to 128,000 light sensitivity range, it's probably the most versatile camera on the market, and the 36.3 megapixel sensor just makes the image quality simply stunning. Its great autofocus helps a lot in this regard, and the battery life – more than 1,200 images per battery charge – is something that puts the D810 somewhere near the old Nokia phones in this regard. It shoots video in 1080p at 60 fps, and features HDMI, USB 3.0 and microphone ports. If you want to really show you mean business when you want the best video camera on the market, and you have about $3000 to spend, the D810 will be an investment you most probably won't regret. Just don't lose yourself into the crazy image quality.