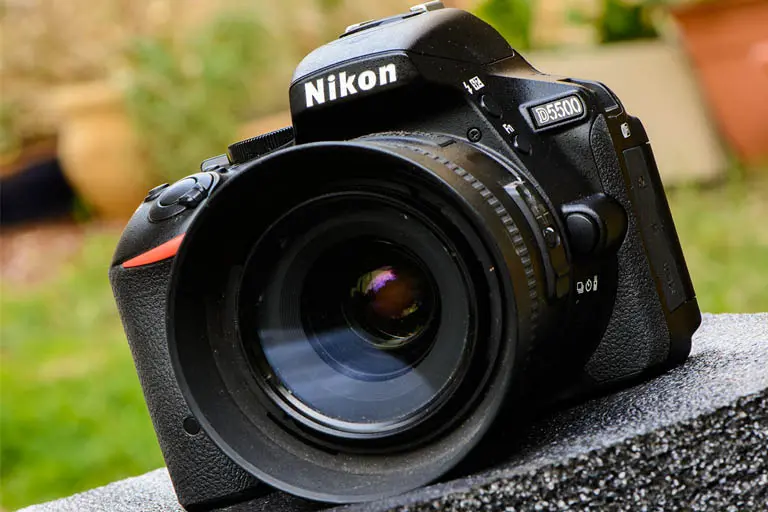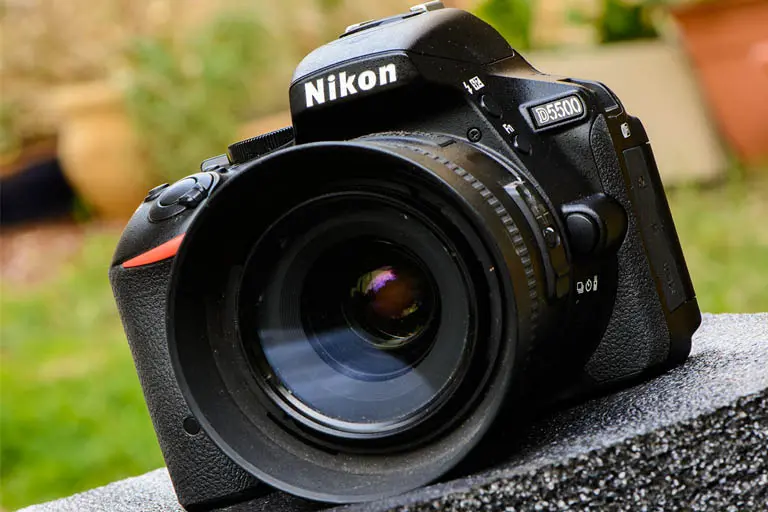 Posting photographs on social media is a great way to share pictures of vacations or special events with family and friends. However, a cell phone camera may not provide the quality photos that you need if you have a popular Instagram page. If you're ready to move up to a dedicated camera, then you might want to consider the Nikon D5500.
Selecting a Camera for Social Media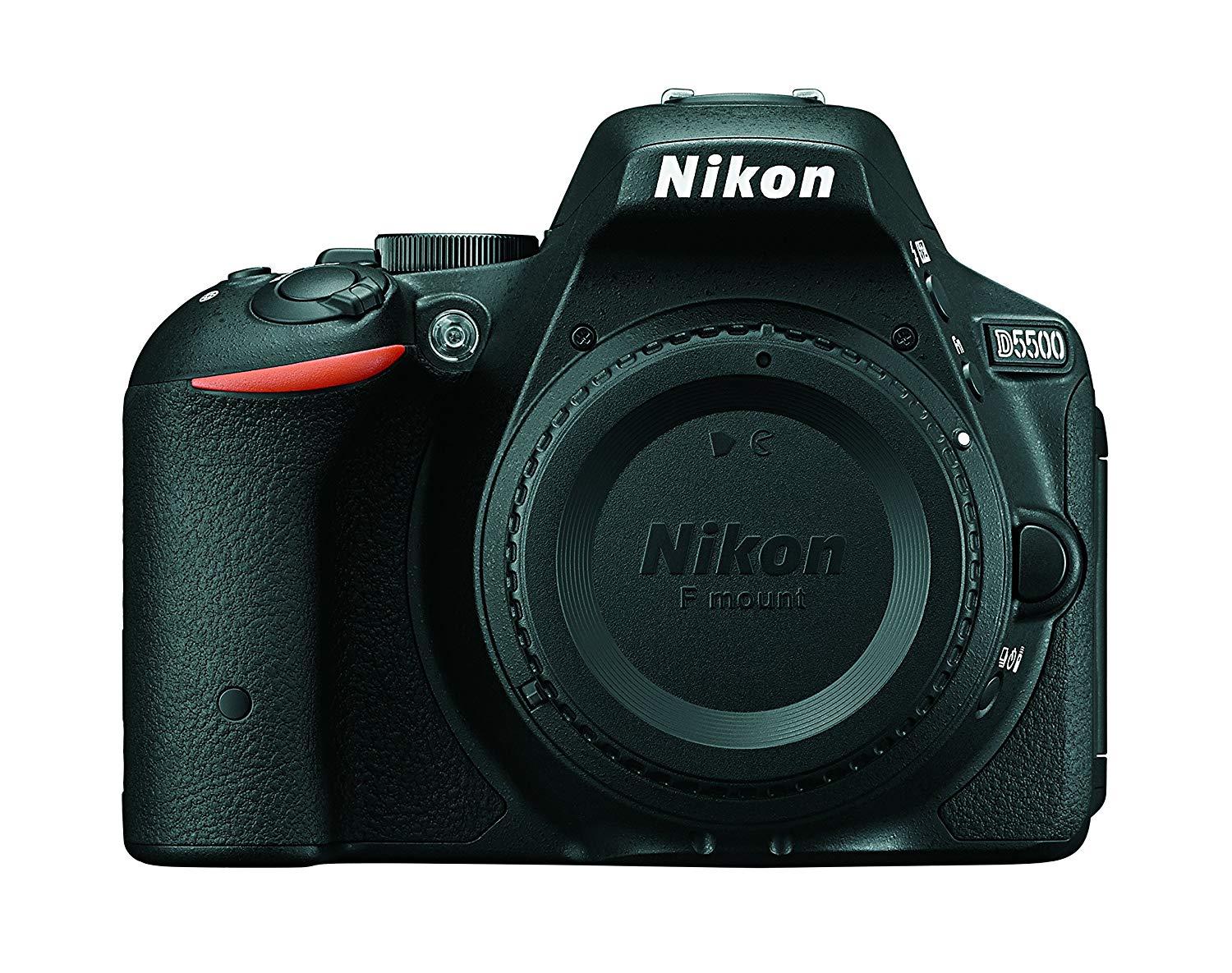 When you're ready for a dedicated camera for your blog, Instagram or Pinterest site, you'll find several options. To be able to manipulate the image until you get the shot selection and image quality that you want, the best type of camera to get is a digital single-lens reflex, or DSLR, camera.
With a DSLR camera, you can change the focus of the shot, choose a different lens and change settings to create the best image for your needs. However, it is important to know what features are available on these cameras to keep from paying too much for those you'll never use.
Three grades of DSLR cameras are available:
Entry-level

Immediate

Professional
Entry-level DSLRs
Entry-level DSLR cameras are usually the first experience with interchangeable lens cameras for most people. They are the type of camera that a budding hobbyist might enjoy, or professional photographers may use them as backup cameras. They are also the most affordable choice of the three grades.
A camera of this designation has a lightweight, compact body that is usually made from polycarbonate, which is a plastic, and it is easy to tote around on vacations or while hiking. Although some settings are adjustable, like the exposure, shutter speed, and aperture, many more are preset or automatic. Most entry-level DSLRs have a guide mode to teach beginners how to use each feature.
Intermediate DSLRs
An intermediate DSLR is the most common type of DSLR on the market. More serious hobbyists usually upgrade their entry-level model for an intermediate because they don't want to invest in a professional grade camera. They typically have a heavier body, which is a polycarbonate/metal alloy blend for durability.
This type of DSLR offers users the choice between APS-C or full-frame sensors, it has more creative modes and manual settings, the exposure-metering system is more accurate, and the video recording feature is better as well. This camera is also a good choice for professionals who carry another one with them.
Professional DSLRs
Professional DSLR cameras provide the best quality images by allowing the photographer to have more control over settings like focus, shooting speeds, and frame rates when shooting videos. They are a heavier camera because the body is a metal alloy, which makes them more durable.
Also, most professional DSLRs offer a full-frame size sensor, and they allow for more detail and clarity for both still images or videos. The owner can backup any files within the camera, and they generally have two memory card slots. Usually, the professional DSLR models are the flagship models for camera manufacturers.
Since a DSLR can be an investment with costs ranging from about $350 to $3,500, bloggers or social media influencers should keep using their camera phones until they can afford the best DSLR camera for their online needs.
What is a Nikon D5500 and How Does it Work?
24.2-megapixel image sensor with no optical low-pass filter for staggering sharpness
Compact design with swiveling touchscreen Vary-angle LCD display
Built-in Wi-Fi connectivity for instant photo sharing with a compatible smartphone or tablet
Full HD 1080/60p video recording with advanced movie features
Creative in-camera filters and effects, built-in HDR, time lapse, interval shooting and more
This Nikon DSLR is an entry-level camera with several advanced features. Like most DSLRs in this grade, it uses an APS-C image sensor at 24.2 megapixels, shoots five frames per second (fps), and has an Expeed 4 image processor. It can also shoot HD 1080p videos at 60 fps.
The body of the camera only weighs about 15 ounces and has a smaller frame than its predecessor, the Nikon D5300. It also features a 39-point AF, or autofocus, system and its sensitivity ranges from ISO from 100 to 25,600.
Since it is a digital SLR, images can be shot, and you can edit or discard them before uploading them to your smartphone or tablet via Wi-Fi to post them online or text them to your friends and family. Also, this Nikon model is the first to come out with a 3.2-inch LCD touchscreen display.
The display allows access to the camera's settings. While taking images you can change the focus or angle, the ISO and AF settings, or you can shift the video's focus while viewing the playback. With the settings menus, the display makes operating the camera as easy as working a smartphone.
Its rechargeable 1,230 mAh lithium-ion battery can last for up to 820 shots, so you can take it wherever you go on vacation or to a wedding or party to take great pictures of the places and people with whom you like to spend time. For bloggers and Instagram users, it could be a great camera to upgrade to and get the type of quality images you want to share with your followers.
What Makes the Nikon D5500 Unique?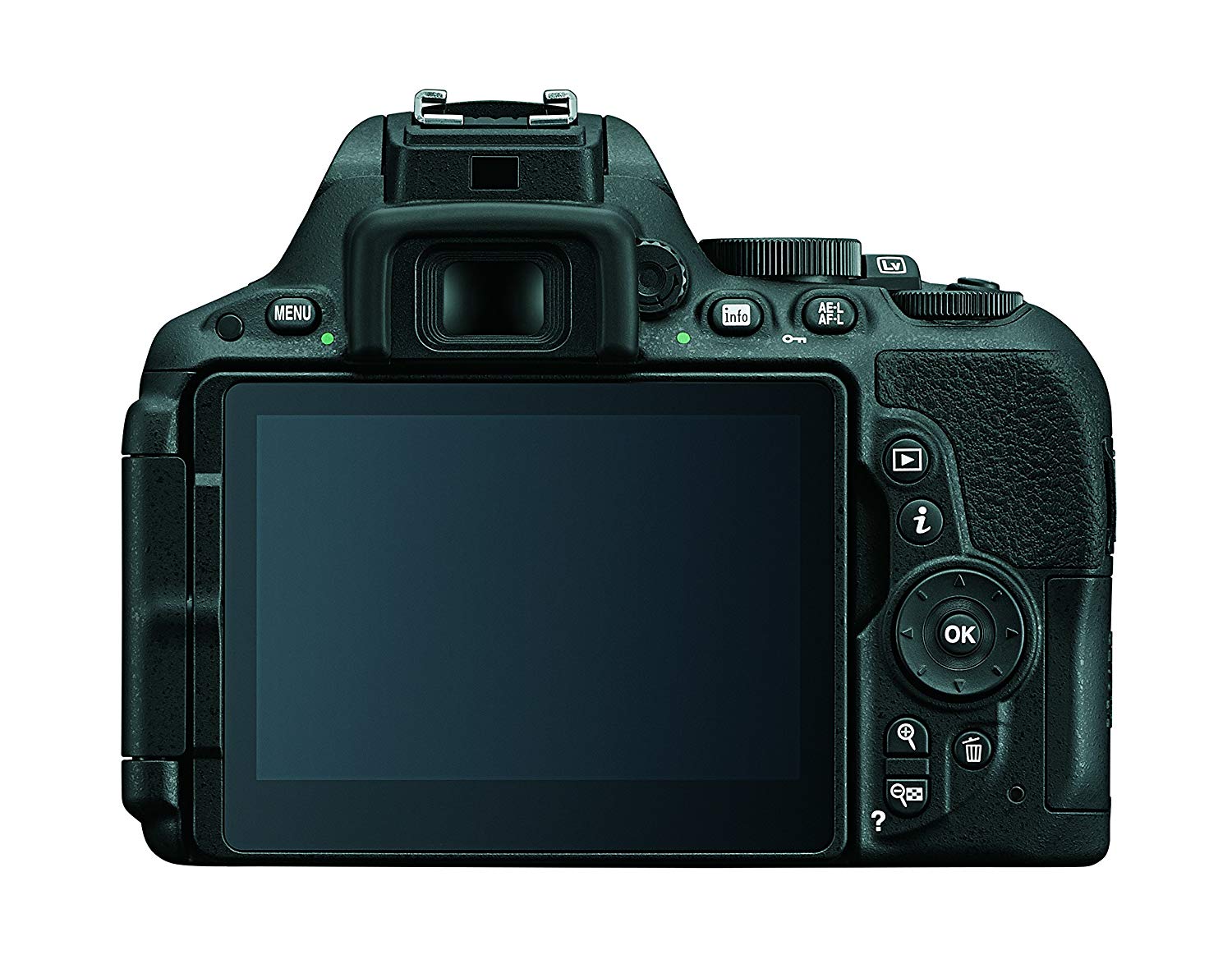 While the touchscreen display is not an innovation, it was first introduced to the camera world on the Canon EOS Rebel T4i in 2012, and it is the first Nikon DSLR with this feature. As previously mentioned, it allows users to change the settings or the focus of a shot from the touchscreen.
With the camera's Wi-Fi access, not only can users upload the images or videos from the camera to their smartphones or tablets, but they can use those devices as remote controls when setting up and taking pictures. So, whatever you're shooting, you can fix the display you're taking shots of or stop and allow someone's hair to be combed, and then use the device as a remote to capture the scene.
Users can also capture full HD videos for posting on there social media sites for followers or their family. The display allows users to adjust settings on the Nikon before they start shooting an anniversary or birthday celebration or the wedding reception of their best friends.
Pricing​
When the Nikon D5500 first went on the market in early 2015, it had a list price of $700 with just the body or $800 with a collapsible 18-55mm VR II lens. However, since the camera has been on the market for three years, and there is a new version that's come out, the Nikon D5600, so it's available at a lower price.
While you can probably find a used one in a local camera store, you can buy it new from sites like Amazon or from websites that specialize in camera sales. On Amazon, this camera sales for $558.00 with free shipping but it is only the body. They also offer it with two lenses, the 18-55mm VR II and a 70-330mm for $748 or an 18-140mm VR lens for $828.
On other sites, the Nikon sales for $559 online at Park Avenue Photo or Walmart for $564.99 for the red and black body or $599 for the black Nikon. They also have kits available that include the lenses, such as the 18-140mm VR lens kit for $899.
Public Perception
The D5500 gets many favorable reviews from both online review sites and people who bought and use it. Consumer Reports' website says this camera was one of their favorite finds at the Consumer Electronics Show, or CES, in 2015. They like the features the camera has, especially for a small, lightweight mid-level camera.
The site Digital Camera HQ also found this camera suitable for beginning photographers and enthusiasts. For them, the D5500 is a solid model that gives users sharp pictures with good noise reduction. While they like the video capabilities of the Nikon, they don't recommend it if the user wants to shoot lots of videos.
The site breaks up the review into sections about the body and design of the camera, as well as its image quality before they give their overall impression. These sections are helpful for a user with more DSLR experience. A beginner can also get some insightful information before deciding to purchase this Nikon model.
Buyers like the D5500 because of the improvements that were made in the design of the body over its predecessor the D5300. The body is slightly smaller, and the new design moves some of the buttons for the features to make them easier to access. For instance, the "i" button, was relocated to making it easier to reach when taking photos.
The more compact design is also lighter than the previous model because the company made the camera from a carbon fiber composite instead of the traditional polycarbonate or magnesium alloy bodies. Along with making the camera lighter, it makes it more durable as well.
They also like the addition of the LCD touchscreen display. They found it to be user-friendly, especially when angling it to change settings before or after a shot. The only thing major complaint was the elimination of the GPS feature. Overall, they gave it an eight, which is four stars.
Of course, most people who own the camera and wrote reviews about it praise it, which can help sway people on the fence about which camera to buy. The camera rates a 4.6 on Amazon because of the customer reviews and testimonials.
Most of the users who gave this model five stars found it to be an excellent product for their photography needs. Even a two-star reviewer said the images were great, but they didn't like the videos from it.
Some customers were disappointed with it, but they mainly had issues with the company shipping it to them. Some said the model they received wasn't new or it didn't come with a manual or the shipping company's customer service was terrible.
How it Compares
Since Nikon is a well-known successful company in the camera business, its biggest competitors are Canon and Sony, specifically the Canon EOS Rebel T5i and the Sony Alpha 77 II. All the cameras are in the beginner to mid-range level, so their features are roughly the same.
18 MP APS-C CMOS sensor
5 FPS continuous shooting
9 point AF system, all cross type
ISO 100-12800 (expandable to 25600)
1080 (30, 25, 24 fps) and 720 (60, 50 fps) HD video (29min limit, H.264 format)
3″ articulating touch panel LCD screen with 1,040,000 dots
Movie Servo AF for continuous focus tracking of moving subjects
KIT INCLUDES 14 PRODUCTS — All BRAND NEW Items with all Manufacturer-supplied Accessories + Full USA Warranties:
[1] Sony Alpha A77 II Wi-Fi Digital SLR Camera Body + [2] Sony Alpha 18-135mm SAM Lens + [3] Transcend 64GB SDXC UHS-I Card +
[4] Spare NP-FM500H Battery + [5] Battery Charger + [6] 62mm (UV/CPL/ND8) Filters +
[7] Shutter Remote Control + [8] PD DSLR Sling Backpack + [9] Precision Design DSLR350 Flash + [10] HDMI to Micro-HDMI Cable (6′) +
[11] PD SD & MicroSD Card Reader + [12] PD 6pc Complete Cleaning Kit + [13] PD 8 SD Card Memory Card Case + [14] LCD Screen Protectors
When comparing the Nikon to the Canon T5i, the Nikon is more expensive but has better features, such as:
Faster startup.

Built-in Wi-Fi.

Better color depth.

More dynamic range.

Higher sensitivity (ISO).

More AF points.

Higher number of pixels.

Longer battery life.
While the D5500 and Sony Alpha A77 II have many of the same features, the Sony does provide eight fps or 12 fps with fixed exposure, instead just five fps like the Nikon. Also, it has more autofocus points and faster shutter speed.
However, the Sony is twice as heavy, and it is slightly more expensive than the Nikon. While some prefer the Sony, the Nikon rates as a good beginning to a mid-level camera for people looking to upgrade to a DSLR on many comparison sites.
What We Think
If you need to upgrade from a cell phone to a real camera for a blog or social media account, then a DSLR like the D5500 will be one of your best choices. Its features allow you to take better quality images, the settings menu on the touchscreen display are easy to use, and it lets you to make better videos as well.
With access to Wi-Fi directly from the camera, you can quickly upload your shots and videos to your smartphone or a tablet to add filters or edit before posting them to Instagram, Facebook, Pinterest or other platforms.
A helpful application of the touchscreen is that it gives you the ability to use your smartphone or tablet as a remote control. So, if you're trying to get shots of your cat or need to set up an outdoor display on a windy day, you can reset the shot and quickly snap images via remote.
While a DSLR is going to be costlier than a point and shoot camera, it gives you more control over how the image or video is going to appear. By selecting something that will allow you to build your following, you are investing in your account and livelihood.
Selecting a good camera like the Nikon D5500 could help your account or blog grow more popular because of the eye-catching images you will be able to post to attract attention.