The Fujifilm X100F broke ground at the time of its release, offering up a unique spin on the traditional compact camera that appealed to both enthusiasts and professionals. This mirrorless fixed lens camera provides high-quality images and is packed with useful features to keep everyone satisfied. Despite its age, the X100F remains an impressive unit with a stunning retro stylization for an extra bit of fun. Stick around for our Fujifilm X100F review to learn all about this camera's specs, build, and performance.
Fujifilm X100F Specs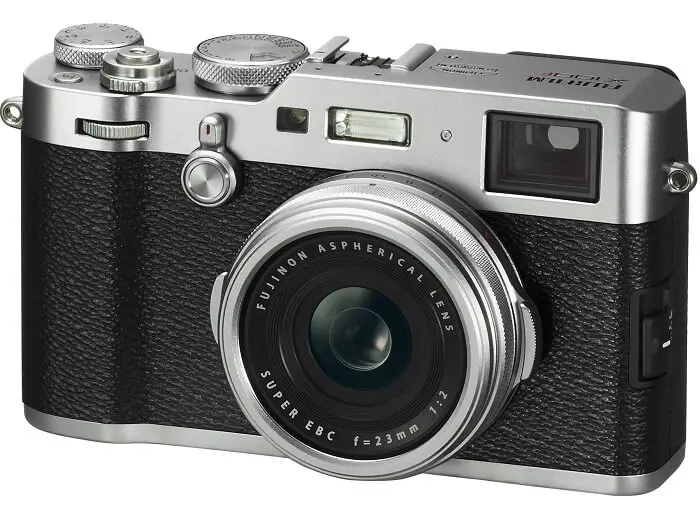 24.3MP APS-C X-Trans CMOS III Sensor.
X-Processor Pro Image Processor.
Fujinon 23mm f/2 Lens.
Full HD 1080p Video Recording at 60 fps.
3.0-inch 1.04m-Dot LCD Monitor with 100% Screen Coverage.
Hybrid Optical and Electronic Viewfinder with 100% Coverage.
Parallax-Correct Electronic Rangefinder.
Full Resolution Continuous Shooting at 8 fps.
Auto ISO Range of 200-12800 (Extended Mode of 100-51200).
91-Point Autofocus System with 49 Phase-Detect Points.
Built-in Wi-Fi Capability.
SD / SDHC / SDXC Memory Card Compatibility.
Dimensions of 5.0 by 2.9 by 2.1 inches.
Weighs 1.0 pounds.
Fujifilm X100F Features and Performance
Build and Buttons
To begin this Fujifilm X100F review, let's go over the specifics of the camera's construction. This unit provides a throwback style in two color configurations — an all-black or a two-tone silver finish. The metal housing feels nice and solid in the hand, although there isn't much in terms of grip. Note, however, that weather sealing is not a feature that comes with this camera; it's designed for more casual everyday use, not for rugged fieldwork.
Physical controls on the X100F are well made and have a tactile feel that negates finger slippage. Despite the sleek nature of the body, a surprising amount of controls are available for a traditional shooting experience. For instance, the camera's front includes the command dial, control ring options button / viewfinder selector, and the AF-assist illuminator.
The lens barrel features an aperture and control ring. A focus mode selector switch can be found on the left side of the camera body, while the right side features various inputs. On the top of the camera, you'll find the hot shoe, shutter button, metering button, shutter speed / ISO dial, and exposure dial.
Finally, the back of the camera has a rear command dial, the AEL/AFL button, view mode button, menu buttons, the "Q" (quick menu) button, and a four-way controller. For such a compact unit, the array of controls is quite impressive, maintaining user-friendliness at the same time.
Display and Functions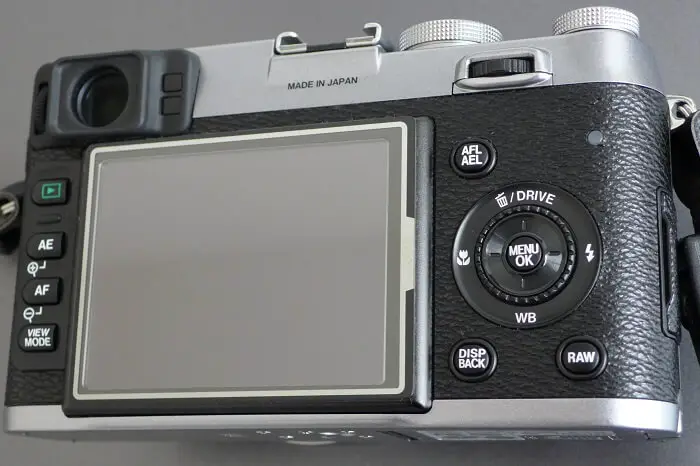 The Fujifilm X100F comes equipped with a 3.0-inch 1.04m-Dot LCD monitor with 100-percent screen coverage. This rear display is easy to use, with a crisp, bright view that offers up a satisfying level of detail. Unfortunately the monitor lacks touch capability; of course, this doesn't affect the camera's shooting ability but it would have been a welcome addition nonetheless. The four-way controller makes it easy to select an autofocus point, even without being able to tap to focus. Another thing to note is the monitor's inability to tilt — this makes it a bit more difficult to use when under direct sunlight.
Also included is a hybrid optical and electronic viewfinder with 100-percent coverage. The display is a good size and offers a bright view for shooting. Shoot using the electronic mode for a clear view of white balance, exposure, composition, and other shooting info. If desired, use the optical mode for a more traditional shooting experience. For instance, optical mode provides a split image for manual focus to ensure accurate framing. Easily get the best of both worlds by shooting via optical mode and see the electronic mode preview in the bottom right corner of the viewfinder — a nice touch.
Sensor, Resolution, and Autofocus
Featuring a 24.3MP APS-C X-Trans CMOS III sensor and an X-Processor Pro image processor, the Fujifilm X100F cranks out images of beautifully superior quality with ease. Colors are accurate and look great overall. Speed is another solid plus — from start-up to first shot is about 1.0-second, while the second image can be captured in 0.2-second. Using the built-in flash extends the time to 1.2-second. Full resolution continuous shooting maxes out at a respectable 8 frames per second.
Noise performance is quite good, with an auto ISO range of 200 up to 12800 and an extended range of 100 up to 51200. Good quality images can be captured all over the ISO range within reason, although some noise does begin to creep in at ISO 3200. Colors become slightly more muted and noise becomes more prominent once you hit ISO 6400 and beyond. Thanks to the camera's dynamic range, detail in terms of shadows and highlights can be recovered at low sensitivities without losing quality in the image itself.
The X100F offers up a 91-point autofocus system with 49 phase-detect points. This autofocus system is responsive and quite speedy — although, this camera wouldn't suffice for sports or action shooting. The speed is perfect for casual shooting and focusing is solid with little hunting. Satisfying performance is maintained even when shooting in dimmer conditions.
Video Capabilities and More
As we wrap up this Fujifilm X100F review, let's go over the camera's video capabilities. While this type of compact unit isn't built for serious filmmaking, the X100F does a solid job of capturing video. Easily record in Full HD 1080p at 60 frames per second.
An external microphone can be hooked up, but a headphone jack is missing from its feature set. Again, the lack of a headphone jack isn't much of an issue since this camera will likely be used for recording short clips only. A good amount of control is offered up in terms of manual exposure, but managing autofocus while shooting is not possible. That being said, the continuous focus feature tends to give a solid performance.
A welcome feature of the X100F is its built-in Wi-Fi capability. No NFC or Bluetooth connectivity is offered, but Wi-Fi is perfect for easily transferring images. Remote shooting is also possible via the Fujifilm Camera Remote smartphone app.

Pricing
The Fujifilm X100F is available in two color configurations — black and silver — both of which are priced at $1,199.
Verdict
This Fujifilm X100F review has shown why this camera made such a splash and continues to be acknowledged for its unique qualities. With a user-friendly layout in terms of controls, a large sensor, compact body, and so much more, the X100F is a nice option, either as your default or an additional camera, for everyday use. We hope you enjoyed our Fujifilm X100F review. What are your thoughts on the X100F? Please share with us by leaving a comment below.