Remaining a very popular choice for both amateur photographers and basic home use, the Fuji X100S has a lot to offer. Although it was originally released in 2013, the model is still able to hold its own when pitted against many of the newer models that are currently available. Our article is going to serve as a Fuji X100S review that will cover several key components of the camera's performance and handling.
Fuji X100S Specs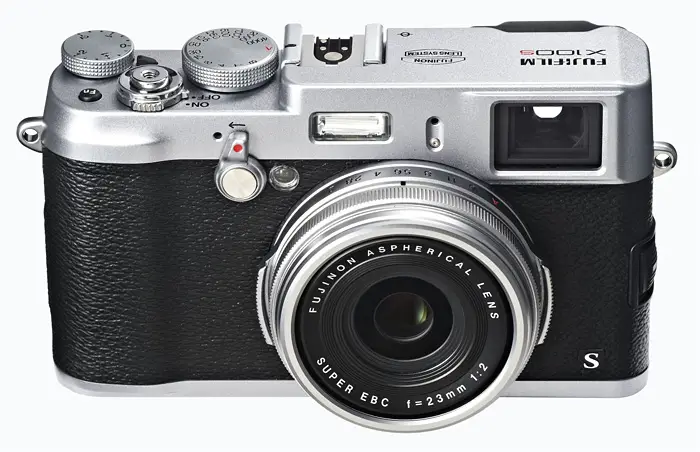 16.3MP sensor.
Average battery life of 300 shots.
Approximate weight with battery is 405 grams.
1080p recording quality.
Shutter speed of up to 1/4000 and 30-second exposure.
NP-95 battery type.
Supports both manual and autofocus options.
Native ISO sensitivity range of 200-6,400.
Features and Performance
Build and Buttons
No Fuji X100S review would be complete without a section on the build and button layout of the camera. The first thing you will notice when you pick up the Fuji X100S is how lightweight it is. Weighing only 405 grams with the battery inserted, this model would be an excellent pick for travel use and family gatherings.
The exterior of the camera features a rugged and retro look with a synthetic leather textured finish. In addition to serving as a classic decorative element, the synthetic leather helps you keep a solid grip on the camera in a wide range of shooting conditions. We found that the button layout was fairly similar to other digital camera models that are currently available on the market.
The top of the camera is where you will find a dial for controlling the ISO range that you are currently using. All of the numbers are very easy to read. Each click of the dial feels very solid to let you know that you have made a new selection. There is also a simple push button located on the top for powering the camera on and off.
On the back of the camera is where the majority of the other controls are located. The main control mechanism is the radial dial that is used to navigate various digital menu screens and to select different options. You will also find the viewfinder and a green play button that is prominently displayed for watching video recordings.
The only downside we found with the build is that this camera model lacks the weather sealing you see in many other higher-end models. However, the sturdy construction should be more than enough to keep this camera safe for most photographers.
Display and Functions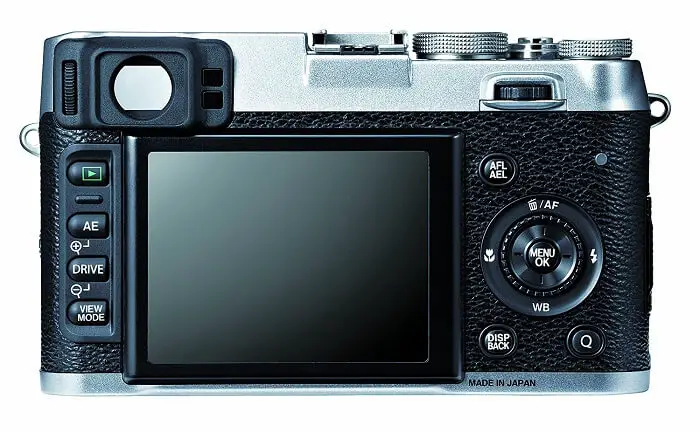 In this portion of our Fuji X100S review, we're going to focus primarily on the display and functions of the camera. The Fuji X100S sports a fairly modest 2.8 inch LCD display with approximately 460k dots. While this is a bit smaller than most of the newer cameras on the market, you have to keep in mind that the camera is designed to be very portable.
One of the things we liked most about navigating the menu options in the display is how simple it is. As mentioned in the button section above, you navigate the display by using the radial button layout to the right. Each time you need to select a given option, you simply press the middle radial menu key.
It's important to note that different shooting modes can be selected with the same radial system while viewing the display. In addition, you can also change the camera's flash settings by using the display and radial menu system as well.
One slight issue that you should be aware of is that this model does not have an articulating screen. However, this is an older camera model; this type of feature did not become commonplace until much later after its development.
Sensor, Resolution, and Zoom
Given its age, the Fuji X100S sports a fairly impressive 16.3MP sensor. While not nearly as large as some newer models, amateur photographers and users who are looking for a camera for basic family use will likely not have any problems with it.
One of the most impressive things about this particular model is its ISO range. With an ISO range that extends from 200 to 6,400, it does an excellent job adjusting to a wide range of lighting conditions.
Though we did like the ISO range, one area where the camera falls short is its optical zoom capabilities. The model is limited to 1x optical zoom, meaning that users who prefer long-distance shots may be severely disappointed.
Fortunately, the resolution of the Fuji X100S does slightly make up for this. With a maximum resolution of 4,896 x 3,264, this camera is capable of producing photographs that hold up well at maximum display size.
For amateur photographers who prefer a more point and shoot approach, you will like that this model does come equipped with standard autofocus settings. With Fuji cameras, you have the ability to zoom in and out of the autofocus point. While zooming in will take more time for the camera to adjust the picture, it will result in a much clearer shot with little to no subject blurriness.
Video Capabilities
The video capabilities of the Fuji X100S are somewhat average. It's important to note that this camera is a bit old. Since the time of its release, there has been a wide range of developments in the video recording capabilities of cameras. With this in mind, the Fuji X100S can record videos in up to 1080p quality.
As for FPS, you can either record at 30 or 60 FPS. While not nearly as impressive as some newer models with full 4K video support, the video recording capabilities of this model should prove more than sufficient for basic home video use.

Pricing
You can still find the Fuji X100S in both new and used conditions. The price ranges from $775.57 for a new model to as little as $700 for a used. Since this is a fixed lens camera, there are no additional lens kits to purchase.
Verdict
Based on the findings in our Fuji X100S review, we feel that this camera is still a solid choice for basic family photography needs as well as amateur photographers. The camera features a decent battery life and a relatively powerful sensor that combines dependability with excellent picture quality. If you have already had the chance to try out this camera, tell us about your experience.