The Panasonic Lumix ZS100 was released in answer to the travel camera era that swept through the photography world. This pocket-sized camera is an excellent choice for users of any level but especially those who shoot while on the go or those looking to capture casual photos of family fun. This unit offers up an impressive 10x zoom range with a 1-inch sensor. Check out our Panasonic Lumix ZS100 review to find out more about the features, capabilities, and more.
Panasonic Lumix ZS100 Specs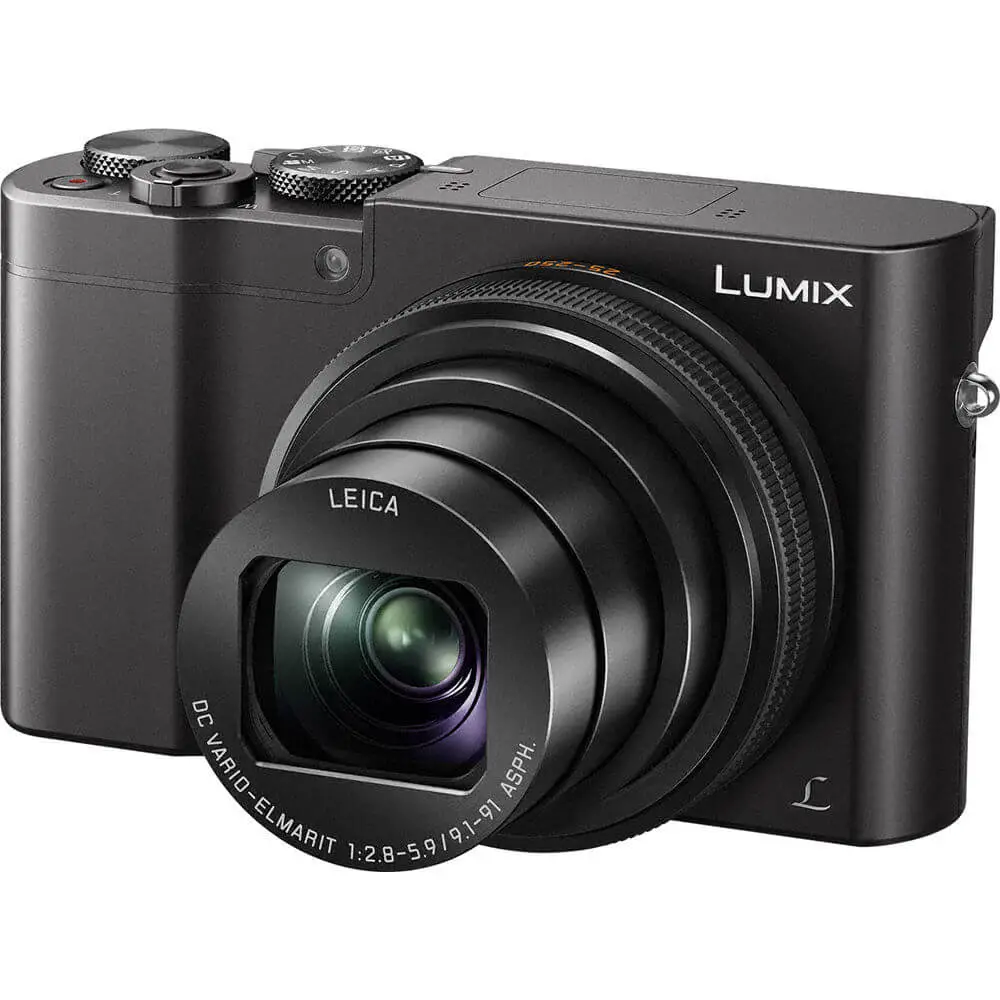 20.1MP 1-inch High Sensitivity MOS Sensor.
Venus Engine Image Processor.
Leica DC Vario-Elmarit 10x Zoom Lens.
4K Ultra HD Video Recording at 30 fps.
3.0-inch 1.04m-Dot Touchscreen LCD Monitor with 100% Screen Coverage.
1,116k-Dot Electronic Viewfinder with 100% Coverage.
Full-Resolution Continuous Shooting at up to 10 fps.
Auto ISO Range of 125-12800 (Extended Mode of 80-25600).
49-Point Autofocus System.
5-Axis Hybrid O.I.S.
Built-in Wi-Fi Capability.
SD / SDHC / SDXC Memory Card Compatibility.
Dimensions of 4.4 by 2.5 by 1.7 inches.
Weighs 11.0 ounces.
Panasonic Lumix ZS100 Features and Performance
Build and Buttons
First topic in our Panasonic Lumix ZS100 review will be the camera's overall construction. The ZS100 maintains an impressively compact footprint, despite the inclusion of a 1-inch sensor and 10x zoom lens. It weighs a bit more than expected, which lends nicely to a higher quality feel. The sleekness of the body doesn't allow for a textured grip around the front. However, there's enough to the body to largely avoid slippage — for extra security, use the wrist strap.
In terms of physical controls, there are quite a few. The majority of these controls sit within easy reach of your right hand, perfect for one-handed shooting. Featured on the top of the camera are the power button, shutter release, zoom rocker, video record button, mode dial, and control dial. On the back of the camera you'll find four function buttons. Each of these buttons has a designated function but these can be customized for optimal usability.
Within the menu screen, there are an additional five function buttons for easy access; these are all customizable as well. Also on the back of the camera are the AF/AE lock button and a four-way controller. There is a lens ring, which functions as a zoom control or an aperture ring, depending on the mode you're shooting in.
Display and Functions
The Lumix ZS100 features a 3.0-inch 1.04m-Dot touchscreen LCD monitor with 100-percent screen coverage. All usual touch functions are provided, such as menu navigation, image playback, and tap-to-focus. Keep in mind that the monitor is fixed, rather than articulating, and due to this it can be more difficult to see when shooting under harsh sunlight. If you don't enjoy navigating via touch, these same features can be controlled with physical controls.
Also included on the Lumix ZS100 is a 1,116k-Dot electronic viewfinder with 100-percent coverage. The viewfinder is a nice touch and very helpful but it disappoints in terms of size. Users are likely to see some color tearing — this happens when you blink or pan the camera. Not all people will be affected by this "rainbow effect" but some can't get past it. Next to the viewfinder is the diopter control. There is also an eye sensor that can detect whether or not the camera is to your eye and responds accordingly; it turns on when you lift the camera to your eye and turns off once you lower it.
Sensor, Resolution, and Autofocus
The Panasonic Lumix ZS100 comes equipped with a 20.1MP 1-inch high sensitivity MOS sensor and a Venus Engine image processor. Image quality is great overall, capturing a solid amount of detail. However, colors tend to look a bit dull at times — but for the most part, the camera delivers. From start-up to first shot, the camera takes about 2.1-seconds. Although not the speediest, this is pretty solid, given how far the lens extends in order to shoot. Under good lighting, focus and shoot in 0.1-second. Shooting with flash takes about 1.7-second. Full resolution continuous shooting clocks in at 10 frames per second with single AF and 6 frames per second with continuous AF.
Noise performance isn't the best around but it's definitely usable for capturing quality shots. This unit features an auto ISO range of 125 up to 12800 and an extended range of 80 up to 25600. Once you reach ISO 3200 and ISO 6400, details become a bit less pronounced. Pushing it to the top end of the auto ISO range will cause significant noise.
In terms of autofocus, the ZS100 includes a 49-point AF system. This system is quite responsive, focusing quickly with almost no delay while shooting in good lighting. Even in dimmer lighting conditions, autofocus manages to power through. Subject tracking and continuous AF are impressive with very little wobble while maintaining accurate focus. Although this isn't the best choice for capturing intense sports, the speed is definitely good enough to nicely capture general action.
Video Capabilities and More
Wrapping up our Panasonic Lumix ZS100 review, we'll go over the camera's video capabilities and more. The ZS100 offers up stunning 4K Ultra HD video recording at 30 frames per second. Although a compact camera, this unit does deliver in terms of video. There is a lot of flexibility when it comes to adjusting the shooting mode, including exposure, zebra pattern, focus peaking, and more.
However, this camera lacks inputs for both an external microphone and audio monitoring. Video quality is truly excellent with superior noise performance even while shooting in lowlight. The autofocus works nicely in combination with video, offering up great response, as well as smooth racking as the scene changes. Level Shot is an additional feature that's provided to correct for rotation, leveling the horizon.
The Lumix ZS100 provides built-in Wi-Fi, which is helpful in terms of quickly transferring images from the camera to a smart device or laptop. Remote control is a great feature, giving full power over the camera right from your smartphone. Zoom, adjust settings, and set the focus with a single touch.

Pricing
The Panasonic Lumix ZS100 is currently available in two color configurations — black and silver — both of which are priced at $548.
Verdict
Our Panasonic Lumix ZS100 review has shown what a versatile tool this compact camera is for the casual photographer. It offers up the perfect blend of size and focal range. With so many features, it's nice being able to have a pocket-friendly camera that delivers in terms of both quality and capability. Thanks for sticking around for our Panasonic Lumix ZS100 review. What are your thoughts on this compact point-and-shoot? Tell us by leaving a comment below.