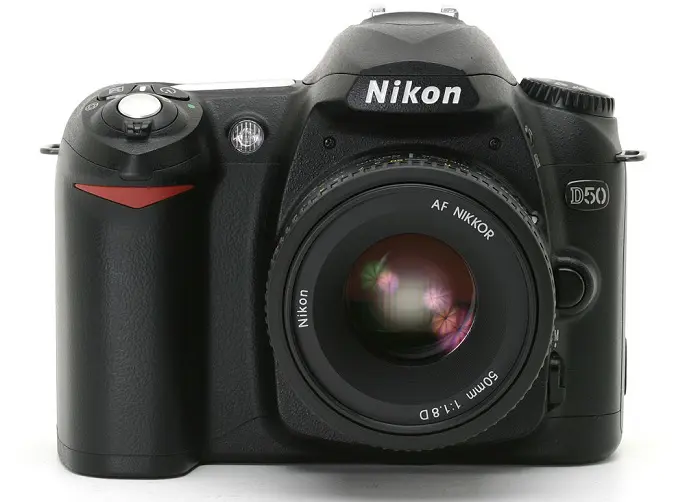 For a span of time, Nikon focused solely on constructing some of the best high-end DSLRs. The release of the Nikon D50 offered a nice surprise for the average consumer. With stunning image quality, a user-friendly interface, excellent features, and a satisfying price point, the D50 remains a solid option for the beginner or as a back-up camera. Read on for our Nikon D50 review to learn why this DSLR is still worth it.
Nikon D50 Specs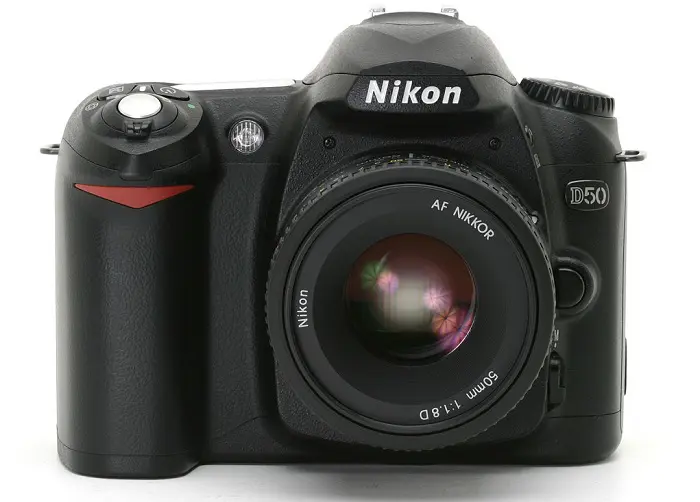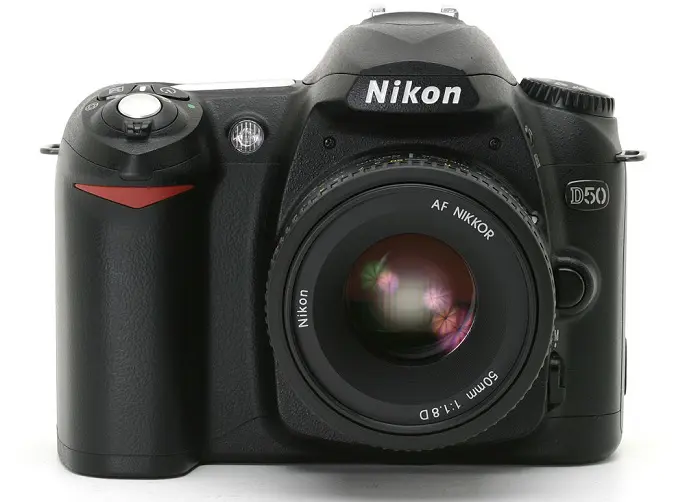 6.1MP DX-Format APS-C CCD Sensor.
2.0-inch 130k-Dot LCD Monitor.
Pentamirror Viewfinder with 0.75x Magnification and 95% Frame Coverage.
Full Resolution Continuous Shooting at 2.5 fps.
Auto ISO Range of 200-1600.
5-Point Autofocus System with AF-Assist Illuminator.
3D Color Matrix Metering II.
Built-in Flash.
SD Memory Card Compatibility.
Dimensions of 5.2 by 4.0 by 3.0 inches.
Weighs 19 ounces.
Nikon D50 Features and Performance
Build and Buttons
The first topic we're going to tackle in this Nikon D50 review is the camera's physical components and build. Don't let the bargain price fool you — the D50's polycarbonate construction is as solid as they come. It's balanced nicely, perfect for one-handed shooting when needed. In no way does this unit feel cheap. The rubbery handgrip and thumb grip provide a secure feeling at all times. Overall, the design closely resembles that of the Nikon D70 and maintains a weight of 19 ounces for a comfortable hold during shooting sessions.
For anyone who has used a DSLR, it won't be difficult getting used to the D50. In fact, despite the many advanced features provided by this camera, the physical controls still allow for an uncluttered design. Found on the front of the camera is the illuminator lamp, which assists when focusing in poor lighting, as well as a switch to select either autofocus or manual focus.
The top of the camera features many elements, including the power button, shutter release, status LCD, built-in flash, hot shoe, self-timer button, exposure compensation, and finally, the mode dial. On the back of the camera you'll see buttons for features like playback, delete, ISO, white balance, image quality, zoom, auto exposure/auto focus lock, and more. Also included here are the diopter correction control, command dial, and four-way navigator.
Display and Functions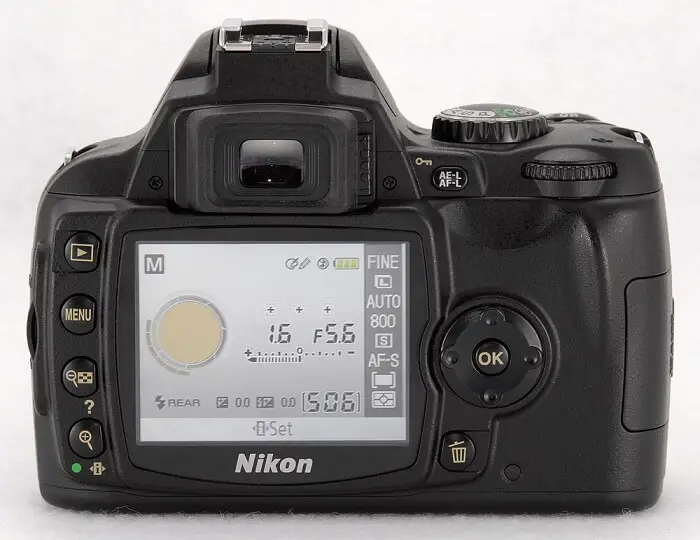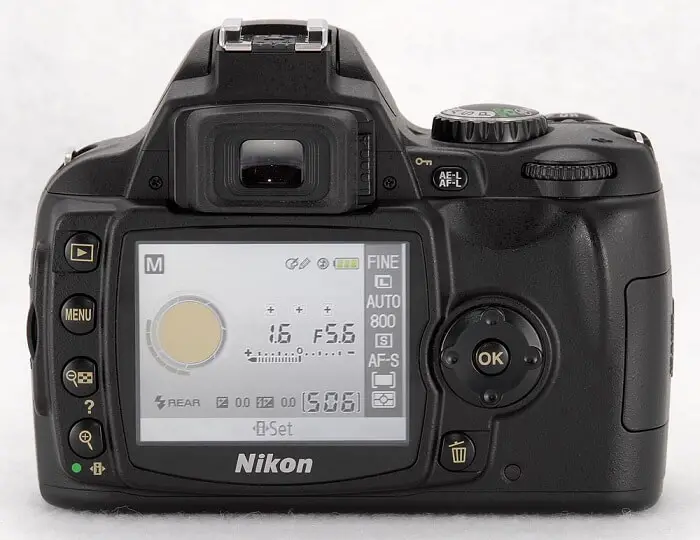 The Nikon D50 features a 2.0-inch 130k-Dot LCD monitor. Although not the biggest around, this monitor is clear and responsive. Navigating the menu is easy, with the monitor crisply showing various elements, such as file information, settings, a histogram, and an overexposure alert. However, something to note is that with this DSLR, the sole function of the monitor is for playback and for accessing details via the menu — not for framing shots. This was the norm at the time of the D50's release and definitely something to keep in mind.
Also included is a pentamirror viewfinder with 0.75x magnification and 95-percent frame coverage. Built-in diopter adjustment is available to accommodate eyeglass wearers. Looking through the viewfinder, you'll see that the image looks bright and crisp. Along the bottom of the viewfinder is an information display showing exposure compensation, shutter speed, flash status, focus lock, focus point, focus mode, and more. Note that there is no alignment grid available on this viewfinder but it does have easy-to-see indicators for battery and memory card notifications.
Sensor and Resolution
Equipped with a 6.1MP DX-Format APS-C CCD sensor, the Nikon D50 delivers high quality images with stunning detail and vivid colors. The speed on this camera is quite impressive as well. For instance, it takes about 0.5-second to turn on and prepare to take the first shot. It takes approximately 2 seconds to store the highest quality JPEGs, while RAW images take about 5 seconds. Capture full resolution JPEGs continuously at 2.5 frames per second — this is a bit slow compared to the competition of the time but it's perfectly usable.
Noise performance on the D50 is excellent. The auto ISO range is 200 up to 1600. When shooting in optimal lighting conditions, noise is kept to a minimum, even at ISO 1600. Subtle noise starts to creep in at that point but it's barely noticeable and the colors remain accurate. Exposure is solid with a full range of tones overall. Shots captured at ISO 800 and 1600 might result in a bit too much contrast when shooting with the flash activated. Based on the quality of the images alone, the D50 is truly a great choice for beginners or as a back-up camera for everyday use.
Autofocus, Metering, and More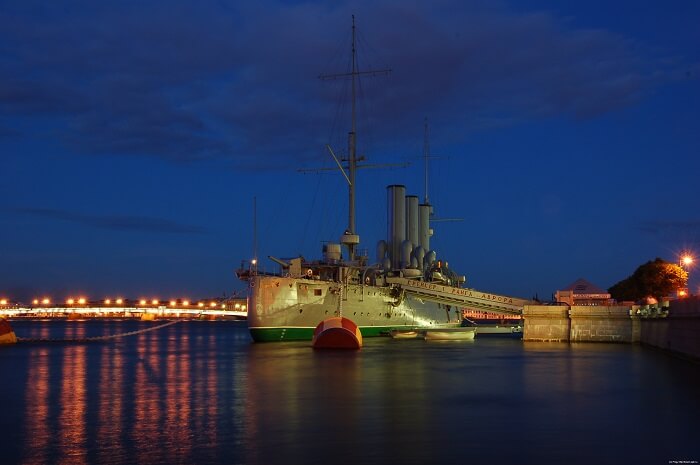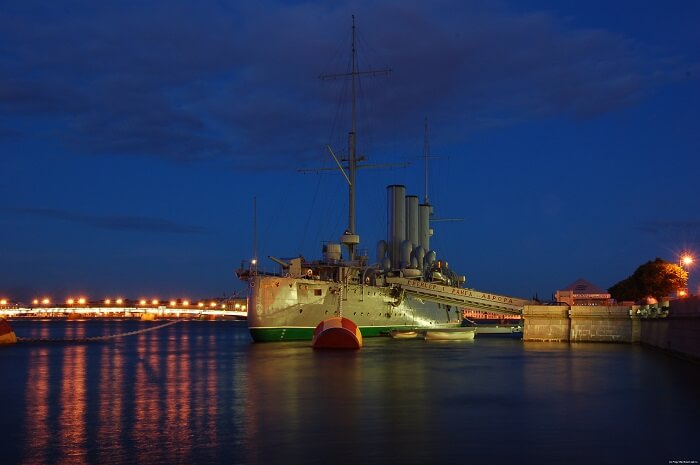 The D50 includes a 5-point autofocus system with many options for customization. For instance, three focusing modes — Single Area AF, Dynamic Area AF, and Closest Subject; three metering modes — 3D Color Matrix, Spot metering, and Centre-weighted metering; and four focusing types — Autofocus, Manual, Single-Servo AF, and Continuous-Servo AF. The five autofocus points can be chosen manually or automatically, depending on your preference. For the best focusing possible, an auto-focus assist lamp is included. In terms of performance, autofocus is quick and reliable, especially while shooting in good lighting. When using the AF-Assist lamp in lowlight, performance is definitely solid.
As we briefly mentioned in this Nikon D50 review above, this camera offers up three different metering modes. Matrix metering helps when shooting backlit subjects or when either very light or very dark subjects occupy much of the frame in focus. Spot metering grabs info from the active focus area for precise exposure and lets you meter off a subject's face. Lastly, Centre-weighted metering focuses most on a circular area in the center of the frame.
Pricing
The Nikon D50 is available in four configurations: the body only, priced at $499; the body with 18-55mm lens, priced at around $200; the body with 28-80mm lens, priced at around $240; and the body with 18-55mm and 55-200mm lenses, priced at around $350.
Verdict
Overall, our Nikon D50 review has shown why this consumer-friendly DSLR is still worth it. Although missing a few of the features available on certain high-end models, Nikon chose not to cut corners in terms of performance. This camera delivers on quality, construction, and versatility time and time again. Plus, it's hard to pass up at such an affordable price. Thanks for sticking around for our Nikon D50 review. What do you think — is the D50 still worth it? Share your thoughts in the comments below.