In this Nikon D60 review, we're going to go in-depth about the camera's specs, performance, and capabilities. The D60 is an entry-level unit that's perfect for any photographer who is just starting out or making the jump to a DSLR. This camera is also a treat for those coming from a point-and-shoot. Even more advanced photographers tend to like this camera for casual shooting. Check out our Nikon D60 review to learn everything there is to know.
Nikon D60 Specs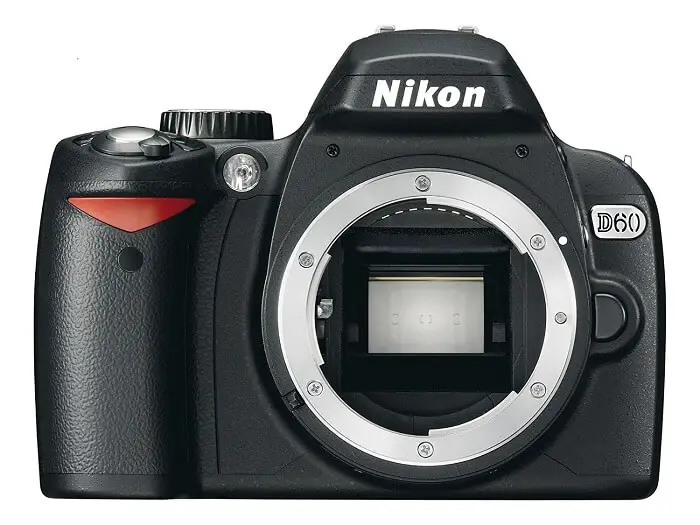 10.2MP DX-Format Sensor.
EXPEED Image Processor.
Integrated Dust Reduction System.
2.5-inch 230k-Dot LCD Monitor.
Pentaprism Viewfinder with 0.86x Magnification and 95% Frame Coverage.
Multi-CAM 530 3-point Autofocus System.
Full Resolution Continuous Shooting at 3 frames per second.
ISO Range of 100-1600 (Auto) / ISO 3200 (Hi-1).
Stop-Motion Video.
8 Digital Vari-Program Modes.
Built-in Speedlight.
In-Camera Image Editing & RAW Processing.
420-Pixel RGB 3D Color Matrix Metering II System.
SD / SDHC Memory Card Compatibility.
Dimensions of 5.0 by 3.7 by 2.5 inches.
Weighs 16.1 ounces.
Nikon D60 Features and Performances
Build and Buttons
Constructed with a lightweight polycarbonate outer housing that lines the metal alloy frame, the D60 offers up a compact build. Although not a groundbreaking design, it's certainly rugged enough to withstand various environments, including some rain. Dust and weather seals perform well for casual shooting. The D60 feels nice and secure in the hand, thanks to the ergonomic handgrip.
On the top of the D60 sit a few expected controls like the power switch and shutter release. Also on top is the Active D-Lighting button, exposure compensation button, and the mode dial. The rear of the camera features the command dial and the AE/AF lock button.
Alongside the LCD monitor are four buttons: play, menu, thumbnails, and magnify. There is also a navigational keypad to change settings within the menu. Finally, the front of the camera includes a self-timer/Fn button and the flash release/flash mode button. The Fn button is a definite plus, since its programmable.
The camera's interface is user-friendly, which makes it perfect for beginners. Physical controls are minimal, keeping things nice and simple if you just want to point and shoot. If you'd like to explore more once gaining further experience, advanced shooting settings can be found within the menus via the LCD monitor.
Display and Functions
The Nikon D60 is equipped with a bright and color accurate 2.5-inch 230k-Dot LCD monitor. Although the monitor is on the small side, its interface is fun to play around with and definitely intuitive. One of the best things about this monitor is the way it conserves battery — it powers down when your eye is at the viewfinder, thanks to a built-in proximity sensor.
The display rotates when the camera is turned vertically for shooting portrait-style images. You can also set the background of the monitor to one of your own images for an added touch of fun. A feature aimed specifically at beginners is the flashing question mark shown in both the monitor and the viewfinder. This pops up when the camera senses that there might be a possible exposure issue. Pressing the question mark button allows helpful suggestions to show on the display.
Also featured is a pentaprism viewfinder with 0.86x magnification and 95-percent frame coverage. This viewfinder is great in terms of brightness and clarity. It provides a nice size as well. All vital information shows up clearly within the viewfinder display, including which autofocus point is selected. Diopter correction is available for users with glasses — a definite plus.
Sensor, Resolution, and Autofocus
The D60 features a 10.2MP DX-Format sensor and an EXPEED image processor, both of which work together to capture some truly stunning images. Color accuracy and brightness is solid while shadows are true to life with the perfect level of exposure. High speed is common for this camera, allowing for a start-up time of just 0.2 second —impressive. Full resolution continuous shooting clocks in at 3 frames per second.
The D60's native ISO range goes from ISO 100 to ISO 1600 and can be expanded to ISO 3200. Noise performance is great even while shooting in low light. Depending on the conditions, you can shoot on the entire native ISO scale with minimal noise. But using the expanded ISO up to 3200 can bring about some unusable images — noise becomes a bit too overwhelming and much shadow detail is lost. Whenever possible, it's best to stick below ISO 1600.
The D60 features a Multi-CAM 530 three-point autofocus system. Although there are only three points, bright red LED brackets show exactly where the camera is focusing — a nice touch. One thing to note, however, is that the D60 lacks a focus drive motor.
This means that the full compatibility of the autofocus only works with AF-I and AF-S series lenses, both of which feature a built-in drive motor. While other Nikon F-Mount lenses can also be utilized, some functionality is still lost and the autofocus only works in manual mode. Otherwise, the autofocus system is solid, tending to perform quickly and accurately even in dim lighting conditions.
Special Features
Wrapping up this Nikon D60 review, let's check out some of the camera's special features. Nikon essentially broke ground when it chose to bring stop-motion movies to a DSLR. Although this isn't a feature that would be used by enthusiasts, beginners will likely have fun playing around with it. The camera takes a number of individual exposures and converts them into a movie, the highest quality of which is a 640-by-480 AVI file at 15 frames per second.
Another special feature is the D60's in-camera editing. This is especially helpful as it helps users to eliminate red-eye from images or even correct for brightness. Also available is 3D Color Matrix Metering II. This mode allows the camera to determine the best possible exposure for a particular scene to obtain the most accurate light and shadow detail. Most users find that this mode works and allows for clear and bright shots even in dimly lit conditions.
Lastly, one of the major additions to the D60 is its automatic dust reduction system. This feature works with a brand new airflow control system to keep the lens free of dust.
Pricing
The Nikon D60 is available in one configuration: the body with 18-55mm lens, priced at $750.
Verdict
Overall, as you have seen throughout our Nikon D60 review, this camera is a good option. Some users enjoy it as an additional camera for more casual use. Due to its compact build, it's a nice unit to bring along on family get-togethers. Further, with its user-friendly interface and capabilities, any newbie photographer can't go wrong here.
Thanks for checking out our Nikon D60 review. What do you think about the D60? Leave us a comment to let us know.