For all of the serious photographers out there, Nikon and Canon are the two most popular names on the market. In this Nikon D5 review, we're going to take a close look at what makes this particular camera the top-tier model that it is. If your budget isn't ready to extend quite as far as is necessary, perhaps the D5 might not be the best choice. Check out our Nikon D5 review to learn everything there is to know.
Nikon D5 Specs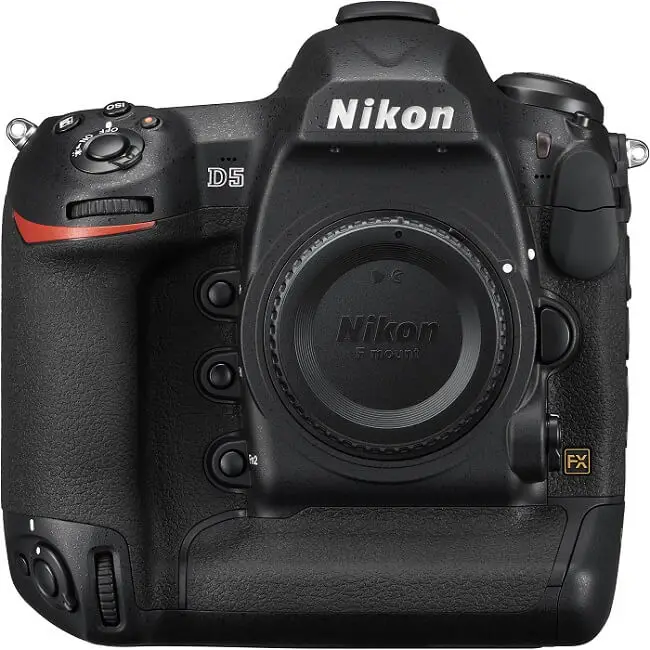 20.8MP FX-Format CMOS Sensor.
EXPEED 5 Image Processor.
3.2-inch 2.36m-Dot LCD Touchscreen Monitor with 100% Screen Coverage.
Pentaprism Viewfinder with 0.72x Magnification and 100% Frame Coverage.
4K UHD Video Recording at 30 frames per second.
Multi-CAM 20K 153-Point Autofocus System.
Full Resolution Continuous Shooting at 12 frames per second.
ISO Range of 100–102400 (Auto) / 50–3280000 (Extended).
180k-Pixel RGB Sensor.
Wi-Fi Capable with Optional Transmitter.
CompactFlash or XQD Memory Card Configuration.
Dimensions of 6.3 by 6.2 by 3.6 inches.
Weighs 3.1 pounds.
Nikon D5 Features and Performances
Build and Buttons
Kicking off this Nikon D5 review, we're going to look at the camera's overall design. With a rugged construction that offers serious weatherproofing, the D5 is perfect for use in nearly any environment. Not lightweight by any means, the D5 has a deep grip that offers stability, even while shooting one-handed. That being said, this unit is massive and can take a toll after a day of shooting, so it's more usual to see this camera on a tripod.
Although you can pick up the D5 and start shooting, it's important to study the user manual and keep practicing in order to learn the many capabilities this camera offers. The D5 is overrun with exterior features, but one of the highlights is the large monochrome information display, which shows information like shooting mode, focus settings, and more. Another nice touch is the optional backlit illumination of the buttons on the rear. This doesn't even begin to cover the D5's vast external features.
Display and Functions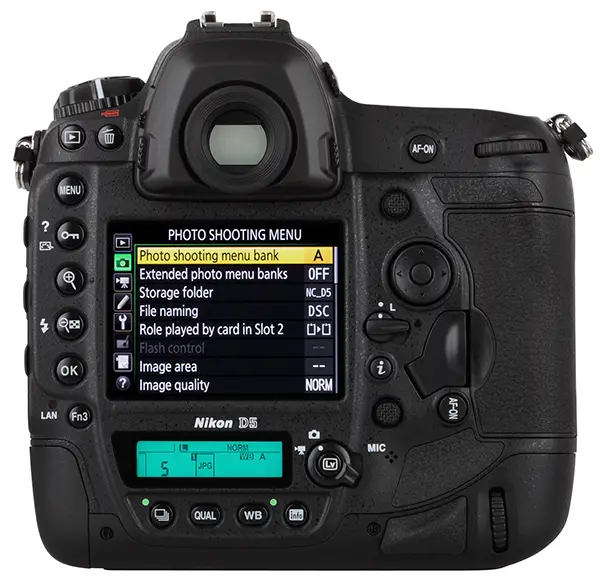 The D5 is equipped with a 3.2-inch 2.36m-Dot fixed LCD touchscreen monitor with 100-percent screen coverage. Touchscreen capability is a major plus and makes it easy to choose a focus point when shooting in Live View. Other touch functions include swiping through images via playback mode or zooming in and out to check focus. Further, the LCD does not disappoint — it offers a crisp and bright display that's on par or better than the competition.
Also featured is a pentaprism viewfinder with 0.72x magnification and 100-percent frame coverage. The viewfinder itself is large and bright. Precise manual focus is achieved quickly, usually attaining accurate focus on the first try. If desired, a framing grid can be shown. Another plus of this viewfinder is its integration of diopter adjustment, which provides enough comfort for users wearing glasses.
Sensor, Resolution, and Autofocus
Equipped with a 20.8MP FX-Format CMOS sensor and an EXPEED 5 image processor, the D5 is an impressive unit. With an optical low-pass filter and an anti-reflective coating, this sensor works to minimize ghost and flare. The D5 is an incredible unit, effortlessly capturing superior images over and over with impeccable speed and accuracy. For instance, the full resolution continuous shooting speed clocks in at 12 frames per second.
The native ISO ranges from 100–102400 and offers an extended range of 50–3280000. Although the extended range is stretching it a bit, shooting within the native ISO range is more reasonable. This native ISO range assures the capture of crisp images even in lowlight. Unless you need to snap stealthy pictures from afar, it's unlikely for one to be in need of the high end of the extended ISO range. That being said, quality images can certainly be obtained without significant noise up to the high end of the native ISO range.
The D5 offers up a Multi-CAM 20K 153-point autofocus system — clearly one of the main highlights. The 153 autofocus points, 99 of which are cross-type with 55 being user-selectable, were groundbreaking at the time of the D5's release.
Even 3D Tracking is incredibly accurate. Simply frame your subject and shoot for a beautifully crisp image. This accurate tracking is largely due to the 180k-Pixel RGB sensor, which works with the autofocus system to capture a quality image every time. Users will be pleasantly surprised by the camera's speed as well. From start-up to shooting, it takes about 0.4 second.
Bright light allows focus to lock almost immediately. Dim lighting causes an approximate lag of 0.3-second. As expected, Live View slows focus slightly, bringing it up to a 0.5-second delay for the camera to lock focus and shoot.
Video Capabilities and More
Capable of shooting 4K UHD video at 30 frames per second, the D5 is a solid contender for videographers. The autofocus here is impressive with an excellent level of speed and accuracy. Best results are typically achieved by locking focus before rolling and then manually focusing whenever needed.
In terms of sound quality, the built-in microphone does a decent job when picking up audio from nearby subjects but background noise also comes into play. Serious videographers will definitely want to invest in an external microphone.
Audio level control is included, as well as a headphone jack for monitoring. Other features include the "Flat" picture profile mode and zebra patterning to assist in getting the most dynamic range possible.
Lastly, the D5 sells in two versions — the XQD version and the CompactFlash (CF) version. The exterior of both versions are identical except for the differing memory card slots. In terms of capabilities, the XQD excels when it comes to buffer performance, allowing for up to 200 shots at a time. The CompactFlash version allows for around 100 shots before filling the buffer. Either version is a solid choice, depending on your needs and preferences.
Pricing
The Nikon D5 is available in two configurations: the body only (CompactFlash version) and the body only (XQD version), both priced at $6,497. One of the best all-in-one lenses recommended for use with the D5 is the NIKKOR 28-300mm lens, priced at $947.
Verdict
So, as you have learned, thanks to our Nikon D5 review, the D5 sets the mark extraordinarily high. Once you get your hands on this camera, you won't want to let it go. If you have the budget, don't hesitate to get the D5. Its autofocus system is one of the best out there and capable enough to make this unit the perfect choice for action, sports, and wedding photographers.
Thanks for sticking around for our Nikon D5 review! Be sure to share your thoughts by leaving us a comment below.