The Canon EOS Rebel T5 is your basic no-frills camera in terms of features. A solid entry-level DSLR, the T5 is perfect for those looking to branch out from a traditional point-and-shoot. Some advanced features are left off to keep the price low but the image quality, versatility, and level of control help in justifying this necessary trade-off. Stick around for our Canon EOS Rebel T5 review to find out more about the specs, build, and performance.
Canon EOS Rebel T5 Specs
18MP APS-C CMOS Sensor.
DIGIC 4 Image Processor.
3.0-inch 460k-Dot LCD Monitor with 100% Screen Coverage.
Pentamirror Viewfinder with 0.8x Magnification and 95% Frame Coverage.
Full HD 1080p Video Recording at 30 frames per second.
9-Point Autofocus System with 1 Center Cross-Type Point.
Full Resolution Continuous Shooting at 3 frames per second.
ISO Range of 100-6400 (Auto) / 100-12800 (Extended).
63-Zone Dual-Layer Metering System.
SD / SDHC / SDXC Memory Card Compatibility.
Dimensions of 5.1 by 3.9 by 3.1 inches.
Weighs 15.3 ounces.
Canon EOS Rebel T5 Features and Performances
Build and Buttons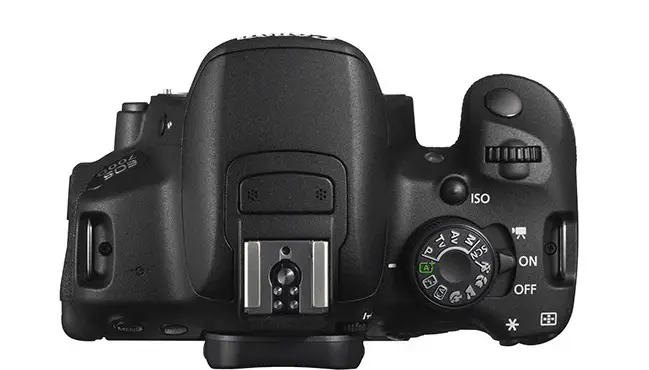 Let's begin our Canon EOS Rebel T5 review by going over the camera's physical components. The camera's body has the usual all-black look typical of most DSLRs. Also featured is a rubberized grip on both the thumb rest and handgrip, which enhances the security and makes it more comfortable to hold.
In terms of physical controls, the top of the camera holds the hot shoe, flash popup button, power switch, and mode dial. The mode dial allows for the choice between manual, semi-manual, and automatic modes.
On the back of the camera, you'll find highlighted features like the Live View button and exposure lock, as well as controls for focus point selection, ISO, autofocus mode, white balance, exposure value compensation, and more. There is also a button labeled "Q," which provides access to various settings that you can adjust with ease. Quickly navigate through menus with the four-way navigational keypad.
Overall, the controls are basic enough for a first-time user to get the hang of quickly. That being said, there is enough customization available to satisfy more advanced users. For example, you can program the "Set" button surrounded by the navigational buttons to prompt flash exposure compensation, depth-of-field preview, and more. The pop-up flash button can be customized also.
Display and Functions
With a 3.0-inch 460k-Dot LCD monitor, the T5 drops the ball a bit here. One would expect more in terms of size and quality from this level of DSLR. But keep in mind that the main headline of this camera is that it is entirely basic — the LCD monitor is one of the trade-offs for the low price. That being said, the monitor is fine for shooting in Live View and for playback.
Zooming in during playback is another story, however, and will not show off the true sharpness of each image. This makes it difficult to tell whether you nailed focus. When shooting outside, the monitor has a reflective glare and since it is fixed rather than articulating, the only option is to find some shade. To aid visibility under harsh sunlight, turn the brightness up to the maximum level.
Also included on the T5 is a pentamirror viewfinder with 0.8x magnification and 95-percent frame coverage. Despite the missing five percent in the frame, the camera's viewfinder is one of the better elements. For users upgrading from a basic point-and-shoot, this viewfinder will satisfy nicely. On the other hand, for those used to working with DSLRs, this viewfinder might be considered a bit small. The viewfinder itself is bright but its focus points can be hard to see — still usable for sure.
Sensor, Resolution, and Autofocus
The T5 features an 18MP APS-C CMOS sensor and a DIGIC 4 image processor. These two components work together nicely to produce images that are quite respectable in terms of quality. Newbie photographers especially will be very pleased with the images the T5 manages to churn out; users who are more particular may not be as pleased. If you're looking to shoot casual photography, maybe some shots of the kids and pets playing, the T5 is perfect for that.
Thanks to the continuous shooting rate of 3 frames per second, it's easy to snap numerous JPEG images rather quickly. Plus, with accurate colors and a good sense of depth and detail, a casual photographer can't go wrong here.
Another plus of this camera is its ISO range of 100-6400 with an extended ISO up to 12800. This expanded range beats out the T5's predecessors and is a definite plus. The T5 is able to capture usable images in low light as well. Noise is minimal while shooting at ISO 100-800 without noise reduction activated. Once you tread into ISO 1600-12800, activate and experiment with the three levels of noise reduction provided.
Further, the T5 starts up within 0.45-second, which is nice — but that's where the super speed ends. Its shoot speed averages at 0.3-second in decent lighting, but in low light it becomes quite sluggish.
Lastly, the T5 features a nine-point autofocus system with one center cross-type point. It's clear that this particular system could benefit from an upgrade. Autofocus can lag and be unreliable, even when it comes to snapping a single image. Shooting in Live View is perhaps the biggest downside, since it takes between 3.5 and 5 seconds to focus and shoot.
Video Capabilities
To wrap up our Canon EOS Rebel T5 review, let's check out the video functionality. Capable of Full HD 1080p video recording at 30 frames per second, the T5 is great for some casual movie capture. Some of the highlights in movie mode include manual adjustment for ISO, shutter speed, and aperture.
Although continuous autofocus is not available for videos, you can easily refocus on command or focus manually while rolling. Keep in mind that the T5 does not feature an input for an external microphone — but for the casual videographer, this likely wouldn't be an issue.
Overall, the T5 captures some excellent video with crisp detail. The audio is okay for casual use, but be aware that the sound of the lens adjusting focus transfers over audibly to footage.
Pricing
The Canon EOS Rebel T5 is available as a configuration featuring the body with 18-55mm lens, priced at $382.
Verdict
As shown through our Canon EOS Rebel T5 review, this camera isn't a bad option when it comes to users upgrading from a point-and-shoot. But if your experience level goes beyond that, you would do best to opt for a more high-end model. That being said, for someone looking for a no-frills camera, this isn't the worst pick out there.
What do you think about the T5? Which comparable DSLRs would you recommend? Leave us a comment to let us know.