Canon EOS 7D Mark II comes in a line of record-breaking products – the iconic EOS 7D. Endorsed with a TIPA Award for Best Digital SLR Expert camera in 2015, which is one of the most prestigious accolades for photo & imaging products in the world of photography today, the device is unbeatable in its category.
With specs that appeal to photographers who know what a DSLR is capable of delivering, the 20.2MP APS-C CMOS sensor in the Canon EOS 7D Mark II resides within a weather- and dust-resistant magnesium alloy body along with dual DIGIC 6 processors. [Source: TIPA Awards 2015 – TIPA official website]
Is the EOS 7D Mark II the expert camera of the year? Let's dive into the tech specs and features of this unique piece.
Canon EOS 7D Mark II: Key Features
The EOS 7D Mark II was one of the most awaited releases of last year. Available since November 2014, the camera comes to upgrade the EOS 7D released 5 years ago. Naturally, the new flagship camera borrows a few features from the previous model.
Characterised by a high-performance autofocus, they both use the Dual Pixel AF technology. However, the EOS 7D Mark II is built for smoother and faster autofocusing.
Strengths:
Canon EOS 7D Mark II offers everything a pro or even more experienced enthusiast would want from an expert device:
high-quality imagery,
remarkable video recording capabilities,
a solid, magnesium alloy and dust-resistant body, perfect for less favorable weather conditions,
self-cleaning sensor for automatic dust deletion,
16 custom functions and controls,
fast & accurate shooting at 10 frames-per-second,
built-in flash,
built-in GPS technology and compass for automatic location tagging,
face detection mode,
advanced, all cross type AF system, and
100% field of view optical viewfinder.
Weaknesses:
Of course, any device has its drawbacks. Canon 7D Mark II does not have a touchscreen and lacks a built-in Wi-Fi connectivity. Also, the SLR does not impress users when it comes to video recording.
Canon EOS 7D Mark II General Specs
Before we get a closer look to this wonderful device, let's review the camera's general specs and features.
Full Name: Canon EOS 7D Mark II Digital Single-Lens Reflex Camera
Release Date: November 2014
Type: Digital AF/ AE SLR with built-in flash
Resolution: 20.9 Megapixels (effective pixels: 20.2 MP)
Sensor: APS-C CMOS sensor
Viewfinder: Eye-level single-lens reflex with fixed pentaprism and enabled with a DOF preview button (10% coverage)
Native ISO: 100 – 16,000
Extended ISO: 25,600 – 51,200
Continuous Shouting Rate: 10 frames per second
Shutter Speed: up to 1/8000 to 30 seconds
Image Processor:  Dual DIGIC 6
Media Storage Options: CF Cards and SD/ SDXC/ SDHC Memory Cards
Size: 5.9 x 4.4 x 3.1 inch (149 x 112 x 78 mm)
Weight: 820g (body), 1,388 g including kit lens and batteries
Kit Lens: to be purchased separately (compatible with Canon EF and EF-S Lenses)
Aspect Ratio: 3:2 (Horizontal: Vertical)
Image Resolutions: RAW – 20.00 MP (5472 x 3648), M-RAW – 11.20 MP (4104 x 2736), S-RAW – 5.00 MP (2736 x 1824), Large – 20.00 MP (5472 x 3648), Medium – 8.90 MP (3648 x 2432), Small 1 – 5.00 MP (2736 x 1824), Small 2 – 2.50 MP (1920 x 1280), Small 3 – 350,000 pixels (720 x 480)
Movie Resolution: 1920 x 1080 (Full HD), 1280 x 720m 640 x 480
Price in Canon Store: $1,499.00; MSRP: $1,799
Canon EOS 7D Mark II Image Quality
Among the features that give a boost to image quality, it's important to mention its 150,000-pixel RGB, an infrared sensor and redesigned micro lens. By comparing the camera with its forbearer Canon EOS 70D, the 7D Mark II upgrades exposure, delivering sharper images at higher resolutions.
Also, apart from the already introduced in-camera chromatic aberration correction, Canon has upgraded this model with a distortion correction too. The Anti-flicker mode is another winning option many photographers will appreciate.
Canon EOS 7D Mark II Design & Usability
Canon EOS 7d Mark II is a winning combination of top-quality specs and a solid, ergonomic body. Of course, the device appeals to SLR fans who enjoy an uncompromising quality.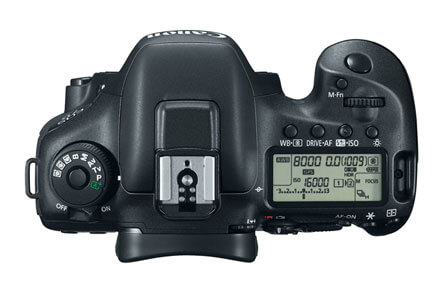 Canon EOS 7D Mark II Overall Performance
The 65-point all cross type Autofocus system and Dual Digic 6 processing engines grant this expert SLR with a class-leading performance. Its 10 fps continuous shooting capability makes it very responsive and perfect for action photography. Canon EOS 7D Mark II is not just for serious photographers. It also stands as an excellent second camera for pros.
As concerns noise performance, the camera is optimized for shooting in low light conditions with a high ISO sensitivity that can be set up to 16,000 (native), and extended to 51,200 (a setting found in full-frame models). Of course, setting your camera to high levels of light sensitivity will significantly reduce accuracy.
The Canon EOS 7D Mark II vs. Nikon D7100 Comparison
Nikon D7100 may have a bigger sized sensor (23.5 x 15.6mm as compared to Canon's 22.4 x 15.0mm) and more effective pixels (24.1 MP), but the incredibly fast autofocus and continuous shooting duration (3.1 seconds as compared to Nikon's 1.5 sec) sets the Canon model apart from most of its competitors. Also, Canon is capable of extended ISO sensitivity up to 51,200, while Nikon's ISO level can be boosted up to 25,600.
Canon's model seems to outmatch Nikon's enthusiastic-level SLR in ergonomics as well. The D7100 has only a partial magnesium alloy. On the other hand, this camera is a bit smaller and lighter and has better battery life.
Canon EOS 7D Mark II Review: Verdict
Canon EOS 7D Mark II boasts an excellent performance and image quality that makes it an ideal asset for event photographers.  Is it the best digital SLR expert camera of the year? After reviewing its key features and potential as compared to other enthusiastic-targeted DSLRs, we have no choice but to agree with the TIPA editors.
Recommendations: 
EOS 7D Mark II is ideal for events, action, bird and wildlife photography (fast autofocus and shooting speed),
We wouldn't recommend it to videographers. .
Recommended Read: Canon 5D Mark III Updated Review and Comparison. The two cameras – 5D Mark III and 7D Mark II – are similar in layout and button controls, which makes them ideal for professional photographers using multiple cameras.
More camera reviews: Best Digital Cameras in 2015.
No matter if you choose the Canon EOS 7D Mark II as a backup camera (for business) or as a primary camera for personal use, we are sure you will enjoy the experience.