The Pentax 645Z is one of the most affordable medium format DSLR cameras available. With a powerful sensor and its tiltable LCD display, it's the perfect fit for virtually any shooting environment. The camera also is also weather and dust sealed for added durability as well. This article is going to serve as a Pentax 645Z review that will cover several important elements including specs, button layout, as well as sensor and resolution quality.
Pentax 645Z Specs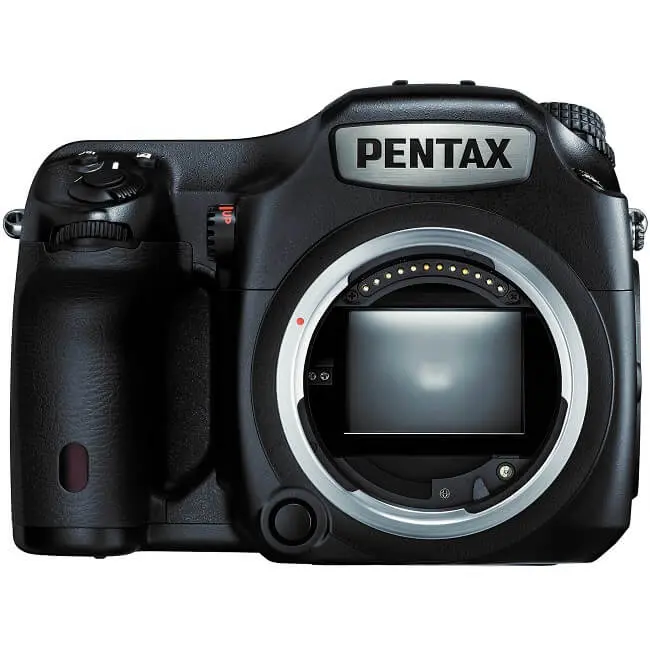 51.4MP CMOS sensor;
3″ tilting LCD monitor;
Maximum continuous shooting speed: 3 FPS;
Minimum shutter speed: 30 seconds;
Autofocus points: 27;
Video quality: 1080p;
Battery life: 650 photos;
Weight: 3.42 pounds (Without lens attachment);
ISO range: 100 to 204,800.
Pentax 645Z Features and Performance
Build and Buttons
We're going to be discussing the general build and button layout in this portion of our Pentax 645Z review. The camera weighs in at a somewhat hefty 3.42 pounds. This is because the camera falls into the medium format category for DSLR cameras making it a slightly larger option. The buttons are laid out in a way that they are very easy to access.
On the righthand side of the back of the camera is the radial dial menu. This is the main section that you will use to navigate through various menu selections on the display screen. You navigate the menu by pressing the up, down, left, and right keys to move to your desired selection. The center key is what you use to make a menu selection.
Above the radial dial menu is where you control your zoom and autofocus settings. Below the radial menu is where the video recording button is as well as the delete button. The rest of the important buttons are laid out on top of the camera.
The top has the power button, the shooting mode selector, and a digital display that shows current battery level and other important details.
Display and Functions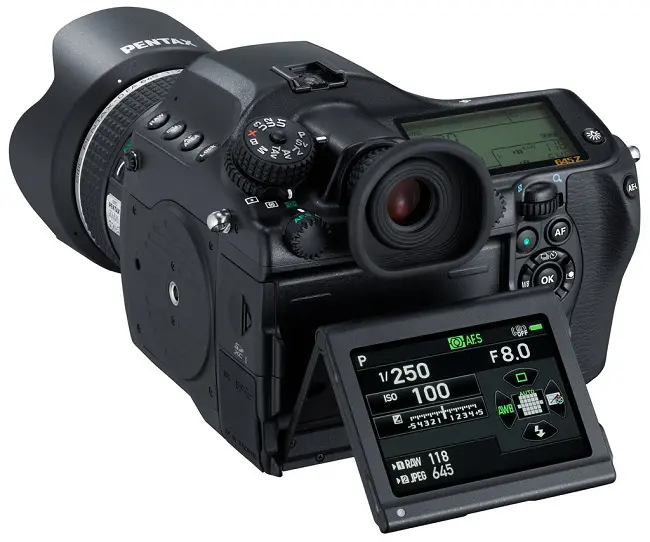 In this portion of our Pentax 645Z review, we're going to be covering the display and miscellaneous functions. The biggest feature worth mentioning is that the LCD display is tiltable making this a perfect choice for photographers who regularly take waist-high level shots. The display measures three inches and has approximately 1037K dots in it. This makes it one of the most powerful displays available in its pricing category.
The camera also has a digital display on top of the camera. This display shows important details like the existing battery level, range, and frame rate. This is perfect for quickly checking settings in between shots and making adjustments as necessary.
The main display on the back changes based on the menu function you are using. You can quickly change a wide range of settings like ISO, shutter speed, and other options with just a few quick button presses. Unfortunately, the monitor is not touchscreen capable but the radial menu system is still very well designed.
Sensor, Resolution, and Zoom
This part of our Pentax 645Z review is going to focus on the quality of the sensor and other important elements like resolution and zoom. With its powerful 51.4MP CMOS sensor, it's more than capable of performing in a variety of shooting environments. The camera has an ISO range of 100 to 204,800. This makes it one of the better options for lighting environments that are less than optimal and outdoor shootings as well.
As far as resolution goes, the maximum horizontal resolution of the camera is 8,256. The sensor capacity of this model is approximately 1.7 times greater than other traditional 35mm full frame cameras. For more simple point and shoot needs, the camera does feature 27 autofocus points and includes features like facial tracking and contrast detect. This makes it a suitable option for beginning photographers as well.
One downside is that the Pentax 645Z does not come with any lens types. The default zoom capability of the camera is only 1x meaning that additional lens purchases are mandatory to fully unlock the potential of this camera.
Video Capabilities
This portion of our Pentax 645Z review is going to focus on the video capabilities of the camera. With a maximum continuous shooting rate of approximately 3 FPS, the camera is more than capable of recording most personal videos. The camera can shoot in up to 1080p format and supports formats like RAW, JPEG, and TIFF.
However, the amount of compression the camera applies to videos means that this camera is best suited for static images. It also lacks focus peaking and full autofocus support while in video mode. For basic videos, the camera is still an excellent choice to consider.
Pros and Cons
Pros
High power sensor captures photos in exquisite detail;
Budget-friendly pricing compared to other similar models;
Multiple shooting modes supported;
Autofocus points make this a suitable choice for beginners as well.
Cons
Video compression greatly reduces video recording capability;
No wireless connectivity;
Lack of touchscreen;
Heavier than average body.
Pricing
The Pentax 645Z body is available for purchase for $5496.95 with free shipping. To get the most out of the camera, you should also purchase a lens kit like the 55mm f/2.8 that goes for around $650.
Verdict
Based on the information in our Pentax 645Z review, the camera is a solid choice for professional photographers that specialize in still photos. With its powerful sensor and impressive ISO range, it is a perfect choice for a wide range of scenes. If you've had a chance to try out the Pentax 645Z for yourself, then feel free to tell us about your experience with the camera.