The release of the Nikon D3000 ushered in a new way to make capturing stellar images easy and accessible for everyone. As you will find out through this Nikon D3000 review, this no-frills camera is the perfect choice for beginners looking to break into the DSLR world. With its helpful Guide mode, newbie photographers will be pleasantly surprised by the camera's ease of use. Be sure to stay tuned for our Nikon D3000 review to learn about the specs, build, and performance.
Nikon D3000 Specs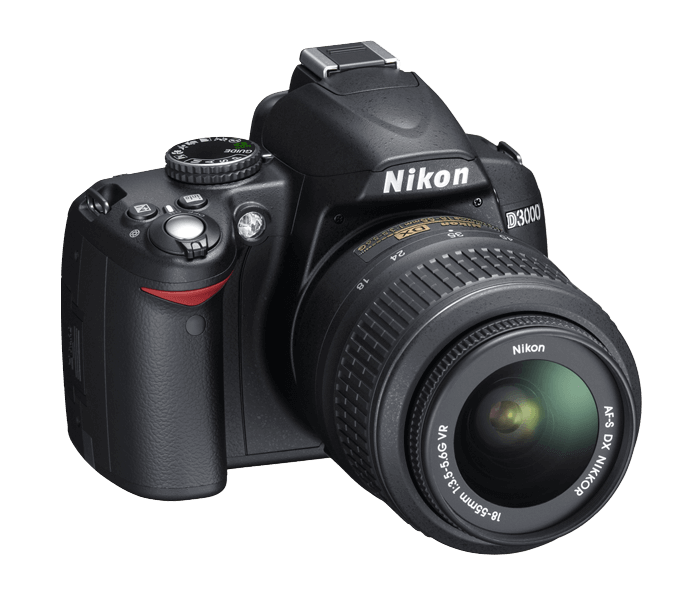 10.2MP DX-Format CMOS Sensor;
EXPEED Image Processor;
3.0-inch 920k-Dot LCD Monitor with 100% Screen Coverage;
Pentamirror Viewfinder with 0.94x Magnification and 100% Coverage;
Multi-CAM 1000 11-Point Autofocus System;
Full Resolution Continuous Shooting at 3 frames per second;
ISO Range of 100-1600 (Auto);
3D Color Metering II System;
In-Camera Image Editing;
Active D-Lighting;
Wi-Fi Connectivity with Optional Transmitter;
SD / SDHC / SDXC Memory Card Compatibility;
Dimensions of 5.8 by 4.5 by 2.9 inches;
Weighs 1.8 pounds.
Nikon D3000 Features and Performance
Build and Buttons
A compact unit aimed at newbie photographers, the Nikon D3000 is currently one of the smallest DSLRs on the market. Its construction is nevertheless held up to a high standard. Housed in a lightweight plastic shell, the D3000 feels comfortable and solid in the hand. Despite this being a budget-friendly camera, the quality does not suffer. Unlike some similarly priced competitors, the body of the D3000 doesn't creak or feel flimsy. Although lightweight, it's slightly heftier than the competition — but not hefty enough to turn off users. In fact, the slight amount of heft lends itself nicely to ensuring the camera's feeling of sturdiness.
The unique highlight of the D3000 is its Guide mode, which can be accessed via the shooting dial found on the top of the body. Besides the standard PASM exposure modes, the Guide mode makes using this DSLR a breeze for even the greenest of photographers. Guide mode will be explained in more detail later on in this Nikon D3000 review. Further, the main menu system is simple to navigate and includes the Picture Control option. Six tone presets are available here.
Customization is made possible by adjusting saturation, contrast, sharpness, and hue. Easily experiment with various flash modes. On the back of the camera sits a programmable function button, which can be set to control the release mode, self-timer, ISO, image quality, white balance, or Active D-Lighting menus. Also on the back are the flash pop-up/compensation button, exposure compensation button, and the info button.
Display and Functions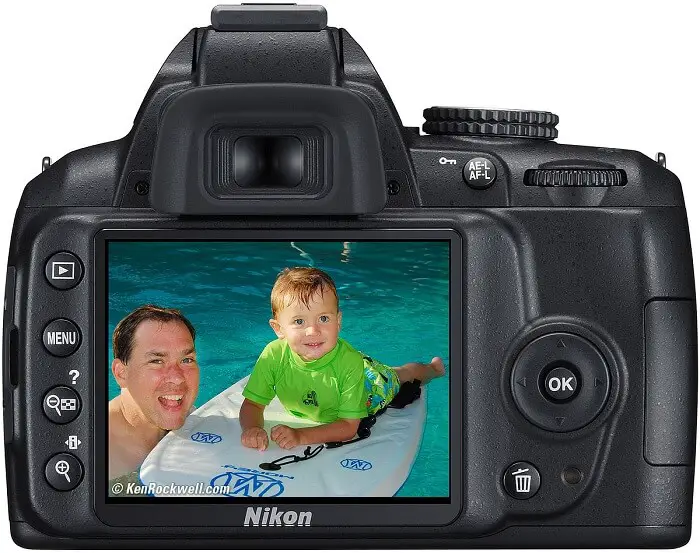 Another highlight of the Nikon D3000 is its 3.0-inch 920k-Dot LCD monitor, which features 100-percent screen coverage. The monitor is a nice size and offers up a good amount of clarity even under direct sunlight. One downside, however, is the lack of Live View — the monitor is used strictly for playback and to adjust menu settings.
Also featured on the D3000 is a pentamirror viewfinder, which provides 0.94x magnification and 100-percent coverage. Since this viewfinder is a pentamirror, rather than a pentaprism, the view produced is a bit dimmer. Something else to note is that although the scene coverage is stated as being 100-percent, in actuality it shows off 95-percent of the scene. This margin of error usually doesn't affect one's capture but it can make framing difficult in certain situations. That being said, this camera's viewfinder is comparable to most other units in its class.
Sensor, Resolution, and Autofocus
The Nikon D3000 comes equipped with a 10.2MP DX-Format CMOS sensor and an EXPEED image processor. Image quality overall is excellent with accurate colors, sharpness, and great exposure metering. Although cameras within this class aren't especially known for their speed, the D3000 holds it own. The time it takes from start-up to the first shot is an impressive 0.2 seconds. As for the continuous shooting rate, it clocks in at 3 frames per second.
The camera's light sensitivity performance is respectable with an ISO range of 100-1600. Usable images can be captured up to and including ISO 1600, depending on the shooting conditions and capture content. Auto white balance performance is definitely solid. If looking to improve a shot in high contrast settings, the Active D-Lighting feature might be able to assist.
In terms of the Multi-CAM 1000 11-point autofocus system, its performance is quite speedy and responsive. It is not fast enough to capture fast-paced action in professional sports or similar, but its speed will suffice for casual shots of the kids or pets playing outside, for example. Even in lowlight situations, including total darkness, the autofocus system works very nicely and will not disappoint.
Guide Mode
As mentioned earlier in this Nikon D3000 review, the Guide mode is this camera's main draw. Initiating said Guide mode brings up a colorful menu on the LCD monitor, displaying a few options, including Shoot, View/Delete, and Set-Up. Shoot mode is divided into three categories: Easy, Advanced, and Timers and Remote Control.
The Easy Operation mode is essentially putting the camera on autopilot as with a basic point-and-shoot. On the other hand, the Advanced Operation mode allows for the capture of more intricate images.
Shoot mode allows the user to select from various shooting options — close-up, night shots, portraits, action, and more. Thanks to the helpful Guide mode, depending on the shoot mode that you select, you will find assistance in achieving the desired effect.
The Advanced Operation mode takes things a step further. For instance, perhaps you want to blur the background on a photo — Advanced Operation helps you through that. This type of feature is perfect for those who not only want to capture beautiful images but also those who want to learn how to gain creative control while doing so.
Pricing
The Nikon D3000 is available in two configurations: the body only, priced at $148 and the body with 18-55mm lens, priced at $292.
Verdict
So, as you have seen through this Nikon D3000 review, this unit is an excellent camera and provides a great bang for the buck. For those just starting out, this is an ideal pick, thanks to the basic design and features. The D3000 can easily assist when needed or allow the user to experiment when ready.
Although video capture and Live View are two elements left out from this feature set, this doesn't tend to affect newbies who are more focused on capturing quality images. Thanks for sticking around for our Nikon D3000 review — leave us a comment below to let us know what you think about this beginner-friendly camera.