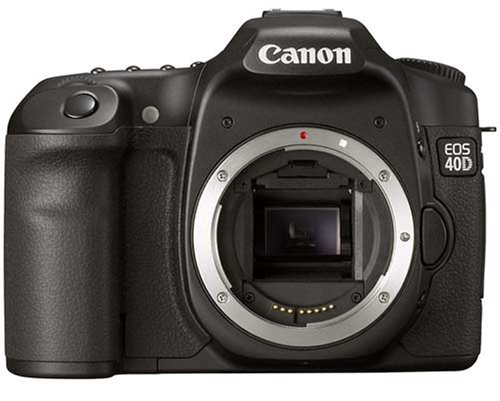 A rugged mid-range DSLR that's perfect for the casual outdoor photographer looking to build on their experience, the Canon 40D is one of the top picks. Although a bit higher in terms of price range, this camera delivers highly in terms of build quality. With dust and moisture seals, it can take on just about anything. Read on for our Canon 40D review and learn all about the camera's features, specs, and capabilities.
Canon 40D Specs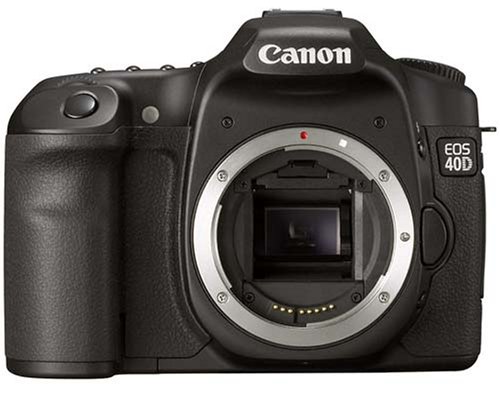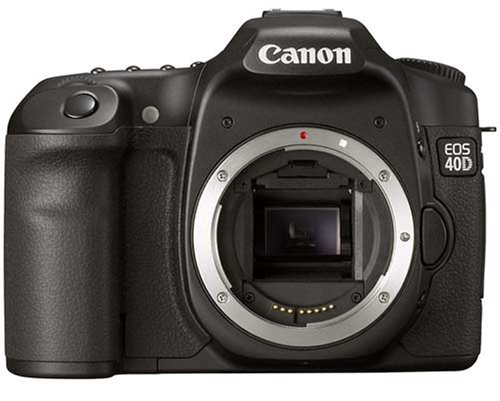 10.1MP CMOS Sensor.
DIGIC III Image Processor.
3.0-inch 230k-Dot LCD Monitor with 100% Coverage.
Pentaprism Viewfinder with 0.95x Magnification and 95% Coverage.
Full Resolution Continuous Shooting at 6.5 fps.
Auto ISO Range of 100-1600, Expandable up to ISO 3200.
9-Point Autofocus System.
Built-in Flash.
Wi-Fi Capability with Optional Transmitter.
CompactFlash I/II Memory Card Compatibility.
Dimensions of 5.7 by 4.2 by 2.9 inches.
Weighs 26.1 ounces.
Canon 40D Features and Performance
Build and Buttons
Starting off our Canon 40D review, let's get an idea of the camera's exterior and the controls that go along with it. The solid build quality of the 40D consists of a two-piece magnesium alloy shell, featuring dust- and water-resistant seals. No creaks or rattles occur during use. A few different grips cover the exterior for both a comfortable and ergonomic hold.
The highlight found on top of the camera is the LCD control panel — this provides immediate access to various settings, like exposure, ISO, and more. This panel features a built-in backlight, which stays lit for six seconds after pressing the nearby backlight button.
In terms of physical controls, there is a slight learning curve, but with the help of a manual and some practice, you'll have it down in no time. Besides the LCD control panel and backlight button, the top of the camera features a wheel-style dial, shutter release, and various buttons.
The back of the camera includes controls like AF-ON, AE-Lock, AF point selector/enlarge, menu, and direct print buttons. There is also a command dial and an 8-way navigational joystick on the back. Sitting on the front are the lens release, red-eye reduction/self-timer lamp, depth of field preview button, and a flash-on key.
Display and Functions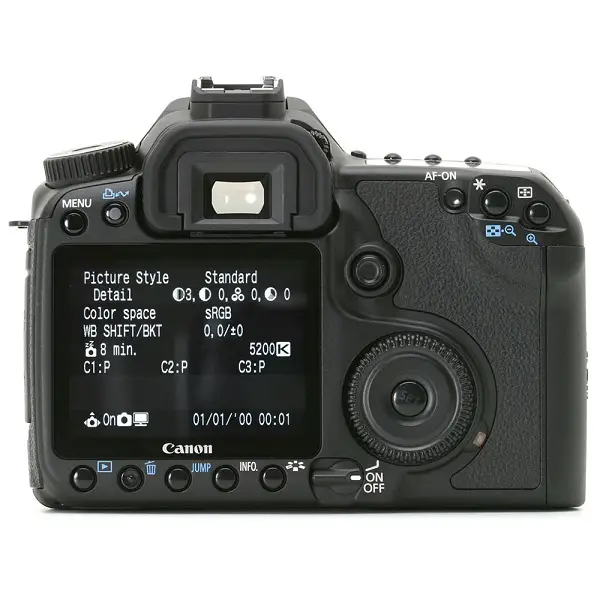 The Canon 40D features a 3.0-inch 230k-Dot LCD monitor with 100-percent coverage. This monitor is bright, clear, and an overall pleasure to use. That being said, it only offers up a 140-degree viewing angle — but that is sufficient for most purposes. One downside of the monitor on this camera is the lack of autofocus capabilities.
For example, the 40D does not display selected focus points; instead, you can only see these while shooting through the viewfinder. You can, however, manually set the focus just as you want it before shooting. Regardless, the monitor works nicely in terms of zooming in and checking for focus or scouring for other details.
Also included is a pentaprism viewfinder with 0.95x magnification and 95-percent coverage. The viewfinder offers up a large clear view without any distortion or corner softness. Features include a constant ISO display on the status bar, a two-digit maximum burst display counter, and black-and-white shooting mode icon.
Thanks to the new ISO display, you can easily change the ISO without moving your eye from the viewfinder. Further, there is a nice bit of customization available when using the viewfinder — easily remove the eyepiece cover in exchange for different eyepieces, if desired.
Sensor, Resolution, ISO
The Canon 40D comes equipped with a 10.1MP CMOS sensor and a DIGIC III image processor. For a mid-range DSLR, this camera pumps out some truly excellent image quality. The major draw of the provided image processor is its speed. For instance, full resolution continuous shooting clocks in at an impressive 6.5 frames per second. You can easily use this camera for capturing sports or other fast-moving action.
From start-up to first shoot, this unit takes only 0.3-second. In good lighting, it can focus and shoot in a mere 0.4-second — and in the best of conditions, it can maintain that pace whether you are shooting in JPEG or RAW. Further, the images captured show excellent dynamic range with accurate colors.
In terms of noise performance, this is where the 40D truly excels. It features a native ISO range of 100-1600 and can be expanded up to ISO 3200. Noise control on this camera is superb. You can easily capture images from ISO 100 to 800, and even further depending, with very little noticeable noise. You may be able to find some evidence of noise when the image is magnified but printed images typically show no evidence whatsoever.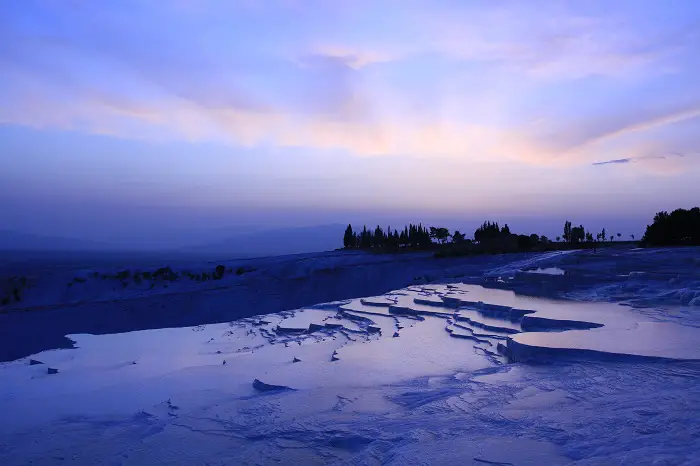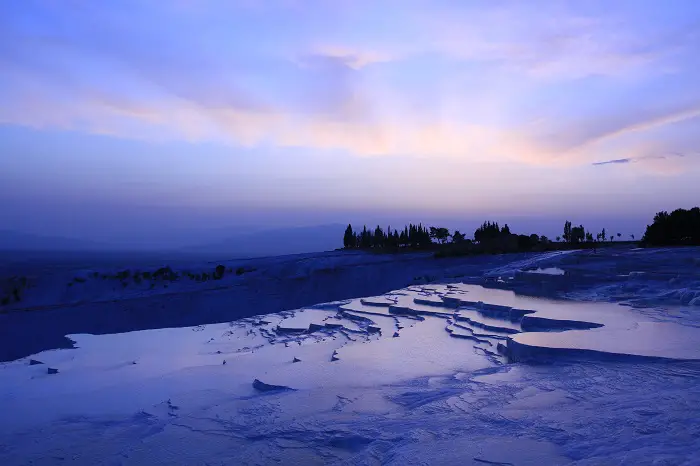 Autofocus Capabilities
Wrapping up our Canon 40D review, let's check out the camera's autofocus capabilities. The autofocus found on the Canon 40D is that of a nine-point system. Nine cross-type sensors spread across the frame in a diamond-shaped arrangement. Although no match for some of the high-end models, this autofocus delivers nonetheless, working to produce quality images in nearly any lighting condition.
Three autofocus modes are available, including Single-shot, Al Servo tracking, and Al Focus. Al Focus is a combination of Single-shot and Al Servo, switching between either mode if it detects that the subject has moved. The 40D's autofocus does an excellent job when it comes to tracking moving subjects. Focusing is not only speedy but also near silent. Metering is quite flexible as well, offering up four different modes, including partial metering, and center-weighted average metering.
Pricing
The Canon 40D is available in three configurations: the body only, priced at $125; the body with 17-85mm lens, priced at $1,599; and the body with 28-135mm lens, priced at $1,874.
Verdict
Overall, the Canon 40D is a top-notch unit in terms of build, performance, and image quality. While the price was originally a bit steep, this camera set the bar for what users should expect in a mid-range DSLR. With a tough outer shell and quality inner mechanics, it will stand the test of time.
Thanks for checking out our Canon 40D review! What do you think about this camera? Leave us a comment and let us know.