Find your favorite analog camera in 2023 by reading this photography top. These best film cameras for beginners are easy to use and so cool!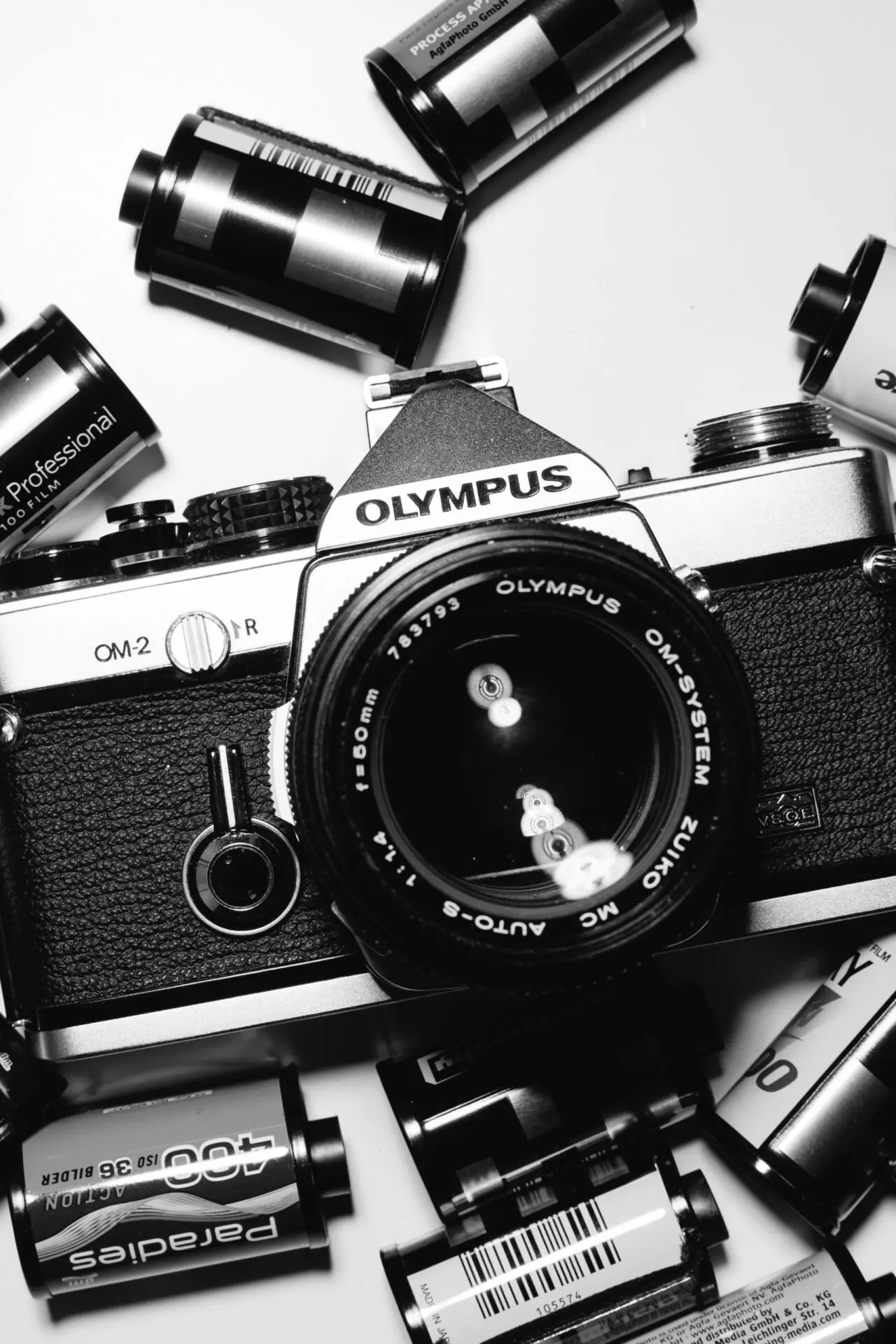 Welcome to a world of diversity and film-making that has made history. In this article, you will read about not only cameras that revolutionized the industry but also point-and-shoot cameras that were used by famous photographers. Our top "five best film cameras for beginners" will try to be as specific as possible, however, it should be remembered that these are not listed from most to least capable.
When I started writing this top 5 for analog cameras I wanted to be there for all my readers who desire to understand this type of photo-making and, at the same time, to help them find the right film companion. I really hope I did a great job and if so, please let us all know what would be your next film camera purchase in the comment section below.
5 Best Film Cameras for Enthusiasts
When it comes to film, things are a little different in what the value of a device means and what type of user it suits best. Nowadays, the more you spend on a digital device, the more complex settings it will deliver. On the other hand, the best film-based appliances will deliver easiness and quickness when shooting a frame.
Therefore, in the top below, you'll read about five of the best film cameras you can buy in 2023 that found the sweet spot between all the specs and the price range. Keep in mind that these are vintage cameras, so you won't be able to purchase them from Amazon or other similar platforms but find them only on the second market.
1. Pentax K-1000 (One of the Most Versatile Film Cameras)
Pentax K-1000 is by far one of the most powerful cameras you can work with. It has nothing but great capabilities and it is very friendly to beginners. So, starting your analog journey with this camera will surely make you fall in love with film photography.
Pentax did not think of this model as a flagship, so they didn't advertise it as much as they did with other of their cameras. However, after 21 years in production and over 3 million units sold, Pentax K-1000 is one of the company's greatest achievements.
This film camera was built considering a beginner's needs, being a simple and intuitive device, but at the same time, having a strong and high-quality material construction. In addition, this is considered to be one of the best film cameras because of its manual focus system which is adjustable through its lens, and a few other measurement systems, such as the light meter.
Lastly, keep in mind that the battery used takes care of the light meter. So, always consider using the lens cover to avoid draining the battery. Unfortunately, this camera does not have an on/off function. On the other hand, the camera uses K-mount, but it can be easily switched to M42 models by purchasing an adapter.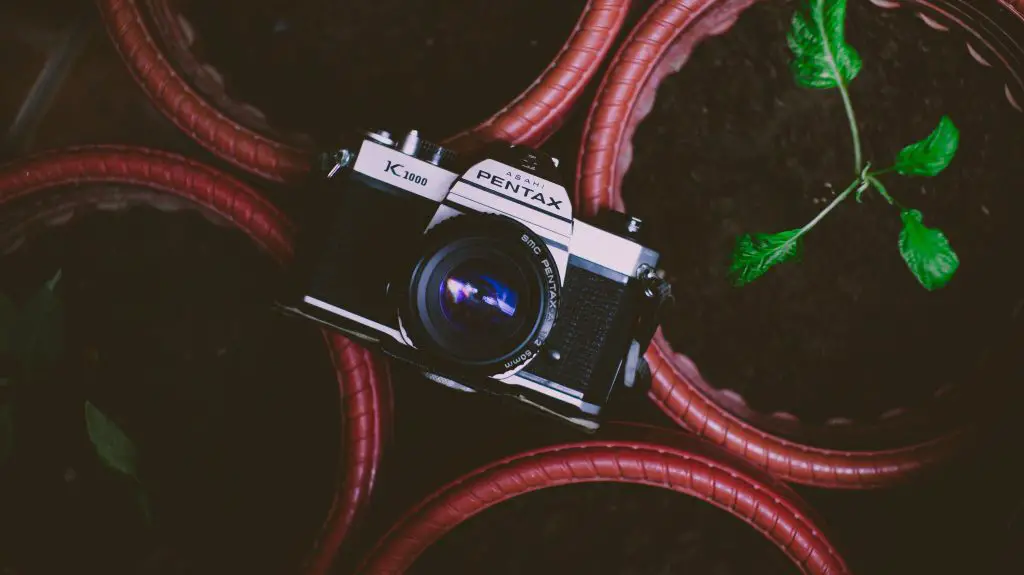 2. Minolta XD
The Minolta XD-7 was introduced in 1977 and has a significant position in 35mm photography history. It was the first camera in the world to have numerous automatic exposure modes. You may experience the simplicity and comfort of automation in camera operation with the XD-7. Also, this film camera is a 35mm electronically controlled SLR with the option of choosing between aperture preferred or shutter-speed preferred operation.
It includes an electromagnetic shutter release, full manual calibration control over the shutter speed range, and automatic exposure adjustment. In addition, a LED readout display for shutter speed or f/stop, which the camera will automatically configure, is located in the viewfinder.
Full information viewfinder, multiple exposure capability, depth-of-field preview, self-timer, interchangeable focusing screens, and exposure correction of +/- 2 stops are just a few of the features offered by the XD-7 film camera. Although this was the pinnacle of Minolta's consumer line, several functions, such as the capacity to capture video at 5 frames per second, required purchasing the more expensive professional Minolta XK.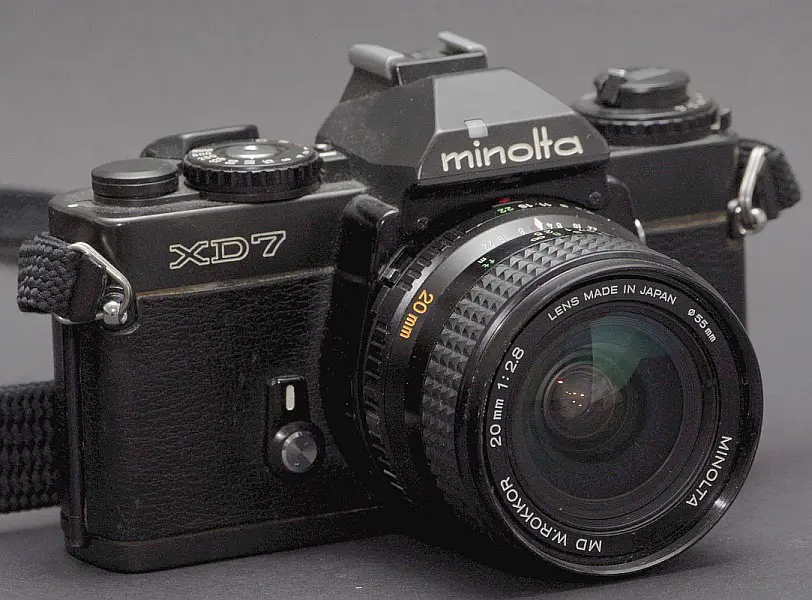 3. Canon Canonet QL17 G-III (Best Film Camera for the Money)
This is one of Canon's best sellers, a camera of practicability and quality. The premium finish of Canon Canonet QL 17 G-III is something very rare in its category. The term "Grade Up" (represented by the "G" in the camera name) refers to quality enhancement. So, after the original Canonet and the New Canonet, the "III" denoted the third generation of the Canonet series.
This best film camera for beginners shares some of the best specs out there. A battery check button on the side of the viewfinder eyepiece made it simpler to check the battery. So, as long as the battery was still strong, a lamp would light. This is a film camera. Having said that, Sunny 16 metering principles are flawlessly followed by the Canon QL17 GIII. Take it outside where there are only a few shadows, and it will accurately meter the scene using that approach.
It was produced for 11 years, from the spring of 1972 to the summer of 1982, and it rocked the market of film cameras. There were created about 1.2 million devices.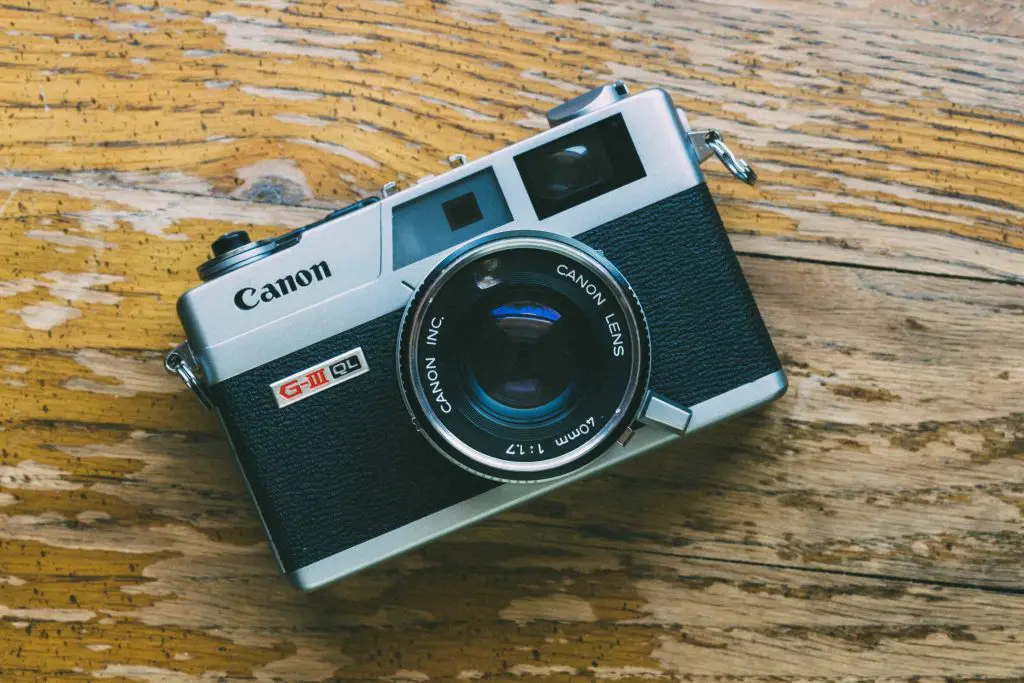 4. Olympus Mju II (Best Point-and-Shoot Film Camera)
"The tiny camera for epic moments" – that's how Olympus promoted this film camera. The tiny Mju II camera was more attractive, compact, and streamlined than its predecessor. Also, by selling over 20 million copies throughout that decade, it soon established itself as one of the best film cameras on the market.
It was advertised as a camera that would fit inside your pocket no matter how slim your jeans were so you wouldn't miss a moment. So, it was the amateur photographer's creativity tool.
In addition, the flash is excellent. The night mode can brighten the foreground subject while preserving the colors of the background to bring night settings to life. It is lighter than 150 grams (without film). Every time, the autofocus is spot on. While I seldom find the need to utilize the spot meter option, the metering is fantastic.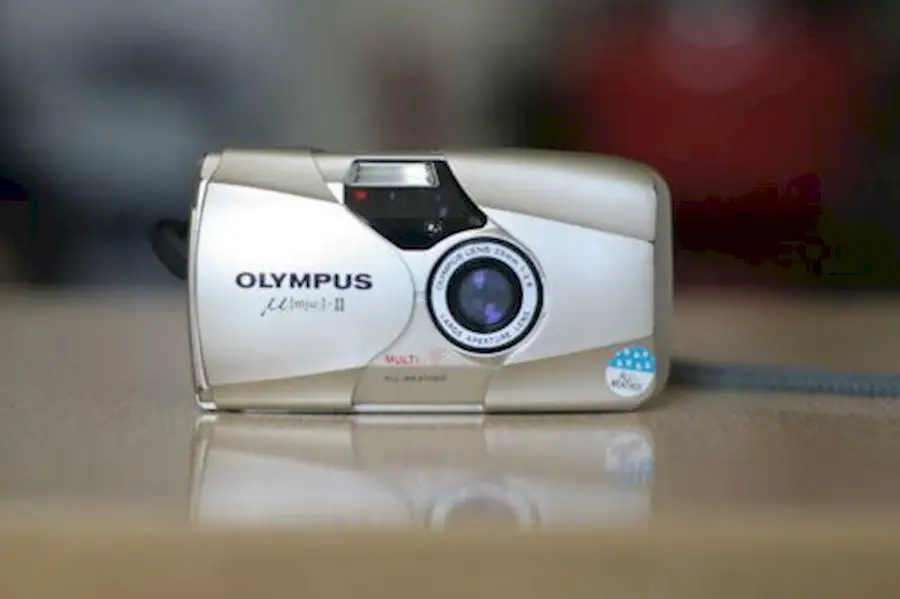 5. Revueflex EM
Finally, this Revueflex EM is the last of our top film cameras for beginners. You'll be able to find an M42 thread on the Revueflex EM, while the lenses may be switched out. Also, when it comes to lens choice, many enthusiasts go for the Helios-44M which is manually focused. However, there is no focusing feature on this model.
In addition, the M42 lens mount can accommodate several screw lenses. Carl Zeiss in Jena created the lens thread. Pentax, Pentacon, Meyer-Optik, and Beroflex, among others, produced M42 lenses.
Lastly, with a selenium light meter, the camera determines the exposure. You can change anytime both the exposure period and the aperture. Also, you can shoot long-exposure photos in bulb mode (the shutter stays open). From my point of view, this is one of the best film cameras, especially for the exposure and ease of use in the beginner area.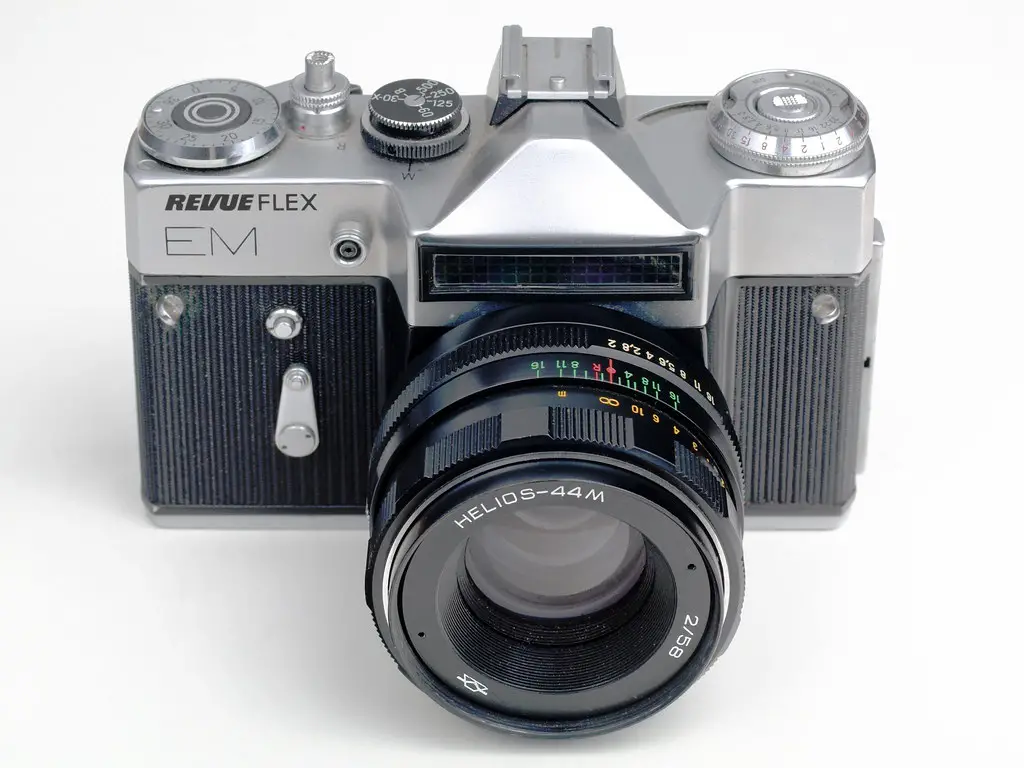 Best Film Camera FAQs
Do film rolls expire?
The typical lifespan of a roll of film is two years from the date of production. However, we can never be 100% sure. Also, the downfall of a movie will happen gradually, so don't be hasty in discarding them.
Storing your movie in the fridge will extend its shelf life. On the other hand, humidity, heat radiation, and sunlight can all shorten your film's lifespan. So, keep it in a cool, dry place.
How long does film stay good in cameras?
You can leave a film inside a camera for 10-15 years and still be able to develop it properly. The main factors you should consider are the type of film, the environment it's been stored in, and the type of camera.
What are the types of films?
Film cameras come in a variety of films and serve a variety of functions. Rangefinders, single lens reflex (SLR), and point-and-shoot cameras are the three primary types of 35mm film cameras.
Is film still in stores to be found?
Film for analog cameras is still available at all major camera stores. You can buy fantastic collections of all the film manufacturers both in-person and online.
Best Film Cameras for You
Finally, I want to let you know my personal opinion when it comes to choosing the best film camera. It doesn't matter as much as you'd think the camera brand or type. The main factors you should consider are your personal preferences. Over the years I've met people who only shoot on point and shoot and others who don't think they shouldn't sit for at least 3 minutes to adjust all the settings. Maybe you will like the light lead in your pictures, or maybe you won't mind having dust on the lens. It really just depends on the direction and story you want to tell through your photos. 
Believe it or not, I still dream of the day I will have a Leica m6 and I will keep it on the shelf to look at it as a piece of history to inspire me. However, it's time to find out more about your film photography preferences. Tell me what you'd prefer and why in the comment section below!
Last but not least, if you are more into new technology, read my mirrorless camera top.