The Canon Pixma is a brand of home and business printers with quite a few models under its name. From kids' reports to working overtime at business stores around the world, the Pixma tries it's best and does quite well. And it can also print your photographs beautifully. Canon's Pixma Pro-100 is the entry level professional model of Pixma on the market as of this writing. Let's take a look at it.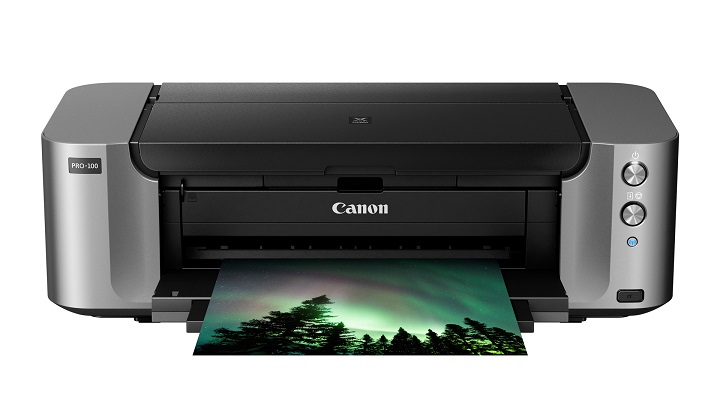 Canon Pixma Pro-100 Review
Best Features
This sleek black design not only looks fabulous, but it doesn't detract from a professional desk. It even goes out of it's way to do so with wifi capability. It's hard to notice a printer when it lacks wires shooting everywhere in front of someone.
Best of all, this wifi stretches for a solid 600 yards. For those with large offices or multiple floors, this little printer will pick up a long way. That means fewer printers per floor, which means less money out of pocket.
Canon also holds drivers on their site for every single model they've ever produced that needed drivers to operate. From dot matrix printers to the Canon Pixma Pro-100 and beyond, if you lose that drivers disk you won't be in the dark for long.
Advantages
Eight inks: Eight separate ink cartridges fill the slots on the Canon Pixma Pro-100 specifically. This means that if you happen to print a good deal of cyan-heavy articles, you can simply replace the cyan tank instead of the entire "colored" cartridge. This often saves money in the long run since most businesses and consumers tend to use a single color more than others.
Airprint: Airprint is a wonderful multimedia booster for wifi printing from objects other than laptops and desktops. Airprint is essentially the mobile version of Print Studio Pro, even with a few additional options. Along with printing, you can automatically send emails to yourself containing the pictures or document you just printed.
Mobile To Printer Printing: And without a cord, too! This is perfect for those who tend to use iPads or their phone for most of their picture taking. With no need for an app, simply connect to the printer's wifi and tell it to print on most android and apple OS phones. That's it. Quick and easy.
Print Studio Pro: Canon has perfected their printer accompaniment software over time, and with a company with such lineage they've had plenty of time to do it with. Print Studio Pro is a very large suite of software that does take up a bit of hard drive room, but it's well worth it. You can make everything from greeting cards to 40 foot long banners on this program, and more. It comes free with your purchase of a Canon Pixma Pro-100 on the same disc as the drivers for the printer itself.
Where It Lacks
Inkjet Issues: Like all inkjet printers, this one suffers from some technical flaws that just cannot be helped. Inkjet printers frequently dry out and lose their ink when not used on a day to day basis. While that means nothing to someone who is using them very frequently, this also means higher cost than laserjet printers with toner that lasts far longer. It's then that you get into comparisons between laserjet and inkjet printers. Ultimately, if you are looking for a budget printer to print now and again, inkjet is still a better bargain.
Low Page Yield: A printer's ink cartridge may be rated for thousands of pages, but it's very likely that the tab will dry out long before that. Additionally, this is usually only under the best circumstances. With misprints and reprints and some heavy color usage, expensive cartridges can be used up very quickly.
No Repair: Once broken, any inkjet is pretty much impossible to repair unless sent back to the original manufacturer. This includes incredibly nice printers like the Canon Pixma Pro-100 inkjet printer. Unfortunately, this may mean weeks without the ability to print and hefty shipping fees back to your home. Most manufacturers do not produce tools to repair these printers for the public market, and Canon is no exception.
Low Warranty: The Canon Pixma Pro-100 has a limited warranty of 1 year from the date of purchase. This does not include pretty much all of the moving parts inside except for the motor that drives the printer cartridges back and forth. While it includes the case, a pretty case will do very little for those looking to print their children's pictures when the time comes if nothing else works on the machine.
High DPI: While high dpi means a prettier, clearer picture, you're also talking about seriously high ink usage for things like printed photography. Since the Canon Pixma Pro-100 is one of the top-rated small business photography printers on the market, you will likely tear through ink cartridges pretty frequently. While these are easily replaced, it's still a serious cost.
Competitors
Canon has long been in a rivalry with Hewlett-Packard, also known as HP, and Epson to produce some of the best inkjet printers on the market. This has driven down costs for ink, printer production and paper to the point that people simply looking to print several documents may actually pay more at a local library than to simply grab a "disposable" $10 or $20 printer off the shelf.
This is not the case with the Pro-100 since it's quality is far higher than those cheap printers. That said, this printer meets its match in the Epson Artisan 1430. They are almost identical twins and Epson's ink needs are slightly lower than the Pixma Pro-100. At almost $100 less at the time of writing, Epson is probably a better deal. But there will always be those who deeply prefer a Canon branded printer. If you are one of those people, the Canon Pixma Pro-100 is a serviceable purchase and will do it's job well.