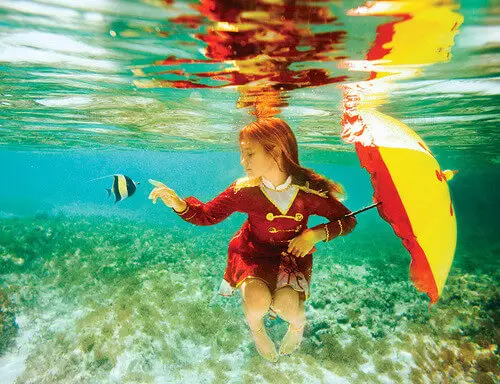 Underwater photography is as challenging as it is captivating. To capture good quality images underwater, the best underwater camera must firstly deal with low light conditions. A list of must-haves for the best underwater camera is detailed below.
Recently, camera manufacturers have been racing to bring the best underwater photography equipment on the market. In addition to already waterproof cameras, many offer underwater camera housings. Such a waterproof casing can turn a top camera into a perfect waterproof one provided it seals the body correctly.
Nonetheless, waterproof casing cannot ensure the same image quality provided by cameras which incorporate waterproof capabilities. Take a look at the list we created for you and decide which is the best underwater camera for you.
The Special Traits of an Underwater Camera
Water Depth: It is important to check the maximum limitation provided by the manufacturer of the waterproof camera. All such equipment comes with specific limitations regarding the maximum water depth the underwater camera is functional at and the time used underwater. Breaching these limitations may lead to permanent damage.
Waterproof Seals: The best underwater digital camera is the camera where waterproof seals are perfect. If any seal is compromised, the underwater camera loses its functionality. The most important waterproof seals are those protecting the battery compartment, the lenses and the flash unit. If any water gets in due to faulty waterproof seals, the underwater digital camera or film camera may be ruined.
Additional Equipment Compatibility: Underwater digital cameras and underwater film cameras need additional equipment depending on the water depth where you're taking them for a tryout. The poorer the light conditions, the more difficult it is to capture good quality photographs. As such, be sure to check compatibility. Unless you're using a disposable underwater cameras in which case it's not smart to invest in additional equipment.
Underwater Camera Features
Image sensor.

It plays a key role in rendering good image quality. Underwater photography is as fussy about image sensors as any other.
Resolution.

The best underwater camera may also prove to be your best camera out of the water. Pay attention to resolution specifications as it also impacts image quality.
Optical Zoom Lens.

This specification is key to ensure proper magnifying abilities without sacrificing the quality of the image.
Display

. A well-lit display ensures the visibility of the image in poor lighting conditions.
With these in mind, let's talk about some of the best underwater cameras. Read through these short underwater camera reviews and choose for yourself.
Nikon 1 AW1

Nikon underwater cameras are some of the best on the market. Nikon 1 AW1 is a mirrorless interchangeable lens camera. It's not a cheap underwater camera, but it ranks as the best available at the moment.
It features advanced settings coupled with versatile shooting modes that ensure impeccable image quality underwater. One of the strongest features of the underwater Nikon camera is the large image sensor in CX-format. Larger sensor imply better image quality under poor light conditions.  
Nikon 1 AW1 also sports a popup flash unit. Don't fret, it's fully protected by waterproof seals. One point to keep in mind when using the Nikon 1 AW1 underwater camera is changing the lenses from Nikon 1 lens to Nikon AW1 waterproof lenses. Use this Nikon underwater camera with confidence.
Olympus Stylus Tough TG-4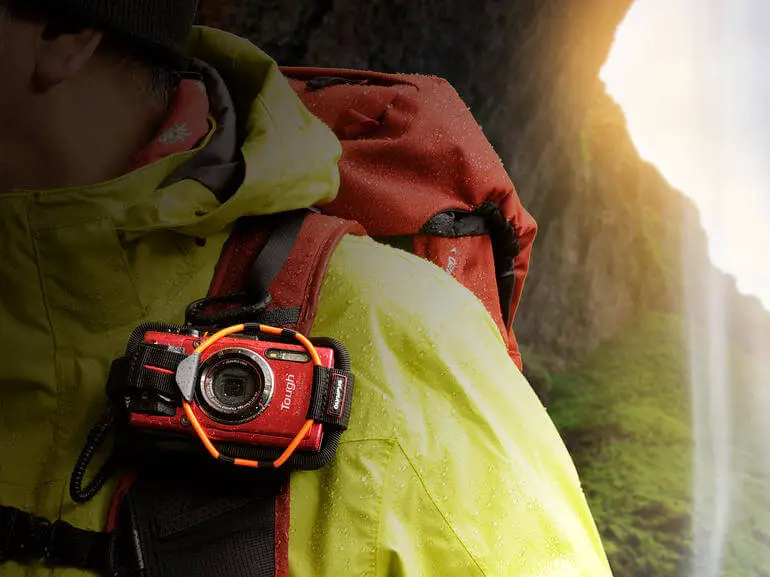 The Olympus underwater camera we are about to present is praised as one of the best underwater cameras ever made. Olympus has been out and about to make good quality rugged cameras. With the Olympus Stylus Tough TG-4, Olympus succeeded in creating a 16MP rugged compact camera that offers uncompressed RAW shooting. Optical zoom is 4x, aperture f/2 wide angle. With incorporated wi-fi connectivity and GPS, the underwater camera also sports a Microscope mode for super accurate macro shots. Olympus Stylus Tough TG-4 is resistant up to 50 ft water depth.
Canon PowerShot D30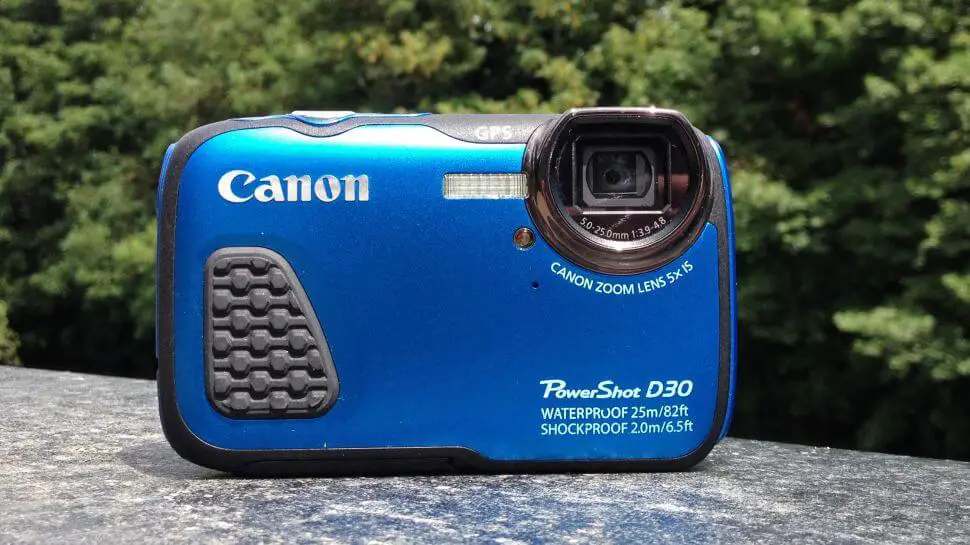 This underwater Canon camera is among the best point and shoot underwater cameras. It resists up to 82ft water depth. This feature alone makes it a remarkable waterproof camera. This Canon underwater camera is a perfect fit for beginner underwater photographers as the number of commands, settings and buttons is fairly limited.
Fujifilm FinePix XP80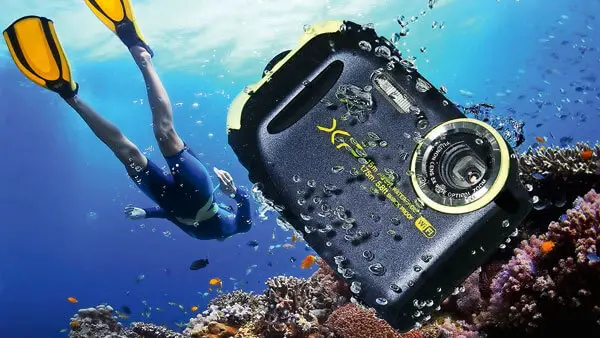 This Fujifilm underwater camera is a rugged pocket camera that is also waterproof up to 50ft water depth. Fujifilm FinPix XP80 is the smallest underwater camera in its own category. The image sensor on this one is a 16.4MP CMOS back-lit sensor. This Fuji underwater camera sports a display with anti-reflection coating and it can also be used as an underwater video camera as it can shoot Full HD 1080 at 60p.
GoPro Hero4 Session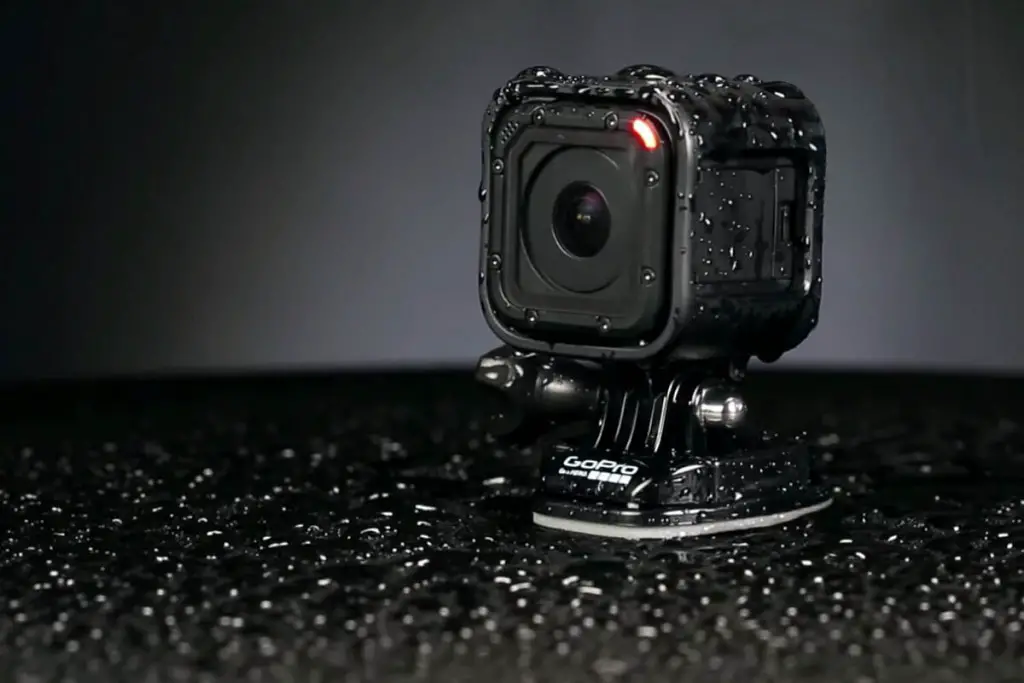 GoPro cameras don't really need an introduction. Made for action and the very definition of rugged cameras, the GoPro underwater camera we're talking about is the tiniest yet in the GoPro underwater cameras collection.
The Hero4 Session doesn't need waterproof casing. With just one shutter button, it's the easiest to use underwater camera ever designed. The WiFi connectivity ensures your data is immediately sent to the GoPro app. It may be waterproof down to 33ft, but it's sturdy. GoPro Hero4 Session is compatible with any GoPro mount. Despite being tiny, it will shoot impeccable 60p HD, 8MP photographs either in burst or time-lapse mode.
Panasonic Lumix DMC TS-5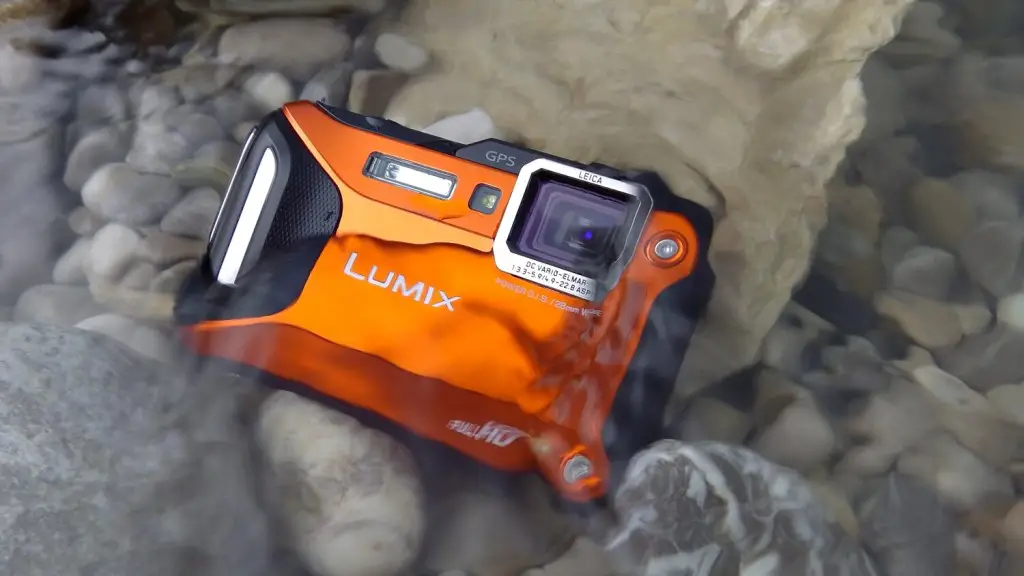 This Panasonic Lumix underwater camera is quite tough. Waterproof and shock-resistant, the Panasonic Lumix DMC TS-5 is also GPS and WiFi endowed. The image sensor is also CMOS with 1/2.33". Focal length: 28-128mm, while the optical zoom is 4.6x. The Optical Image Stabilizer renders good quality underwater photographs without blur.
Panasonic Lumix DMC TS-5 also shoots full HD 1080/60p videos in MPEG4 format. The backlit 3" LCD is perfect underwater. However, don't submerge this underwater camera for longer than 60 minutes unless you want to risk permanent damage.
Image Source: 1, 2, 3, 4, 5, 6, 7