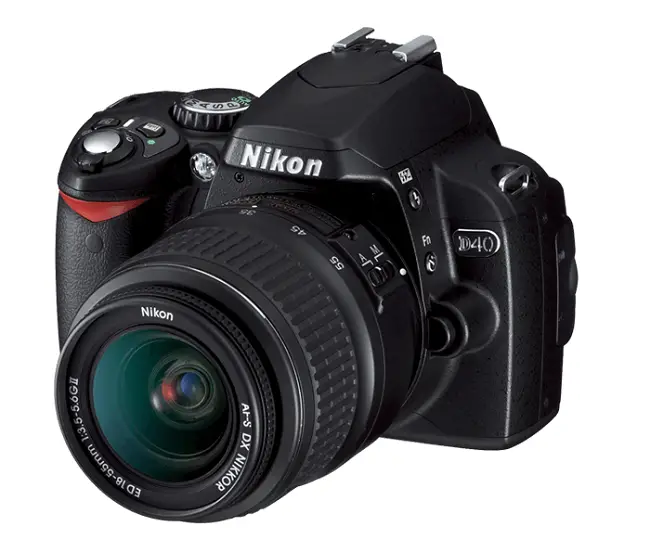 Originally marketed as a DSLR for first-time users, the Nikon D40 followed on the heels of its predecessor the D50 but at a lower price point and with a more basic feature set. This camera is truly an entry-level model, offering up the power of a high-end unit with a user-friendly touch. Check out our Nikon D40 review to learn all there is to know about the specs, build, and performance.
Nikon D40 Specs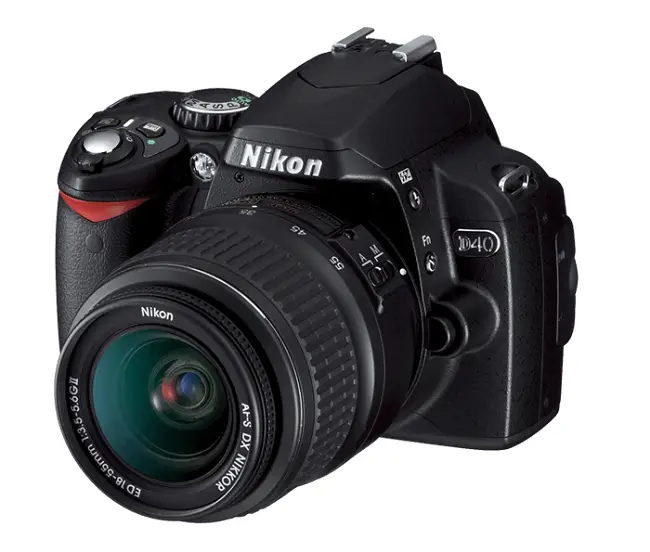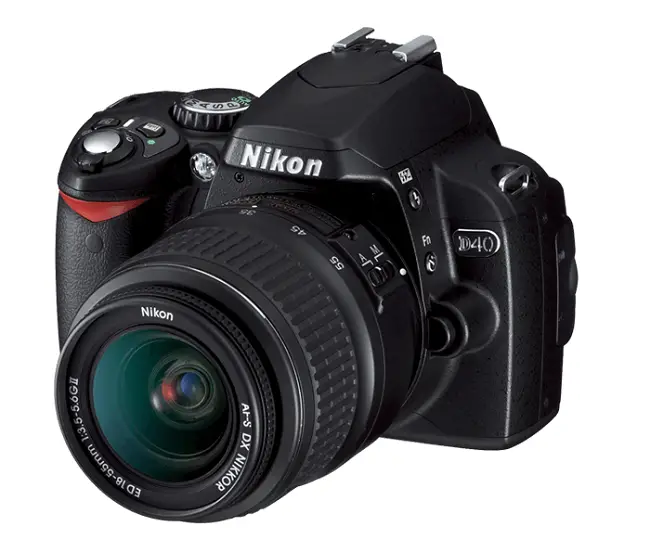 6.1MP DX-Format APS-C CCD Sensor.
2.5-inch 230k-Dot LCD Monitor with 170° Viewing Angle.
Pentamirror Viewfinder with 0.80x Magnification and 95% Frame Coverage.
Full Resolution Continuous Shooting at 2.5 fps.
Auto ISO Range of 200-1600 (Extended up to ISO 3200).
3-Point Autofocus System with AF-Assist Illuminator.
3D Color Matrix Metering II.
Built-in Flash.
SD / SDHC Memory Card Compatibility.
Dimensions of 5.0 by 3.7 by 2.5 inches.
Weighs 17 ounces.
Nikon D40 Features and Performance
Build and Buttons
Let's begin our Nikon D40 review by going over the specifics of the camera's construction. The D40 was one of the most compact and affordable DSLRs at the time of its release. Not only is it compact but it's impressively lightweight as well. Not everyone appreciates the smaller build of the D40, as it cuts down on grip space, meaning it's harder to get all three fingers around the body, resulting in a less secure hold for some. The grip that is there would benefit from being slightly deeper — but all in all, it's definitely sufficient for such a compact unit.
Due to the build size of the D40, all physical controls are easily within reach. These controls are basic, providing little to no learning curve for even the greenest photographers. Controls on the top of the camera are located on the right side, easily within reach of your right hand. This is where you will find a majority of controls, including the power button, shutter release, flash release / flash mode button, and the self-timer / function button.
There is also an info button, exposure compensation button, and finally the mode dial. The back of the camera features the AE / AF lock button and the command dial. You'll see buttons related to the LCD monitor here, such as play, menu, thumbnails, and magnify. There is also a four-way controller, an OK button, and an erase button. Although there is no designated button for adjusting ISO or white balance, the function button is customizable and can be set for either of these functions.
Display and Functions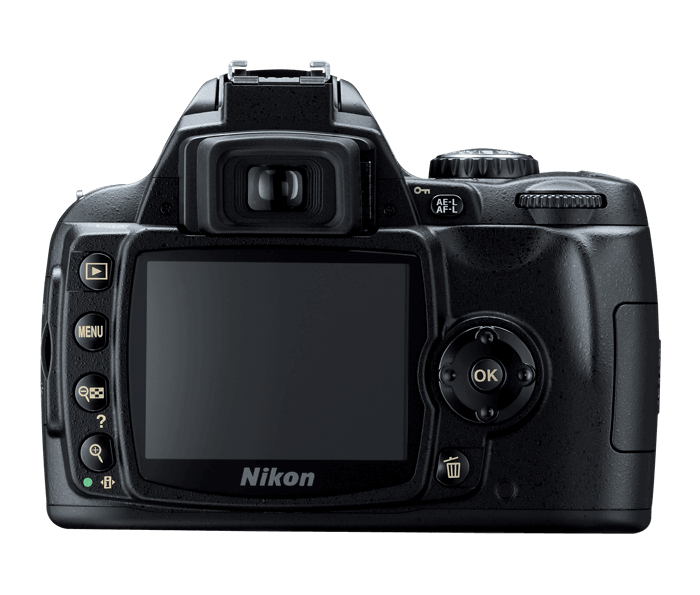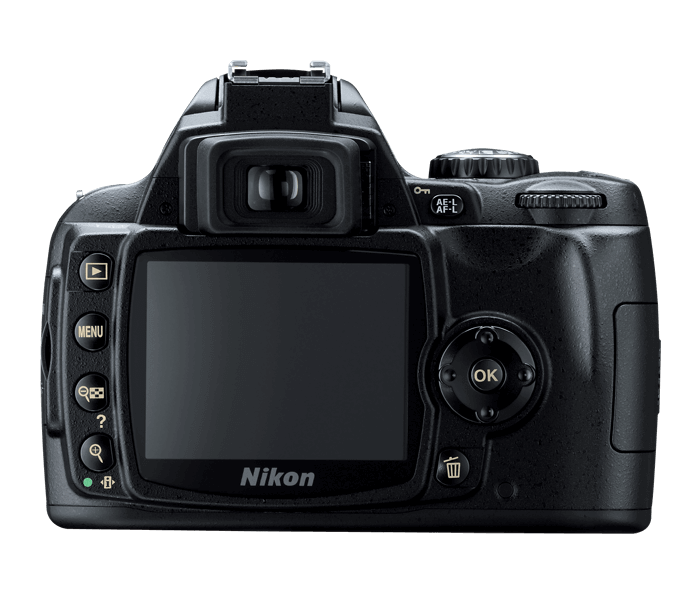 The Nikon D40 features a 2.5-inch 230k-Dot LCD monitor with a 170-degree viewing angle. Although this monitor is a bit on the small side, it's bright and does an excellent job of maintaining accurate colors. In terms of speed, the monitor is sluggish when changing settings.
You need to keep a close eye on the display while making adjustments; if you don't allow a moment or two for the display to catch up, you will likely overshoot your intended setting. Something to note is that this monitor does not turn off when the camera is pressed to your eye. This is fine while shooting under bright conditions but can become quite annoying when shooting in dim lighting.
Also included is a pentamirror viewfinder with 0.80x magnification and 95-percent frame coverage. Shooting with the viewfinder is pleasant — it is bright and crisp. Information is readily displayed within the viewfinder, such as which autofocus points are selected. Speed is excellent when it comes to adjusting settings. However, the viewfinder unfortunately lacks a grid overlay; this isn't a big deal but would have been a welcome addition for beginners.
Sensor and Resolution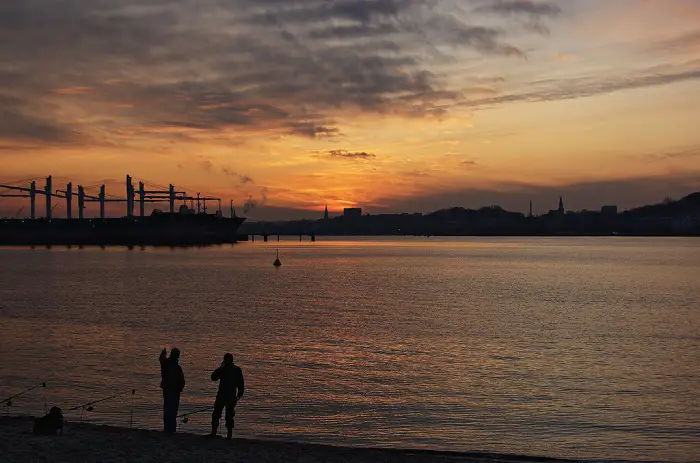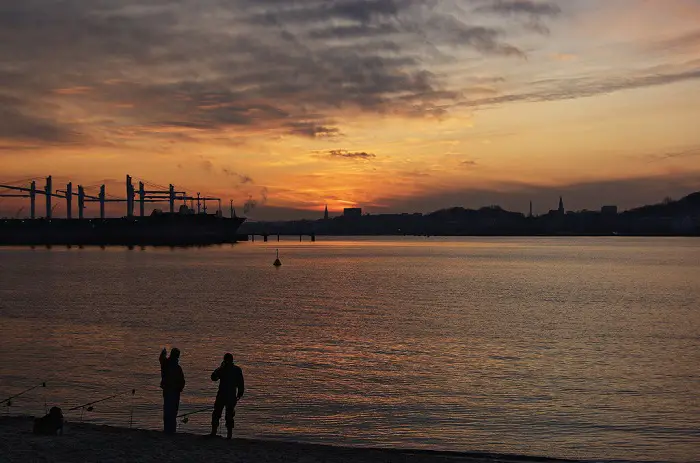 Equipped with a 6.1MP DX-Format APS-C CCD sensor, the Nikon D40 performs exceedingly well for an entry-level camera. It produces vibrant colors for each and every take. In terms of speed, the camera powers on and is ready to go within 0.3-second. However, even in good light there is a bit of shutter lag at 0.7-second. Shooting in dim lighting brings this delay to 1.6-second. Due to this, it's clear that the D40 is not most suitable to fast-paced action, such as most sports, so if that's the type of subject you intend to focus on, look elsewhere. In continuous shooting mode, the camera speed clocks in at 2.5 frames per second.
The D40's noise performance is solid, with a native ISO range of 200 – 1600 and an extended mode up to ISO 3200. A major highlight of this camera is that it manages to deliver quality images up to the very end of the native range, ISO 1600 — even when shooting in lowlight. Images captured at ISO 3200 are usable at small sizes. For images with absolutely no noise, stick to shooting at around ISO 200 and up to ISO 800.
Autofocus and Metering
Wrapping up our Nikon D40 review, let's take a closer look at the 3-point autofocus system. A welcome addition to this is the AF-Assist Illuminator. Although there are only three autofocus points, the camera locks on subjects quite well, producing solid images all-around.
There are three autofocus types — single point, dynamic area, and closest subject — and three autofocus modes — single shot, continuous, and predictive. Also included within the D40 is the 3D Color Matrix Metering II system. Three metering modes — spot metering, center-weighted metering, and matrix metering — work along with the autofocus system for the best results possible.
Pricing
The Nikon D40 is available in three configurations: the body only, priced at around $899; the body with 18-135mm lens, priced at around $330; and the body with 18-55mm lens, priced at $590.
Verdict
Overall, this Nikon D40 review has made it clear that as an everyday camera, the D40 remains an affordable choice for both beginners and casual users. It provides room to grow, with a robust but basic feature set — perfect for those just getting started but who want the ability to experiment.
Thanks for sticking around for our Nikon D40 review — what are your thoughts on this camera? Leave us a comment below!