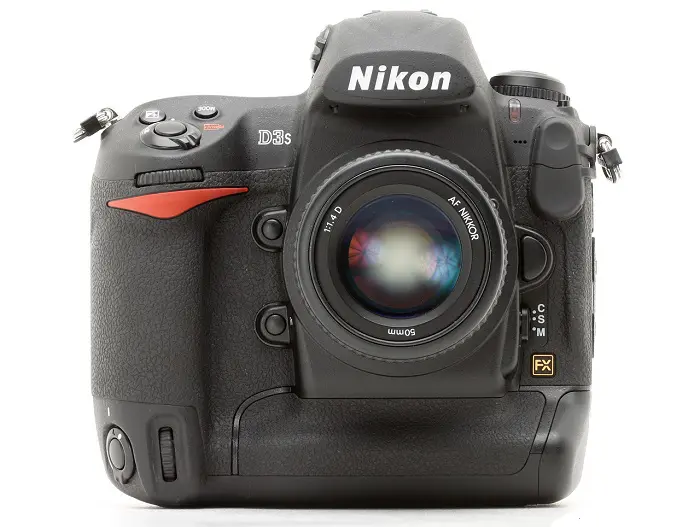 The Nikon D3S was released as the successor to the D3 and managed to expand on an already successful formula. A number of incredible additions took this camera to a whole new level, such as the ability to shoot video, truly making the D3S a professional DSLR. Read on for our Nikon D3S review to find out why this camera made such a splash in the photography world so many years ago.
Nikon D3S Specs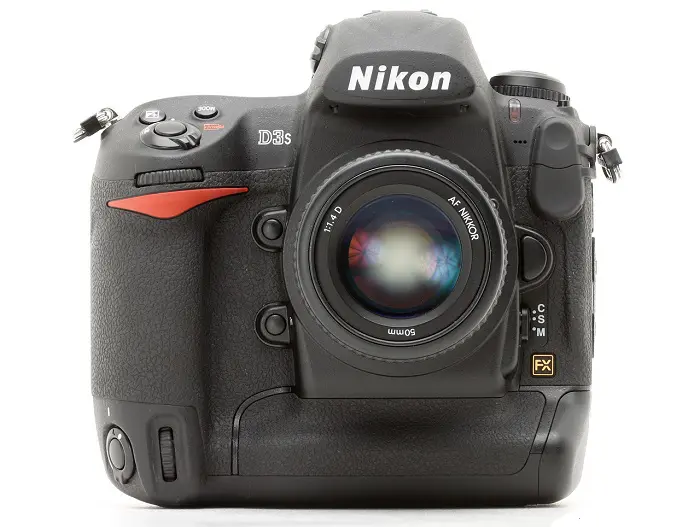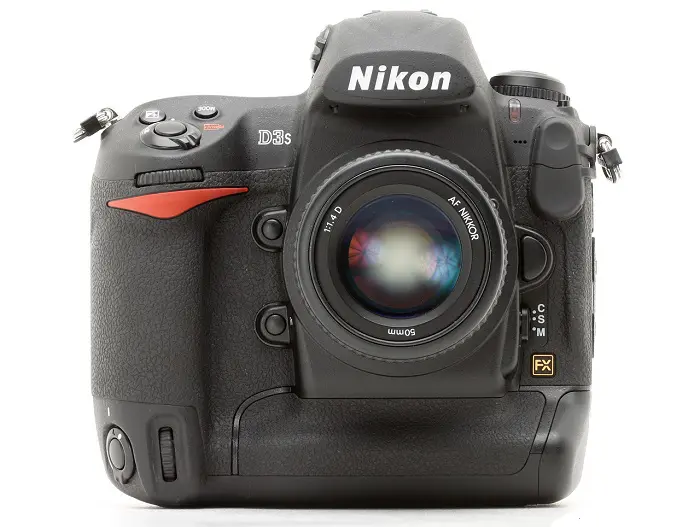 12.1MP FX-Format CMOS Sensor.
EXPEED Image Processor.
Video Recording in 720p HD at 24 fps.
3.0-inch 920k-Dot LCD Monitor with 100% Coverage and a 170° Viewing Angle.
Pentaprism Viewfinder with 0.70x Magnification and 100% Coverage.
Full Resolution Continuous Shooting at 9 fps.
Auto ISO Range of 200-12800 (Extended Mode of 100-102400).
51-Point Multi-CAM 3500FX Autofocus System with 15 Cross-Type Sensors.
Wi-Fi Capability with Optional Transmitter.
CompactFlash Memory Card Compatibility with Dual Slots.
Dimensions of 6.3 by 6.2 by 3.4 inches.
Weighs 2.7 pounds.
Nikon D3S Features and Performance
Build and Buttons
Let's begin this Nikon D3S review by checking out the camera's impressively rugged construction. It's entirely fair to say that the D3S is built like a tank, with a military grade magnesium-alloy body. The weather sealing is complete, protecting from nearly all conditions, whether that is extreme heat, frigid cold, humidity, dust, rain, or snow. Along with the ruggedness comes the heft of 2.7 pounds for the body alone.
If you're willing and able to lug around this much weight, you surely won't regret it once seeing the resulting images. Generous rubber grips grace the surface of the camera, perfect for both vertical and horizontal shooting. These grips assist not only with regular use but also while shooting in wet conditions and for providing comfort regardless of the heft.
As for the camera's physical controls, there are many included all over the body. Due to such a high number of said controls, we can't go into too much detail within this review. Let's just say that Nikon does an excellent job of including all of the expected controls. The placement of these controls is satisfying as well.
Having so many physical controls rids the need to go into menu screens for access to various settings. More than likely any setting you desire to adjust is easily accessible with the simple touch of a button. The ability to customize functions is a definite plus as well.
Display and Functions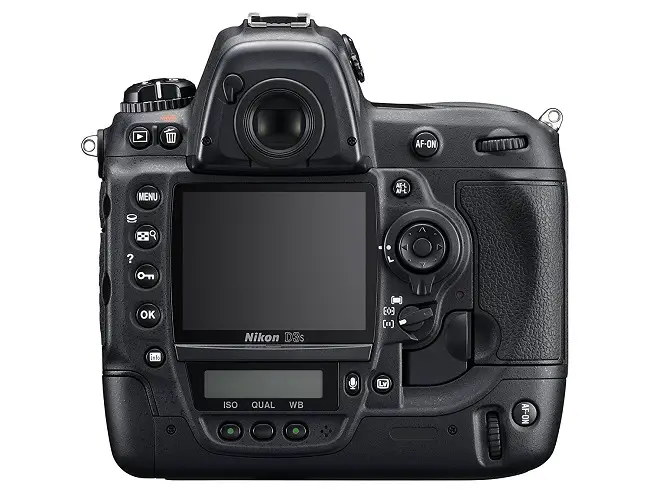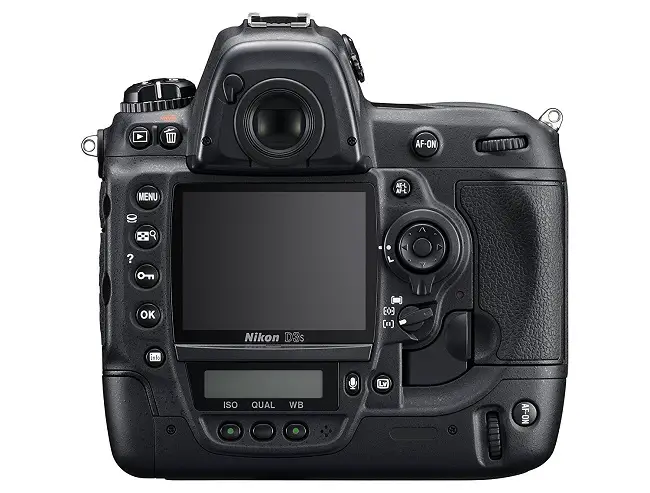 The Nikon D3S features a 3.0-inch 920k-Dot LCD monitor with 100-percent coverage and a 170-degree viewing angle both horizontally and vertically. This monitor is easy to see in nearly any type of lighting condition, even when viewing images outdoors. Brightness can easily be adjusted.
Also included is a pentaprism viewfinder with 0.70x magnification and 100-percent coverage. This viewfinder is huge and impressively bright, capturing the entire frame. The generous size of the viewfinder makes it easy to see whether your subject is in focus. Good news for eyeglass wearers is the viewfinder's decently high eye-point. Note that one feature lacking is an on-demand grid overlay. A data display within the viewfinder shows various shooting information, including the shooting mode, metering mode, shutter speed, f/stop, ISO, and either frame count or exposures remaining.
Sensor, Resolution, and Autofocus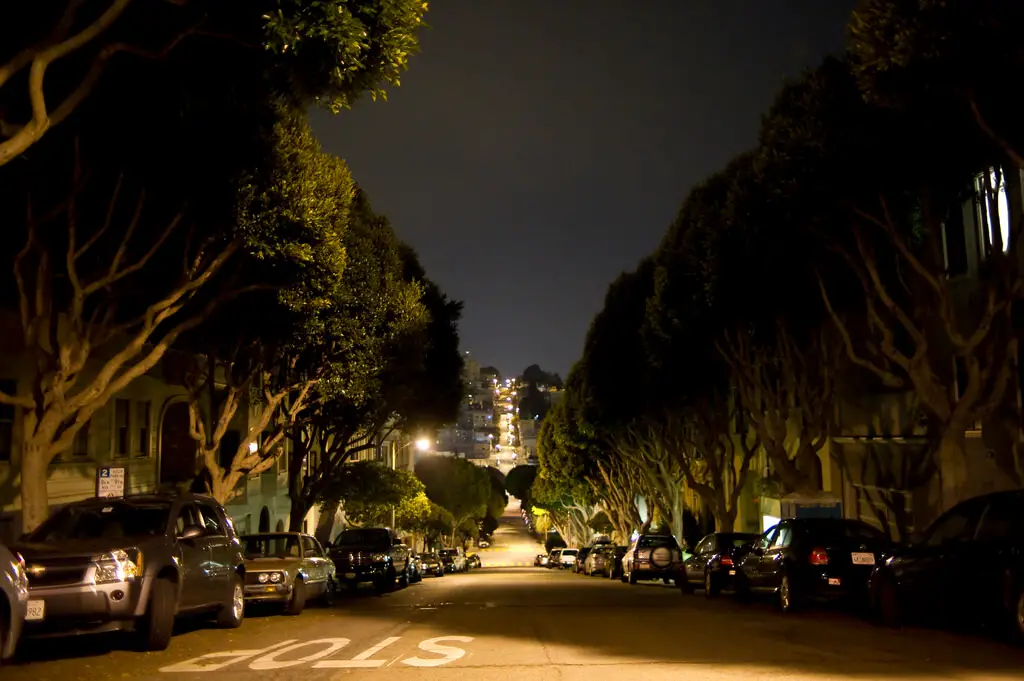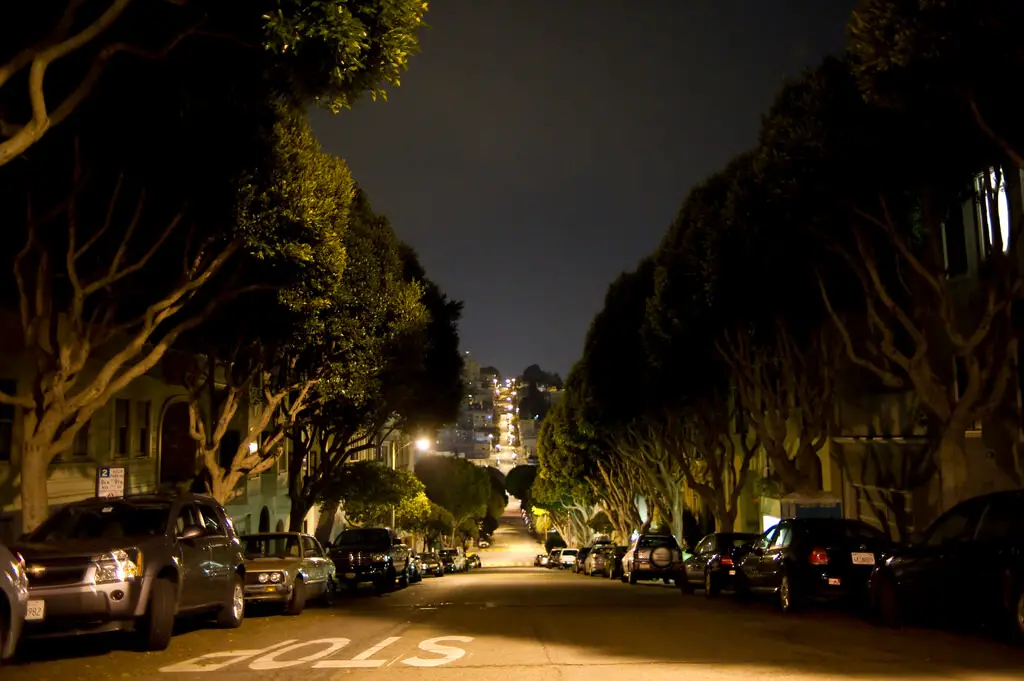 The Nikon D3S is equipped with a 12.1MP FX-Format CMOS sensor and an EXPEED image processor. This camera performs incredibly well, resulting in beautiful images each and every time. Capture full resolution shots continuously at 9 frames per second. All that being said, even more impressive is this camera's noise performance.
The auto ISO ranges from 200 up to 12800 with an extended mode of 100 up to 102400. The D3S truly excels at its lowlight capabilities. Regardless of the sensitivity level, the colors captured are incredibly accurate and vibrant. Great images can be captured all along the ISO range but especially when kept below the highest bracket of ISO 102400. For instance, ISO 1600 captures the cleanest images and even ISO 12800 is perfectly usable for prints. Other features that assist in capturing crisp images is the camera's D-Lighting feature, which works to max out the dynamic range of the sensor, while the Vignette Control attempts to reduce the corner shading on images.
Also included on the Nikon D3S is the 51-point Multi-CAM 3500FX autofocus system with 15 cross-type sensors. Autofocus on this camera is superior — it's surprisingly fast, accurate, and works beautifully in lowlight situations. Various options are offered up in terms of customization. For instance, select either Single or Continuous Servo modes; there are also four driving modes, including single point, area AF, dynamic-area, and 3D tracking. Working alongside the autofocus is the 1,005-pixel RGB metering sensor.
Video Capabilities and More
We mentioned at the beginning of this Nikon D3S review that one of the major highlights of the D3S was its ability to shoot movies. Video recording is available in 720p HD at 24 frames per second for a maximum of five minutes. This is a definite plus for users who want to be able to shoot some casual video. A definite plus is that the camera's incredible ISO performance carries over to movies, allowing for the capture of sharp videos even at night. The input for an external microphone is included as well, besides the built-in microphone. While the quality offered up by the D3S won't satisfy standards for professional filmmaking, it definitely provides more than enough quality for everyday use. If filmmaking is indeed your focus, look for a more high-end model with a specialization in video.
Another welcome highlight on the D3S is its dual CompactFlash memory card slots. This allows you to record images on both cards in order to avoid possible memory failure on one card. There are other options as well. For instance, store JPEGs on one card and RAW files on the other, or just use the second card as an overflow for when the first fills up.

Pricing
The Nikon D3S is available in one configuration: the body only, priced at $1,110. Two solid options for lens pairings include the Nikkor 35mm f/1.8G lens with autofocus, priced at $197, and the NIKKOR 50mm f/1.8G lens with autofocus, priced at $217.
Verdict
As made obvious throughout this Nikon D3S review, this camera was and remains to be of the most highly praised professional DSLRs. It appeals to photographers of nearly every field, thanks to its stunning image quality, excellent noise performance, and incredibly rugged build. For those serious about photography, strongly consider the D3S.
Thanks for sticking it out for our Nikon D3S review! Leave a comment below to let us know what you think about this impressive DSLR.