Fujifilm is quite a strange bird in the digital camera market. This well-known Japanese manufacturer surely animates the market by understanding it cannot go head on in a full image quality battle with rivals such as Canon, Sony or Nikon. So it tries to fill the niches, especially price-wise, that aren't covered by these; and particularly in the last few years they've concentrated on superzoom bridge cameras and mirrorless compact system cameras, focusing on developing smart electronic viewfinders capable of wiping any advantage that cameras which use mirror reflex optical viewfinders have.
Above this, Fujifilm also prefer to give retro aspects to their cameras instead of focusing on finding the most ergonomic solution, and that is actually a positive point in many photographers' books. This article will present three models representative of this Fujifilm trend, so you can make yourself an idea about whether or not their offerings might interest you. These are our top picks from all Fujifilm digital camera reviews and we hope you'll be as impressed with them as we were.
Fujifilm FinePix S4200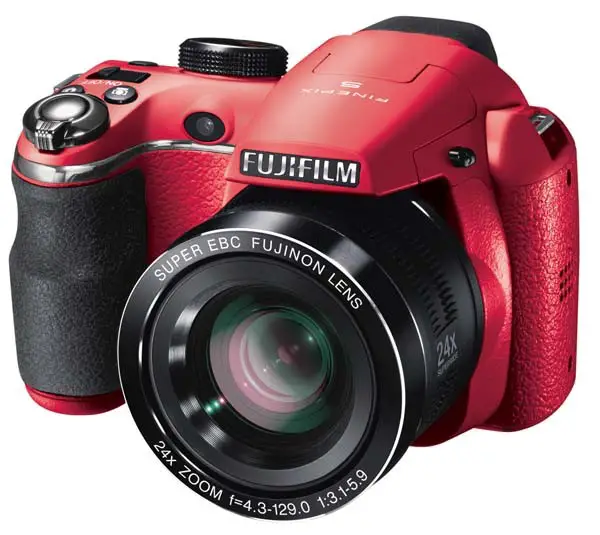 The Fujifilm FinePix S4200 is part of the so-called "bridge cameras" that fill out the niche between compact cameras and DSLRs, and as such it offers great x24 optical zoom. The 14 megapixel resolution though is not on par with that – lower than that of even most high end compact cameras. It also has a 3-inch LCD screen and can shoot video in 1080p HD.
The FinePix S4200 also sports a host of manual camera controls, making it extremely versatile to use in many circumstances. As far as design is concerned, it's quite a sturdy camera whose exterior is full of buttons, dials or switches The exterior of the camera is littered with buttons, switches and dials, some atypical for bridge cameras, such as the face detection button
This model shoots very good quality images at low ISO settings, managing to avoid for the most part color distortion or noise. Color noise starts making its effect when cranking it up to about ISO 200, though it's still negligible at that value. In general, anything under ISO 400 won't suffer from these kinds of problems, offering great solutions in this regard. You can even use it at ISO 3200, at the expense of a much lower image resolution
However, S4200 finds its worth is at taking panoramic photos, portraits or everything that's basically still. It's not a good camera for taking action photos, as moving object will appear slightly blurred; and this is kind of a setback in a world where digital cameras are coping better and better with smoothing objects in motion.
If this doesn't quell your enthusiasm about the S4200, you will find that it offers a nice selection for the $160 price range it stands at. You'll get a nice, versatile camera, capable of taking great still photos under a wide amount of circumstances, and the range advantage offered by the great zoom might be enough to tilt it into your favors.
Fujifilm X30
The X30 is an interesting offering from Fujifilm, being a high-end compact camera that sports a fairly retro design. It has a fairly low-end 12 megapixel X-Trans CMOS II sensor that does its job quite well, also including Phase Detection pixels and also does away with the low-pass filter. Lens-wise, it hosts a 4x zoom lens equivalent to 28-112mm, also incorporating a manual zoom ring.
Its new Real Time Viewfinder is something that Fujifilm is actively boasting about, having 2.36 million dots OLED display and virtually no lag to account for. The X30 also records video in 1080p full HD at 60fps; it has a high speed auto-focus system, burst shooting capabilities of 12 fps and, on top of that, a tilting LCD monitor. It is Wi-Fi enabled and offers a solid range of shooting modes and effects.
As we said earlier, that small 12 mp sensor produces some stunning image quality, when all things are taken into consideration. The ISO range is also great; no color noise will plague photos until over ISO 800, although even over that value, it's not going to be image ruining; it starts to become really visible at 3200. RAW image files are also taken sharply throughout most of this range.
The X30's employment of a small sensor still delivers some very good image quality, but might appear to become obsolete when compared to those that competing models like the Canon PoweShot G7X or the Panasonic Lumix LX100, and those also the advantage of being smaller. However, the big upside the X30 has is that it is way more affordable than them, with a price tag of about $600. If you're not obsessed over having the best image quality, which is still by any means very good, then the X30 is a solid recommendation as far as high end compact cameras go.
Fujifilm FinePix S9200
Returning to the FinePix series, the S9200 is what is deemed as an "ultra-zoom bridge camera". It is very similar to a DSLR both in aspect and handling, and its main feature is certainly the 50x zoom lens (a 35 mm equivalent of 24-1200 mm focal range), while it also sports fairly decent image stabilization technology. The S9200's sensor is16.4 megapixel CMOS, it has a 3-inch LCD monitor, and also uses an electronic viewfinder capable of 201k dots. It records video in full 1080p HD at 60fps and captures stereo sound. It's ISO range is 100-12,800, it can handle burst shooting at 10fps, and also has full manual controls included.
The only feature missing from the S9200 in comparison to its more expensive S9400W cousin is Wi-Fi support. However, what it does have is the awesome fixed 50x zoom lens. This super high-range lens comes at a huge focal range of 24-1200mm, parameters which would need a couple of DSLR lenses to reach otherwise.
However, the main disadvantage of the S9200 is a common quirk for ultra-zoom cameras, and that is image quality. It's not terrible by all means, but color noise starts to creep in at ISO settings as low as 200 and becomes very noticeable at higher marks. Taking full resolution pictures at 3200 or 6400 is almost a waste due to over color saturation and details loss. Otherwise, it did manage to handle color fringing quite well in all situations.
The Fujifilm FinePix S9200 tries to be a compromise – and whether it manages that or not depends on how much emphasis you are going to put on image quality. It's way too noisy when compared to similar models from other manufacturers at ISO settings of over 200, and despite having the measurements and aspect of a DSLR camera, it doesn't nearly reach them in quality. The main sell points are the high versatility offered by the huge zoom and its wide focal range, and its very low price point of around $300; however, it is only slightly cheaper than the S9400W, and the decision between purchasing one and the other resumes to how much you value Wi-Fi integration.
These are three best Fujifilm digital camera reviews. Despite them not really going toe-to-toe with Canon, Nikon or Sony in terms of image quality, the Japanese manufacturer tries to cater to different needs. It tries to offer great features otherwise not accessible at the prices it asks, and generally settles for a lower image quality than those that rival models produce in exchange for better versatility.