When it comes to post-processing and photo editing software, Adobe Photoshop is undoubtedly the number one choice for most photographers. However, tasks such as batch editing, retouching or applying filters can be done with freemium software. The problem with Adobe Photoshop is the fact that it is expensive, and while professional photographers might afford investing in it, beginners and enthusiasts have to work with limited budgets.
If you're looking for simplistic, user-friendly and powerful photo editing software, you might want to take a look at our round-up of free tools. They will help you with almost all aspects of digital imaging and processing.
5. PhotoScape
Platforms: Windows, Mac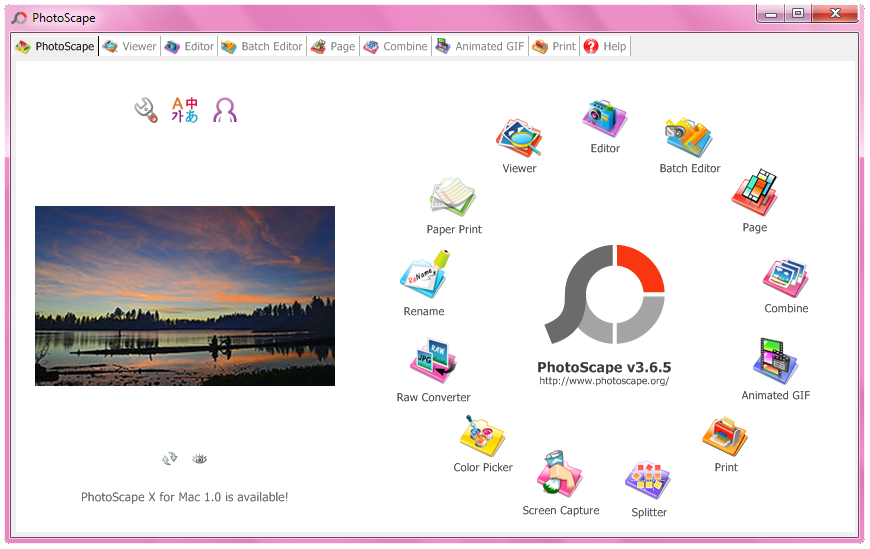 PhotoScape is one of my favorite tools for post-processing, mostly because it has a friendly UI and quick editing features. When you open the software you can see a wheel of tools with different functions (Editor, Combine, Batch Editor etc.). Each of these functions offers various options such as adding effects, resizing, cropping, adjusting color levels and brightness etc.
Besides the regular features, PhotoScape also has a few extra nifty tools like the GIF creator tool that lets you group images, or the RAW-to-JPG tool and image picker. If most of your post-processing actions are designed to help you tweak your photos, you will spend a lot of time in the Editor tool, which also boasts some really cool Instagram-like filters, frames and vintaging options.
Download Link: PhotoScape
4. GIMP
Platforms: Mac and PC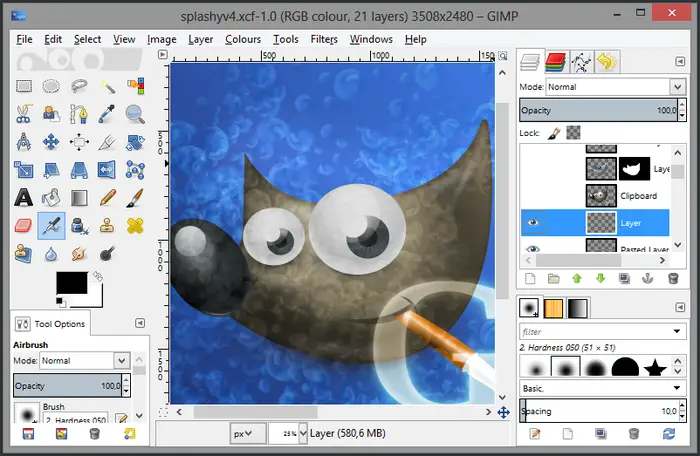 Before you resort to MS Paint, you might want to test GIMP, a freemium photo editing software and open-source application that has evolved through the constant improvement brought by community members and volunteers. GIMP is, hands down, the closest you will ever get to Photoshop capabilities – a favorite among designers and a must-have tool for professional photographers.
The software's interface is quite easy to use. When you launch it for the first time, you will find a dedicated window and a few dedicated ones where you can organize your layers, brushes and toolbox. In a way, GIMP feels like Photoshop, but the UI has a unique feel to it. One thing we really like about it is the fact that, if you are working with two screens, it allows you to split the workspace comfortably, with tools, such as lasso, paint, brushes, crop etc., organized on one side, and the image on the other. GIMP is worth trying out.
Download Link: GIMP
3. Fotor
Platforms: Mac, Windows, Android, iOS or Web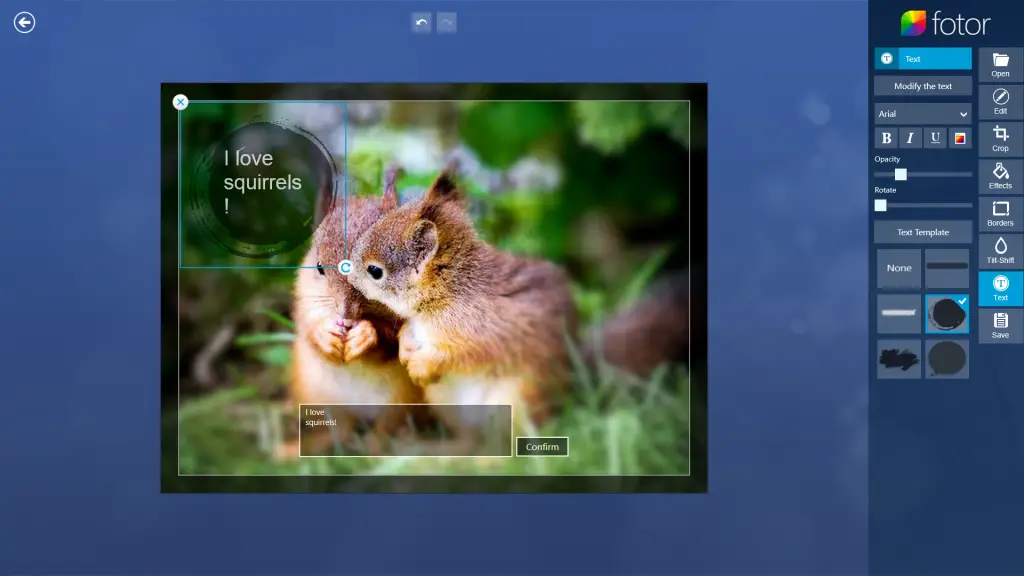 If you're looking for a tool that simplifies the photo-editing process, then you will definitely love Fotor. It's one of the simplest tools that you could ever use that doesn't forfeit in terms of editing options. Do you want to tweak your color balance, brighten the image or simply crop your composition? With Fotor it's easy-peezy. A few other editing options include the possibility to add borders, frames or effects such as scratchy pencil or the look of paper.
In case you don't like the software's interface, you can simply customize it and swap things around by changing the theme. Fotor is the ideal tool for photographers who don't have a lot of experience with post-processing, or who want to preserve the original quality of their digital imagery. This is a cross-platform photo editing software that works with smart-phones, as well as computers. Reviews for Fotor are mostly positive, but you should take a look at what others are saying about it prior to installing it.
Download Link: Fotor
2. Picasa
Platforms: Mac, Windows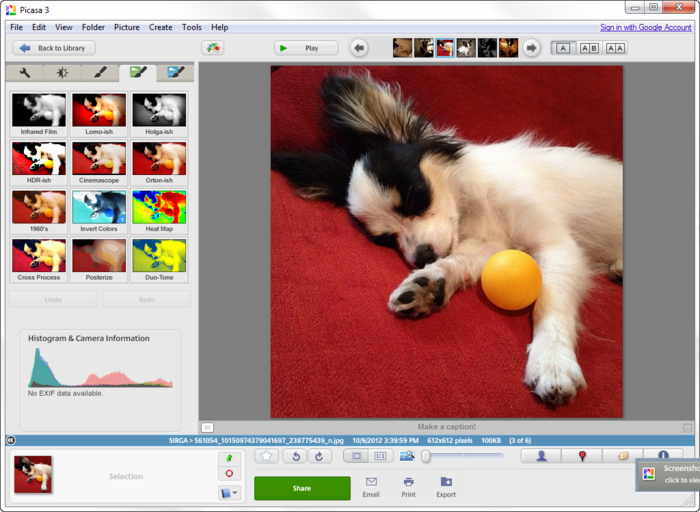 Picasa is an often overlooked photo organising and editing tool that offers a plethora of useful features. First of all, we have the Picasa Welb online album which will make it super-easy for you to share images from your desktop. Another thing you will like about Picasa is the Folder Manager feature, which will enable you to display all photos in one place. It is even possible to create albums with keywords, to help you sort through the clutter faster.
But Picasa isn't only about organization tools. It also has a pretty impressive suite of non-destructive editing tools. When we say non-destructive, we mean that the editing options of Picasa are very different from that of other software. What it basically does is to create 'virtual' changes of your original image, which can be undone at any moment. Sure, it's no Photoshop replacement, but its user-friendly UI and cool features make it one of the best freemium tools out there.
Download Link: Picasa
1. Pixlr Editor
Platforms: Web, Mobile, Windows, Mac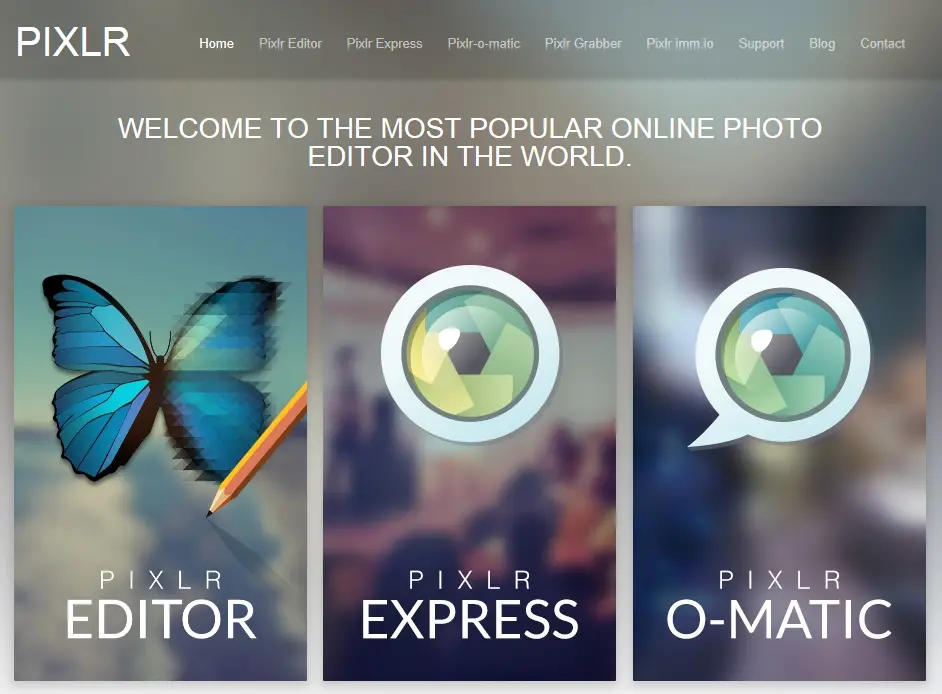 The last mention on our list of free photo editing software is Pixlr, a straightforward tool that will make editing images on any type of device look like child's play. We chose this editor because it works seamlessly with machines that do not have a lot of space (example: Chromebooks). With it, you can create clean canvases, on which you add your photograph. We were impressed by the number of tools that this photo editing software has to offer, everything from standard options, to unique effects and layering features.
The crowded toolbar reminds us of Photoshop, and the layering options of Pixlr are almost on par with that of the premium program. On the downside, if you choose to work with the browser extension, you will have to put up with an annoying amount of ads that will disrupt your editing process.
Download Link: Pixlr
This concludes our list of free photo editing software. Obviously, there are other tools you can use, such as IrfanView, Paint.NET or Apple Photos, but we considered that the afore-mentioned software will suit all your needs. Keep in mind that, while some of them have features that are nearly as good as those of Photoshop, none of them can surpass it in terms of overall performance.
If you want to improve your photography, without having to edit too much or getting lost in complicated software menus, you might enjoy the photo editing software listed above. Most of them were designed with simplicity in mind, so the learning curve for them is lean.
We would love to hear your opinions. What photo editing software are you using? Do you have any experience with the ones we listed? Let us know!
If you liked this round-up you can check out more, like The Best Digital Camera Reviews in 2015, on TheFuturePhotographer.