During the time of the Canon Rebel XS's release, there was a lot of competition on the entry-level front. Nikon and Sony were the top contenders, so Canon needed something to strike back with — the Rebel XS was just the thing and it came at a fairly low cost for those on a budget. Although this DSLR made a splash when it first hit the scene, is it still relevant after all these years? Take a peek through this Canon Rebel XS review to find out if it's still worth it.
Canon Rebel XS Specs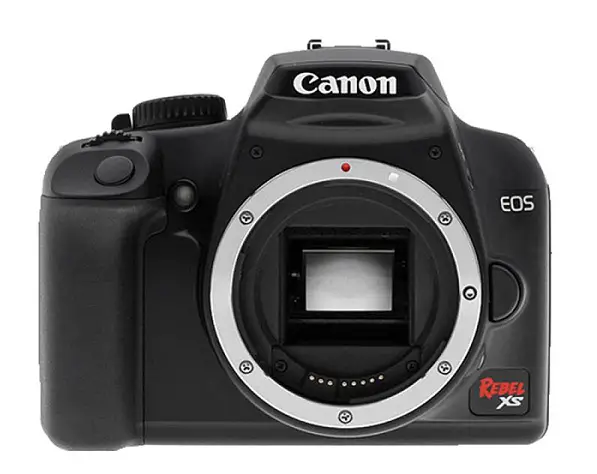 10MP APS-C CMOS Sensor.
DIGIC III Image Processor.
2.5-inch 230k-Dot LCD Monitor with 100% Coverage.
Pentamirror Viewfinder with 0.81x Magnification and 95% Coverage.
Full Resolution Continuous Shooting at 3 fps.
Auto ISO Range of 100-1600.
7-Point Autofocus System.
Built-in Flash.
SD / SDHC Memory Card Compatibility.
Dimensions of 5.0 by 3.8 by 2.4 inches.
Weighs 1.2 pounds.
Canon Rebel XS Features and Performance
Build and Buttons
Let's start off this Canon Rebel XS review by checking out the specifics of the construction and external controls. The Rebel XS features a stainless steel chassis and a primarily plastic construction. The body feels light in the hand, weighing in at just over one pound, but there is still a good level of sturdiness. Despite the plastic, the body actually feels quite sturdy with no creaking during use. The grip area is satisfactory and typically allows four fingers to fit around comfortably. Something to note is that those with larger hands might find this camera to be less comfortable to use, since the body is indeed quite small.
In terms of physical controls, the Rebel XS's small build allows most of the controls to fall within reach of the right hand. Canon has done a nice job of differentiating the buttons enough so that you can quickly adjust settings without looking. The top of the camera features the power switch, shutter button, AF / AE Lock button, and the exposure mode dial. Also included is an easily accessible ISO button. On the front of the camera you'll find basic controls, like the flash button, lens release button, and depth of field preview button. The back of the camera features a majority of the controls, all of which allow the user to maintain full customization and control over camera settings. One of the highlights on the back is a four-way directional keypad, which provides access to the Autofocus, Metering modes, Continuous modes, and Picture Styles.
Display and Functions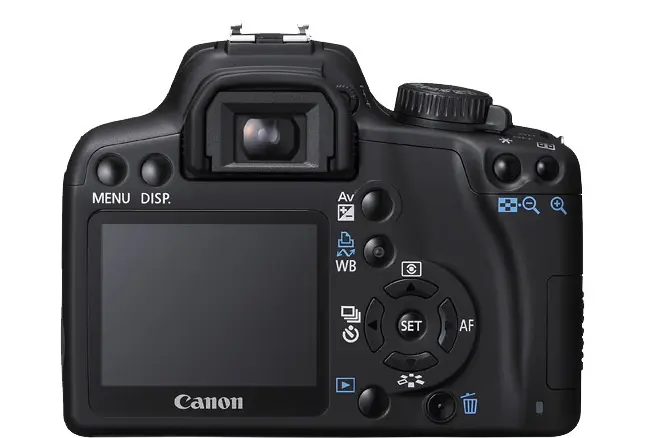 When the Rebel XS was released, the idea of shooting in Live View was a fairly new concept. In order to keep up with the competition, Canon included a 2.5-inch 230k-Dot LCD monitor with 100-percent coverage. Features like grid lines and a live histogram are a few of the highlights, helping out with composing shots. Zoom in by up to 10x magnification via the monitor. Focus by simply pressing the AF / AE Lock button when shooting with phase-detect autofocus. There is a second mode available in Live View, which is contrast-detect autofocus. One minor downside is the lack of a dedicated Live View button; instead you activate Live View with the Set button.
Also included is a pentamirror viewfinder with 0.81x magnification and 95-percent coverage. The viewfinder does a nice job and provides solid coverage. A status display element within the viewfinder shows the ISO at all times, which is a nice touch. The viewfinder offers up a bright and clear look at whatever shots you're hoping to capture.
Sensor, Resolution, and Autofocus
Equipped with a 10MP CMOS sensor and a DIGIC III image processor, the Canon Rebel XS has a good amount of power with which to deliver excellent images. The DIGIC III image processor is responsible for powering Canon's Auto Lighting Optimizer mode, which attempts to maintain highlight and shadow detail. This mode also tries to ensure proper exposure on faces in backlit conditions.
As for speed, the camera turns on almost instantly, clocking in at 0.2-second. The lag for capturing images in good lighting is a mere 0.4-second and a possible 0.8-second in dim lighting. Given the age of this unit, the performance is actually quite impressive. Full resolution continuous shooting tops out at 3 frames per second. Noise performance is excellent. The auto ISO level ranges from 100 up to 1600. Even at the high end of the ISO range, the Rebel XS does a superior job at capturing images with an incredibly high amount of detail and minimal noise.
Included within this unit is a 7-point autofocus system. Autofocus is generally fast, accurate, and performs beautifully in good lighting. Even in low-light shooting conditions, the system does a good job of maintaining consistency. Tracking moving subjects is easy and accurate with this autofocus system. But as is typically expected, using contrast-detection autofocus in Live View can be less than pleasant. For instance, it can take over 3 seconds to focus on a subject in good lighting.
Additional Features
Lastly in this Canon Rebel XS review, we're going to take a look at some additional special features that come along with this camera. These special features are the main elements in which the Rebel XS shows its age. While the software suite provided is enjoyable to use, its capabilities might prove to be a bit outdated. That being said, beginners will likely enjoy playing around with the functionality and customization it offers up.
There are three major features that come along with the software suite. For instance, easily capture some fun panoramic shots through the use of Canon's PhotoStitch application. Some solid conversion options for RAW files are provided by Canon's Digital Photo Professional application. The Picture Style Editor program even allows users to create custom Picture Styles on the computer instead of having to do so in-camera.
Pricing
The Canon Rebel XS is available in three configurations: the body only, priced at around $100; the body with 35-80mm lens, priced at around $65; and the body with 18-55mm lens, priced at $155.
Verdict
As this Canon Rebel XS review has shown, this unit is still a solid contender as an entry-level DSLR. Despite its age, the Rebel XS still manages to get the job done. You can certainly find DSLRs with a more rugged build, higher resolution, and faster speed, but this camera can't be beat when it comes to the current price point. For beginning photographers or those on a budget, this is the perfect option.
Thanks for checking out our Canon Rebel XS review! What do you think — is the Canon Rebel XS still relevant? Leave us a comment below.