The Canon EOS Rebel T7i continues to remain one of the more popular mid-level DSLR camera choices currently available. In our Canon EOS Rebel T7i review, we're going to cover several key features of this camera model to determine if it's a good option for most photographers.
Canon EOS Rebel T7i Specs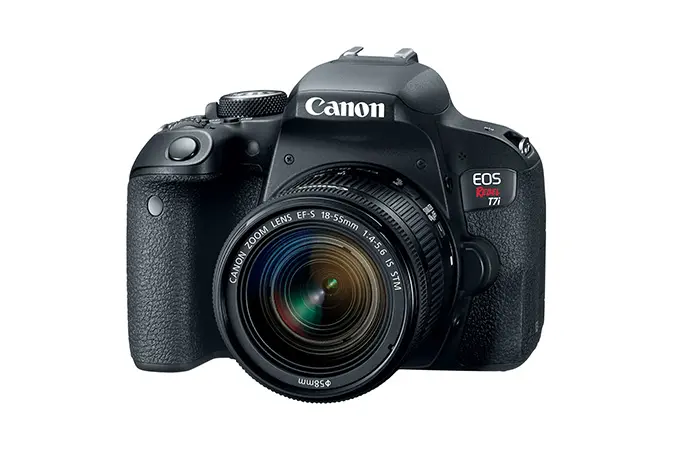 24.2 MP CMOS sensor.
3-inch LCD touchscreen display.
LCD dot count of 1,040,000.
ISO range from 100-25,600.
1080p video support.
Approximate battery life of 820 shots.
Canon EOS Rebel T7i Features and Performance
Build and Buttons
We're going to start our Canon EOS Rebel T7i review by covering the build and buttons in great detail. When you first pick up the camera, the first thing you will notice is just how sturdy the camera feels in your hand.
The reason for this is that the camera weighs in at approximately 1.18 pounds. While not massive, this can be a bit too heavy for use on your next family vacation. With this in mind, we really recommend investing in a high-quality neck strap to simplify carrying it around.
However, this is offset by the durable design of the camera. As far as the button layouts go, users who have used previous models from the Canon EOS camera line will likely notice quite a few similarities.
For starters, the top of the camera is where your scene selection dial is located. It's quite easy to use and emits a rather distinct "click" whenever you make a new selection. This is also where your ISO button and power switch are located.
Along the rear of the camera is where the vast majority of your other controls are located. The button to snap pictures is located close to the electronic viewfinder and is quite easy to reach with your thumb. A bit further below is where the wireless connectivity button is as well as the standard directional controls for navigating the menu displays.
Below the directional pad is where you will find the video playback button as well as the trash icon for deleting photos and video. Overall, the controls are laid out in a way that is very simple to understand and most users should adjust quickly to the camera's control system.
Display and Functions
This portion of our review is going to primarily focus on the display and the various functions of the camera. To start with, the thing we love most with this particular camera is that the display is tiltable. This is great for users who prefer to shoot using tripods where they stand above the camera.
The display itself boasts over 1,000,000 pixels and is quite bright. No matter what the viewing environment, you can clearly preview your shots. This is particularly beneficial for both extremes ranging from direct sunlight to low-light areas.
The functions themselves are pretty standard and are easy to understand. In total, this camera comes with 10 different shooting modes. If you prefer to fully customizable your settings, you can set the camera in full manual mode as well. This makes this camera an ideal pick for both experienced photographers and amateurs as well.
Sensor, Resolution, and Zoom
Our Canon EOS Rebel T7i review would not be complete without a section that focuses on important features like sensor strength, resolution, and zoom. The Canon EOS Rebel T7i utilizes a fairly powerful 24.2 megapixel CMOS type sensor. While not the strongest on the market, a sensor of this caliber is more than adequate for both professional and personal photography needs.
The optical zoom capability of the camera is a bit limited at only 5x. However, this can be rectified by purchasing one of the compatible lens kits for the camera. One area where this camera really shines is in its expanded ISO range. With an ISO sensitivity that goes from 100-25,600, this camera is perfect for low-light conditions.
If you're concerned about flash, this camera does come with a pop-up flash mechanism. The default is set to auto. However, you can easily disable this and adjust the flash intensity to fit the needs of your particular shooting environment.
When it comes to high-speed shooting, the camera is a bit above average with a maximum continuous shooting speed of 6 FPS. For most photographers, this should prove to be more than enough for most projects.
One of the areas where the Canon EOS Rebel T7i really shines is its autofocus capability. This model uses Canon's Dual Pixel Autofocus technology. If you haven't used a camera with it in the past, what it does is basically cut down the amount of time it takes to register subjects in your shot. Even in active environments, it does a great job picking a central focal point to produce a clear shot.
Video Capabilities
The Canon EOS Rebel T7i is fully capable of recording video. However, users who are seeking 4k video support will likely be disappointed. Currently, this camera is limited to recording video in 1080p quality.
While this quality is more than sufficient for most basic to medium level photography needs, some professionals may find it to be a bit lacking. In addition, the camera does have a harder time tracking subjects at larger viewing distances. However, this is fairly common for DSLR cameras that were not designed specifically for video recording.
Overall, users who just want to record basic family videos or simple events will likely be satisfied with the camera's performance. If you need higher quality recording capability, you may want to consider another camera model.

Pricing
The average price for the Canon EOS Rebel T7i camera body on Amazon runs around $749. To really unlock the camera's potential, you should consider purchasing one of the lens kit options. Two examples to consider are the 18-155mm kit and the 18-135mm kit.
Verdict
Based on the information in our Canon EOS Rebel T7i review, we feel that the camera offers more than enough to satisfy amateur and mid-level photographers. With a relatively powerful sensor and a rotating display, it's an ideal pick for a wide range of shooting environments. If you have had the chance to try this camera out for yourself, tell us about your experience.