There are many different important factors that go into picking the perfect camera. You have to consider the ISO settings, the types of lenses that are supported, the overall budget, and important features like audio jacks and more.
One camera choice worth considering is the Canon 6D. This article is going to serve as a Canon 6D review that will cover a wide range of important features like the specs, overall build, video capability, and display settings. We will also briefly cover the price and discuss some of the available lens options as well before delivering our final verdict on this particular camera.
Canon 6D Specs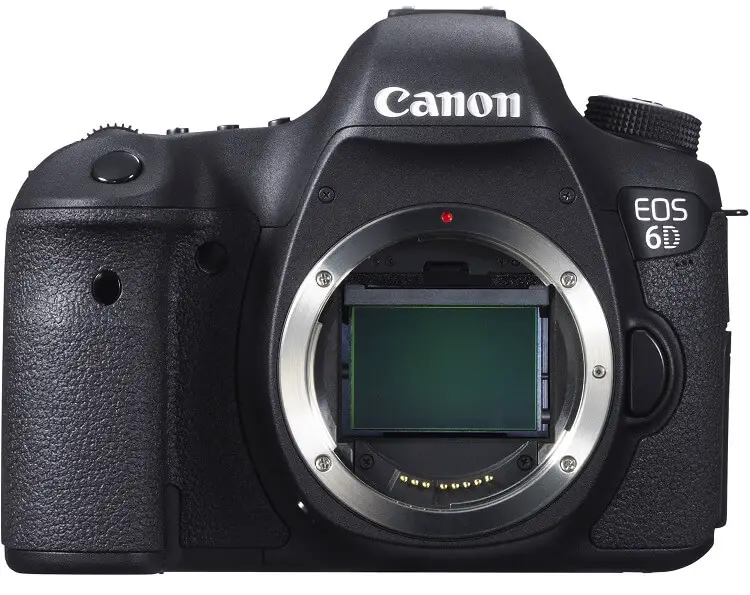 20.2MP CMOS sensor.
3.0″ LCD monitor.
11-point AF system.
ISO 100-25600.
One additional digital display on top.
Full 1080p HD Video.
Camera body weight is 1.7 pounds.
Maximum focal length is 105 MM.
Minimum shutter speed is 30 seconds.
Maximum horizontal resolution is 5,472.
Image aspect ratio is 3:2.
Canon 6D Features and Performance
The Canon 6D is a full-frame DSLR camera that packs quite a punch for such a small package. With multiple lens options like the EF 24-105mm, you can customize the camera to fit a wide range of shooting environments.
Build and Buttons
This section of our Canon 6D review is going to focus on the large variety of buttons on this particular model. The most important button is the power switch which is located on the top left-hand portion of the camera. It is a toggle switch with a very clear off and on setting.
The second button you will want to familiarize yourself with is the autofocus switch. You can find this on the upper left side of the lens aperture with AF meaning autofocus and MF for manual focus. The rest of the buttons are mainly located close to the view screen and are very easy to use.
For video, the start/stop button is located just to the right of the view finder. This convenient location makes recording video a breeze since you can take a quick peek to make sure things are in focus while easily starting and stopping the recording with your thumb.
To watch videos on the camera, the play button can be located just to the right of the color display. Just below this is a radial button that you will use to navigate menu selections using directional arrows. The set button in the middle functions as a selection key when making a menu choice.
Overall, the button layout is very intuitively designed and fairly easy to navigate. However, it can feel a bit cramped due to the small design of this camera.
Display and Functions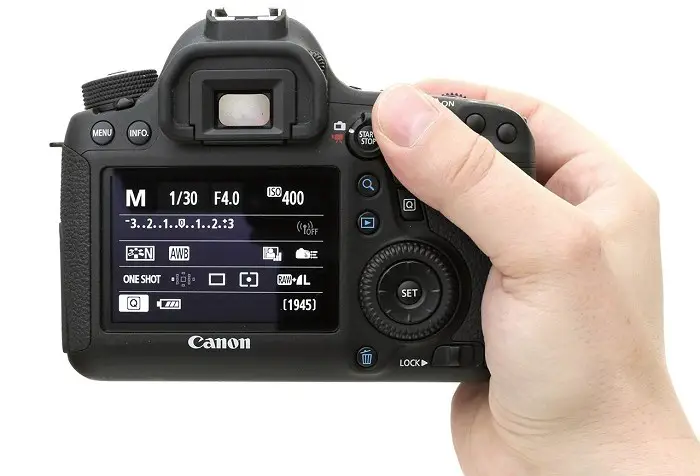 We are going to cover the display and functions in this area of our Canon 6D review. For such a compact design, this camera sports a fairly impressive three inch LCD monitor with over 1,400,000 dots. It's perfect for watching videos and zooming in on small areas of pictures.
All of the display functions are located around the viewing screen. You can zoom, pause and play videos, and scroll through sets of photos with ease. You can also quickly delete unwanted photos and videos with just the touch of a button. This is definitely one of the stronger points of this particular model.
Sensor, Resolution, and Zoom
The next area of our Canon 6D review is going to focus on the sensor, resolution, and zoom. The base model features a powerful 20.2MP CMOS sensor that is capable of continuous shooting at up to 2.4 frames per second. This makes this camera a perfect option for quick photos with moving subjects in the field.
One of the best features of the Canon 6D is the flexible ISO settings. It can be expanded to include a wide range of additional ISO options including L: ISO 50, H1: 51200 and H2: 102400 making this one of the better camera choices for a variety of shooting environments.
The Canon 6D also supports a wide range of lens attachments including the Canon EF 70-300mm and EF 24-105mm options. This allows for a wide range of zoom options for landscapes, urban environments, and more.
Video Capabilities
For this section of our Canon 6D review, we are going to focus on the video capabilities of this particular model. As far as video goes, 4K lovers will be disappointed. The Canon 6D supports a respectable 1080p HD recording capability with manual controls. This is more than adequate for all but the most die hard video fanatics.
The camera supports two different video compression formats: ALL-I and IPB. You can also easily adjust the audio controls as needed by watching the on-screen audio level display. One glaring omission that may prove to be a major issue for video recorders is the lack of an external audio jack.
One important thing worth mentioning is that the Canon 6D does not offer full-time autofocus while recording video. This can be frustrating for users who were expecting a more basic point and shoot experience. However, the picture and audio quality are still quite impressive for this particular model.
Pricing
The base unit of the Canon 6D is available for purchase from Amazon for $1,399. You can also purchase the camera with either the EF 24-105mm or EF 70-300mm lens bundle for an additional cost. By selecting the free accessory bundle, you can also get a handy travel backpack for the camera as well.
Verdict
While this camera does have a few shortcomings in the video department, our Canon 6D review proves that this is still a powerful camera worth considering. With multiple ISO settings and lens attachments, it can easily be customized to fit a wide range of shooting environments. It also comes with a handy storage case that is perfect for traveling.
For those of you who have experience with this particular model, feel free to tell us about your experience. We would also love to hear about your preferred lens choices as well for specific photography settings.