Any of the cameras within Nikon's D5000 line have always been considered reliable options for photographers in search of that perfect entry-level DSLR — the Nikon D5500 is no different. Perhaps you still consider yourself a beginner but feel ready to try out some of the more advanced techniques; this camera will help you do that.
While the Nikon D5300, the D5500's predecessor, certainly hit the mark in most areas, Nikon came back even stronger with the D5500, thanks to its speedy processor, ergonomic grip, and more. In this Nikon D5500 review, we're going to take a closer look at the camera's specs, features, and overall performance.
Nikon D5500 Specs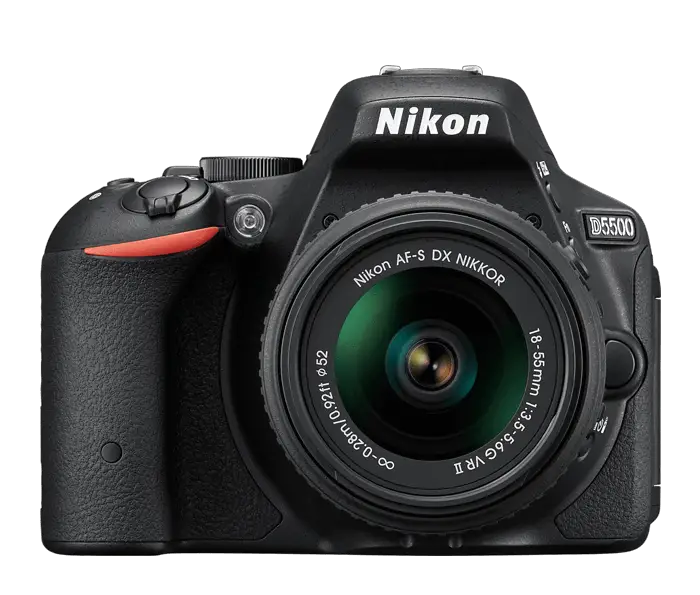 24.2 MP DX-Format CMOS Sensor.
EXPEED 4 Image Processor.
3.2-inch 1,037k-Dot Vari-Angle LCD Touchscreen with 100% Screen Coverage.
Pentamirror Viewfinder with 0.82x Magnification and 95% Screen Coverage.
Full HD 1080p Video Recording at 60 Frames per Second.
Multi-CAM 4800DX 39-Point AF Sensor.
Full-Resolution Continuous Shooting at 5 Frames per Second.
ISO Range of 100 – 25600.
No Optical Low-Pass Filter.
2,016-Pixel RGB Sensor Exposure Metering.
Flash and Stereo Microphone.
 External Microphone Input.
Built-In Wi-Fi Functionality.
SD / SDHC / SDXC Memory Card Compatibility.
Measures 4.9 by 3.8 by 2.8 Inches.
Weighs 14.8 Ounces.
Nikon D5500 Features and Performance
Build and Buttons
The Nikon D5500 is quite lightweight and leaves an incredibly small footprint when compared to its competition but nevertheless feels like a quality piece in the hand. Crafted with an all-in-one monocoque structure, this camera features a deeper grip than other Nikon cameras for a firmer and more comfortable hold, significantly reducing the risk of slippage.
That which allows for the lightweight, yet tough, body is the D5500's new construction featuring a type of fibre-reinforced plastic. The front of the camera looks as to be expected and features a dedicated autofocus-assist lamp and an infrared receiver. On the sides is where you will find various inputs; the left side contains the bulk of these inputs, while the right side contains just the HDMI jack and an SD card slot.
The back of the camera includes a fully articulating LCD touchscreen along with an optical viewfinder. Many buttons and features fill the back of the D5500, including the live view switch and the mode dial, which adjusts scene and special effects modes as well as the manual exposure controls. Also on the back sit the combo button of the power switch and shutter release, video recording button, and exposure compensation button.
Display and Functions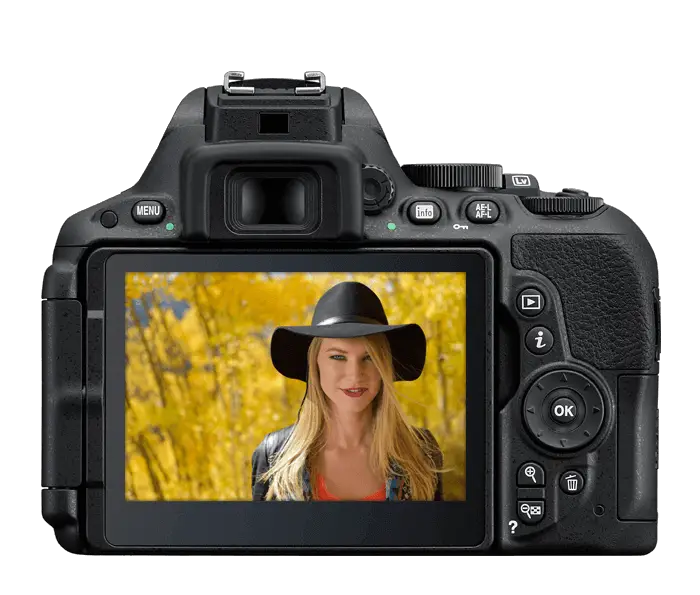 Equipped with a 3.2-inch 1,037k-Dot Vari-Angle LCD touchscreen with 100-percent screen coverage and a 270-degree rotation feature, the Nikon D5500 offers users the ability to shoot using a tripod without neck strain, snap photos from otherwise uncomfortable angles, or even take quality selfies with ease.
One of the highlights in comparison to the D5500's predecessor is the touchscreen capability of the LCD. The touchscreen functionality makes shooting much easier, especially when it comes to video recording — for instance, rack focus with a single touch. Other standard touchscreen functions include snapping an image, adjusting menu settings, and maneuvering through playback mode.
The LCD touchscreen itself is truly comparable to some of the more advanced cameras. Also included is the pentamirror viewfinder with 0.82x magnification and 95-percent screen coverage, a much-improved version than that provided by the D5300.
Sensor, Resolution, and Zoom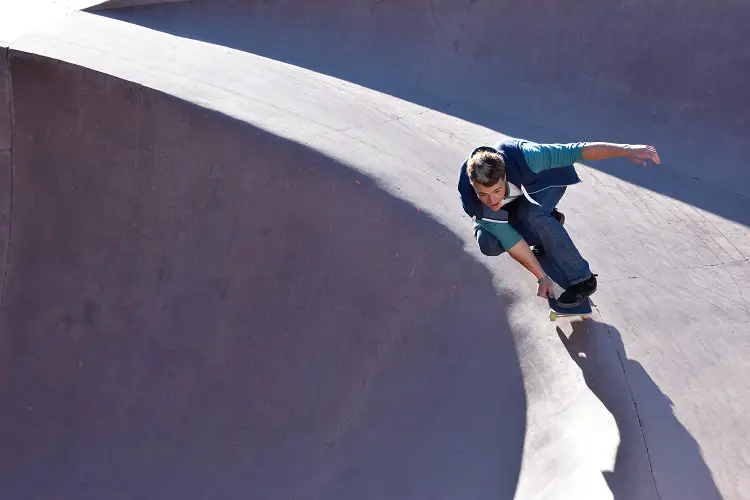 As you have already seen throughout this Nikon D5500 review, this camera is quite stellar — an excellent bang for your buck. This camera features a powerful 24.2 MP DX-Format CMOS sensor and an EXPEED 4 image processor. The image processor pumps out a decent amount of speed to provide users with a full-resolution continuous shooting rate of five frames per second.
Although perhaps not the best choice for high-speed action or sporting events, the speed offered is perfect for nearly all other shooting circumstances. The D5500's ISO sensitivity ranges from 100 up to 25600. Images maintain quality from ISO 1600 and up to ISO 3200 but going any higher causes the image to lose quite a bit of detail.
In this Nikon D5500 review, the autofocus system must be called out — this camera utilizes a Multi-CAM 4800DX 39-Point AF sensor, which provides exquisite performance with speedy and accurate focus even in low-light situations. The D5500 also comes equipped with a 2,016-Pixel RGB metering sensor, which includes modes for centre-weighted, spot, and matrix metering.
Video Capabilities
Lastly, we can't wrap up this Nikon D5500 review without detailing its video capability and more. Easily capture Full HD 1080p video at 60 frames per second or below. Record quality audio using either the built-in stereo microphone or an external microphone. An external microphone can be mounted to the camera via the included hot shoe.
One interesting highlight in terms of video capabilities is the "Flat" Picture Control mode, which allows for the capture of a video with high dynamic range and low contrast —ideal for adjusting color or exposure in post-production.
Additional features include built-in Wi-Fi for wireless shutter release as well as instant transfer of both photos and videos to a smartphone via the Nikon Wireless Mobile Utility app. Note that unlike the D5500's predecessor, this camera does not include built-in GPS functionality. However, if you would like to include GPS data, simply add the pertinent info via a connected smartphone. A GPS add-on, known as the Nikon GPS Unit GP-1A, is also available for purchase, if so desired.
Pricing
The body-only configuration of the Nikon D5500 sells for $696.95 (new). Also available is a configuration that includes an AF-S DX NIKKOR 18-55 mm f/3.5-5.6G VR II lens, which sells for $796.95 — this is the option that will get you up and running from right out of the box.
Verdict
As you have read in our Nikon D5500 review, it's obvious that this particular camera really sets the bar for any entry-level DSLR. While owners of the D5300 won't find many reasons to upgrade, first-time DSLR owners will point out the Nikon D5500 as an excellent choice.
Don't let the compact build fool you — this camera packs quite a punch in terms of features, offers users the perfect amount of control (especially thanks to the touchscreen display), and can go head-to-head with some of the best.
We hope our Nikon D5500 review has been informative and perhaps helped you in your search for the right DSLR. If you decide on the Nikon D5500, leave us a comment below and share your thoughts.