In this Nikon D500 review, we're going to take a look at some of the features, specs, pros, and cons of the D500. This DSLR's claim to fame is its impressive 153-point autofocus system and its rapid shooting capability. Aimed at professional photographers in search of a lightweight camera with a sleek footprint, the D500 is a model that will not disappoint. Check out our Nikon D500 review to learn all there is to know.
Nikon D500 Specs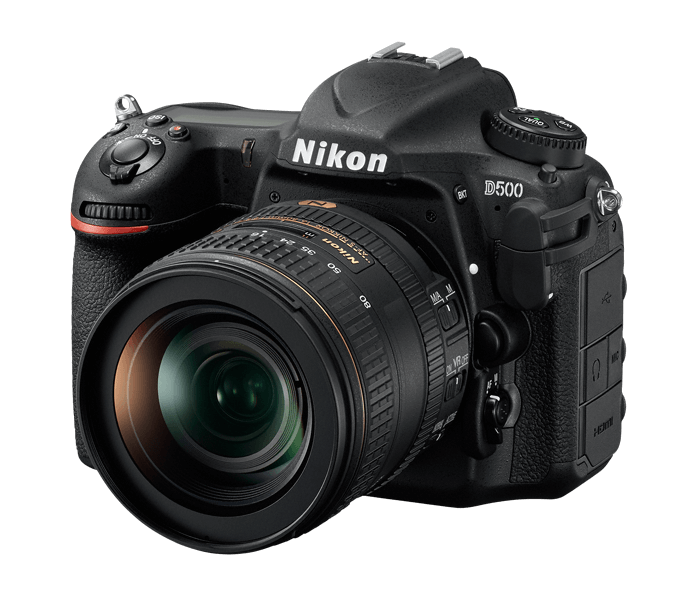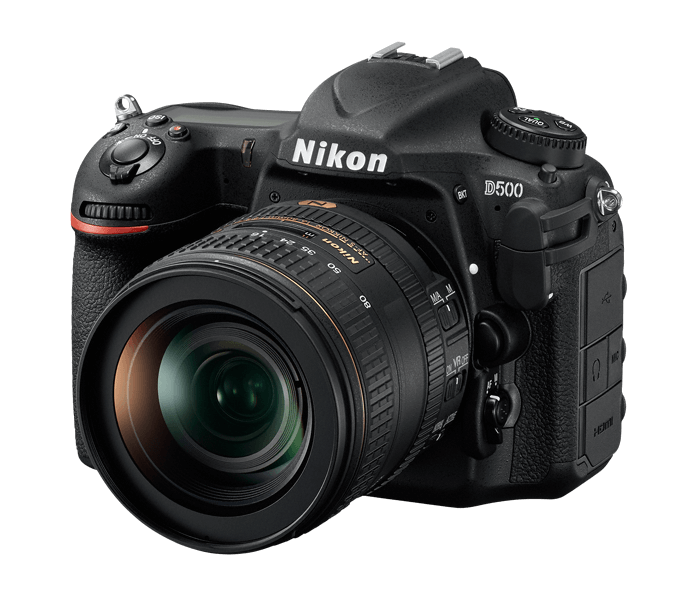 20.9MP DX-Format CMOS Sensor;
EXPEED 5 Image Processor;
3.2-inch 2,539k-Dot Tilting Touchscreen LCD Monitor with 100% Screen Coverage;
Pentaprism Viewfinder with 1.0x Magnification and 100% Coverage;
4K UHD Video Recording at 30 frames per second;
Multi-CAM 20K 153-Point Autofocus Sensor;
Full Resolution Continuous Shooting at 10 frames per second;
ISO Range of 100-51200 (Auto) / 50-1640000 (Extended);
180k-Pixel RGB Sensor and Group Area Autofocus;
Built-in Wi-Fi, Bluetooth, and NFC Connectivity;
SD / SDHC / SDXC / XQD Memory Card Compatibility;
Dimensions of 5.8 by 4.5 by 3.2 inches;
Weighs 1.9 pounds.
Nikon D500 Features and Performance
Build and Buttons
Constructed with a lightweight metal material that gives off more durability than expected, the Nikon D500 is solid enough to face any condition. Shoot without worry regardless of the weather, as the body features full weather sealing. Also present is a textured handgrip that feels comfortable in the hand, complete with an indent for your middle finger to sit comfortably underneath the shutter release. The rugged metal and rubber construction of the camera gives an overall solid feeling with ergonomics that are perfect for long shooting sessions.
The expected physical controls are present on the D500's body, making it easy for any Nikon user to quickly grasp the camera's general operation. On the top left of the body sits a rotating dial for selecting the drive mode. Above the dial are four buttons to adjust the image quality, metering mode, white balance, and exposure mode. Also on the top is the movie record button, power button, and shutter release, behind which sits buttons for ISO and exposure compensation.
The back of the camera features just as many controls, including autofocus point selection made possible via either a joystick or directional keypad, depending on your preference. Next to the LCD monitor on the left-hand side are various buttons, such as playback, delete, menu, and more. To the right sits the Live View button, a switch to toggle between shooting stills and movies, and more. Finally, the front of the camera features a depth of field preview button, a customizable function button, and a switch to toggle between autofocus and manual focus. Despite the touchscreen ability the D500 offers, direct controls are nevertheless extremely prominent, making for quick shooting and ease of use.
Display and Functions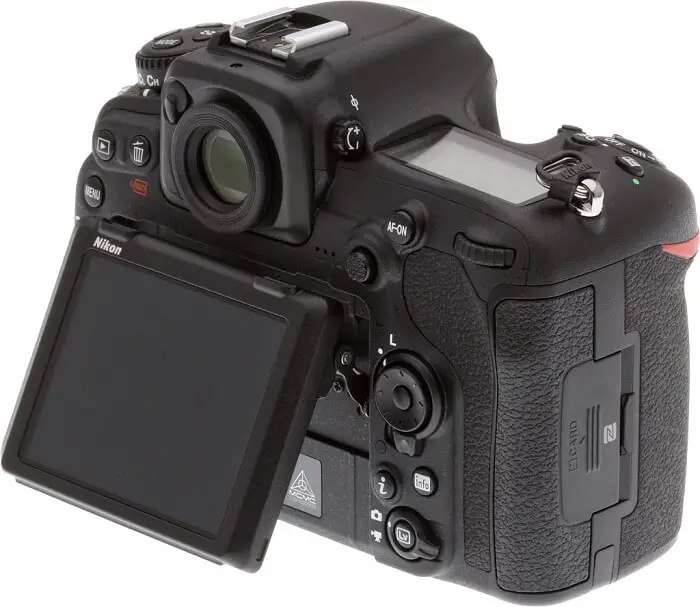 The Nikon D500 features a 3.2-inch 2,539k-Dot tilting touchscreen LCD monitor with 100-percent screen coverage. Touch sensitivity of the monitor is a welcome addition. Although you aren't able to adjust menu settings via the monitor, you can select the autofocus point during Live View shooting and view images through playback mode. The tilting mechanism of the monitor is incredibly handy for shooting from either super high or super low angles. Note, however, that the monitor can't be flipped over to the extent so as to face forward. The high-resolution monitor shows off resulting images with an incredible amount of detail. Even under direct sunlight, the LCD's crisp screen easily shines through.
Also included on the D500 is a pentaprism viewfinder with 1.0x magnification and 100-percent coverage. The generous size of this viewfinder signifies the unit as a true high-end performer. Easily keep up with fast-moving subjects, thanks to the viewfinder's speedy nature. The view offered is one of clarity and brightness, ensuring that you never miss a thing. The included rubberized eyecup makes shooting with the viewfinder an absolute pleasure. Also available is a blind that blocks unwanted light from the viewfinder, ensuring that you capture the desired shot every time.
Sensor, Resolution, and Autofocus
Featuring a 20.9MP DX-Format CMOS sensor and an EXPEED 5 image processor, the Nikon D500 is well equipped to shoot in a variety of conditions. Accurate color and detail is achieved with nearly every single shot. An impressive full resolution continuous shooting rate of 10 frames per second is achieved with ease. The native ISO range is 100-51200, while it reaches an extended range of 50-1640000. Images maintain a clean look through ISO 6400. Images still maintain a good amount of detail up to ISO 102400, despite some visible noise — however, any higher than that and the quality decreases rapidly. Otherwise, the D500's lowlight performance is truly impressive.
It's important to mention the autofocus performance in this Nikon D500 review. In fact, the autofocus is quite possibly the apex in terms of appeal for this camera. The D500 includes a Multi-CAM 20K 153-point autofocus sensor. Out of those 153 points, 99 are cross type for maximum sensitivity and 15 are sensitive at f/8. Those 15 points are perfect for wildlife photographers, as they aid nicely in capturing photos with an extender or long lens.
The autofocus sensor works with the 180k-pixel RGB sensor to help manage the elements of white balance and metering. What makes the D500's autofocus system especially impressive is its focusing speed. Even in lowlight, the camera readily locks onto its target. It's only in extremely dark conditions that the camera hunts a bit. Note, however, that while shooting in Live View, autofocus does lag even under good lighting.
Video and Wi-Fi Capabilities
The last topic we will visit in this Nikon D500 review is the camera's video and Wi-Fi capabilities. The D500 shoots 4K UHD video at 30 frames per second and offers various inputs, including those for headphones and an external microphone. Also provided is the "Flat" picture profile, which aids nicely in the post processing stage. The camera's video capabilities do lack quite a bit, however — there is no built-in focus peaking option for judging manual focus; instead, an external monitor is required.
The D500 provides users with built-in Wi-Fi, Bluetooth, and NFC connectivity. This allows for image transfer from camera to smart device within seconds. Two transfer options are available — auto transfer seamlessly pushes every image right to your smart device, whereas manual transfer allows you to select which images you want transferred. It's also possible to control the camera via a smart device. A Live View display shows on said device, allowing you to reposition the focus point and then shoot remotely.
Pricing
The Nikon D500 is available in five configurations: the body only, priced at $1,897; the body with 50mm lens, priced at $2,114; the body with 85mm lens, priced at $2,424; the body with 16-80mm lens, priced at $2,497; and the body with 200-500mm lens, priced at $3,294.
Verdict
So, as you have learned through this Nikon D500 review, this unit is one of the most well rounded DSLRs out there. Despite the expensive price tag, the D500 beats out comparable options in terms of overall performance. You may want to look elsewhere if your intended focus is video, but when capturing sports, action, wildlife, and nearly any other subject, the D500 rises above the rest.
Thanks for sticking around for this Nikon D500 review — leave us a comment below to share what you like best about this incredible camera.