This Canon Rebel XSi review finds a venerable camera perfect for photographers looking for an easy to use SLR camera that does it all. This 12.2 megapixel entry-level DSLR camera from Canon packs a lot into a wonderfully compact, lightweight, and sturdy package. With a seemingly unlimited number of new and used lens options, the XSi makes a great starter camera. The camera was originally sold with a standard kit Canon EF-S 18-55 mm f/3.5-5.6 IS lens. This Canon Rebel XSi review will focus on the specifications, features and performance, and pricing options for the camera.
Canon Rebel XSi Specs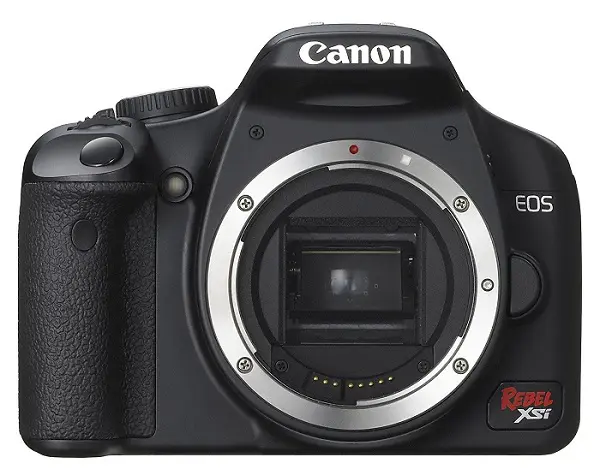 12.2 Megapixel APS-C CMOS sensor is DIGIC III processor.
Canon EF/EF-S lens mount.
Optical pentaprism viewfinder.
SD/SDHC card flash storage.
3-inch LCD display with 230,000 pixels and Live View display mode.
ISO 100-1600.
Shutter speeds between 1/4000 – 30 seconds, plus Bulb setting for long exposure.
Evaluative, center-weighted, spot, or partial metering modes.
Exposure compensation from -2 to +2 EV (in 1/2 or 1/3 stop increments).
3.5 frames per second capture in Continuous drive mode.
Internal pop-up flash and external hot shoe supports Canon E-TTL II metering with Canon EX Series Speedlights.
Weights 19.0 oz. (539 g) with battery.
Canon Rebel XSi Review: Features and Performance
The 12.2 megapixel Canon Rebel XSi is compact consumer DSLR with an APS-C CMOS sensor. True to the camera's heritage, users can choose from a wide variety of Canon and third-party EF or EF-S mount lenses to complement the camera. Lenses are easy to come by, both new and pre-owned. The sensor has an effective crop of 1.6x to convert to 35 mm equivalent focal lengths. Since the release of the XSi, Canon has released a sequence of popular digital Rebel bodies from the T2i to the current T7i.
The real strength of this entry-level DSLR is the ability for photographers to grow with it. The camera is easy to use and takes great pictures when used as a point-and-shoot camera. But for photographers wanting to hone their skills and dive deeper into the fundamentals of photography, the Rebel has them covered too. For this very reason, the XSi is now a popular choice for school and college photography courses: it's inexpensive, it's rugged, and it can be automatic or manual.
Build and Buttons
The XSi is a solid camera with a comfortable feel for most photographers. The body, built mostly of heavy plastics, is rugged enough to ensure years of faithful service. While the Rebel line of cameras lack the metal alloy frames and weather sealing found in the xxD and professional xD model lines, the Rebels should not be discounted as a "cheap" camera.
A toggle on/off switch is located around a large image mode selection knob. This large knob is used for selecting between Programmed Auto, aperture priority (Av), shutter priority (Tv), and manual mode, as well as several pre-programmed image scene modes. Between the shutter release and the mode selector knob lies the single selection wheel, used for making most adjustments to camera settings. The shutter release button is comfortably angled and positioned just right.
Other controls are grouped around the large 3-inch LCD display. Four directional toggle buttons control the easy to navigate menu system. Each directional button multitasks as a camera function for easy setting manipulation while shooting. Thumb buttons for AEL and focus zone control make the most common needs within easy reach.
Display and Functions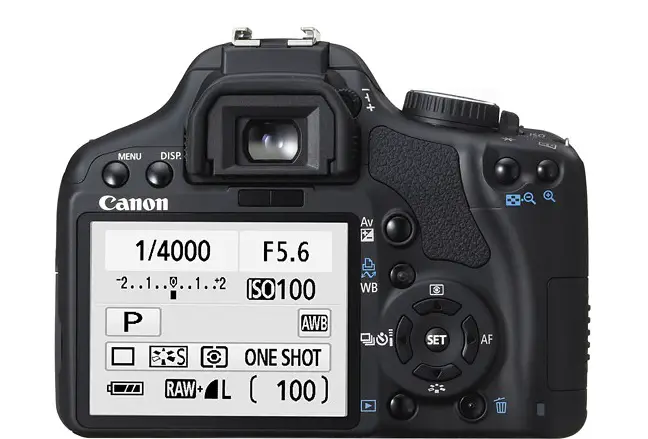 The 3-inch TFT LCD screen compliments the camera perfectly and is a nice upgrade from the smaller screen on the previous version, the Rebel XTi. The fixed screen is bright and easy to read but does not pop out or change angles. Menu navigation is intuitive and easy to follow, and the directional arrow buttons make navigating a snap.
The XSi was the first Rebel camera to integrate Live View. By pushing the "Display" button, the mirror opens and the image can be composed on the LCD screen. Focus modes are limited here. However, for photographers working from a tripod or in a studio setting, this can be very helpful. Exposure histograms can be overlayed to check lighting and exposure prior to capturing the image.
Sensor and Resolution
The Rebel XSi's 12.2 megapixel CMOS sensor is the workhorse of the camera. While not the latest technology, the 12.2 CMOS produce more than enough in terms of image dimensions for most people's daily use. The sensor produces clear, sharp images that won't disappoint, even at high ISO.
Video Capabilities
The Canon Rebel XSi has no video capabilities. If video capability is an important feature to you, consider a newer DSLR camera like the Rebel T3i, which offer very similar specs to the XSi with the added ability to record video.
Kit Lenses
Like most DSLR cameras, the XSi is sold as both the body alone or packaged with a "kit" lens. The Rebel XSi's kit lens is a Canon EF-S 18-55mm f/3.5-5.6 IS lens, offering a 35 mm equivalent of 28 – 88 mm. This is a perfect lens for beginning photographers, one lens that you can leave on the camera that suits a variety of uses and photographic styles.
Users looking to use the camera for sports or wildlife photography might also benefit by picking up a matching telephoto zoom lens. This will give the camera more reach for tighter compositions of distant subjects. The EF-S 55-250 mm f/4-5.6 makes the perfect match. Like the 18-55, this lens is compact and lightweight and compliments the camera well. Both lenses feature Canon's optical image stabilizing technology, which allows you to take photographs in lower light situations with less chance of camera shake.
Pricing
Currently available on the used market, the Canon XSi sells for $169.95 (body only), or 198.99 with the kit 18-55mm IS Lens. The newest version of this camera is the Rebel T7i, which retails new on Amazon for $749.
Depending on your needs, you may want to consider an additional lens for telephoto work. The popular EF-S 55-250 mm f/4-5.6 IS is a stabilized zoom lens that, when coupled to the Rebel XSi, delivers a 35 mm equivalent focal length of 400 mm. The original 55-520 is still available for $149, and newer versions are available.
Verdict
This Canon Rebel XSi review finds the camera to be one of the most popular DSLR bodies Canon has made to date, and it still warrants respect from beginners and anyone looking for an excellent value in a small package. The XSi is fun to shoot with and reliably produces excellent images.