A lightweight camera geared toward advanced beginners, the Nikon D5200 is user-friendly and can be found at an affordable price. Maintaining an impressive amount of power within its compact body, the Nikon D5200 leaves its excellent predecessor, the Nikon D5100, in the dust.
The few external controls and a clean on-screen interface make the camera especially easy for beginners to handle, resulting in an all-around enjoyable shooting experience. Take a look at some of the features, pros and cons, and specs, and see if the Nikon D5200 is the camera for you.
Nikon D5200 Specs
24.1 MP DX-Format CMOS Sensor.
EXPEED 3 Image Processor.
ISO 100 – 6400, Expandable to 100 – 25600.
3.0-inch 921k-Dot Vari-Angle LCD Monitor.
Pentamirror Optical Viewfinder.
Full HD 1080i Video Recording at 60fps.
5fps Shooting at Full Resolution.
Multi-CAM 4800DX 39-Point AF System.
2,016-Pixel RGB Sensor and Active D-Lighting.
Wi-Fi Capabilities with WU-1a Wireless Adapter.
SD / SDHC / SDXC Memory Cards.
Dimensions of 5.1 x 3.9 x 3.1-inches.
Weighs approximately 1.22 pounds.
Nikon D5200 General Information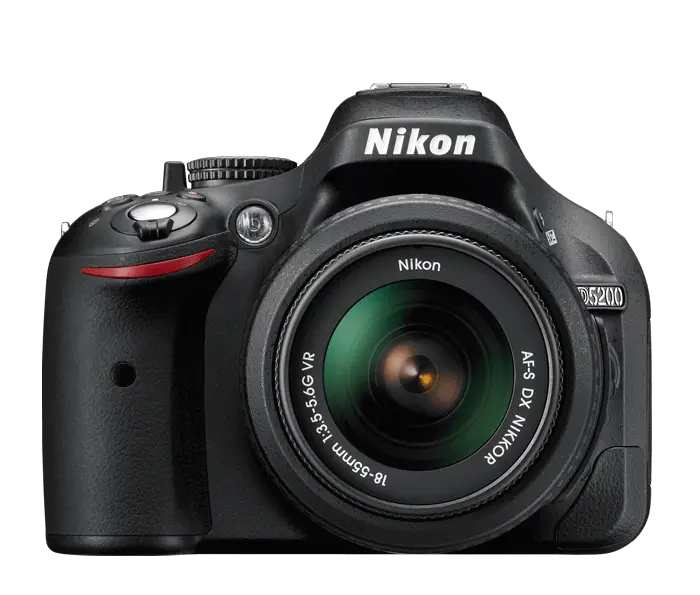 Body, Build, and Buttons
With an overall build similar to its predecessor, the D5100, the Nikon D5200 is a lightweight camera with an intuitive design that offers a secure grip perfect for any hand, despite the compact body. The plastic construction offers a solid feel to it with no creaking or flexing. On the top of the camera are a few upgraded features, like the built-in stereo microphone that sits in front of the hot shoe and the new drive mode button.
The Four-Way Controller
Featured on the back of the body is the four-way controller that moves the active focus point among the various options found in the viewfinder. Note that the four-way controller is just one control out of a satisfactory set of external control. However, as one might expect for this particular type of camera, many of the functions can be accessed only via the LCD monitor. The Nikon D5200 offers various inputs, including a microphone input for filming and a multi-function port suited for both Nikon's GP-1 for activating GPS capability and the MC-DC2 electronic cable release.
Display and Viewfinder
The 3-inch 921k-Dot Vari-Angle LCD monitor can be found on the rear of the Nikon D5200. The side-hinged tilt-and-swivel screen allows for easier shooting from high or low angles. Unlike tilt-only screens, this monitor offers a good range of movement that can be used in portrait form and is perfect for shooting in Live View or working from a tripod. Videographers particularly favor this feature, as the articulated screen benefits users who must remain in one position for extended periods of times. The LCD monitor unfortunately lacks the touchscreen function like most of its competition. Nevertheless, the monitor itself is where the user will make a majority of adjustments to its shooting settings.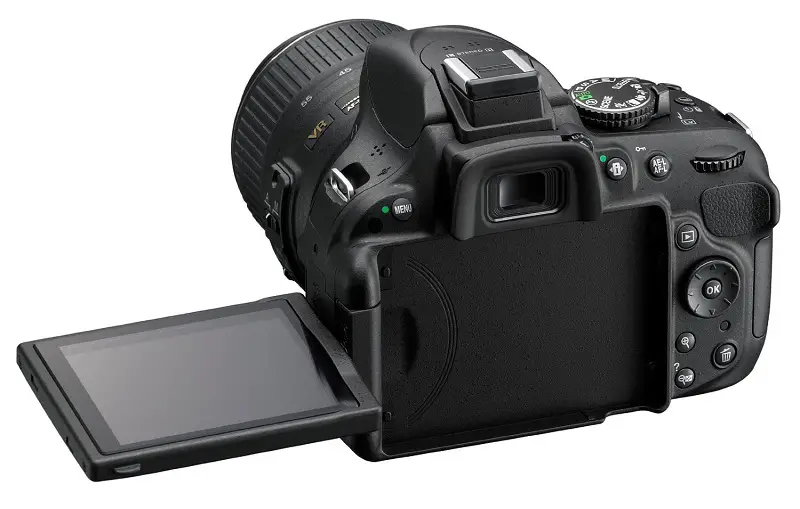 The menu of camera functions has been simplified for this model, allowing users to navigate through a more intuitive system. For eye-level viewing, the pentamirror optical viewfinder is satisfactory but perhaps one of the least impressive features of the camera. The viewfinder provides 95-percent frame coverage but a small level of magnification, coming in at a mere 0.78x. Due to the 5-percent gap in frame coverage, still shooters may be turned off by the possibility of unseen elements unknowingly crowding the corners of the intended image. On the occasion that precise framing is essential, users can instead utilize Live View to preview full scene coverage.
Sensor, Speed, and Live View
Featuring a 24.1MP DX-format CMOS sensor and an EXPEED 3 image processor, the Nikon D5200 delivers high-quality images and speedy functions all around. The ISO range is 100 – 6400, expandable to 100 – 25600, a range which allows for a quality render of low-light photography with exquisite clarity and sharpness.  The D5200's outstanding noise performance is one of the major highlights of this particular model — higher ISO levels result in images presenting fine detail while maintaining chroma and luminance noise, especially in RAW images. On the other hand, JPEG images at high ISO levels tend to be a bit grittier compared to the competition.
The D5200 is capable of continuous shooting at 5fps for full-resolution images, a speed which allows the user to effortlessly track moving subjects or fast-paced events. Pairing the optical viewfinder with this impressive speed allows for a more effective pan when eyeing a moving subject but Live View allows for nearly silent shooting. Other various features of the Nikon D5200, such as the white balance setting, matrix metering, and 2,016-pixel RGB sensor, function largely as expected, providing excellent results.
Focus
The 39-point autofocus system also proves quite useful for achieving quick and easy focus and is a big step up from its predecessor, which had only 11 autofocus points. Nine of the 39 autofocus points are cross-type, meaning that they are sensitive to both vertical and horizontal detail. Despite the significant upgrades of the system, Live View autofocus performance doesn't quite match up in comparison to its recent competition.
Video Capabilites
Another solid features of note surround the Nikon D5200's overall video capabilities and performance, which impress many videographers. Easily shoot footage in full HD up to 1920 x 1080 with multiple frame rates up to 60i/50i. Continuous autofocusing is possible while filming upon activation of the full time servo AF mode (AF-F), which allows for excellent tracking of moving subjects when faced with even fast-paced filming situations. Face tracking autofocus is also available while rolling.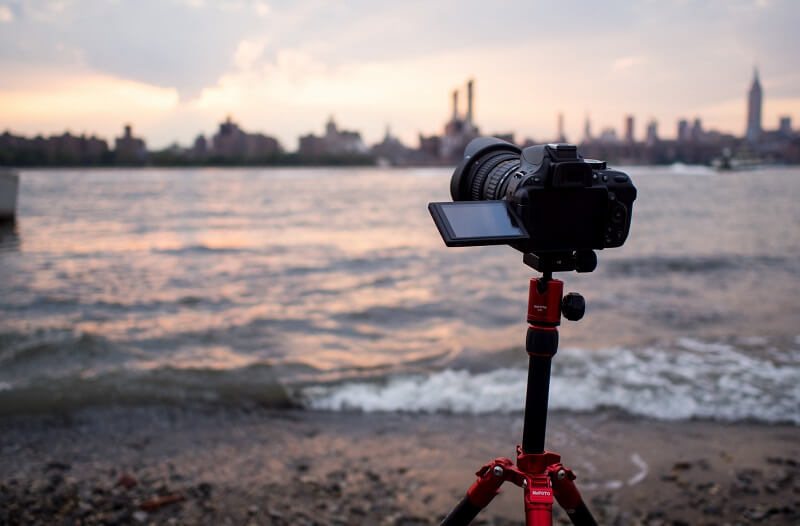 Other Features
Audio is easily picked up when filming using the built-in stereo microphone; if higher quality audio is needed, such as when shooting an independent film, there is an input available for an external microphone. Audio can be automatically or manually controlled across 20 levels whether using the built-in microphone or an external one during filming. In order to share your images and video instantly, users can wirelessly connect to an iOS or Android smartphone or tablet — however, it is important to note that the Wi-Fi capabilities only become active with the integration of the WU-1a Wireless Mobile Adapter. Upon Wi-Fi activation, users can control the shutter release of the D5200 from a distance, using a smartphone or tablet as a remote viewfinder.
Nikon D5200 Price and Extras
The Nikon D5200 is priced at $459.99 for both the body and a NIKKOR 18-55mm lens. This camera is a cheaper option than the newer Nikon D5300. This shoot-ready configuration includes other accessories, like a rubber eyecup, camera strap, body cap, hot shoe cover, charger, and various cables.
Verdict
Another solid DSLR option from Nikon, the lightweight D5200 appeals to beginners from an operational standpoint. However, the various features that it presents are common on many higher-end DSLRs and will surprise even the harshest critics.
The Nikon D5200 combines stunning image quality with superior high ISO performance and solid video functionality that will impress most videographers, beginner or otherwise. Leave us a comment below and share your thoughts on the features and overall performance of the Nikon D5200.