A mid-range DSLR aimed toward enthusiasts, the Canon EOS 70D features groundbreaking technology in the form of Canon's intuitive Dual Pixel CMOS AF system, which this Canon 70D review will explore in finer detail. Replacing its predecessor, the Canon 60D, the camera has various enhancements that give videographers professional-level video quality and provide still shooters with exquisite images.
The Canon EOS 70D is also perfect for those desiring an advanced model without going full-frame. Check out this Canon 70D review for a peek at some of the features, pros and cons, and specs, and see whether this camera is the one for you.
Canon 70D Specs
20.2MP APS-C CMOS Sensor.
DIGIC 5+ Image Processor.
ISO 100 – 12800, Expandable to 100 – 25600.
3.0-inch 1.04m-Dot Vari-Angle Clear View II Touchscreen.
Pentaprism Viewfinder.
Full HD 1080p/30 Video & Movie Servo AF.
19-Point All Cross-Type Phase-Detect AF.
7fps Shooting at Full Resolution.
Dual Pixel CMOS AF with Live View.
63-Zone Dual Layer Metering Sensor.
Built-in Wi-Fi Functionality.
SD / SDHC / SDXC Memory Cards.
Dimensions of 5.5 x 4.1 x 3.1-inches.
Weighs approximately 1.66 pounds.
Canon 70D General Information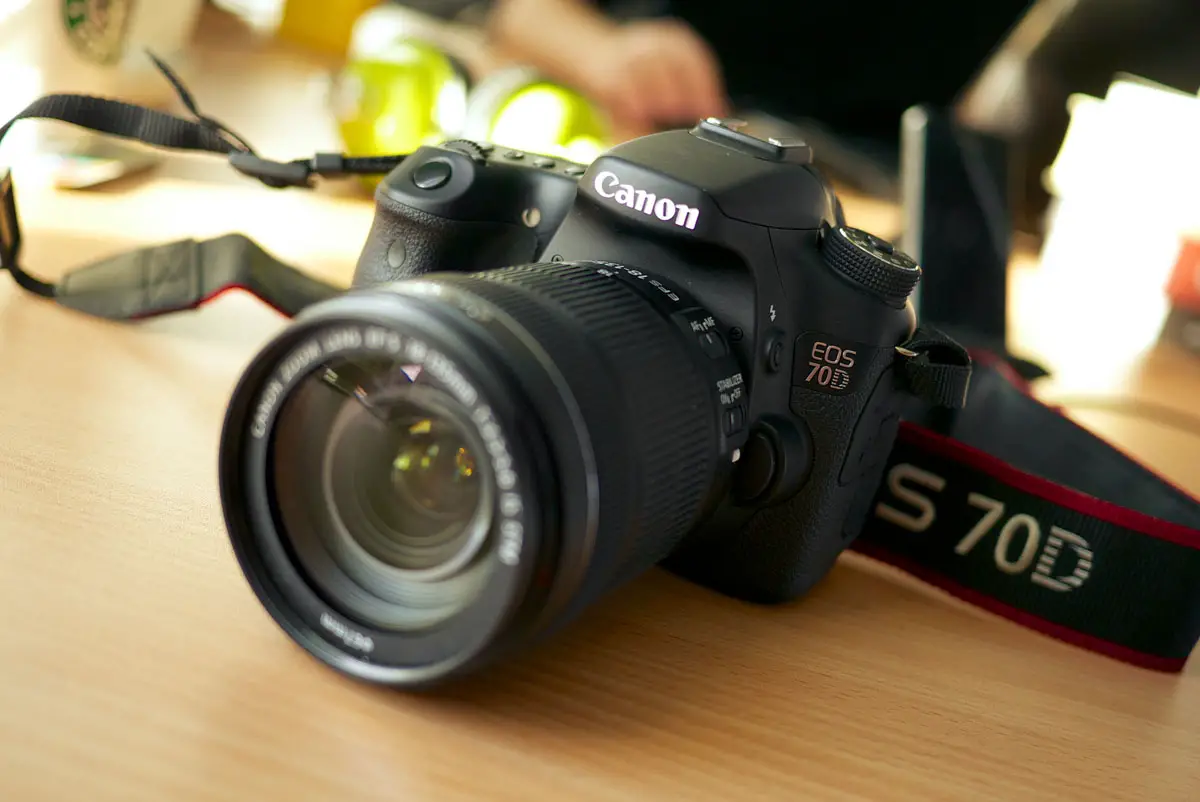 Body, Build, and Buttons
In this Canon 70D review, we will explore the various details regarding the body and build, LCD monitor and viewfinder, image quality, video capabilities, and more. The body of the Canon 70D is of a polycarbonate and aluminum construction and with a generously sized grip, it feels quite nice in the hand. This camera maintains a sort of weather sealing to combat water and dust. Note that the 70D is not entirely weatherproof, so always take care during use — but don't fret over a few splashes of rain, as they shouldn't damage the body in any way. The main controls on the body are placed for easy access and can effortlessly be adjusted even while a user has the camera to their eye.
On the top of the LCD screen sits multiple buttons, each of which serve a single purpose, allowing for direct access to features like autofocus, drive modes, ISO, and metering. Behind the pop-up flash housing is a pair of stereo microphones. Note also a small button wedged in between the shutter release and the front dial — this button is a dedicated focus area expansion control and is incredibly useful while tracking a moving subject. Just one press of the button allows the user to expand the autofocus area from a single point to a larger group of points.
Display
On the rear of the Canon 70D sits a 3-inch 1.04m-Dot Vari-Angle Clear View II touchscreen LCD monitor. Because of the versatility of the monitor, it's much easier to shoot from various angles, whether high or low. Some photographers are initially turned off by a touchscreen but the one included with the 70D is a dream to use, largely due to its construction, which includes an anti-reflective, smudge-resistant coating for easy viewing even in the sunniest of settings. Still, the touchscreen can be turned off if that is one's preference.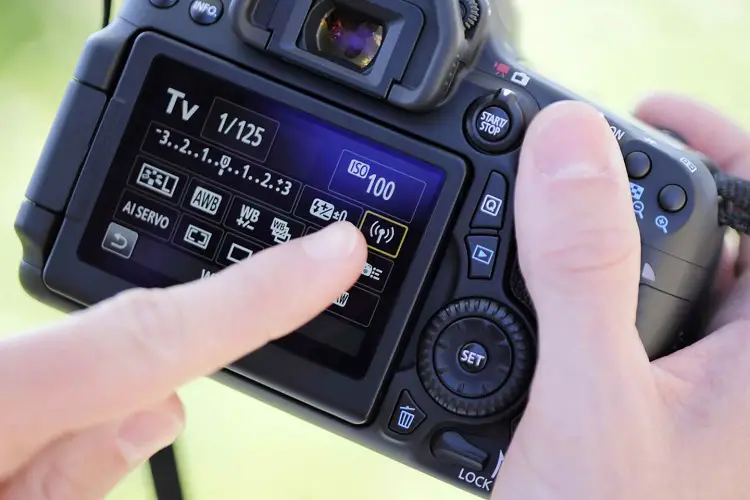 Focus
Users get the most out of the touchscreen LCD monitor with the innovative features of the Dual Pixel CMOS AF that has been integrated in the camera's system, as well as the utilization of Touch AF for precise control over focusing, especially useful when shooting from a tripod. Also included is a glass pentaprism viewfinder, providing 0.95x magnification and 98% frame coverage. A superimposed LCD screen within the viewfinder displays information for monitoring exposure and other camera information during shooting. Perhaps the most useful of the viewfinder features includes the ability to display autofocus points, grid lines, and a level of sorts in order to keep straight the composition of a photo.
Sensor
Equipped with a 20.2MP APS-C CMOS sensor and the DIGIC 5+ image processor, the Canon 70D provides stellar image quality and impressive low-light sensitivity. The speedy processor doesn't just increase autofocus speeds, it also allows for 7fps continuous shooting at full resolution and the ability to capture full HD 1080p videos. Featuring an ISO of 100 – 12800, expandable to 100 – 25600, the Canon 70D is perfect for shooting in poor lighting while still providing little noise.
High-speed mode allows for the capture of approximately 11 RAW files and 17 JPEGs. The main highlight, however, is the groundbreaking technology of the Dual Pixel CMOS AF system, which provides a quick, smooth focus. Videographers especially love this feature because it enables continuous autofocus even while rolling, particularly helpful when needing to maintain focus on moving subjects. This Canon 70D will go into more detail regarding video capabilities shortly.
Working in conjunction with the autofocus system is an intelligent metering system, which independently analyzes color, focus, and luminance, helping the photographer to achieve the best possible exposure. Another feature of note is silent shutter mode, the perfect mode for those utilizing the 70D for nature photography. Although the shutter isn't actually completely silent, the noise is significantly quieter. However, the high-speed frame rate unfortunately shoots down from 7fps to 3fps while shooting in this mode.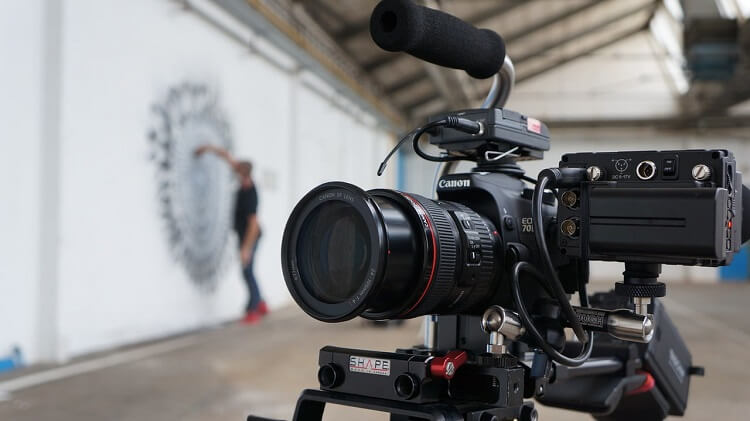 Video Capabilites
Something briefly touched upon in this Canon 70D review but not yet fully explored is its ability to provide videographers with professional-level video quality. This level of quality cannot be ignored and it is the defining factor that draws in so many independent filmmakers. Full HD 1080p video can be shot at 30, 24, and 25fps. If superior quality isn't as much of a concern, shooting is also available in HD and SD formats at various frame rates.
A stereo microphone is built into the camera body itself but if requiring more quality sound, there is an input for an external microphone. The Dual Pixel AF system comes into play here as well, providing smooth focusing in Live View with the additional Touch AF function. Paired together, these features allow for maximum control. Continuous autofocus while filming is possible with the Movie Servo AF mode, and the utilization of an STM lens allows for near-silent focusing.
Other Features
If a user wants to share their work or upload them for editing, this can be done easily, thanks to the Canon 70D's built-in Wi-Fi. Instantly send your files to an iOS or Android smartphone or tablet. The Wi-Fi capability also allows users to take control over the camera settings using the Canon EOS Remote app. This type of mobile control is especially useful when trying to achieve that perfect shot from difficult angles and locations.
Canon 70D Price and Extras
The Canon EOS 70D is priced at $899 for the body-only configuration. Two lens configurations are currently available: the 18-55mm lens at $999 and the 18-135mm lens at $1,199.
Still not convinced whether to purchase the 70D or not? Then you may be interested in reading about the Canon 7D Mark II, an iconic product from the Japanese manufacturer. Check out our Canon 7D Mark II vs 70D comparison for an informed decision.
Verdict
As you likely gathered from this Canon 70D review, Canon's ninth-generation enthusiast DSLR proves to be an essential tool for both still shooters and video enthusiasts, largely due to its quick and reliable autofocus found in the form of the intuitive Dual Pixel CMOS AF system.
An overall well-rounded camera, the Canon 70D offers users with a good range of control without making things too complex for beginning photographers. Feel free to leave a comment below — reach out and let us know what you think about this Canon 70D review.