One of the shining stars in Nikon's entry-level line is the Nikon D3400. Although a basic model overall, it's an excellent option for those looking to get into DSLR photography and one that offers users the ability to grow as they refine their skills. With the priority put on a lightweight and sleek design, this camera works beautifully for any enthusiast's casual use. Stick around for our Nikon D3400 review to learn more about the pros, cons, and performance.
Nikon D3400 Specs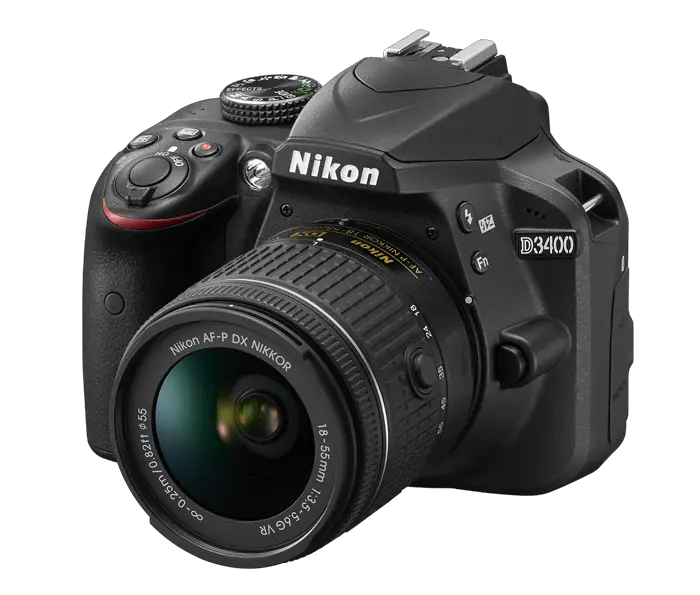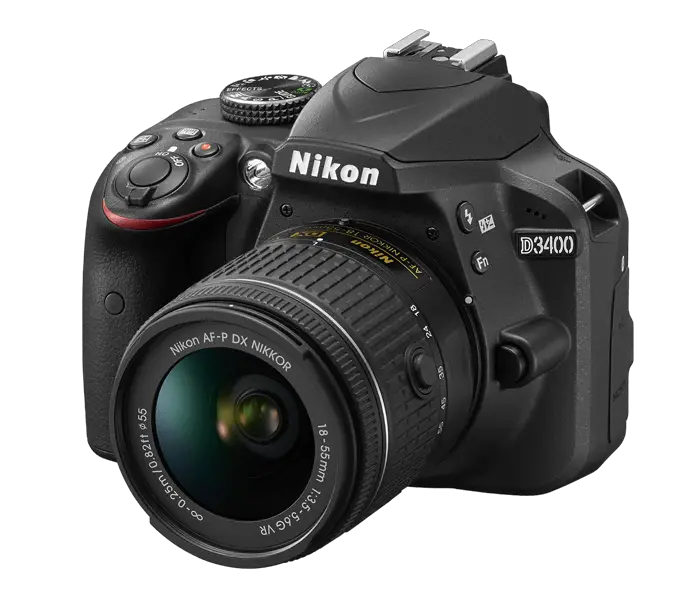 24.2MP DX-Format CMOS Sensor;
EXPEED 4 Image Processor;
No Optical Low-Pass Filter;
3.0-inch 921k-Dot LCD Monitor with 100% Screen Coverage;
Pentamirror Viewfinder with 0.85x Magnification and 95% Screen Coverage;
Full HD 1080p Video Recording at 60 frames per second;
Multi-CAM 1000 11-Point Autofocus Sensor;
Full Resolution Continuous Shooting at 5 frames per second;
ISO Range of 100-25600 (Auto);
Built-in Flash;
 SnapBridge Bluetooth Compatibility;
 SD / SDHC / SDXC Memory Card Compatibility;
 Dimensions of 4.9 by 3.9 by 3.0 inches;
Weighs 13.9 ounces.
Nikon D3400 Features and Performance
Build and Buttons
As an entry-level DSLR, the Nikon D3400 features a plastic-like body that is standard on similar models. Compared to its predecessor, the Nikon D3300, this camera is incredibly lightweight and fits nicely in the hand, making it a pleasure to use during long shooting sessions. Despite the small size of the body, its textured grip and thumb rest offer enough space to ensure stability. That being said, those with larger hands may find the grip to be slightly smaller than desired but it's nevertheless workable.
Various controls found on the D3400 are simple and perfectly suited to beginners. The top of the camera features typical controls, such as the power switch, shutter release, info button, video record button, and the mode dial. On the mode dial, you'll find the "Effects" and "Guide" modes. The Effects mode would satisfy those who enjoy applying filters to their photos, whereas the Guide mode offers first-timers a way of learning how the camera works.
On the back of the camera, you'll find other controls like a directional keypad for navigating the menu, playback button, autofocus/auto exposure lock button, and the control dial, among others. Thanks to the small size of the body, nearly every control and dial is easily within reach and even allows for one-handed shooting.
Display and Functions
The Nikon D3400's 3.0-inch 921k-Dot LCD monitor with 100-percent screen coverage is standard for a camera within this price range. It offers up a bright screen with a good amount of clarity and color-accurate images. The downside of this monitor is that it is fixed in position and does not feature a touchscreen function. Users can easily look past this as the monitor balances the image on-screen nicely whether shooting indoors or outdoors. However, due to the fixed positioning of the monitor, visibility can be slightly compromised while working in harsh sunlight.
If you prefer shooting with a viewfinder, the Nikon D3400 comes equipped with a pentamirror viewfinder with 0.85x magnification and 95-percent screen coverage. Because of the 5-percent lack in terms of screen coverage, it's easy to miss some undesired action that may be taking place in the outer edge of the frame — but nevertheless, this is the standard typically found within comparable models.
This viewfinder is easy to use, thanks to the displayed information that lets you know the proper settings have been activated. The autofocus point is displayed as well, lighting up in red once you have achieved focus. We'll explore autofocus a bit later in this Nikon D3400 review.
Sensor, Resolution, and Autofocus
The Nikon D3400 features a respectable 24.2 MP DX-Format CMOS sensor with an EXPEED 4 image processor. Image quality is heightened even further by the lack of an optical low-pass filter, which works to take the capture of every detail one step further. The camera's speed is typical but good — it starts up quickly and allows for continuous shooting of full-resolution images at 5 frames per second. Color is accurate and captured with full vibrancy. The ISO range is 100-25600 and performs excellently when compared to the competition. For optimal quality, below ISO 3200 is recommended but even the highest level of ISO manages to capture usable images.
Equipped with a Multi-CAM 1000 11-point autofocus sensor, the Nikon D3400 has the ability to lock onto a subject with ease and at maximum speed, especially under good lighting conditions. If you are looking to capture action shots, there is a 3D-Tracking function that enables autofocus to follow a moving subject for some solid captures. However, if you are looking to shoot fast-paced action on a regular basis, this camera may not be the best option for you. Overall, the autofocus system performs well and is user-friendly. Simply choose your desired autofocus points with the directional keypad and you are on your way.
Video and Wi-Fi Capabilities
As we wrap up this Nikon D3400 review, let's take a look at how this camera stacks up for the enthusiast videographer. It offers up Full HD 1080p video recording at 60 frames per second — in other words, excellent quality video with a good amount of detail. Even autofocus has taken a step up in terms of filming while in Live View; although it's still slower compared to filming through the viewfinder, there is a big improvement.
It's important to note that while the D3400 is a solid choice for capturing high quality footage, serious videographers will not be pleased with the omission of the external microphone port. The built-in microphone is good enough to capture the audio you want but in doing so, it also picks up every element of background noise that you don't want.
Lastly, we must mention in this Nikon D3400 review that this particular model unfortunately lacks Wi-Fi capabilities. However, it instead incorporates the use of SnapBridge technology, working with Bluetooth to transfer your images to your smart device. This SnapBridge technology is for image transfer only and lacks the ability of remote shutter release. The best feature is perhaps the ability to preview the images on your camera's memory card, selecting your image transfers as you go — perfect for keeping up with your social media presence.
Pricing
The Nikon D3400 is available in two lens configurations: 18-55mm lens, priced at $497, and 18-55mm and 70-300mm lenses, priced at $597.
The Verdict
As you have seen in our Nikon D3400 review, the camera is a good first step for any beginner looking to broaden their skills. With user-friendly controls combined with a Guide mode that the camera provides, this model is easy to navigate. After a little practice, you'll be on your way to snapping high quality images that far surpass any smartphone.
Thanks for sticking around for our Nikon D3400 review — whether or not you have experience with this model, feel free to leave us a comment below and share your thoughts.