One of the standout contenders on the enthusiast-level playing field is the Nikon D7200. While fighting for recognition in an otherwise crowded photography world, this particular model is worth a good amount of consideration. The D7200 is able to keep up with the best of them and far outweighs the features and capabilities of the Canon Rebel series or other comparable units. Stay tuned for our Nikon D7200 review and learn all there is to know about the features, capabilities, and pros and cons of this high-end camera.
Nikon D7200 Specs
24.2MP DX-Format CMOS Sensor.
EXPEED 4 Image Processor.
 No Optical Low-Pass Filter.
3.2-inch 1,229k-Dot LCD Monitor with 100% Screen Coverage.
Pentaprism Viewfinder with 0.94x Magnification and 100% Screen Coverage.
Full HD 1080p Video Recording at 60 frames per second.
Multi-CAM 3500 II DX 51-Point Autofocus Sensor.
Full Resolution Continuous Shooting at 6 frames per second.
ISO Range of 100-25600 (Auto) / 51200-102400 (Extended).
Built-in Flash.
External Microphone Input.
In-Camera Wi-Fi Connectivity with NFC.
 SD / SDHC / SDXC Memory Card Compatibility.
Dimensions of 5.3 by 4.2 by 3.0 inches.
 Weighs 23.8 ounces.
Nikon D7200 Features and Performance
Build and Buttons
Enclosed in a magnesium alloy, weather sealed casing, the body of the Nikon D7200 is perfect for shooting in less-than-ideal conditions. As this unit is geared more toward enthusiast photographers, the body includes a menagerie of controls, buttons, dials, and more. Given the size of the camera, it is not technically designed for one-handed shooting. However, all of the controls are readily within reach of your thumbs, which makes shooting easier in general.
The front of the body features various controls, like an autofocus assist lamp that aids focus when shooting in low light, function button, depth-of-field preview button, lens release buttons, and more. Highlights on the back of the camera include a directional keypad, Live View/Movie Mode switch, and a rear control dial.
On the top plate sit the mode dial with a locking mechanism to avoid accidental modifications, drive mode dial, metering mode and exposure compensation buttons, and a movie record button. As mentioned above, there are many different controls and buttons on every inch of this camera, with the majority on the back. That being said, those familiar with a similar DSLR shouldn't have a problem navigating their way around.
Display and Functions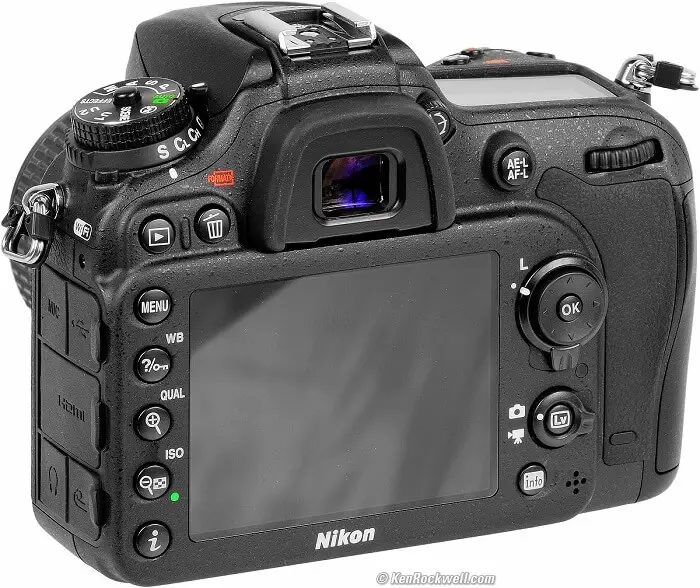 Equipped with a 3.2-inch 1,229k-Dot LCD monitor with 100-percent screen coverage, the Nikon D7200 makes shooting a breeze. Shooting in Live View is ideal when attempting to capture subjects that require the most precise focusing, such as for macro shots. Unfortunately, the LCD monitor is fixed, lacking any kind of tilting mechanism — this is fine for everyday shooting but capturing that perfect shot from an awkward angle is quite hard to do.
Touch capability would have been a nice feature for this camera but most users enjoy shooting in Live View nonetheless. Thanks to the particularly bright view that the LCD monitor offers, it is perfect for shooting indoors and outdoors, easily able to combat direct sunlight.
The D7200's viewfinder is a pentaprism model with 0.94x magnification and 100-percent screen coverage. The clarity on this viewfinder is by far the highlight here. Due to the level of screen coverage it provides, you don't have to worry about something undesirable creeping into the outer frame of the image you are trying to capture. If you are looking to take the step up from an entry-level DSLR to one of a bit higher quality, the 100-percent screen coverage is a feature that should not be dismissed.
Sensor, Resolution, and Autofocus
The Nikon D7200 features a 24.2MP DX-Format CMOS sensor, along with an EXPEED 4 image processor. Full-resolution shooting is possible at up to six frames per second. Image quality is very nice on this camera, capturing a good amount of detail with perfect color accuracy in terms of vibrancy. In order to get the highest quality images, Nikon decided to leave out the optical low-pass filter.
Perhaps the biggest step up on this model is the new image processor, which enables the camera to function quite speedily. While the image processor does not bump up the speed in terms of continuous shooting, there is a dramatic improvement in the burst duration — for example, you can now capture either 100 JPEGs or 27 RAW images before filling the buffer. Further, the ISO range of the D7200 is 100-25600 with an impressive extended monochrome-only range of 51200-102400. This range is superior to most comparable models out there right now, offering plenty of flexibility.
In this Nikon D7200 review, we would also like to take a look at the incredible autofocus system — the Multi-CAM 3500 II DX 51-Point system. The autofocus on this unit is by far one of the most favorable aspects. With 51 autofocus points, quick focusing speed, and superior sensitivity, it beats out a majority of the competition effortlessly.
If you are looking to capture action shots, the 3D tracking mode is perfect for doing so. Although the speed of the autofocus dips a bit once switching to Live View, this is generally expected and doesn't lower the performance in any other way, always maintaining an accurate focus on the subject.
Video and Wi-Fi Capabilities
In this Nikon D7200 review, we must also mention the video capabilities the camera provides. Compared to its predecessor, the D7200 received a bit of a makeover to make the process slightly easier for videographers. Although the defining highlight is the Full HD 1080p video recording at 60 frames per second, the camera now also offers the Flat Picture Control feature. This new feature enables bland-looking video to be captured in order to retain as much dynamic range possible — this provides the most flexibility in post-production.
Another added feature includes the menu tab dedicated to video only, allowing separate values to be input. Also, with an external microphone port, the Nikon D7200 proves to be a nice choice for many videographers. Something worth noting, however, is the fact that while you can in fact shoot in 1080p at 60 frames per second, there is a ten-minute cap on footage in this setting and it requires the use of the 1.3x crop mode. The slight downgrade in quality that might occur from the use of the 1.3x crop is minor overall and only the most brutal of critics would likely spot the discrepancy.
Lastly, before we wrap up our Nikon D7200 review, we'd like to point out that this camera does include built-in Wi-Fi via NFC. This feature is particularly nice, as it allows you to view the images you have stored on your memory card right from your smart device. You can preview these images and then choose which to download onto your device. Remote shooting is also made possible via this connection — this feature is basic but nevertheless gets the job done.
Pricing
The Nikon D7200 is available in five configurations: body only, priced at $997; 35mm lens, priced at $1,194; 18-40mm lens, priced at $1,297; 10-20mm lens, priced at $1,304; and 70-200mm lens, priced at $3,794.
Verdict
As you have learned from this Nikon D7200 review, although perhaps not the optimal choice for a professional videographer, for those focusing mainly on still shooting with some casual filming, this camera can rival the best of the best. With its luxurious build quality, stellar image performance, and exquisite autofocus system, you can't go wrong. Thanks for sticking around for our Nikon D7200 review — feel free to leave a comment below and let us know your thoughts on this excellent camera.