What's more fun than a fisheye camera? In terms of photography, you probably won't find anything more entertaining than taking portraits with a fisheye lens. Some professional photographers hate the distortion they create, but that's actually the whole charm of them.
If you're a young individual looking to take awesome, amusing photographs, then, by all means, do read our advice on how to pick the best fisheye camera for your needs.
Why Fisheye Camera Lenses Are Cool
They can replace wide-angle So you need to shoot a cityscape and you don't have the proper, expensive lens to do so. No need to worry. Fisheye lenses can act like wide-angle lens and you can easily obtain a very wide image with a great composition because of the curved edges it creates.
They are great for selfies and portraits. Heading out into town with friends or, better yet, going to a music festival or taking a trip? Grab your fisheye gear and start getting those portraits rolling. Place your subjects in the middle because you risk getting too much distortion when placing people too close to the edge.
They are perfect for capturing cities. While you can pretty much use fisheye cameras everywhere, their capabilities shine in the city. When used right, the distortion they are most known for is preferred to a more "normal" lens. Breaking the straight lines and curving the edges of the image will engage the viewer into looking at your picture for a longer period of time, you will find.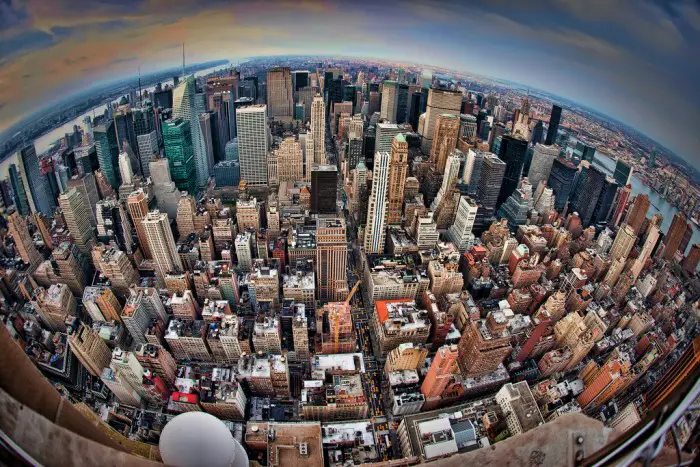 Best Fisheye Cameras on Film
Although we've gone digital for quite some time now, film photography is not dead. Taking pictures on film is a more rewarding experience. You will see how the aesthetics are different, and it's then that you will understand will film cameras have managed to make a comeback in our digital age.
Best choice, you ask? We recommend getting a Lomography fisheye camera. You don't have to spend a fortune on photography if you don't have the necessary financial resources. There are over 20 cameras to choose from, and prices start at $44.
Let's take a look at the Fisheye No. 2, an affordable 35mm camera specially designed for close-ups. It comes with a built-in flash, which means you won't have to invest in an external one if you like taking pictures during the night. Let's see some of its key features: fixed f8 aperture, a focal length of 10mm, a shutter speed of 1/100, and a direct optical viewfinder.
Want more? How about the Fisheye No. 2 Shiawase that captures quirky images in a 170-degree radius. It too comes with a built-in flash, a multiple exposure switch, and shares the same specs as its cheaper sibling. Be warned – you'll fall in love with Lomography fisheye cameras once you give them a chance to awe you.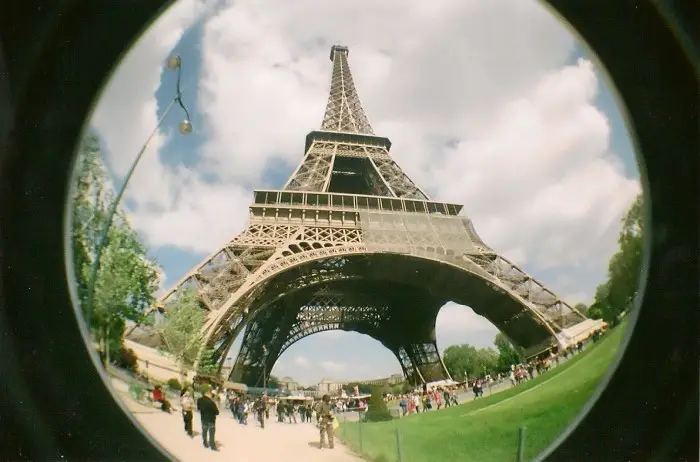 Best Digital Fisheye Cameras
Maybe you're not an analog enthusiast and you'd rather go for the digital alternative. Technically speaking, fisheye cameras are bodies with fisheye lens attached to them. Consequently, if you have a DSLR and you're looking to create a hemispherical image, then all you really need is the lens.
Brand-wise, we would recommend you go for Canon for shots like these. There are plenty of Canon fisheye camera lens to choose from, and we'll go through some of the best.
Canon 8–15mm f4L EF is pretty much every professional's first pick. This world-class choice delivers 180-degree diagonal angle of view photographs for all Canon EOS SLR cameras. One of the most versatile lens out there, it delivers super-sharp imaging, fast autofocus, solid zoom, focus rings, and can shoot both diagonal and circular fisheye pictures. Its price, however, might sting a bit. Costing about $1,200, it's not the most affordable option.
On the less expensive end of the spectrum we have the Belomo Peleng 8mm f/305 MS which works great on Canon EOS SLRs, and it costs a mere $200. It's a cheap lens, but it features a sturdy metal construction and you get dramatic effects with small amount of lens flare.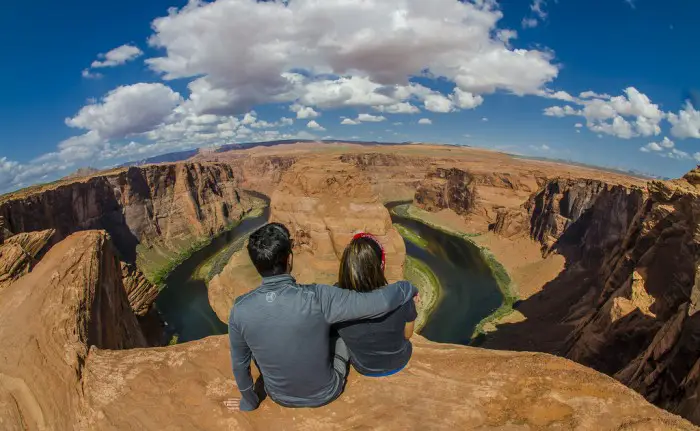 Best Fisheye Camera for Vlogging
If you're a vlogger or are looking to make your way into the world of video blogging, then check out our tips. Using a fisheye instrument can either work for or against you. If you want to start filming using a fisheye camera, choose a versatile one. Fisheye lenses cause the largest perspective distortion, and it won't always benefit you.
Canon VIXIA mini X Full HD is one of, if not the best fisheye camcorder. It gives you the option of going from a fisheye perspective to a more natural angle because it has an adjustable focal length zoom. Let's look at some of the specs: a 12.8MP CMOS Sensor, Live Streaming Function, f/2.8 Fisheye Lens, 2.7-inch tilting touch panel LCD, can record up to 1920x1080p Full HD, and supports MP4 and AVCHD recording formats.
Not truly convinced? Then you might want to consider getting a GoPro. GoPros are adaptable to almost any situation, and they're great if you are looking to make use of that fisheye effect at all times. Which is something you must consider, given that there is no way to reduce the perspective distortion without damaging the video's quality. Still, if you're fine with going fisheye all the way, you can shop for your camera on the GoPro online store.
Fisheye IP Cameras
Did you know that fisheye cameras can also be used for surveillance? IP cameras are networked digital cameras that can record video and transmit data over a fast Ethernet link. A fisheye IP camera offers a much wider field of view than a traditional, fixed surveillance camera. It can go up to 360 degrees, covering a vast amount of area rather than narrowing in on a particular spot.
Your safety needs will most likely require a fisheye security camera. It's perfect for broad areas such as warehouses, parking lots, stores, concert halls, museums, and even ports. They are usually mounted on a ceiling or high up on a wall. Their discreet shape and size blends in well with almost any background, which makes them practically unnoticeable.