Fujifilm has been an outcast on the digital camera market – at least when the last few years are considered. It's not really that their products are weird or revolutionary, but they mostly don't hold up in image quality to similar ones from Canon, Sony or Nikon. When you are faced with technological or quality inferiority, your best bet is to try and find a niche that the main players aren't covering – and hope that you'll remain a staple there while at it.
The waterproof camera market is one such niche – it is known that high-end performance cameras are mostly made from materials that withstand the elements. However, underwater and harsh condition photography has become quite mainstream, so the need for cheaper, more compact cameras on the market is rising.
Fujifilm have dedicated their compact camera FinePix XP line to cover this; they have a fairly decent number of models under it already. The biggest advantage, as you'll see, is their price tags – they sometimes cost half of what competing dedicated waterproof cameras cost. This doesn't translate in a lack of sturdiness – the XP's are quite resistant – but you shouldn't expect outstanding image quality from them.
Below we're going to present you with three models from the FinePix XP series, outlining their specs, strengths and weaknesses. Hopefully, you'll be able to make up your mind whether you'd want to commit yourself to a Fuji waterproof camera; but just as a disclaimer, keep in mind that line is bigger than these three models, and you might want to see what else it has to offer before you make up your mind about it.
Fujifilm FinePix XP60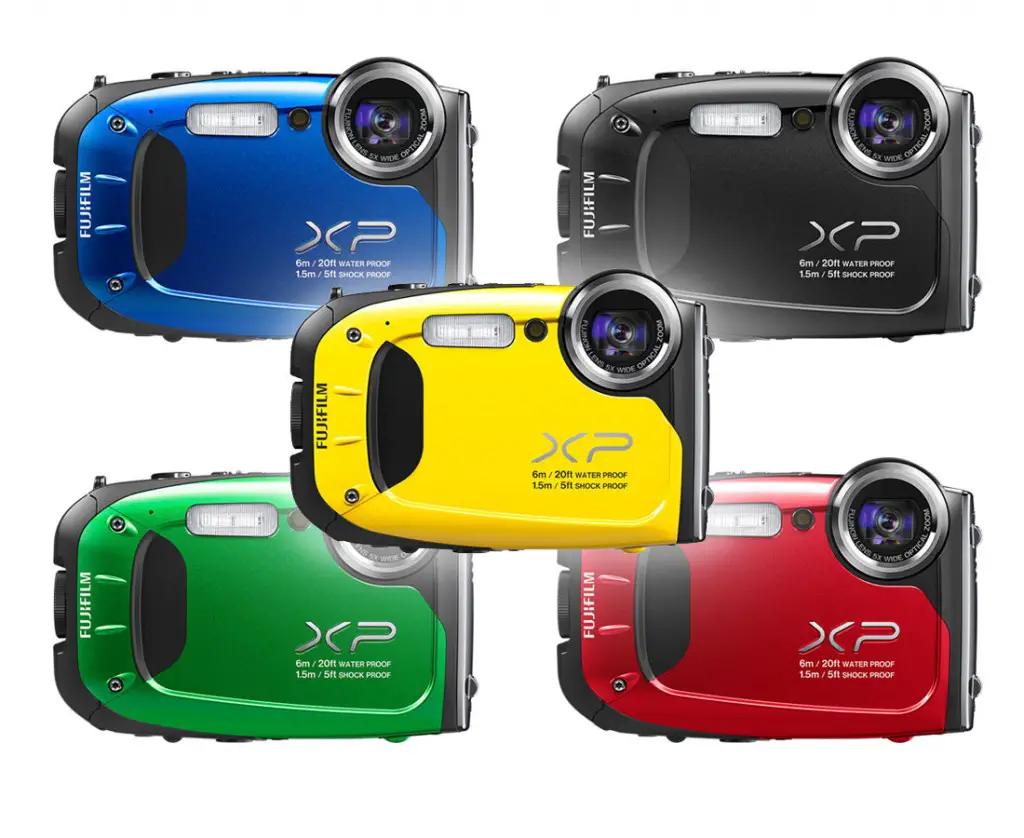 The XP60 is one of the better underwater cameras where stats are concerned. It has a 16.4 megapixel CMOS sensor and is capable of optical zoom up to 5x and digital zoom up to 10x, and it does so at fine quality, without recording significant loss of quality or too much graininess even at higher ISO settings. However, it still falls short from competition in image quality, very akin to most Fujifilm cameras.
It resists underwater at depths of up to 20 feet and temperatures of 14 degrees Fahrenheit; and photos taken underwater are quite clear. The most impressive aspect is probably the fact that it has a dedicated button to activate burst shooting mode, doing so at a rate of 10 frames per second; it's one of the best cameras at taking action shots underwater, for that purpose. If you're willing to sacrifice picture quality and resolution, then burst mode can go as fast as 70 frames per second.
The XP60 has a wide range of shooting mode and overall internal editing options, such as cropping photos direct from its screen, while also adding some filters and effects into the fray. The 3D shooting mode is cheating bit, as it is not native 3D but rather a double exposure of the same image that creates a tri-dimensional effect, but it's fun to mess around with. It can also record video in 1080p HD with stereo sound, with a slow-motion mode and some internal editing options.
The casing and watertight seals make the camera fully impermeable; however, it does not float in water, so you should be careful should you not want it to rest lying on the ocean floor. It has a slick design and is easy to handle, but the fact that the lens is on its top left side might be tricky to adapt to when positioning your fingers so that you don't catch them into the pictures.
Fujifilm FinePix XP70
The next model in the FinePix XP series, Fuji's XP70 maintains mainly the same specs, but adds to its overall resistance. The XP70 can now be used in depths going as low as 32 feet; it can also survive falls from about 5 feet and has the same temperature threshold as the XP60, 14 degrees Fahrenheit. It also takes extra security measures to ensure that the sensitive battery or card slots will never be submitted to water, even by accident.
However, if you feel good about it being shockproof, be aware that its casing is still going to bear scratches or dents. On the technical side, the XP70 keeps the 16.4 mp sensor and the 5x optical zoom of its predecessor, but adds on a couple of extra features, such as Wi-Fi support and HDR. It doesn't really provide a shift in quality; it does take good close-range pictures, but trying to go long range proves to be a bit of a problem, judging by overall detail clarity.
Truth be told, the X70 has something to show for this; namely, low color noise and graininess even at high ISO settings. It can take fair quality pictures even at ISO 1600, and handles best at 400-800. However, its dynamic range is not as good, as highlighting scenes that provide high contrast does tend to lead to overexposure; a problem that is fairly rare with any of the competition.
The X70 continues to suffer in image quality when compared to other cameras, but is somewhat affordable and the most durable Fuji waterproof camera. You can find at Amazon listed at prices starting for $140.
Fujifilm FinePix XP150
Don't be fooled by the fact that it ends in a higher number; the XP150 actually pre-dates both previous models, being launched in 2012. Despite that, it is actually tougher than both of them; being shockproof to falls of about 6'5'' feet; and shares the same 32-foot diving threshold and 14 degrees Fahrenheit temperature limit as the XP70.
The XP150 is, in most ways, one of the lowest common denominators when it comes to user accessibility – and that's very much a positive argument in its favor; it has a simple button system akin most point and shoots and an easily navigable interface. However, it lacks in offering users customization; it has no manual control mode and misses at least some filters that could be used for the right effects. However, it does have a good and varied range of presets to make up for the lack of manual controls; shooting modes include multiple underwater modes, HDR capture and some low light settings.
This is probably one of the bulkiest Fuji waterproof cameras, but that is quite handy for grasping it in underwater circumstances. However, its 2.7-inch LCD screen has quite a low resolution and, while the black and silver body is quite resistant to degradation, the screen scratches quite easily.
With the image quality being so-so – the 14 MP camera and 5x optical zoom not being outstanding – and some visible color noise problems starting with ISO 400, it's hard to say that this three year old camera stands out from the crowd in the waterproof market. The previous models are somewhat better (though this is the sturdiest of the lot) but it's main advantage is its age – the soon to be three year old camera can be found for price starting with $100 on sites such as Amazon or Costco.