Looking for a compact DSLR but need to stick to a budget? The Canon T3 was specifically crafted with first-time users in mind. Not only is the price right but also this camera is one that newbies can grow and experiment with while gaining experience. Despite the budget, the T3 includes a well-rounded feature set, including those on the more advanced end. Check out the following Canon T3 review for all the details.
Canon T3 Specs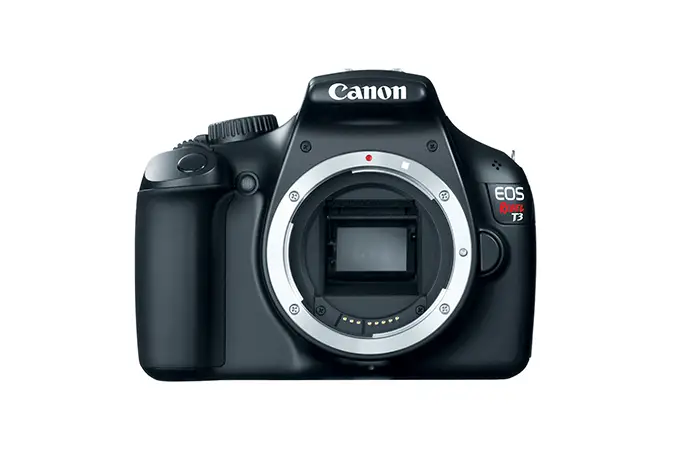 12.2MP APS-C CMOS Sensor.
DIGIC 4 Image Processor.
Full HD 720p Video Recording at 30 fps.
2.7-inch 230k-Dot ClearView LCD Monitor with 99% Coverage.
Pentamirror Viewfinder with 0.8x Magnification and 95% Coverage.
Full Resolution Continuous Shooting at 3 fps.
Auto ISO Range of 100-6400.
9-Point Autofocus with 63-Zone Dual-Layer System.
SD / SDHC / SDXC Memory Card Compatibility.
Dimensions of 5.1 by 3.9 by 3.1 inches.
Weighs 17.4 ounces.
Canon T3 Features and Performance
Build and Buttons
Kicking off our Canon T3 review is a brief look at the camera's physical components. When purchasing a budget DSLR, one of the concerns is that the body will feel cheap. That is not the case with the T3. Despite being an all-plastic body, it offers up a solid build quality with no creaks or flimsiness whatsoever.
While compact, this model features a slightly thicker body but not too thick so as to be an issue for those with smaller hands. The body features a decent-sized grip area along the back with a smooth coating, as well as a small indentation that forms a thumb rest. Although a slight rubber texture plays nicely here, the smoothness can feel a bit too glossy at times. Either way, the T3 feels nice in the hand, evenly balanced, and sturdy.
In terms of physical controls, the T3 is pretty uncluttered, keeping things simple with only 13 buttons. Each button is clearly labeled and quite large, adding to the user-friendliness of this camera. The top plate features the power switch, shutter release, flash release, and control dial. There is a four-way controller on the back; these allow for the adjustment of drive mode, autofocus mode, ISO, and white balance.
Other buttons include playback, delete, movie record/live mode, exposure compensation, Quick Control, menu, and display. All other controls can easily be accessed via the menu, such as metering mode, Picture Style, auto lighting optimizer, and file size and quality. Although not a ton of customization is offered, there are a few possibilities. For instance, the SET button can be customized to adjust flash exposure compensation, image quality, or something else, while the flash button found on the top plate can be switched to control the ISO.
Display and Functions
The Canon T3 features a 2.7-inch 230k-Dot ClearView LCD Monitor with 99-percent coverage. This monitor leaves a bit to be desired, especially in terms of size and quality, but it is still perfectly usable. Even without any type of articulation, the monitor does a nice job of helping users frame shots. Easily shift around the autofocus point, switching between modes like Phase-Detect (Quick AF) and Contrast-Detect.
Note that focusing takes a bit more time with the monitor and shooting in Live View also tends to drain the battery rather quickly. Most users opt to use the viewfinder unless attempting to capture an overhead shot or when manually focusing using a tripod.
The viewfinder provided is a pentamirror with 0.8x magnification and 95-percent coverage. While it is a bit small, it offers up a clear view and functions exactly as one would expect. The available diopter control is perfect for users with glasses. Something to keep in mind when framing a shot is that this viewfinder only shows 95-percent of the frame. Looking through the viewfinder, you'll see nine autofocus points arranged in the typical Canon diamond-shaped way. These points light up as red dots, depending on which one is chosen as the focus point.
Sensor, Resolution, and Autofocus
The Canon T3 comes equipped with a 12.2MP APS-C CMOS sensor and a DIGIC 4 image processor. These two elements work together to result in solid image quality. Although not the best around, the quality is perfect for casual everyday use. Color accuracy, metering, and exposure are all handled nicely by the T3. Easily capture full resolution images at the continuous speed of 3 frames per second.
Shooting in Live View diminishes the speed a bit. Although not the speediest out there, this shouldn't be a problem for casual users. As far as system speed, however, the T3 does not disappoint. For example, go from start-up to first shot in just 0.4-second. Focusing and shooting under good lighting conditions takes 0.3-second, while dim light lowers the speed to 0.6-second.
Noise performance is good all-around. The native ISO range is 100-6400. No extended range is available on this model. The camera does a great job of producing clear noise-free images from ISO 100 to ISO 800 and even up to ISO 1600. Noise begins to creep in more noticeably at ISO 3200 and becomes even more apparent at ISO 6400. Low-light shooting isn't much of an issue for the T3, which is a definite plus.
The T3 includes a 9-point autofocus system with a central cross-type focus point and eight single-axis points. Three autofocus modes are available, including One Shot (AF-S), Al Servo (AF-C), and Al Focus (AF-A). Focus by hitting the AF point selector button and then use the navigation keypad to select the desired point.
Video Capabilities
Wrapping up our Canon T3 review, let's check out this camera's video capabilities. The T3 shoots full resolution HD 720p video at 30 frames per second. While obvious that this significantly pales in comparison to some of the newer DSLRs, the quality itself is quite good and definitely passable for casual use. The built-in microphone isn't the best when it comes to capturing voices — but it unfortunately does capture sounds of lens motion loud and clear. There is no input for an external microphone.
As for autofocus, you can set the focus before rolling. Manual focus is available while shooting but keep in mind that the built-in microphone will capture it all. Otherwise, there isn't much to adjust before shooting since the video exposure control is completely automatic.
The T3 sets the aperture, shutter speed, and ISO on its own. The only customizable element is the exposure compensation. Again, video captured on the T3 is suitable for the casual user, such as those wanting to grab some clips of the kids or pets playing outside — but beyond that, one would do better to look elsewhere.
Pricing
The Canon T3 is available in three configurations: the body with 18-55mm lens, priced at $449; the body with 18-55mm and 55-250mm lenses, priced at $599; and the body with 18-55mm and 75-300mm lenses, priced at $599.
Verdict
The Canon T3 is an excellent choice for anyone on the hunt for a reliable entry-level DSLR. It delivers on all counts — image quality, performance, speed, and ease of use. Although the LCD monitor does leave something to be desired, it's an issue easily overlooked.
Thanks for reading our Canon T3 review! What do you think about the T3? Which features do you like the most? Leave us a comment below to share your thoughts.