When shopping for a waterproof photo camera, we all know that the options are plentiful and the current variety of the market is unprecedented. But at the same time, we may all have our favorite brands and all the choices given to us are thus biased based on personal preference and that is perfectly fine. In the world of hugely respected optics brands, it's difficult to pinpoint which of the two brand giants is better. It's like comparing pineapples with avocados: you just don't do that. Sure, you can legitimately compare one specific Nikon camera model with a similar Canon camera model and manage to determine which one has a higher performance or at least which one is better suited for a particular style of photography, but that's a different story. The bottom line is that if you have an inclination towards Sony and you're looking for a good waterproof camera, rest assured that you can definitely find one as good as the ones from any other major brand. Here are our top 3 proposals for today's best Sony waterproof camera.
1. Sony Cyber-shot Digital Camera TX30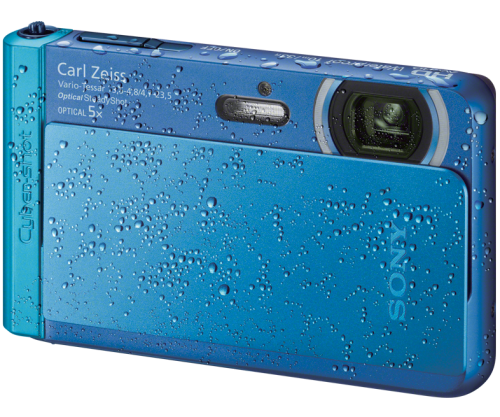 The first choices on our list (and yours too, probably) are obviously the Cybershot cameras from Sony, since this is one of the best lines of digital cameras available on the current market, especially if you're carrying a torch for Sonys. This particular model has an image quality of 18.2 megapixels, a 5x optical zoom and a 10x clear image zoom, and dual record of stills and movies. Speaking of recording movies, the video quality of the camera is high enough not to be just another bullet point on the list of features: the TX30 can easily produce 1080/60i videos with its special AVCHD system. Considering that you can use the camera underwater as well, this opens up pretty lovely possibilities, doesn't it? The camera is certified waterproof, freeze-proof, dustproof and shockproof. Its 3.3 inch LCD screen functions as a touchscreen to make it easier to use. The model is available in multiple bright color options and looks pretty impressive.
The camera is currently on sale on Sony's website, and you can buy it for $199.99 instead of $349.99.
2. Sony Cyber-shot DSC-TX10
A similar model from the Cybershot series, the TX10 is also certified waterproof Sony camera with all the quality you can expect from this statement, but the model version is a bit older. Therefore, if you already have a main digital camera or even a SLR but you just want to buy a functional and simple waterproof camera strictly for the circumstances when you need it, then the DSC-TX10 is ideal for you. Just like its fancier counterpart (the TX30), this one is also certified waterproof, dustproof, freeze-proof and shockproof, comes with a touchscreen of 3 inches (instead of 3.3), full HD 1080/60i video quality and 16.2 megapixels with a special Exmor R CMOS sensor for exceptional performance under low light conditions. Last, but not least, the camera also comes with an impressive 3D still image quality and a 3D sweep panorama function. All in all, the camera is still good enough to have even as a main camera, we'd say.
You can buy this model for around $160.00 from various websites.
3. Sony Cyber-shot DSC-TF1
This Cybershot is the least complicated model of the three, and obviously the image quality of the photos you will produce will be lower than what you can obtain with a proper camera or with the other waterproof cameras above. Still, if all you're looking for is a decent Sony waterproof camera to take a few great shots in the sea (or even underwater), this will more than do its part. The only downside is that the camera lacks the manual controls or more advanced models and does not have as many shooting modes either, so you can't really have too much of a creative input in the images you produce. Still, the images and videos you will obtain with it are decent enough to make a good family album or to share them on social networks from your computer or tablet. It has a 16 megapixels resolution, it resists shocks from up to 5 feet, can be immersed underwater up to a 33 feet depth, and it can be used in temperatures down to 14 degrees. We particularly like the image stabilization mode of the camera, which helps you obtain clear images and good shots even if you're waterskiing at the time.
The model is available for prices around $290 on Amazon.
Further Advice When Shopping for a Sony Waterproof Camera
There's nothing wrong with buying a second-hand camera from Amazon, eBay or similar hubs, as long as the camera is in good shape and the model you eventually choose is still relevant on today's market. Of course, if you were to choose a model from the top three suggestions we made above, this doubt would be already settled, so this is a concern only if you were to go for truly older models. Anyway, regarding buying slightly used cameras, whether the model is old or relatively new and up to speed, you need to pay extra attention to some details before completing the transaction.
First of all, you need to check the camera's appearance for scratches and even explicitly ask the person selling it about any potential scratches suffered by the camera. If scratches are an unpleasant problem whenever you're trying to acquire a new camera, for aesthetic reasons, then in the case of a waterproof camera, the problem can be even more serious. If the scratches are deep enough or indicate a few rough drops which the camera suffered at some point, this may be a potential breach in the camera's waterproof quality. If you have any reason to doubt the waterproof integrity of the camera upon inspection, don't hesitate to ask for a recertification of the camera's waterproof quality before you agree to buy it.
Second of all, you also need to consider the question of the waterproof camera case. Be careful: even if most Sony waterproof cameras are described as including a waterproof camera case in their range of accessories, once you shop for a second-hand model, the case may be missing from the final pack you're agreeing to. Don't hesitate to ask exactly what comes with the camera and make sure you buy the case from someplace else if you eventually decide to purchase a Sony waterproof camera which doesn't include the case (no matter if it's a brand new one or slightly used).
You may wonder what you need a waterproof case for if the camera itself is already waterproof, but even if a camera is resistant to water, this still doesn't mean you should expose it to water all the time. If you are travelling in a wet environment, you have a choice to make: you can either choose an adventure camera which can better withstand water and weather conditions, but is overall a poorer camera, or you can choose a digital waterproof camera such as the Sony options presented above, but make sure you protect it with a special waterproof case.