South Korean electronics giant Samsung is at the forefront of the smartphone wars with Apple, and some common reasoning would say that delving into the camera would actually provide internal competition to its well-known Galaxy. Smartphones and tablets are being marketed today as "all-in-one" devices, and quality of their cameras is decent to say the least, especially when you incorporate so many functions into one device.
However, it's still a long run until they will get anyway near the quality and number of options that digital cameras offer, assuming that they ever will. Samsung has a couple of forays into the camera market, and most of them are on the safe side, despite the one or two innovations that it can't stand but bring into most domains it delves into. Their cameras don't really cut it when put head-to-head with Nikon, Canon or Sony, but they still give decent performance at decent prices. Noticeable is that most of their incursions into the digital single-lens reflex market (DSLR) come as a result of a longstanding collaboration with optics manufacturer Pentax. Even though other camera brands make more popular reviews around the photographic community, we think Samsung deserves more encouragement than it's currently getting, and this is why we started this Samsung digital camera review round-up.
Samsung ST550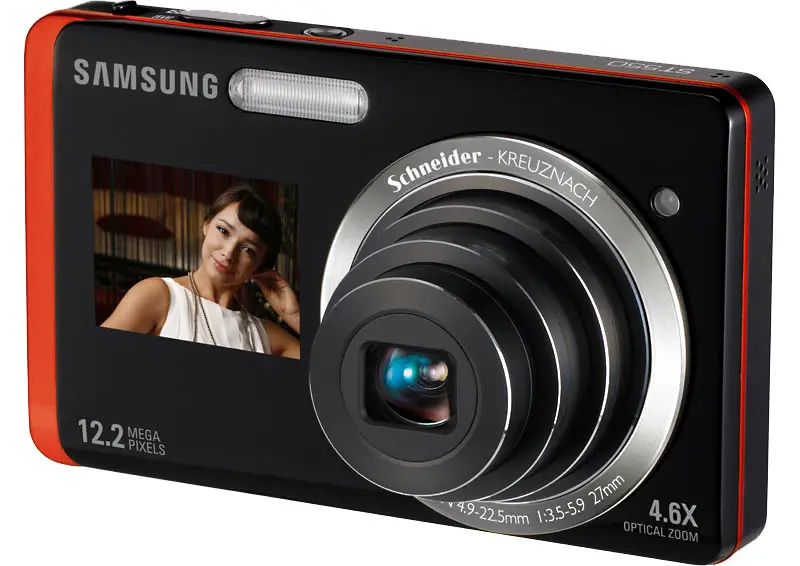 We'll start off with the small ST550 models, sometimes marketed under the name TL225. This one's your basic point and shoot compact camera with a twist – it has second LCD screen measuring 1.5 inches on the front of the camera, basically there to make the process of taking selfies easier. Take note that this camera was released way back in 2009 – and the feature did cause some awe around public and reviewers back then, having been replicated more than a dozen times since.
It has a 12.2 megapixel CCD sensor, and the back display is a 3.5 inch touchscreen LCD which sports an awesome "One Touch Auto Focus" system – in which you can focus on a certain area of the picture simply by touching it on the display. The ST550's lens has 4.6x optical zoom with the 35mm focal range equivalent of 27-124.2 mm. It also features a Smart Auto picture mode which changes the setting best available for your photo from 16 different options.
The second LCD screen was of course the selling point of this otherwise rather unnoticeable point and shoot camera. It does not hinder you or the picture taking process when not in use, and of course its main use is that of improving the process of taking popular self-portraits – popularly known as selfies. It was a smart move by Samsung at the time, as the smartphones were barely emerging and the usefulness of their front cameras started being noticed. More elegant solutions have been found since for this feature, such as tilting LCD screens, but it has to be noted that Samsung pioneered it in digital cameras. And it also added some silly, but functional features to it – such as an option that tries to capture the attention of children towards the camera.
Image quality is okay even by today's standards, but color noise appears as a more remarkable problem at high light sensitivity settings than it is nowadays. It appears at ISO 200 and then becomes more and more noticeable at faster settings, being almost dreadful at 1600 or 3200. However, it handles problems such as chromatic aberration (or color fringing, as it also known) quite well during most settings. The ST550 can be found nowadays at about $150 on Amazon, which will give you a fairly OK point and shooter with some stand-out features for compact cameras.
Samsung WB350F
Going past the point and shooters, the WB35OF represents Samsung's foray into so called travel cameras, offering long range optical zoom and Wi-Fi connectivity. It sports a decent 16.3 megapixel CMOS sensor and a lens with 21x optical zoom, equivalent to 23 – 483mm focal range in 35mm format. This Samsung camera also offers features such as optical image stabilization and full-on manual controls; it has a touchscreen LCD measuring 3 inches, and can record video in 1080p HD at 60 frames per second. This is our favorite entry in the Samsung camera review roundup.
The WB35OF is quite slim, being just 113x65x25 mm and weighing just over 200 grams; this makes it very portable and easy to carry in most pockets or backpacks. It gives the user the possibility of choosing between smart auto and manual picture modes, having a good variety to choose from; this can be toggled by a helpful dial situated on its top plate.
The wide angle that it lens provides for such a camera combined with the small 16 megapixel sensor provides some degree of barrel distortion, unfortunately; but it is barely noticeable and does not hinge your experience that much – whilst the larger scope is great for taking pictures of big groups or wide landscapes; you'll manage to fit more into the picture than normally possible.
The WB350F can be found for as low as $165, and its price is quite great for its features. Unfortunately, it shares its point and shoot cousin's woes with color noise at relatively low ISO settings – despite being released more than 4 years after – and the image quality, while decent, does not really hold up to similar Canon or Nikon models.
Samsung GX10
The GX10 is one of the Samsung DSLR models and, as stated earlier, comes as a collaboration that the South Korean giant has with Pentax. Hence, it is so similar to some Pentax models that you might consider it rebranding; although it comes in better financial terms. In this case, the GX10 is fairly similar to Pentax's top performance K10D model.
However, as far as pricing is concerned, the Samsung model had some fairer pricing than its counterpart, and the interchangeable lens camera can now be found for about $800 on Amazon – a fairly moderate price for a mid-range DSLR.
It features 10.2 megapixel sensor that, despite sounding obnoxiously outdated, offers some fairly decent image quality. The camera itself is designed to be weatherproof, hosting environmental seals on all of its body's hatches; it also hosts and 11-point autofocus mechanism. However, it is quite slow when it comes to action shots, with its 3fps burst-shot speed not really on par with what the competition has to offer.
A great feature it has however, showcasing Samsung's need to bring their own touch even to somewhat rebranded models, is a sensitivity priority system. This has the camera automatically set ISO sensitivity features to optional after the user tweaks with aperture and shutter speed, making for the best possible selection of settings depending on lighting. This is fairly useful to beginners and more casual users, as tweaking for the best ISO setting can sometimes feel like a chore.
These are just three of the models that Samsung had to offer over the years, and only the future will see whether it will start being more active on the camera market. It's main focus at the moment is clearly the Galaxy smartphone line, but reviewers and users agree that it is very improbable for such a device to reach the level of versatility and fidelity that top-end digital cameras have.