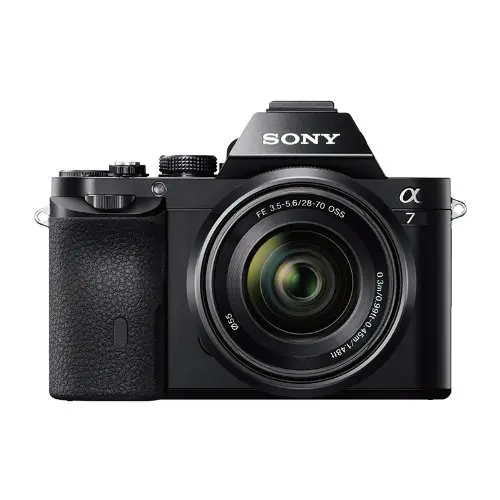 Image from Amazon
When digital cameras became popular, SLR (or manual) cameras became less commonly used by casual photographers. As soon as smartphones started making high-quality cameras, which they continue to improve features with every model, digital cameras became less popular.
Despite the ease of use and convenience of a smartphone camera, many budding and professional photographers alike prefer to use a digital camera. To appease to smartphone photographers, some digital camera makers are starting to make smaller cameras with high-quality pictures and tech features.
In our review, we discuss the Sony a7, some of its unique features, what other users think of the camera and a few of our thoughts. While Sony is a top-selling and well-known brand, it's important to know everything you can about the camera to ensure it's the right one for you.
Digital Cameras vs. A Smartphone Camera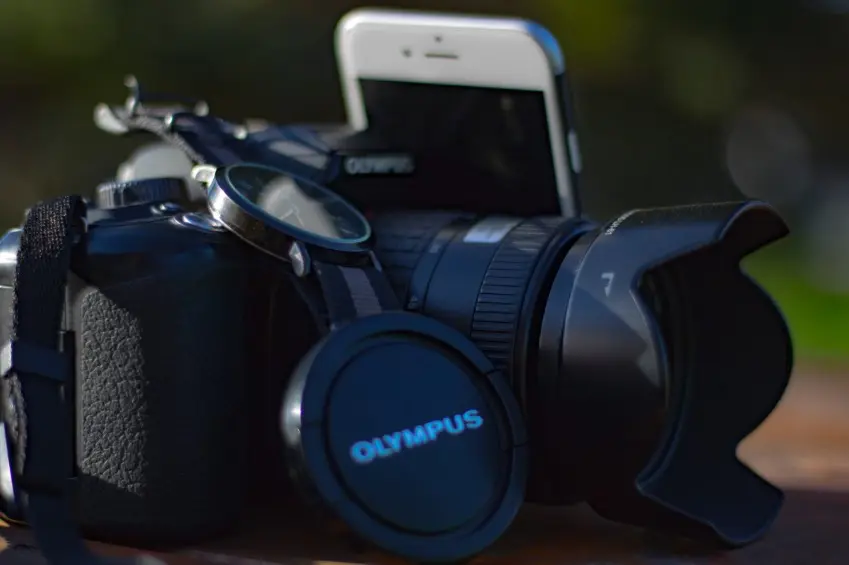 Image from Pxhere
If you've ever owned a camera, other than the one on your smartphone, you might not know some of the benefits of taking photos on a digital camera. While many of today's smartphone cameras take stunning and high-quality photos, a digital camera typically has larger storage capacity and faster shutter speed.
Want to record video? Most top-of-the-line digital cameras record high-quality video. Here are some other reasons why many photographers prefer taking pictures with a digital camera rather than their smartphone.
Auto and manual focus means more versatility and is a great way to learn how to take photos

Through The Lens (TTL) viewing capabilities

Better photographs in various lighting (such as low light)

Creative freedom rather than "point and click"
What's the Sony a7?
5 Stars

24.3 MP full frame CMOS sensor. Internal Battery Charge. Supplied Battery-NP-FW50 W-series Rechargeable Battery Pack. External Power-AC Adaptor AC-PW20 (sold separately)
Up to 4 FPS in Speed Priority Continuous shooting
ISO 100-25600(AUTO ISO 100-6400)
1080/60p/24p HD video (AVCHD/MP4)
The Sony a7 is one of the top-selling digital cameras manufactured by the Japan-based company, Sony. Sony is a household name and is well-known for its high-quality electronics, such as stereos. While Sony began manufacturing and distributing video cameras in the late 1960s, they didn't make cameras until the late 1990s.
The a7 is one of Sony's best small cameras, which is a popular choice among budding photogs or to take along while traveling. The a7 is also a popular choice for all types of photographers because it's easy to use and has a variety of tech-savvy features that satisfy those who want to share their photos instantly and effortlessly.
The compact size of the Sony camera makes it a popular option for first-time digital camera users and it doesn't deter photographers with more experience from using it as well.
Specs
Here are some basic specifications of the Sony a7. For a complete list of specifications, visit Sony's official website.
Specifications
Type: DSLR-style mirrorless
Compatible Lenses: Sony E-mount lenses
Image sensor: 35mm full frame (35.8 x 23.9 mm) Exmor™ CMOS sensor
ISO 100-25600(AUTO ISO 100-6400)
1080/60p/24p HD video (AVCHD/MP4)
3″ tiltable LCD
Up to 4 FPS in Speed Priority Continuous shooting
1/2-inch XGA OLED color electronic viewfinder with 2.4M dots
Connectivity: Wi-Fi with NFC
75 x 5 x 2.25 inches (H x L x W)
What Makes The Sony a7 Unique?
With hundreds of digital cameras on the market, it can be difficult to decide which features make a camera like the a7 unique. If you're a first-time digital camera user or buyer, you might not know what to look for at all.
While many people are likely to buy the Sony camera based on the high-quality reputation of the company, it's important to take a closer look at some of the features and see how the a7 stands out from other digital cameras that are currently available.
The Full Frame Sensor
The 24.3 Megapixel CMOS full frame sensor means that you can capture high-resolution and high-quality photos that are crisp and have depth in some of the lowest of lighting.
The sensor efficiently collects light in all types of lighting situations to help create a clear and "realistic" photo. The quality of the photo remains high regardless of whichever size image you decide to print.
BIONX Processor
BIONX is one of Sony's trademark features that takes imaging processing to a whole new level of quality. The image processing engine reproduces texture and details in "real time," which leaves images looking more realistic and in-depth than ever before. The BIONX processor allows for more natural details, rich tones, and lower noise whether you take stills or movies.
Lightweight and Durable Camera
The a7 weighs just over a pound, and the compact size makes it easy and light enough to carry in your backpack, purse, or carry-on. Even though the Sony camera weighs about half the weight of other high-quality and top-selling DSLR cameras, the magnesium alloy body ensures that it's durable and can withstand regular use for years.
Resistant To Moisture or Dust
Cameras, particularly those that are considered to be more portable, are prone to dust and moisture over time. The a7 is unique because the anti-dust system and coating keep your photos blemish free.
Whenever you turn off your camera, the anti-dust mechanism removes particles that may be on the image sensor, and the anti-static coating keeps dust from sticking to the sensor, especially when changing the lenses.
You don't need to worry about ruining your camera or compromising the quality of your photos on humid days or foggy mornings thanks to the durable seals around the buttons and dials, which keeps moisture out.
Tiltable LCD Screen
LCD screens are essential to a digital camera, but when they are fixed to the camera or are a poor quality, they may make your photography experience more frustrating and even feel a little limited.
The Sony camera has a three-inch LCD screen with 1.2 million dots and is adjustable so you can get a better angle (and a better picture).
Autofocus Settings
While many photographers like to play around with the settings, some prefer to rely on the autofocus feature. The a7 has a lock-on autofocus feature, which adjusts to the target frame based on the subjects.
You can also select a small, medium, or autofocus setting to better match the photo subjects to make sure that the picture you intend to take is in focus and comes out clear and high-quality.
HD Video
For years, the video component on digital cameras almost seemed like an "afterthought" as the quality was typically poor. The a7 has a full HD 60 fps video feature, which means you can have the same quality in your video that you have when taking still images.
The camera is compatible with iMovie and Final Cut Pro X, so you can upload and edit your video recordings easily and conveniently.
One-Touch Remote and Sharing
Many casual and even expert photographers like to take pictures with their smartphone cameras because it is easy to upload and share instantly due to wireless capabilities. Digital camera manufacturers started making wireless capabilities an option as a way to appease to the smartphone photographer.
The a7 has a one-touch remote that allows you to use your smartphone or other mobile device as a remote for the camera; this is an ideal option for larger group shots. The one-touch sharing feature makes transferring and uploading photos quick and effortless.
Pricing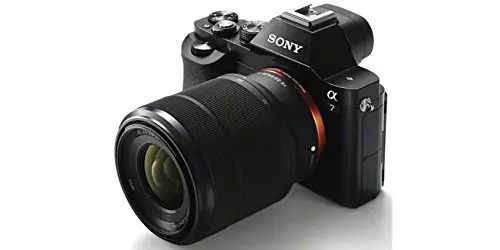 Image from Amazon
Depending on where you purchase the Sony a7, the cost of the camera is available online. When you purchase directly from the Sony site, it costs original retail price,  same when you order from Amazon.
If you purchase the 28-70mm zoom lens, you can expect to spend an additional amount for the camera.
When you buy the a7 from Amazon, you may have the option to buy a bundle kit. This usually comes with a camera case, a tripod, extra USB cord, battery, and memory card; a kit will typically cost about $100 more. The bundle kit gets mixed reviews from most users because it comes with a lot of "extras" that people find that they don't need or end up using.
If you are shopping at other places online or even at a brick and mortar establishment, you may find that the cost of the a7 varies. The price difference may indicate that the camera is refurbished or previously owned. While a refurbished or pre-owned camera may work well, it's essential to do your research, read some reviews, and buy from a top-rated seller.
It's also important to make sure that buying a refurbished camera will not affect Sony's camera warranty.
Public Perception of the Sony a7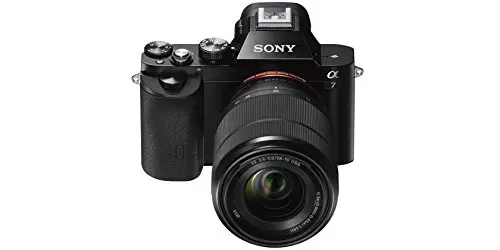 Image from Amazon
User feedback and testimonials are essential to making a decision whether or not to purchase a camera. Even if expert photographers give a particular camera a "thumbs up," you may be more interested in buying a camera that gets rave reviews from users who are buying their first digital camera.
Interested to know what others have to say about the a7, we read dozens of user reviews and considered the positive and negative feedback from people who tried out the camera or own it.
Overall, the a7 has an overwhelmingly positive customer rating of 4.5 out of 5 stars. Let's take a closer look at the positive reviews.
PROS
After reading dozens of reviews and testimonials on line, we found that a majority of users and reviewers consider themselves to be novice photographers, but had owned digital cameras before.
Many of the reviewers were looking for a lightweight and high-quality digital camera to replace an older camera. Easy-to-use features, tech capabilities, and portability were some of the most important features that reviewers were looking for initially before buying the a7.
Most reviewers were impressed that a lightweight and compact camera like the a7 could take such crisp and "real" pictures. Users love the high-quality images and video recordings in low-light environments and the instant transfer and upload of pictures was an added bonus for most people who purchased the a7.
Users who gave this camera overwhelmingly positive reviews were planning on using the camera more and in place of their smartphone cameras.
CONS
The a7 has such high ratings, so the majority of negative feedback is regarding technical issues, mechanical defects, or issues with shipping.
One user who gave the camera a full five star rating loved the camera but was disappointed in the battery life (which is a common complaint among camera users).
Even though the a7 has relatively high ratings for ease of use, some users complained that it was difficult to use and had issues with the wifi capabilities and other tech features.
Some reviewers liked the camera, but didn't think it exceeded their expectations when comparing to other digital cameras they had owned or comparable ones on the market.
Since the t6i has such high ratings, the majority of negative feedback was in regards to technical issues or mechanical defects.
Other users, who wrote negative feedback about the camera, where still waiting to receive technical support or receive a replacement; most did not follow up in their review to state if the issue was resolved.
Our Final Thoughts on the Sony a7
After reading positive and negative reviews about the a7 and checking out the unique features of the camera, we agree with the overall rating of 4.5 out of 5.
While the camera leaves more to be desired for some expert-level photographers, we think that the a7 is an excellent entry-level option and the lightweight and compact size make it an attractive option for beginners or casual photos.
The a7 is a bit of a financial investment, but considering the tech-savvy features and the quality that is associated with a name you can trust, we think that the digital camera is a worthy investment, as long as you take care of it properly and use it on a regular basis (not just for special occasions).