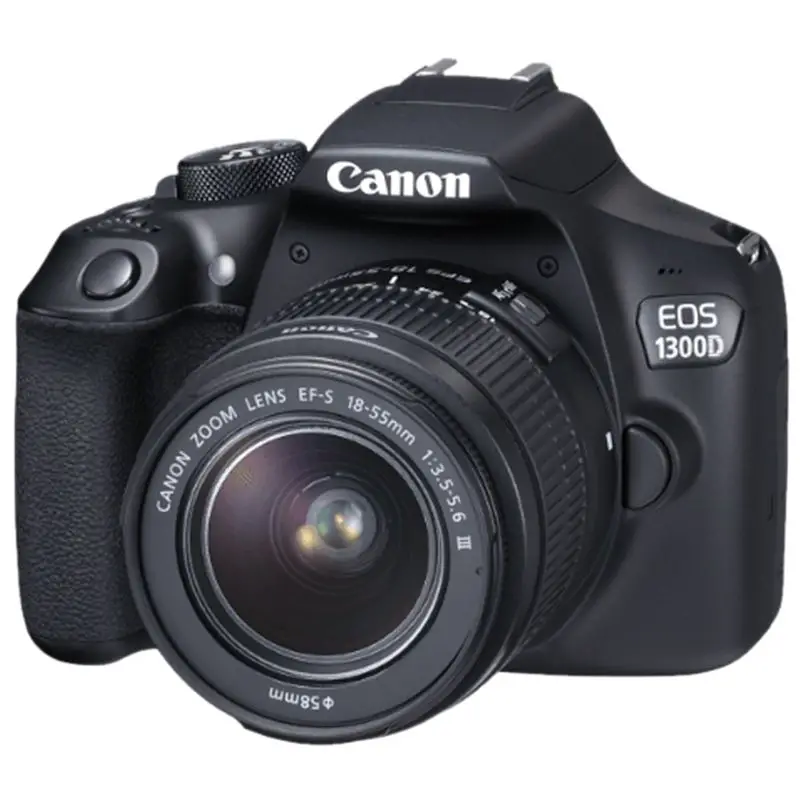 The Canon 1300D ranks among the best cameras. But there's always some subjectivity in even the best cameras. As such, in this Canon 1300D review we'll go over all of its major points. This will include some of the more easily noticed points, such as price.
But we'll also cover metrics related to more subjective tastes. By the end, one can make an informed decisions about the camera. Even readers who own one might pick up a few new tips.
Canon 1300D Specs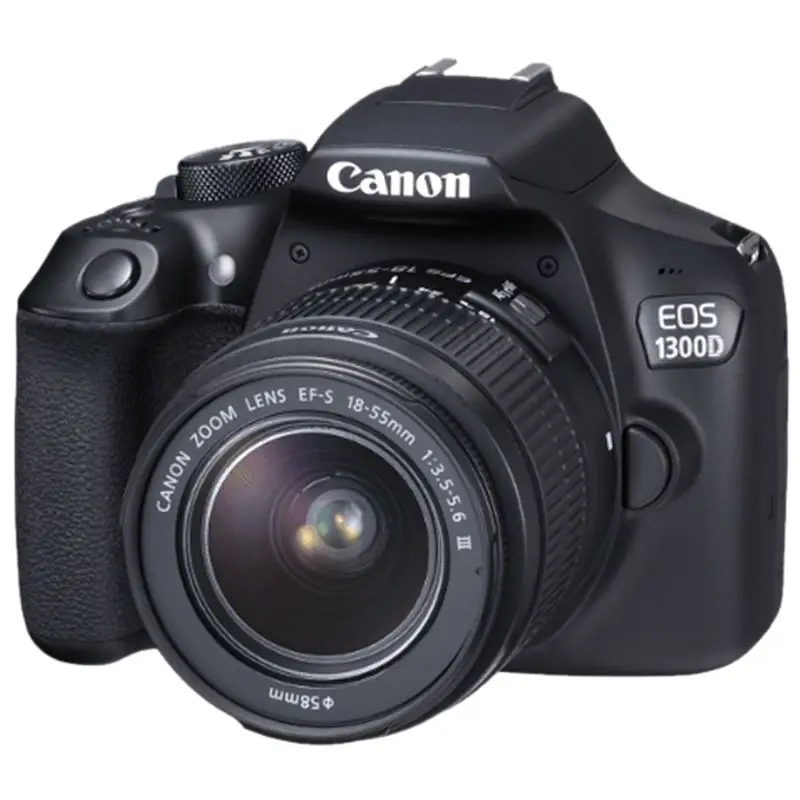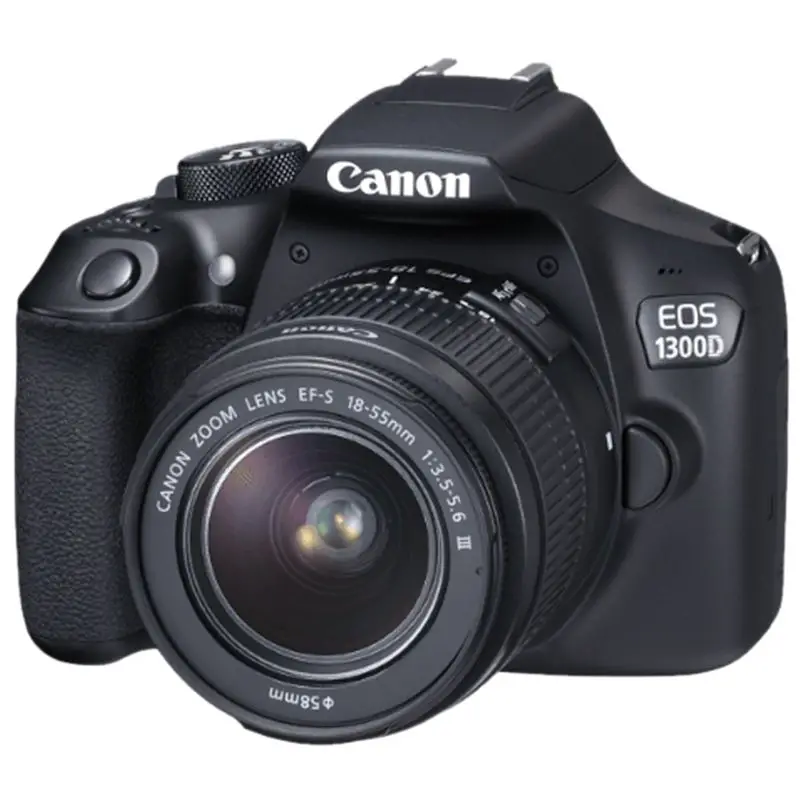 3″ LCD panel.
DIGIC 4+ image processor.
22.3×14.9mm APS-C CMOS sensor.
Automatic NTSC and PAL modes.
Supports 1080p and 720p video resolution.
18 MP resolution.
Both Wi-Fi and NFC connectivity.
Canon 1300D Features and Performance
Build and Buttons
Any Canon 1300D review should touch on its overall build quality. It's among the first thing that people notice. It's a solidly mid-range camera when one looks at specs. But the camera's textured coating lends it a sense of top-tier design.
The rear button offers extra configuration options. And it's well placed for ease of use. Most users have little need to really search out the button. Instead, it's sturdy and placed in a way that fits with most people's grip.
The scrolling dial sits on the very top of the camera. It too is well placed for intuitive use. It's sturdy to the point where one can solidly feel it. And in doing so it allows for easy switching between shooting modes.
It also features an easy to use live view button. Pressing the live view button switches to LCD composition. Like the other buttons it's solid and easy to find.
Display and Functions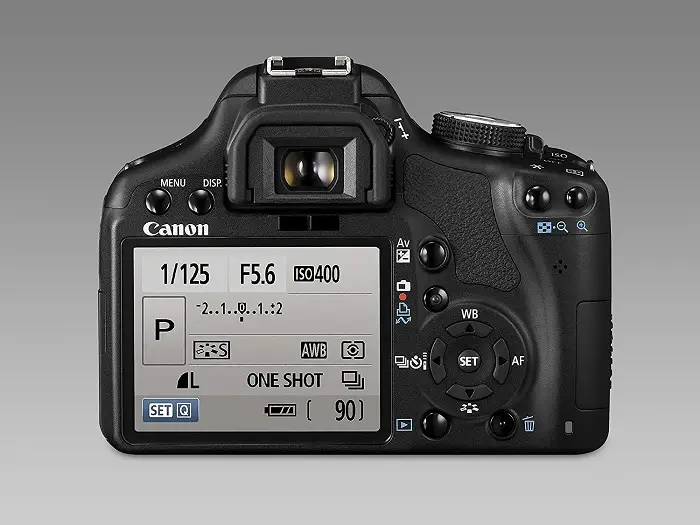 The 1300D's LCD provides a respectable build quality. Its 3" LCD panel provides 920-dot performance.
The central LCD also display offers up a wide range of functions. Its previously mentioned live view button provides one click access. And it gives a fairly respectable number of options. In particular, one can get quite a bit of use out of the LCD for basic configuration options. This integrates especially well with the rear button configuration system.
The LCD configuration doesn't offer groundbreaking functionality. But at the same time, this Canon 1300D review needs to highlight an important point. Simplicity can often turn into a camera selling feature. The LCD based configuration might well be rather simple. But that helps make it into a nice mid-tier entry point camera.
Sensor, Resolution, and Zoom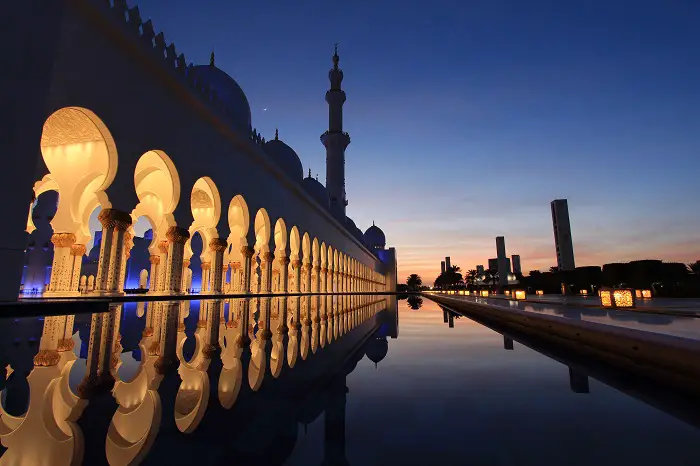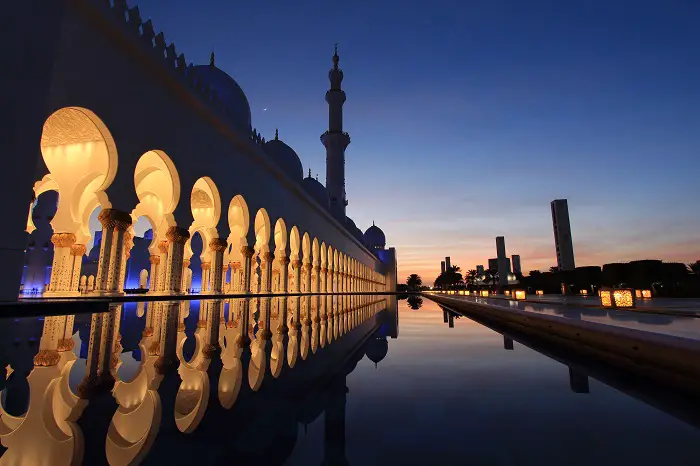 The sensor offers a nice upgrade over similar Canon products. But it's really on looking at image resolution that one can see how it all comes together. It offers an overall resolution of 5184 x 3456.
This resolution isn't pushing the hardware beyond what it can handle either. It's able to fully handle and process images at full capacity even when resolution reaches higher levels. The shot's overall detail is quite apparent when looking at raw images.
But the camera's even more impressive when considering images that make use of lossy compression. And it's similar when looking at noise reduction. It does a very good job of applying this technique to images.
What's even more impressive is how it can combine multiple processor intensive techniques together. Using lossy compression on a highly detailed image that needs further post-processing isn't easy on processors. But the Canon 1300D holds up to even this difficult task.
The 3x optical zoom isn't revolutionary. But it's solid enough to match most people's expectations for a mid-tier camera. One can also keep in mind the low overall price. This makes it reasonable to add in an additional lens to make up for any deficiency in something like zoom. Even with an additional lens the camera comes in at a very affordable price.
Video Capabilities

So far this Canon 1300D review paints a picture of a solid mid-tier camera. But it shines when one looks at video recording. However, this isn't always clear from the start. The video recording pushes past most of the newcomer friendly options.
Instead, one needs to work with some of the settings to get optimal video quality. This is largely done through use of the mode dial. It allows one to use a special mode intended for heavy focus on video. It instantly changes all of the menu items as well.
From here one can choose to change almost any aspect of the video. It even allows one to target NTSC or PAL territories. However, one can push beyond that to force specific frame rates and resolutions.
By default it records at 1080p. But it's also able to record 720p if one prefers to keep it a little smaller. One can also rely on fully automatic exposure for video or handle more of it oneself. This balance continues through most of the video options. It does support audio within video recording too. And it too offers automatic options to help users learn the basics.
Pricing
The Canon 1300D sells for around $343. The Canon EF 40mm f/2.8 STM standard lens sells for about $179. It's a popular compact option for general usage. The Canon EF-S 10-18mm lens sells for around $279. It's among the most popular options for those who need a better wide angle zoom.
Verdict
This Canon 1300D review makes some important points. It's clearly one of the best cameras on the market. The wi-fi connectivity, high resolution and general ease of use make it an ideal choice. It's good for both people starting out and for those who have a solid take on their personal style.
But there's always more to learn. Readers can weigh in on their own tips and tricks. This can help everyone get the most out of their Canon 1300D.