The following Sony A7 review is going to show off the various highlights and features of this excellent full-frame mirrorless camera. The A7 was released in combination with the Sony A7R — since they are identical in their outer shell, the differences between these two cameras are few. A slight trade-off is made in regard to the sensor, which results in the huge plus of affordability. Stick around for our Sony A7 review to get a better handle on the specs and photo and video capabilities.
Sony Alpha A7 Specs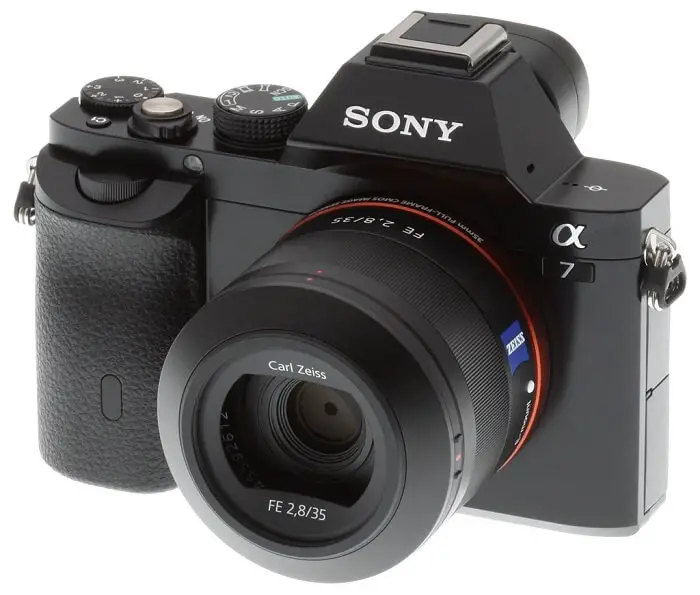 24.3MP Full Frame Exmor CMOS Sensor;
BIONZ X Image Processor;
3.0-inch 921k-Dot Tilting LCD Monitor with 100% Screen Coverage;
0.5-inch 2.4m-Dot OLED Electronic Viewfinder with 0.71x Magnification and 100% Coverage;
Full HD 1080p Video Recording at 60 frames per second;
117-Point Hybrid Autofocus System;
Full Resolution Continuous Shooting at 5 frames per second;
ISO Range of 100-25600 (Auto) / 50- (Extended);
Built-in Wi-Fi and NFC Connectivity;
SD / SDHC / SDXC / Memory Stick Pro Duo / Memory Stick Pro HG-Duo Compatibility;
Dimensions of 5.0 by 3.7 by 1.9 inches;
Weighs 14.7 ounces.
Sony A7 Features and Performance
Build and Buttons
Let's kick off this Sony A7 review by zeroing in on the design specifics and external controls. The A7 features a DSLR-type design throughout its exterior. Constructed with a magnesium alloy body resistant to both moisture and dust, the A7 is ultra-compact and fits perfectly in the hand. A chunky but not too deep handgrip and comfortable thumb rest provide more than enough security for one-handed shooting. Also, due to the compact body, every dial and button scattered about are easy to reach.
Highlighted features on the front of the A7 include the lens mount, self-timer/autofocus illuminator, and the front control dial. The camera's top holds an external hotshoe, power switch/shutter button, a programmable button, exposure compensation dial, and a mode dial. One note about the hotshoe — it not only handles external flashes but also video lights, external microphones, and an XLR adapter.
Dominant controls found on the back of the camera are the LCD monitor, electronic viewfinder, control dial, movie record button, the function button, and a switch to toggle between focus mode and exposure lock. These are just the main controls found on the body. One glance at the A7 makes it clear that it is aimed toward enthusiasts who crave the various controls provided.
Display and Functions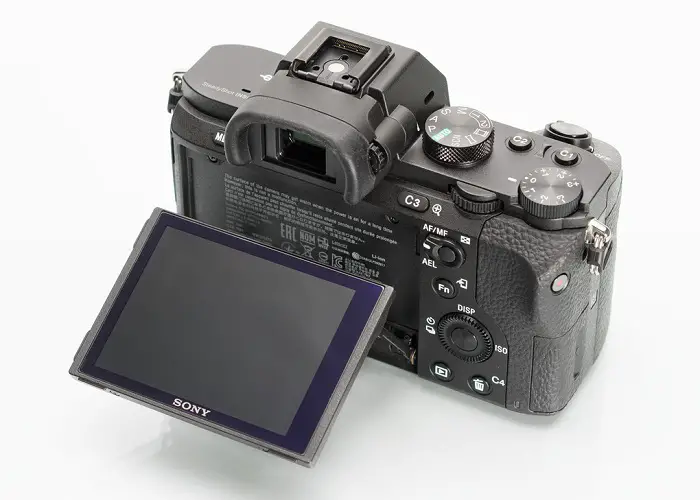 The Sony A7 features a 3.0-inch 921k-Dot tilting LCD monitor with 100-percent screen coverage. Although the monitor can't be rotated to the side, the tilting mechanism is a welcome feature. The tilt provided is one of 45 degrees downward or 84 degrees upward. Even when shooting under glaring sunlight, the LCD monitor is comfortable to use. One slight con is that the camera doesn't sit flat when the monitor is tilted down.
Also featured is a 0.5-inch 2.4m-Dot OLED electronic viewfinder with 0.72x magnification and 100-percent coverage. This high-quality viewfinder offers a seamless transition between said viewfinder and LCD monitor. The viewfinder provides a bright, crisp view, and thanks to the OLED technology, no "rainbow effect" is to be found. For photographers with glasses, it will be helpful to know that the eyepiece is large and far away enough to accommodate.
Another highlight is the complete coverage, which rids the possibility of some unsightly detail creeping its way into the outer edge of the frame. The A7 features what is perhaps the best electronic viewfinder currently on the market — and because of that, many users are more likely to use the viewfinder in lieu of the LCD for the majority of their shooting. Other pros of using the viewfinder include the ability to overlay guides for framing, preview changes in white balance or effects, and more.
Sensor, Resolution, and Autofocus
Equipped with a 24.3MP Full Frame Exmor CMOS sensor and a BIONZ X image processor, the Sony A7 has the capability to produce images of top-notch quality. The image quality beats out the Sony A7R and certainly stands up to some of the best DSLRs out there. Although it takes 2.8 seconds to get from start-up to the first shot, the camera's actual shot-to-shot time is fast, clocking in at about 0.2-seconds between each photo. Full resolution continuous shooting speed comes in at 5 frames per second.
In terms of image performance, the color is maintained beautifully throughout, easily capturing bright details without too much vibrancy. The automatic white balance feature works well under a variety of shooting conditions, as does the camera's metering system. Lowlight performance is quite good and with a native ISO range of 100-25600, noise doesn't cause issues until around ISO 6400. If you scale down your images a bit, you can capture quality shots even at ISO 12800.
The A7's 117-point hybrid autofocus system is responsive, quick, and accurate under a majority of shooting conditions. Although the camera will likely hunt while shooting in lowlight, resulting in slower focus times, the accuracy is generally good.
Video and Wi-Fi Capabilities
Lastly, we'll wrap up this Sony A7 review with a closer look at the camera's video and Wi-Fi capabilities. For instance, the A7 is able to capture Full HD 1080p video at 60 frames per second. Video quality is most definitely solid. The color maintained is generally good with a nice tonal range delivered. Even the built-in microphone manages to capture much better audio than most other cameras. Whether you are a casual videographer or looking to shoot films with this camera, the A7 is up to the challenge.
The camera's Wi-Fi capability is also pleasing, including built-in connectivity for both Wi-Fi and NFC. You can easily establish a connection to transfer your photos from the camera to a smart device. You can also share your images to social media sites like Facebook, Flickr, or Sony's PlayMemories Online.
The other Wi-Fi function includes shooting via remote control. Simply download the Smart Remote Control app and you will be able to adjust exposure settings, ISO, white balance, focus, and more. Although the app can be a bit sluggish, it is a welcome feature that gets the job done.

Pricing
The Sony A7 is available in five configurations: the body only, priced at $1,046; the body with 28-70mm lens, priced at $998; the body with 24-70mm lens, priced at $1,896; the body with 28-70mm and 55mm f1.8 lenses, priced at $1,896; and the body with 28-70mm and 70-200mm lenses, priced at $2,396.
Verdict
So, as you have learned through our Sony A7 review, this camera is quite an incredible unit. Image quality is stellar and does not disappoint. With excellent noise performance, a compact build, and a more affordable price tag than the A7R, enthusiast photographers tend to opt for this camera. Thanks for checking out our Sony A7 review — if you own the A7 or are considering purchasing one, share with us in the comment section below.