The Nikon D810 is a widely popular camera often chosen for the crystal clarity of the images and the color capturability. This Nikon D810 review covers the basics of the camera. Reading this will help you learn more about the camera itself, what others are saying about it, and how you can get the most for your money.
Nikon D810 Specs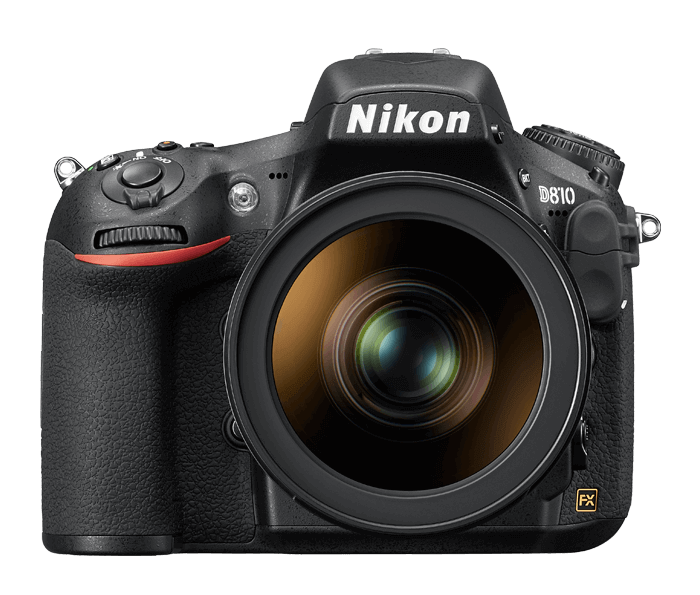 Detachable flash.
Full HD 1080p Video.
5 fps Shooting at Full Resolution.
36.3MP FX-Format CMOS Sensor.
Native ISO 12800, Extended to ISO 51200.
EXPEED 4 Image Processor.
Electronic Front Curtain Shutter.
No Optical Low Pass Filter.
3.2″ 1,229k-Dot LCD Monitor.
14-Bit RAW Files and 12-Bit RAW S Format.
Nikon D810 Features and Performance
Nikon D810 reviews show that this model made numerous changes to the menus. Users appreciate all the new options, particularly the autofocus, focus tracking. These focus settings help photographers take more action shots, capturing wildlife, and other moving objects. Although these improvements are greatly appreciated, there are other models that have higher fps rates and are made to capture moving images more clearly.
The four-square focus system produces higher quality images than the single focal point in the D800 model. The group focus allows the camera to focus more on the entire image rather than zoom into one spot. If you prefer the single focus, that is still an option in the menu to use.
Build and Buttons
The build and button quality is much improved and feels like a solid and reliable camera. The MODE button and Autofocus are extremely convenient to use.
The Nikon D810 has numerous buttons and options available. Some of these are:
Focus points can be set to S, D 9, D 21, D 51, 3D, GrP or auto. There are options for shooting and camera model, AF/ M levers, bracketing, and autofocus points.
Display and Functions
The display is accessible through an i Button located on the rear side of the camera. There is a playback option and a manual viewfinder included in the onscreen menu. The Nikon D810 reviews show this camera has a rather large display, making it easier for you to view the scene, zoom in, and focus. The D810 camera has a 3.2″ 1,229k-Dot LCD Monitor, which also provides ample screen area for menu selection.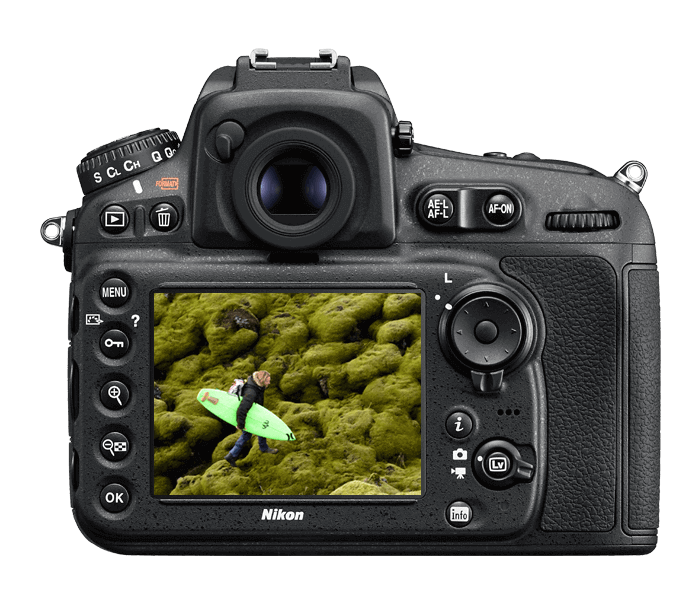 Sensor, Resolution, and Zoom
The D810 has a full frame Multi-CAM 3500FX 51-Point AF Sensor. This camera boasts a 36-megapixel resolution, which is much higher than models within the same price range. Additionally, this camera has thirty-five lenses that are compatible with zooming capabilities.
Video Capabilities
It is obvious that video recording was one of the primary focuses for developers of the D810. This Nikon model has numerous advancements that make recording a fun and easy experience. This camera works to shoot crystal clear full HD 1080p Video at 60/30/24 fps.
Pros and Cons
Although Nikon D810 reviews show that this product is generally recommended and praised by users, there are always features that are dissatisfactory. Like any other product, the D810 model has both positive and negative features that stand out to certain users more than others.
Pros
The most notable changes are the found within the menu. The advanced menu provides more options and additions for photographers, more focus point settings, and ultimately more ways to fully customize your photography experience.
The shutter and mirror assembly are also greatly improved. The sound of the camera was drastically reduced, resulting in less vibration and noise. There is a drastic reduction in noise seen primarily in the ISO range. The 5fps and 7fps max shooting speeds are rather slow compared to other models, so it is not the best camera for moving scenes. With that being said, the EXPEED processor works 30-percent faster than the previous model.
Cons
The amazing image resolution of 36-megapixels produces extremely sharp images that can be easily cropped down without losing quality. Although the sharpness is noticeable, low-lit areas wreak havoc on the camera's ability to produce. Additionally, the lack of a low-pass filter results in blurred or sub par quality images if any minute movement occurs during the shot. The camera is heavier than other Nikon models and it tends to consume a lot more battery during use.
Pricing
When it comes to purchasing the Nikon D810, there are various options available. No matter which package you choose, you are looking to spend over $2000 to get started.
If you are looking to purchase the DSLR camera body only, it will cost around $2,400. You can also purchase the FX-format SLR body for around $2,800.
If you prefer to dive into photography and purchase an entire kit equipped with 24-lenses, rechargeable batteries, HDMI cables, and a remote, this will cost around $3300. A type kit with a total of 28-lenses will run around $3,700, making it one of the best deals for this camera.
In addition to purchasing the camera, there are several accessories you should consider for a complete photography experience. These accessories increase photograph options and filter settings. They also aid in the usage of the D810 and general maintenance. Some of the accessories available include a Wireless universal shutter release remote, hand camera grip, digital slave flash, spacious carry case, microfiber cleaning cloth, memory card wallet, and more.
Verdict
Overall, the Nikon D810 review demonstrates that the camera is an excellent upgrade from the Nikon D800 model. This camera took two years to develop and the advanced features really shine. The reduced noise, the added focus settings, and overall advancements of the buttons and menus make using this camera easier than ever.
The super high 36-megapixel images are easier to crop down without losing quality, which is something any photographer can appreciate. Although this camera is much heavier than the D800 model, it is well worth the money and built to last.