Nikon started a revolution with the release of its D800, a full-frame DSLR that raised the bar in terms of image performance, dynamic range, and color sensitivity. While comparable to the D3X, get all of the quality within a sleeker frame and at a fraction of the cost. This is a great all-around camera, designed with portraits and studio work in mind, perfect for a wide range of photographers. Stay tuned for our Nikon D800 review to learn all about the specs, photo and video capabilities.
Nikon D800 Specs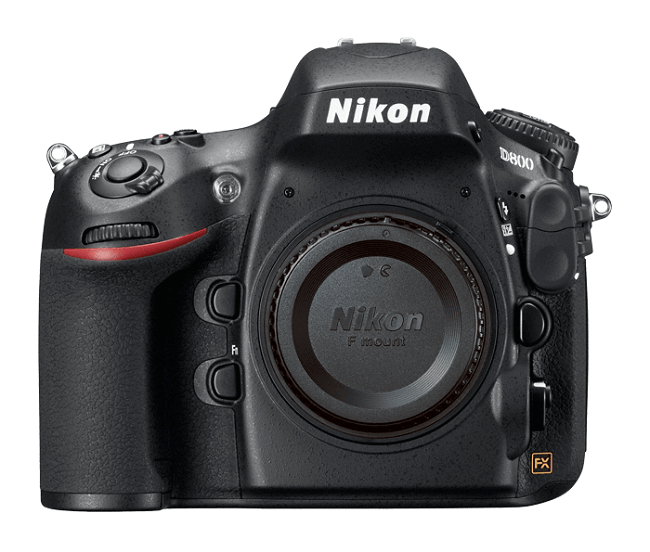 36.3MP FX-Format CMOS Sensor.
EXPEED 3 Image Processor.
Optical Low-Pass Filter.
Full HD 1080p Video Recording at 30 frames per second.
3.2-inch 921k-Dot LCD Monitor with 100% Screen Coverage.
Pentaprism Viewfinder with 0.7x Magnification and 100% Frame Coverage.
51-Point (15 Cross-Type) Autofocus System.
Full Resolution Continuous Shooting at 4 frames per second.
Auto ISO Range of 100-6400 (Extended from 50-25600).
Built-in Flash + i-TTL Flash Control.
SD / SDHC / SDXC / CompactFlash Memory Card Compatibility.
Dimensions of 5.7 by 4.8 by 3.2 inches.
Weighs 1.98 pounds.
Nikon D800 Features and Performance
Build and Buttons
Let's kick off this Nikon D800 review with a look at the camera's construction. As is to be expected from a professional-grade DSLR, the D800 is built like a tank, capable of handling it all. Encased in a magnesium-alloy shell, this camera performs well in various weather conditions, thanks to its weather-sealing.
Although you may not want to risk taking it into extreme temperatures, the D800 performs well in both dusty and rainy environments. The handling of this camera is comfortable overall, feeling balanced and fitting nicely in the hand. A rubber handgrip is present on the camera's body, offering up a solid hold for your entire hand during long shooting sessions.
The D800's physical controls are extensive, many of which are easily accessible with your hand in the shooting position. There is a nice amount of customization here as well, meaning that you can configure dial and button operation exactly as you want it. Something to note is Nikon's typical two-button "press and hold" operation, which is used to change the most frequently used settings such as white balance, shooting mode, and ISO.
A bit of a learning curve certainly comes along with this camera and Nikon newbies might need to consult the user manual. The D800 provides a well-designed layout with access to all functions whether via physical buttons, dual control wheels, or the menu screen.
Display and Functions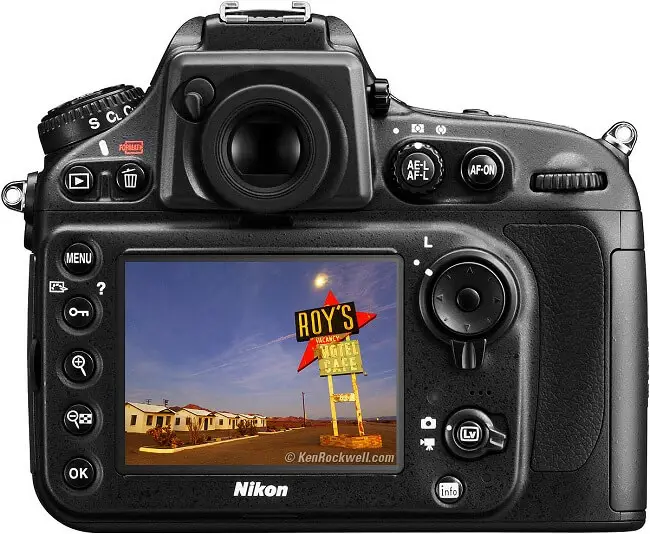 The D800 features a 3.2-inch 921k-Dot LCD monitor with 100-percent screen coverage. This monitor is impeccable, featuring an improved color range that aids in checking images for quality in playback mode. Visibility is overall good under most conditions, both indoors and outdoors, but direct sunlight can cause some glare. The monitor features a light sensor that helps to detect ambient light levels and adjust the screen's brightness and other aspects in an attempt to provide the most ideal output. A gel resin layer works to minimize fogging on the screen when quickly shifting between temperatures.
Also included is a pentaprism viewfinder with 0.7x magnification and 100-percent frame coverage. The complete frame coverage is a nice touch, stopping any undesirable elements from creeping into frame. Displayed within the viewfinder is a list of shooting information, including shutter speed, aperture, ISO, exposure compensation, exposure mode, and metering pattern. A diopter is included as well, allowing for adjustment of the viewfinder for users with glasses.
Something else to note in this Nikon D800 review is the addition of a dual-axis electronic virtual horizon overlay. This overlay is available for use on both the LCD monitor and the viewfinder and is a nice feature especially for landscape photographers.
Sensor, Resolution, and Autofocus
Equipped with a 36.3MP FX-Format CMOS sensor, the D800 delivers some of the best image quality for a DSLR. Due to the resolution on this camera, you can make huge prints while retaining stunning amounts of detail. However, make sure to have multiple memory cards on hand. The resolution and flexibility offered up results in large files, putting the dual memory card slots to good use.
Working in combination with this high-resolution sensor is the EXPEED 3 image processor. This image processor allows the camera to reach a continuous shooting speed of 4 frames per second. While this speed might not suffice for sports photographers, many users will be pleased with the performance. Powering on is nearly instantaneous and the camera can focus and be ready to shoot within 0.1-second. In dim lighting, this takes a bit longer, clocking in at 0.4-second.
In this Nikon D800 review, we also need to take a closer look at the 51-point autofocus system. Performance is solid in most lighting conditions, accurate, and speedy, although speed does decline slightly in low light. Choose between several autofocus modes, including 9, 21, or 51 points, single point, and more. Further, the native ISO range is 100-6400 with an extended range of 50-25600.
Despite its high-resolution sensor, the D800 performs well in controlling noise. Users find that they can capture solid images even up to the top end of the native range at ISO 6400. Using the extended ISO settings do tend to result in a bit of chroma and luminance noise.
Video Capabilities
Lastly, we'll wrap up this Nikon D800 review by showing off the camera's video capabilities. Easily shoot movies in full resolution HD 1080p at 30, 25, or 24 frames per second. When you're ready to begin recording, just reach behind the shutter button to find a dedicated movie record button. Video quality is great, matching up quite well to comparable units.
The D800 attempts to appeal to videographers with its video-related features, such as the built-in monaural microphone and the manually configurable audio control. The built-in mic's sensitivity is impressive for casual use, capturing clarity even from afar. If you're looking to capture higher quality audio, the D800 also offers an external microphone input and a headphone jack for monitoring.
Autofocus is solid when filming, although not as responsive as when shooting stills but that's to be expected.
Pricing
The Nikon D800 is available in one configuration: the body only, priced at $1,025. A nice lens pairing is the NIKKOR 50mm f/1.8G, priced at $217.
Verdict
As you have learned from our Nikon D800 review, this camera is a nice addition for portrait, product, and studio photographers. Landscape photographs see the appeal as well. Solid image quality is a definite plus and with excellent performance in noise and autofocus in particular, it's hard to pass up at a reasonable price.
What do you think about this camera? Leave us a comment and let us know.