Targeted at enthusiast photographers, the Nikon D80 still holds its own as an invaluable tool. Despite being a bit long in the tooth, this camera nevertheless delivers a level of quality capable of matching some of the today's newest DSLRs. If you're looking for an additional camera to have on hand as a back up or even for everyday use, stay tuned for our Nikon D80 review and see why it's still worth it.
Nikon D80 Specs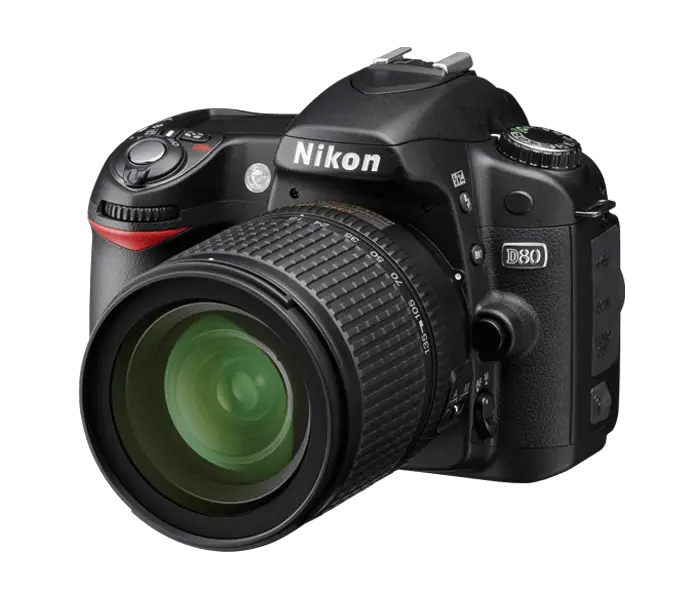 10.2MP DX-Format CCD Sensor.
2.5-inch 230k-Dot TFT LCD Monitor with 170° Viewing Angle.
Pentaprism Viewfinder with 0.94x Magnification and Approximately 95% Coverage.
Built-in Viewfinder Diopter Adjustment.
Full Resolution Continuous Shooting at 3 fps.
Auto ISO Range of 100-1600, plus HI-0.3 (ISO 2000), HI-0.7 (ISO 2500), and HI-1 (ISO 3200).
11-Point Multi-CAM 1000 AF Sensor with AF-Assist Illuminator.
420-Pixel RGB 3D-Color Matrix Metering II.
Built-in Speedlight with i-TTL Flash Control.
SD and SDHC Memory Card Compatibility.
Dimensions of 4.1 by 5.2 by 3.0 inches.
Weighs 21 ounces.
Nikon D80 Features and Performance
Build and Buttons
One look at the Nikon D80 and it's clear that this unit was built to last. The body is one of quality plastic enveloping a solid metal chassis. Despite featuring a slight heft, the D80 manages to feel balanced in the hand. On the body are multiple spots featuring a rubberized texture, giving a reassuring feel of stability. Although the body lacks weather sealing throughout, it still maintains a good level of ruggedness — more than enough for casual outdoor use.
The D80's physical controls are overall user-friendly, comfortable to use, and logical in placement. On the top of the body sits a control panel that shows information regarding various settings. Physical controls on the top include the power switch, shutter release, exposure compensation button, and mode buttons for adjusting metering, shooting, and autofocus.
Other notable buttons include the ones sitting to the left of the LCD monitor on the back of the camera. These buttons allow the user to easily adjust ISO, white balance, image size, and quality. The front of the camera features the flash button, focus mode level, bracket mode button, and two unlabeled buttons. The first of the unlabeled buttons is a customizable function button, while the bottom is a depth of field preview button. Finally, there are three dials on the body — one controls the shutter speed, the second controls the aperture, and the third adjusts the mode.
Display and Functions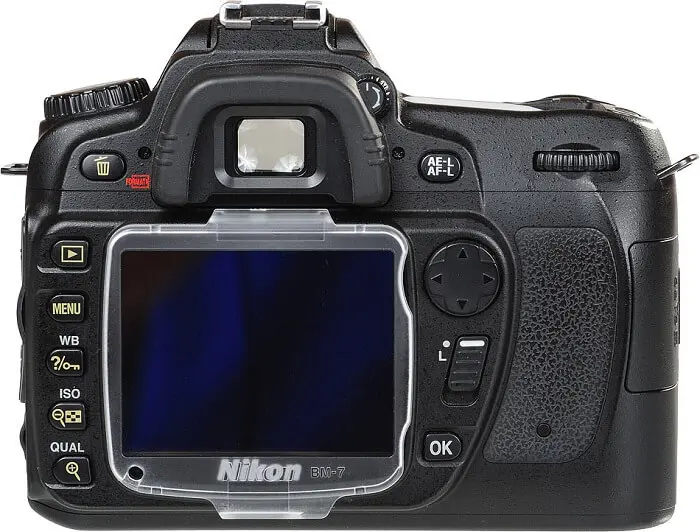 At this point in our Nikon D80 review, we're going to take a look at the display elements of the camera. For instance, the D80 features a 2.5-inch 230k-Dot TFT LCD monitor with a 170-degree viewing angle. Brightness adjustment is available. The display itself offers up a nice clear view with a user-friendly interface. However, note that the monitor lacks any kind of anti-reflective coating, making it difficult to work with under bright conditions. A clip-on screen protector comes with the camera; whether or not you put it to use is a matter of personal preference. Some users find that the screen protector results in unnecessary glare.
Also included is a pentaprism viewfinder with 0.94x magnification, approximately 95-percent coverage, and built-in diopter adjustment. This viewfinder is bright, large, and a pleasure to use. The composition of the viewfinder ensures that any bit of distortion is nonexistent, allowing the user to see clearly at all times. If desired, you can activate grid lines for composing the perfect shot. The data readout found within the viewfinder is helpful as well, displaying information like flash status, exposure settings, shots remaining, and exposure compensation level.
Sensor, Resolution, and Autofocus
The Nikon D80 comes equipped with a 10.2MP DX-Format CCD sensor. Image quality is where this camera truly shines, thanks to its impressive level of sharpness and detail. When the D80 was released, it easily went head-to-head with some of the toughest competition and perhaps even surpassed them. Color accuracy is spot-on and shadow detail is excellent. Both of these elements can be adjusted for the desired effect via the built-in color and image control system. Also, performance is remarkably speedy for a camera of this class. Start up and shoot in 0.1-second. Whether you choose to shoot JPEG or RAW images, a superior level of speed remains. Shoot full resolution images continuously at up to 3 frames per second.
Noise performance is another highlight of this camera. The native ISO range is 100-1600 and includes an extended range up to ISO 3200. The camera does a superb job of controlling noise all along the ISO range. For example, noise is barely perceivable at ISO 400 and even ISO 800 only results in a fine grain within the image.
Quality images can be achieved up to the high end of the native range at ISO 1600. Although noise becomes a bit more noticeable here, it still beats out some competing cameras in terms of performance. Delving into the extended ISO range is a different story — images start to become grainy. That being said, enough detail remains to make these images usable at small sizes.
Autofocus and other Capabilities
Included within the Nikon D80 is an 11-point Multi-CAM 1000 autofocus sensor. These 11 autofocus points can be selected either manually or automatically, allowing for a good amount of control. Modes available include Single Area AF, Auto-Area AF, and Dynamic Area AF. Easily lock your desired focus mode using one of two methods — press the AE-L/AF-L button or give the shutter release a half-press. Also available is an AF-Assist Illuminator, which aids nicely in focusing. The 420-Pixel RGB 3D-Color Matrix Metering II system works well in conjunction with the autofocus system and easily stands the test of time.
Other capabilities of the D80 include the built-in image editing system briefly mentioned above. Easily adjust things like D-lighting, tinting, cropping, shadow, and detail via the LCD monitor. Red-eye reduction is another nice touch. Any changes made are saved as additional images, leaving your original intact. You can also play around with various filters and more.
Pricing
The Nikon D80 is available in four configurations: the body only, priced at $123; the body with 18-135mm lens, priced at $170; the body with 18-55mm lens, priced at $258; and the body with 18-55mm ED II lens, priced at $355.
Verdict
As this Nikon D80 review has shown, the D80 is a nice camera to have on hand. The various special features packed into the system make shooting and composing that perfect shot even easier, regardless of user level. Nikon has taken some of the best elements from the high-end D200 and put them into the D80 for a truly excellent camera that delivers all-around solid results.
Thanks for sticking around for our Nikon D80 review! Do you think the D80 is still a good buy? Leave us a comment and let us know.