When the enthusiast-oriented Nikon D7100 was released, a decent upgrade from the Nikon D7000, it flew off the shelves — several years later, it still holds up as one of the favorite DSLRs of the APS-C lineup. Its incredibly accurate autofocus, high ISO abilities, and excellent build quality make this camera a solid option for any serious photographer. Check out some of the features, pros, cons, and specs of the Nikon D7100, and decide whether it could be the one for you.
Nikon D7100 Review
Each and every DSLR has its own specific feel in the hand; when you pick up a Nikon D7100, some heft might be expected — instead, even with an attached flash, it's quite lightweight in comparison to its competition. A lightweight camera that houses a great amount of power can please even the toughest of critics. Available in a black finish, the D7100 is enveloped in a weather-resistant magnesium alloy construct, making it perfect for use in a number of harsh conditions.
For those who have never had the pleasure of working with a Nikon DSLR, the controls will take some getting used to; persistence is key. Although the controls are numerous, many of them are familiar or self-explanatory. A few controls of note on the top of the camera are the hot shoe, metering button, and exposure compensation button. Also on the top is the mode dial, which requires a quick press to change the mode. The dual memory card storage can be found near the grip area. Dual storage is useful as it allows one of the SD cards to serve as an overflow while another option consists of mirroring, or saving JPEGs to one and RAWs to the other.
On the rear of the D7100 sits the 3.2-inch, 1,228k-dot LCD monitor. Although it's fixed, meaning that it doesn't tilt, the beautiful resolution makes up for that minor letdown. The menu system on the LCD monitor is largely text-based and provides access to an extensive but well-organized list of settings. Frequently used settings can be brought up quickly and easily. With an incredibly bright and sharp display, visibility is not an issue even in harsh sunlight.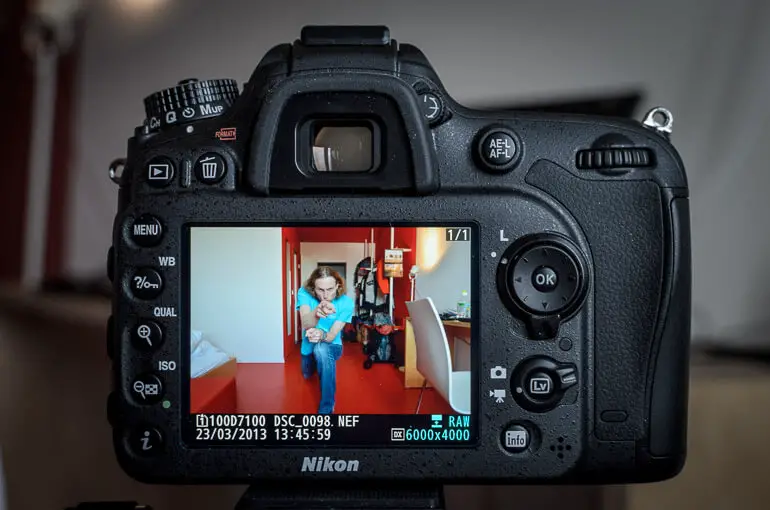 For those preferring to shoot with the more battery-friendly optical viewfinder, the one found on the D7100 is a pleasure to use and covers approximately 100-percent of the image frame. It's easy to transfer these files over to a smartphone or tablet via Wi-Fi with the free Nikon Wireless Mobile Utility app, available for iOS and Android. Remote shooting is also available with a smartphone or tablet via the app. However, note that this camera has Wi-Fi capabilities, rather than actual built-in Wi-Fi, meaning that it requires Nikon's WU-1a Wireless Mobile Adapter in order to take advantage of those capabilities.
The clear attention-grabbing features of the Nikon D7100 consist of its excellent image quality and stunning performance. With quick shooting capabilities under normal conditions, low light situations can cause a sluggish focus. Capturing fast action is an easy task for the D7100, able to start and shoot in .2-second with a shutter lag of only .05-second, including focusing in good lighting. In darker conditions, expect an approximate .9-second delay. Live view focus, on the other hand, takes about 1.7-seconds to focus and shoot, and 2.5-seconds in dim lighting.
The ISO range of 100 – 6400 allows for quality images, maintaining an overall clean look through ISO 1600 for JPEGs. For RAW files, going as low as ISO 800 can help achieve better results. Continuous JPEG shooting goes at 6fps from the start but can be poorly affected by auto distortion control, which tends to slow down shooting. On the other hand, continuous RAW shooting is less satisfactory, starting at 4.9fps but slowing to 1.4fps after a mere five frames.
Another highlight of the D7100 is the 1.3x crop mode, which brings the resolution down to 15.3MP but improves shooting time — in this mode, continuous JPEG shooting goes up to 7fps for about 100 shots. Because of the faster shooting speed that 1.3x crop mode allows, sports and nature photographers will get especially good use out of the D7100. Being able to get even closer to the action is an invaluable asset and due to the crop, the 51 autofocus points go to the very edge of the frame, particularly helpful when tracking a moving subject.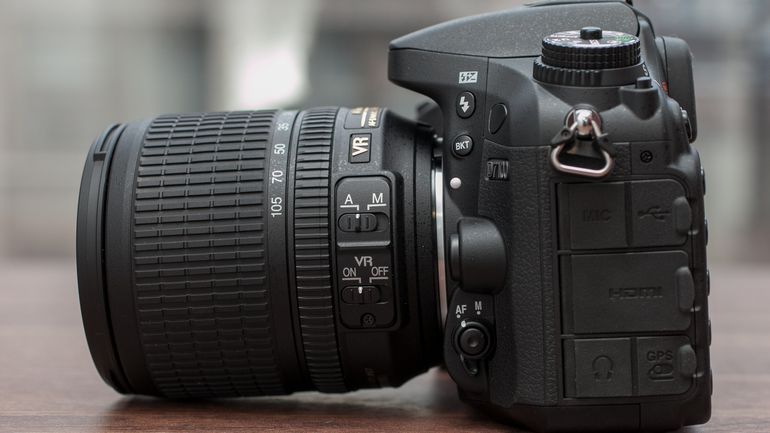 Finally, the Nikon D7100's video capabilities should not be ignored, able to record at up to 1080p30 or 720p60 in Quicktime format. The footage quality is exquisite, maintaining sharpness with accurate colors. Setting the camera to 1.3x crop mode allows for recording in 1080i60 or 1080i50, if desired. While aperture- and shutter-priority modes are lacking in this camera's video capabilities, manual exposure is available, actually making this a solid choice even for shooting video.
Continuous focus during recording is possible, but manual focus mode is suggested, as the lens shifting may be audible when utilizing the stereo built-in microphone. Besides an external microphone input, there is also a headphone jack for audio monitoring and a mini HDMI output for connecting a field recorder.
Included with the D7100 is a high-quality battery that lasts much longer than expected which unlike many others can stand the harsh conditions of below-freezing temperatures, perfect for any type of shooting session.
Nikon D7100 Specs
• 24.1MP DX-Format CMOS Sensor.
• EXPEED 3 Image Processor.
• ISO 100 – 6400, Extended to 12800 – 25600.
• 3.2-inch, 1,229k-dot LCD Monitor.
• Glass Pentaprism OLED Viewfinder.
• Full HD 1080i Video at 60fps.
• No Optical Low-Pass Filter.
• Multi-CAM 3500DX 51-Point AF Sensor.
• 2,016-Pixel RGB Sensor Exposure Metering.
• 6fps Shooting for 100 Shots.
• Built-in Flash.
• SD / SDHC / SDXC Memory Cards.
• Wi-Fi Capabilities.
• Weather-Resistant Magnesium Alloy Body.
• Dimensions of 5.3 x 4.2 x 3.0-inch.
• Weighs approximately 1.49 lb.
Nikon D7100 Price and Extras
The Nikon D7100 is priced at $696.95 for the body only, which is also sold with three various lens set-ups. Three additional configurations are available: the basic kit for $798.50, the deluxe kit for $1,104.95, and the video production kit for $1,143.50.
Conclusion
Overall, the Nikon D7100 is one of the best budget DSLRs on the market. Thanks to its outstanding 51 autofocus points, this camera can handle any type of subject matter, capable of maintaining whatever speed necessary to keep up. The weather-resistant body, crisp images, and solid build make the D7100 a perfect choice for any enthusiast, even those looking to dive into the DSLR world for the first time — it will not disappoint. Let us know your thoughts on the Nikon D7100!