In this Nikon D7000 review, we're going to take a look at the specs, features, performance, and more of this exquisite camera. The Nikon D7000 was designed with the enthusiast photographer in mind. Featuring a few semi-professional elements, such as the dual memory card slot, this camera is perfect for users who need something they can count on. Stick around for the following Nikon D7000 review to learn all there is to know.
Nikon D7000 Specs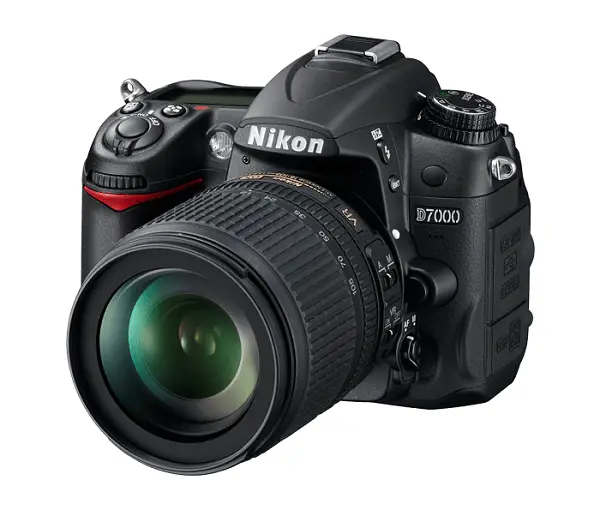 16.2MP DX-Format CMOS Sensor;
EXPEED 2 Image Processor;
3.0-inch 921k-Dot LCD Monitor with 100% Screen Coverage;
Pentaprism Viewfinder with 0.95x Magnification and 100% Coverage;
Full HD 1080p Video Recording at 24 frames per second;
Multi-CAM 4800DX 39-Point Autofocus System;
Full Resolution Continuous Shooting at 6 frames per second;
ISO Range of 100-6400 (Auto) / 100-12800 (Extended);
3D Color Matrix Metering System;
Wi-Fi Connectivity with Optional Transmitter;
SD / SDHC / SDXC Memory Card Compatibility;
Dimensions of 5.2 by 4.1 by 3.0 inches;
Weighs 1.7 pounds.
Nikon D7000 Features and Performance
Build and Buttons
Let's kick off this Nikon D7000 review by taking a closer look at the camera's impressive build. With a weather-sealed magnesium alloy shell and textured rubber handgrip lining the body, the D7000 looks similar to many of the standard mid-range DSLRs out there. Weighing in at 1.7 pounds, this camera is certainly hefty, solidly built, and fits nicely in the hand — it means business.
The front of the Nikon D7000 features the lens mount; AF Assist lamp; and buttons for lens release, function, and depth-of-field preview. On the top of the camera sits the main mode dial, perched on the Release-Mode Dial. Next to these stacked dials are the hot shoe, flash, and control panel LCD; the shutter and buttons for changing metering type and exposure compensation sit there as well.
Highlights on the back include the viewfinder; LCD monitor; and buttons for ISO, white balance, and more. Still on the back of the camera is a jog wheel to maneuver through menu options, as well as a directional controller. The D7000 features many physical controls, some of which can seem overwhelming at first glance — due to the controls and complex functionality, beginners may shy away from this camera but it is an excellent choice for enthusiasts already familiar with Nikon models.
Display and Functions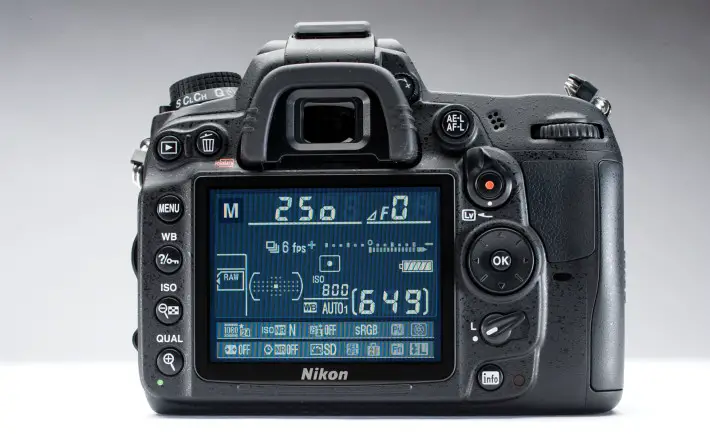 The Nikon D7000 features a 3.0-inch 921k-Dot LCD monitor with 100-percent screen coverage. Main highlights of this monitor include the level of clarity, color, and contrast that comes along with it. The clarity provided is such that users can easily determine whether their manual focus is as sharp as needed. Besides capturing images, the LCD monitor allows for easy menu navigation and image review.
The monitor also features a wide 170-degree viewing angle, which aids while shooting from the hip, overhead, or low to the ground. Unfortunately, however, the monitor is fixed and lacks articulation of any kind — this only becomes troublesome when shooting images or video at awkward angles.
Also present on the D7000 is a pentaprism viewfinder with 0.95x magnification and 100-percent coverage. This viewfinder is an excellent addition for this class of camera. The 100-percent coverage is a definite plus, ensuring accurate framing of images at all times. Another highlight of the viewfinder includes its digital level, which greatly helps in lining subjects up for that perfect shot.
Sensor, Resolution, and Autofocus
Equipped with a 16.2MP DX-Format CMOS sensor and an EXPEED 2 image processor, the Nikon D7000 is able to crank out top-notch results. Speed does not disappoint here — from start up to the first shot, the results are almost immediate. The full resolution continuous shooting rate is 6 frames per second, which allows you to capture images continuously up to 100 JPEG frames.
In terms of ISO, the auto range is 100-6400 and the extended range is 100-12800. For noise-free images most users stick to ISO 100-1600. ISO 6400 shows a little noise but ISO 12800 suffers quite a bit in terms of noise and loss of detail. That being said, images captured at higher ISOs, though not ideal for large prints, are perfectly satisfactory for everyday web use.
One of the D7000's main highlights includes the Multi-CAM 4800DX 39-point autofocus system, which features 9 cross-type sensors. The autofocus system is pretty quick in terms of focusing, especially while shooting under ideal lighting conditions. When the light isn't as good or the subject lacks contrast, the autofocus struggles to lock onto its target quickly.
Further, the 3D color matrix metering system is another pleasant addition to this camera. Simply set the focus on a particular subject and the camera will track wherever they move within the frame — perfect for capturing images of wildlife and more.
Video and Wi-Fi Capabilities
To wrap up this Nikon D7000 review, let's examine the camera's video and Wi-Fi capabilities. Easily capture Full HD 1080p video at 24 frames per second. The resulting video is indeed solid. But for anyone looking to shoot short films or similar with this camera, you will certainly need to invest in an external microphone — otherwise, the built-in microphone captures the sound of the lens shifting while the autofocus hunts, rendering the audio somewhat useless.
Lastly, the Nikon D7000 does not feature built-in Wi-Fi. However, it is indeed Wi-Fi capable with an optional transmitter. With the transmitter, users can transfer images from the camera to a smart device. Remote shooting can also be done in this way.
Pricing
The Nikon D7000 is available in three configurations: the body only, priced at $849; the body with 18-55mm lens, priced at $850; and the body with 18-105mm lens, priced at $520.
Verdict
So, as you have learned throughout this Nikon D7000 review, this camera is one of the best options out there for the enthusiast photographer. With the ability to capture stunning images under nearly any type of shooting condition, the D7000 will not disappoint. Lowlight performance is a superior plus of this camera's extensive feature set and overall functionality. Thanks for checking out our Nikon D7000 review — drop us a comment below to share your thoughts on this incredible DSLR.