Considered a mid-range camera at the time of its release, the Nikon D200 offered up a revolutionary level of control appreciated by even the most demanding users. Now over a decade later, has the D200 stood the test of time? It depends on the type of photography you're looking to achieve as well as your own personal taste — but in terms of capturing stunning images, the D200 can still get the job done. In this Nikon D200 review, we're going to take a look and see what makes this camera worth it today.
Nikon D200 Specs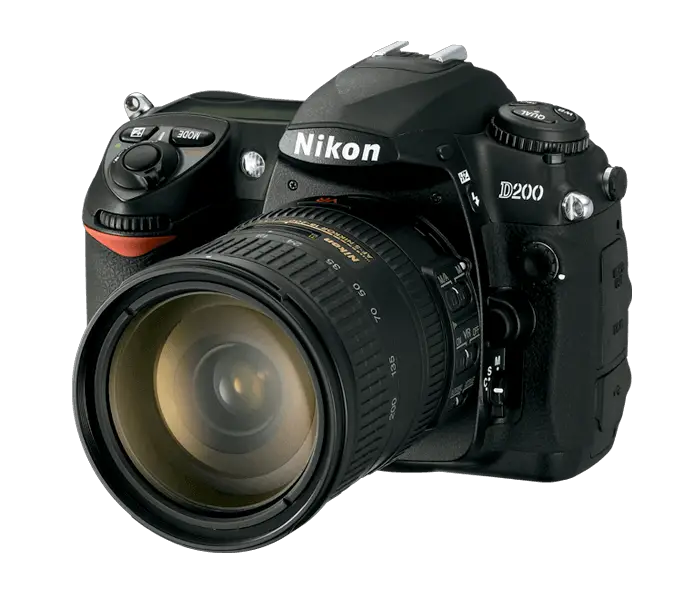 10.2MP DX-Format CCD Sensor.
2.5-inch 230k-Dot LCD Monitor with 170° Viewing Angle.
Pentaprism Viewfinder with 0.94x Magnification, 95% Screen Coverage, and Built-in Diopter Adjustment.
Multi-CAM 1000 11-Point Autofocus System.
3D Color Matrix Metering II.
Full Resolution Continuous Shooting at 5 frames per second.
Auto ISO Range of 100-1600 (Extended up to ISO 3200).
Built-in Pop-up Flash.
CompactFlash (CF) Card (Type I/II) and Microdrive Memory Card Compatibility.
Wi-Fi Capable via Optional Transmitter.
Dimensions of 5.8 by 4.4 by 2.9 inches.
Weighs 29.3 ounces.
Nikon D200 Features and Performance
Build and Buttons
Let's start off this Nikon D200 review with an overview of the camera's exterior. The body is constructed out of a high-quality magnesium alloy rugged enough to tackle anything. A soft rubber coating surrounds the grip areas of the camera. Once the body is in your hands, it's easy to appreciate the superior build quality. Weather seals are scattered around, enabling the camera to withstand the most rugged outdoor adventures. The solid build manages to do it all without being too heavy, which is a definite plus for long shooting sessions. Further, its comfortable grip areas offset the weight nicely.
Much of the D200's body is filled with controls, all of which are within easy reach when holding the camera in the shooting position. The top features the usual controls, such as the power button, shutter button, exposure mode and exposure compensation buttons, and the mode dial. Sitting on the mode dial are buttons for adjusting image quality, ISO, and white balance.
There is also a monochrome LCD display, which shows a readout of selected settings. Two command dials sit on the front of the camera, along with the depth-of-field preview button and a customizable function button. The back of the camera includes the AE-L/AF-L button, the AF-ON button, and the metering mode selector. Here is also where you'll find the LCD monitor and related controls to the left.
Our Nikon D200 review can't possibly cover the extensive control list but the above is a start. Despite the many controls available, Nikon does an excellent job of presenting everything in such a way as to minimize confusion even for the newest user.
Display and Functions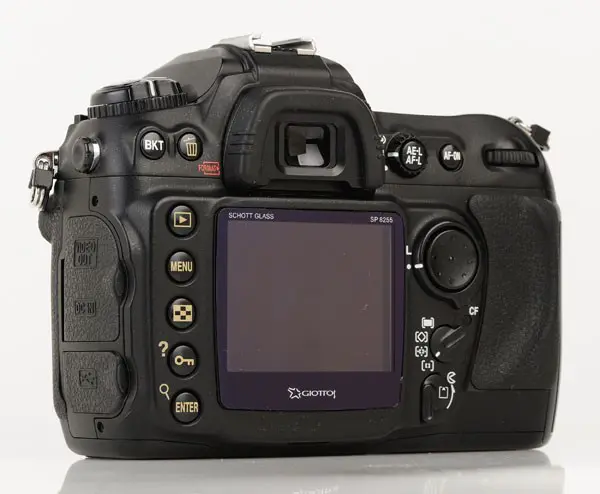 The D200 provides a 2.5-inch 230k-Dot LCD monitor with a 170-degree viewing angle. At the time of its release, this wide viewing angle was an exciting feature —it allows users to view images without distortion even when they are not facing the camera head-on. When checking for focus, you can zoom in up to 25x. An LCD overlay shows a battery symbol when the battery is running low.
The monitor itself is bright and sharp and was considered quite modern. However, the monitor does not feature an anti-reflective coating, which makes it a bit difficult for use in direct sunlight. That being said, the camera does come with a clip-on screen protector that allows you to protect the screen without lessening the quality of the resolution.
Also included is a pentaprism viewfinder with 0.94x magnification and 95-percent screen coverage. Although there is 5-percent missing from the outer edge of the frame, this isn't usually an issue for many users. The viewfinder offers up a clear view and provides status information. Grid lines and autofocus indicators can be shown within the viewfinder. Easily see which of the 11 focus-area zones or 7 wide-area zones are active within the frame.
Sensor, Resolution, and Noise
Despite offering up a mere 10.2MP in the form of a DX-Format CCD sensor, the D200 can capture some truly incredible photos. The dynamic range is definitely solid and along with precise exposure, the quality can battle it out with some higher-end models.
Speed is a nice highlight for the D200 with a boot time of 0.4-second and no perceptible shutter lag, snapping images with 0.8-second in between shots. Continuous shooting is possible at up to 5 frames per second. Although there are faster cameras out there, the D200's speed is still quite impressive, especially while shooting under normal conditions.
The native ISO range is 100-1600 and can be extended up to ISO 3200. Noise performance is solid even at the top end of both the native and extended range. Although you might have to make some adjustments to capture the best quality images possible, you will definitely be able to get something usable at most settings. Of course, this depends on your shooting conditions. If your conditions are less than ideal, you might experience some problems with noise.
Autofocus and More
To wrap up this Nikon D200 review, we're going to go over the autofocus system and some of the other useful features this camera provides. The D200 features a fast and accurate Multi-CAM 1000 11-point autofocus system. An autofocus-assist lamp enables the camera to focus correctly even under low light. Although sports photographers might not opt for this camera because of a slight delay in capture, the D200 is suitable for most other types of photography.
It's also worth mentioning that the D200 is extremely customizable in terms of its 3D Color Matrix Metering II system, white balance control, and more. This makes it easy to tweak images after capture to ensure the best results possible. Lastly, the D200 features a built-in pop-up flash. You can also control an external flash wirelessly via Commander mode.
Pricing
The Nikon D200 is available in four configurations: the body only, priced at $1,400; the body with 18-135mm lens, priced at $426; the body with 18-200mm lens, priced at $799; and the body with 18-70mm lens, priced at $259.
Verdict
So, as you have learned from our Nikon D200 review, this camera is reliable, tough, and can still shoot with the best of them. Although it's not considered to be the revolutionary camera it once was, the D200 offers up a solid autofocus system that performs incredibly well and can hold its own even in low light. Thanks for sticking around for our Nikon D200 review! Drop us a comment below to share your thoughts. Is the D200 still a worthy purchase?